Michael Phelps Gets His Redemption Story
Through career highs, and personal lows, the greatest swimmer of all time ends on a high note.
"I just want to take it all in this last time around."
This is what Michael Phelps told us in 2012, referring to the London Olympics and his impending retirement. That, of course, did not pan out and, while many ordinary people do not announce their retirement twice, Phelps' story is far from ordinary.
It may have started out that way, as an 8-year-old swimming for the Meadowbrook Tomatoes in Mt. Washington. That's when Phelps first met his lifelong coach Bob Bowman and his talent was obvious from the start.
"If you go and look at the Preakness horses, they look a certain way," Bowman told us. "They have a certain body type. Michael's put together like an ideal swimmer. You could see when he was in the water he had a tremendous feel, meaning he moved through the water without excess motion. He was efficient."
Phelps made the trip to the 2000 Olympics while he was just a sophomore at Towson High School, becoming the youngest U.S. male swimmer to do so in 86 years. Though he didn't medal, his career was propelling as fast as his butterfly stroke.
He first met with his lifelong agent, Peter Carlisle, in 2002 and proceeded to rack up medal after medal in the Olympic games in Athens, Beijing, London, and most recently Rio. USA Swimming saw its membership jump up exponentially and, from 2008-2012, airtime on NBC for swimming increased 35.5 hours.
"The goal I had was to change the sport of swimming and take it to a new level," Phelps told us. "It's amazing to see how its popularity has increased over the years."
Phelps' popularity certainly sky-rocketed, too. He has appeared on the cover of Sports Illustrated five times. He has made tens of millions of dollars in endorsement deals alone, signing with the likes of Visa, Subway, Under Armour, and Speedo. He now has his own line of swimwear called MP. That original swim school in Mt. Washington? It's now named in his honor. Not to mention, he's become the most decorated Olympian, by far, along the way.
But his path, as many know, has not been without its hurdles. In 2009, a photo of him smoking marijuana went viral, but he and his image came out relatively unscathed.
"It's impossible to know what opportunities didn't come because of it," Carlisle told us. "I'm sure it had an effect, but most of the sponsors he had he still has, and he's added to it. Fortunately, his brand has been resilient."
Resilience is certainly what it took in September 2014 when Phelps was arrested for a DUI after being pulled over at 1:40 a.m. in the Fort McHenry Tunnel and clocking a blood alcohol level twice the legal limit. After the arrest, Phelps didn't leave his house for days and, in this revealing 2015 Sports Illustrated article, he admits he was depressed.
"I was in a really dark place," Phelps told Sports Illustrated. "Not wanting to be alive anymore."
In the article, friends and family, including Ray Lewis, whom Phelps describes as "like a brother to me," convinced him to go to rehab. "'I gave him some harsh reality,' Lewis said. 'I said, 'Bro, what are you doing with your life?' Phelps's recollection of that conversation? 'He tore me a new one.'"
Though rehab was "probably the most afraid I've ever felt in my life," the group therapy worked. Before that, "I saw myself as the athlete that I was, but not as a human being." After, he began to value himself as a person.
Following rehab, many pieces of Phelps' life came back together, including reconciling with his estranged father, Fred. He also got engaged to his longtime on-again-off-again girlfriend Nicole Johnson. The two had son Boomer in May and plan on marrying in the fall.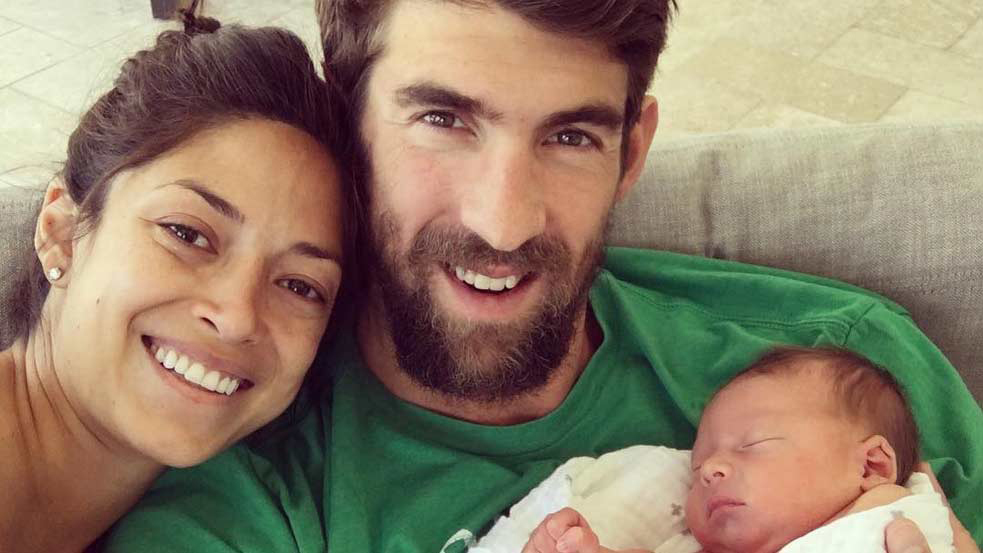 "I'm back to being the little kid who once said anything is possible," Phelps told Sports Illustrated. "You're going to see a different me than you saw in any of the other Olympics."
And, boy, was he right. This past Olympics in Rio, Phelps looked like he could do no wrong. Even when he was trailing, a crucial turn or extended amount of time underwater pushed him ahead of the pack. He won races by a body length—all 6-foot-4-inches of it. In all, he added another five gold medals and one silver to his belt, which adds up to a staggering 27 Olympic medals in total.
"It's rather amazing to think of Michael's journey since 2000," his mom, Debbie, said on the Today Show Friday morning. "Starting from age 15 and now 31, it's just remarkable . . . Michael is very driven to correct thing that have gone wrong. I've never seen him as happy as he is now."
As for the next phase of Phelps' life, we can only go by what he told us he had planned back in 2012.
"After I retire, I want to take time for myself, golfing, and doing things I haven't been able to experience," he said. "I've never really taken a vacation. I want to travel and experience the world. I know that may sound strange, but while I have been to a lot of great countries, I've only seen the airport, pool, and hotel. We never have a chance to get out and explore. I'll always be involved in swimming, just in a different way."
We can also assume that he'd add one more thing to the roster of golf, travel, and swim: spending time with his brand new family.