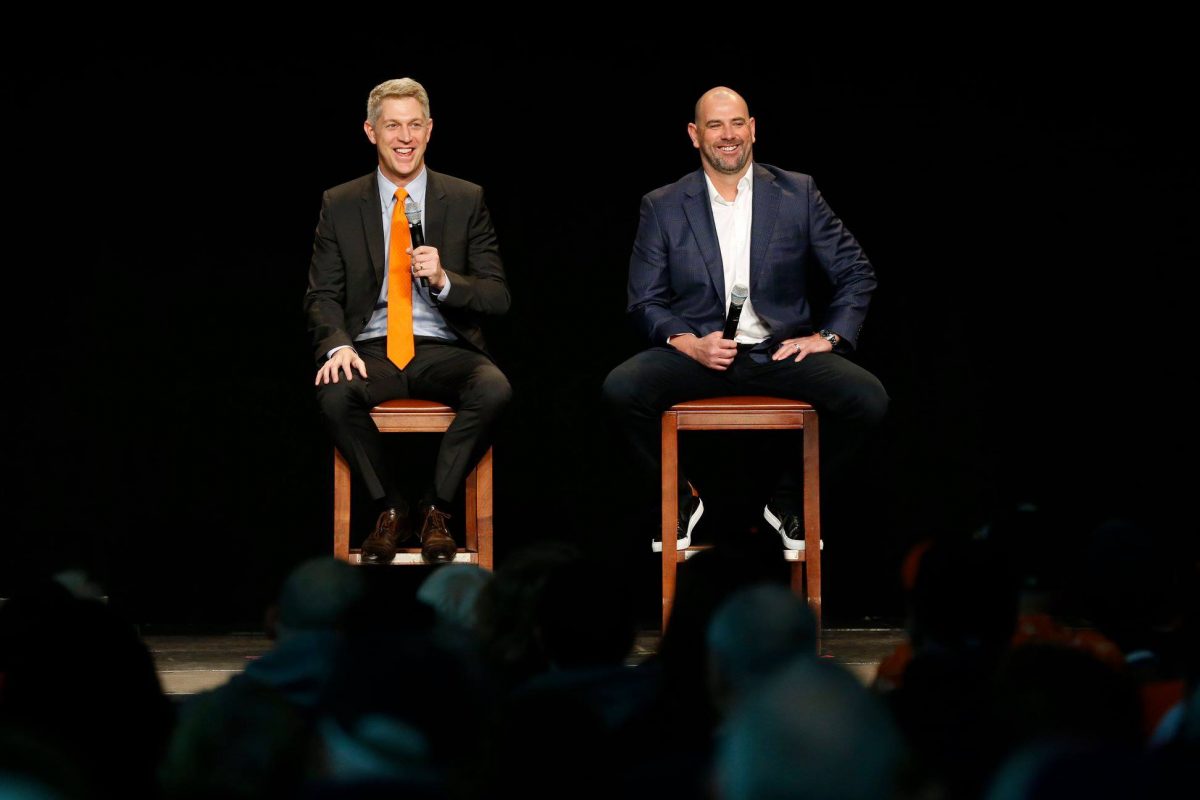 This is one of those 24-hour news cycle, pop-culture scandals in which you hope you don't know anyone involved. People are getting fired. Reputations are being tarnished. Dubious labels have been ascribed to those implicated, and it's all trending on Google.
Meanwhile—ho hum here in Baltimore. Despite our circumstantial connections to the ordeal, we're just sitting back and watching it all happen.
The news broke in the sports world Monday and started to go mainstream, because since when has the public not enjoyed a juicy scandal? The Houston Astros—a team we've become familiar with given that the Orioles poached ex-Astros executives Mike Elias and Sig Mejdal to run the O's front-office at the end of 2018—used an elaborate, technology-driven, and illegal sign-stealing scheme to gain an advantage during their 2017 World Series-winning season.
In a nine-page report released to the public, Major League Baseball commissioner Rob Manfred outlined the circumstances and shared the details. After interviewing 68 witnesses and 23 current and former Astros players, as well as chasing down team email, text, and Slack communications, Manfred said the league determined that the scheme—which involved a dugout television, team video employees, and hitting a garbage can with a bat—was "player-driven." And yet, he handed out punishment to everyone but those who take the field because they knew, but did nothing to stop it.
The Astros were fined $5 million and will lose multiple draft picks over the next two years. Jeffrey Luhnow, the team's general manager (aka the guy who picks the players), and manager A.J. Hinch were suspended for one season each. The team's owner went another step further and fired both later on Monday.
We read the details of the MLB report closely since Elias, hired as Orioles general manager in November 2018, and his top aide, former NASA engineer Mejdal, worked closely with Luhnow and Hinch for years with the Astros – before arriving in Baltimore with plans to turn around our dear franchise with their analytics-driven approach.
From the "no news is good news" department, neither Elias or Mejdal's names—nor those of the several other ex-Astros employees now with the Orioles—were mentioned in the ominous, single-spaced, Times New Roman, size- 12 "Statement from the Commissioner" report, which you can read in its entirety here.
It makes sense. Elias and Mejdal with the Astros were primarily focused on scouting, player selection (the draft), and development. They weren't necessarily involved in the everyday pitches and strikes operations of the team during the season, though they could have seen trends in on-field performance and had been wondering what was going on.
But they certainly weren't in the Astros dugout at Minute Maid Park during games, where and when this all went down. In fact, Mejdal was on the bench of the Astros minor league teams during the 2017 season. But the ex-Astros closeness to the situation does have some O's fans on edge. They're wondering, in the words of those talking-head lawyers on TV: Who knew what and when?
Manfred reportedly has told teams not to discuss the story publicly. But in November, after the allegations of cheating were levied by former Astros pitcher Mike Fiers in a story for sports website The Athletic, Elias defended the Astros organization in comments made at the league's winter meetings.
"I hate to see those accomplishments and those people disparaged just by association with a couple of weird episodes," Elias told the Baltimore Sun in November. (He declined comment to the paper on Monday.) "We'll see how it all shakes out, but there are a lot of positives—the people who run that place and the operation as a whole that just unfortunately is being overshadowed by some negativity right now…We'll see where the league takes it. But I hope for the best."
So do we. Since then, everyone named by the commissioners' office in its public report is now unemployed, even those who had left to go to other teams, like former Astros bench coach and Red Sox manager Alex Cora and former Astros player Carlos Beltrán—allegedly the player brain behind the operation. He was hired as the New York Mets manager in November for his first pro coaching job, but was let go on Thursday before even managing one game.
Luhnow, Elias, and Mejdal go way back. The now former Astros GM gave Elias his start in pro baseball, hiring the 24-year-old former Yale pitcher to be a scout with the St. Louis Cardinals in 2007. Luhnow had also hired Mejdal for his first job in 2005.
In any case, the fallout hasn't reached the Orioles, an organization that's put its faith in a potentially long rebuild and organizational overhaul just starting with a few former Astro minds at the control. In addition to Elias and Mejdal, there's Orioles director of pitching Chris Holt and director of baseball development Eve Rosenbaum, hired in mid-November as the highest-ranking female front-office official in baseball, who were also with the Astros in 2017.
As for the saucy details of "sign-stealing," much of what we do know is what Major League Baseball has shared — and the operation is almost comical as it is illegal. Also, importantly and lost in the headlines of the story, it resembles a centerfield-camera involved process commonly thought to be used by as many as six teams as late as the 2018 season, according to veteran baseball writer and broadcaster Tom Verducci.
During home games throughout the 2017 season, Astros players observed the game live using a television monitor in the hallway of their dugout. Specifically, they used a centerfield camera view from behind the pitcher, which is used primarily for player development (legal then, not now), to figure out an opposing catcher's signs—the gestures made with his hands indicating fastball, slider, curve, whatever. Certain players, and Astros video employees, then matched up the catcher signal they saw on TV with the pitch that was ultimately thrown on the field.
Once their opponents' signs were "decoded," according to MLB findings, one or more players watched the live view of the catcher during the game. And in the dugout, "a player would bang a nearby trash can with a bat to communicate the upcoming pitch type to the batter…Generally, one or two bangs corresponded to certain offspeed pitches, while no bang corresponded to a fastball."
ICYMI - This is the infamous garbage can banging noise from a Blue Jays and Astros game back in 2017. It's very clear if you listen with headphones, too. pic.twitter.com/FLevUbzKnj

— Ian Hunter (@BlueJayHunter) November 14, 2019
Manfred's report said witnesses presumed that anyone near the dugout could hear the banging of a trash can—and that Astros video employees were also running a similar cheating scheme that relayed pitch information to a runner on second base, who could then share it to their teammate standing in the batter's box so he knew what type of pitch was coming. There's also a conspiracy theory involving a "buzzer" system.
The funny thing is, sign-stealing is within the rules in pro baseball. But using electronic equipment during games to do so, isn't. We can easily imagine Beltrán, the former Astro and now fired-before-coaching-a-game Mets manager said to have conceived the idea of using the live TV feed, rationalizing that the technology is available to every team, and that people have always stolen signs. And indeed, during the same 2017 season, the Red Sox and Yankees were fined for similar methods.
(Related, Beltrán's ability to similarly use video—between games, totally legal—to pick up on opposing pitch-selection tendencies were actually previously revealed in detail in Ben Reiter's book Astroball, which chronicled the rise of the franchise's analytics-driven approach and the 2017 World Series winning season. It's very interesting reading now, in hindsight.)
The truth is, when reporting on this situation, words need to be chosen carefully. Saying anyone was "spared" or "avoided" punishment from the ongoing scandal, as we first considered, implies that there was guilt along the line and people got away with it. That's not what we want to suggest.
We're just thankful all's quiet on the Birdland front.