Orioles Play to Empty House
Surreal Camden Yards experience for O's—and noisy fans peeking from behind outfield gates.
"Let's Go O's! Let's O's! Let's O's!!!"
Believe it or not, the familiar Orioles rallying chant echoed throughout empty Camden Yards during Wednesday's surreal "closed to the public" contest versus the Chicago White Sox. And it started right away.
"O-R-I-O-L-E-S"
When the O's batted around in the first inning and exploded for six runs, highlighted by Chris Davis' 3-run first inning home run, dozens of dedicated Orioles fans—sneaking peaks through the left-center field gates—could be heard all the way into the press box behind home plate going crazy. If nothing else, the O's and White Sox players realized they were not entirely alone despite an official, announced paid attendance of "zero" later in the game.
In fact, the strange thing about today's game was not what wasn't heard, but what was—everything.
Literally, you could hear the ball smacking into the gloves of O's second baseman Rey Navarro, shortstop Everth Cabrera, and first baseman Chris Davis during an early, inning-ending, 5-4-3 double play. Outfielders could be heard calling for fly balls, umps making third-strike calls, White Sox and O's players cheering their teammates from the dugouts. There were also fans positioned as usual atop the Hilton and Hyatt hotels across the street, with a "GO ORIOLES" banner—visible in the ballpark—even hanging from one upper-level room deck. The only people in the stands were a couple of scouts in the first few rows. The paid attendance was announced as "zero."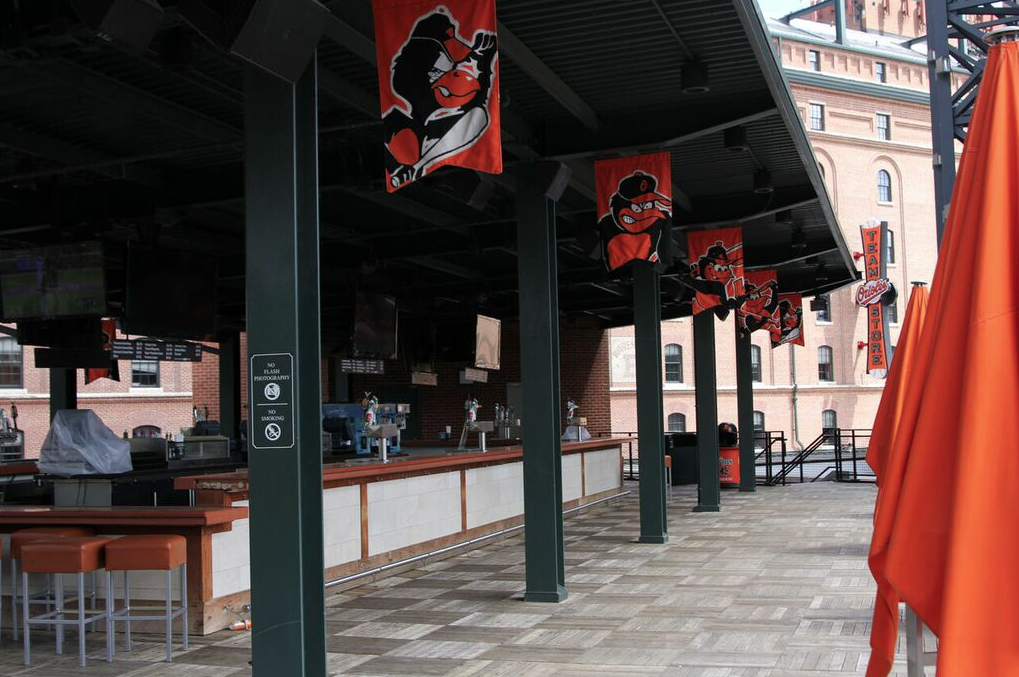 Later in the game, another chant of "Give me an 'O,' Give me an 'I,' Give me a 'R' … went up from the fans standing out in left field as well as a "Man-ny! Man-ny! Man-ny" chant after Manny Machado's two-run homer made it an 8-2 game.
Also, foul balls could be heard loudly ricocheting and rattling in the sea of vacant field box seats. But no beer or hot dog vendors, of course. No Oriole Bird. And O's relievers in the center field bullpen looked lonelier than ever.
After two postponements in two days at Camden Yards in the wake of protests around the death of 25-year-old Freddie Gray in police custody, the Orioles and Major League Baseball decided they needed to squeeze in the final game of the O's-White Sox series this afternoon before Chicago left town. The first pitch was moved from 7:05 p.m. to 2:05 p.m. Wednesday—at least in part to comply with the curfew in place in Baltimore following Monday's riots in the city.
Meanwhile, this weekend's Orioles series with Tampa Bay, scheduled for Baltimore, has been switched to Florida, where the O's will wear their white uniforms and play as the "home" team.
In his pre-game press conference, Orioles manager Buck Showalter expressed his deep concern for the city and said that baseball should not be the priority at this time in Baltimore. But he also acknowledged that baseball and sports have the potential to help bring cities together.
"Every city has challenges," Showalter said. "Down the road, there is [also] the chance that our city could be better because of this."
"It's not an easy time for anybody right now," the O's Adam Jones said. "It doesn't matter what race you are. We need this game to be played, but we need this city to heal first."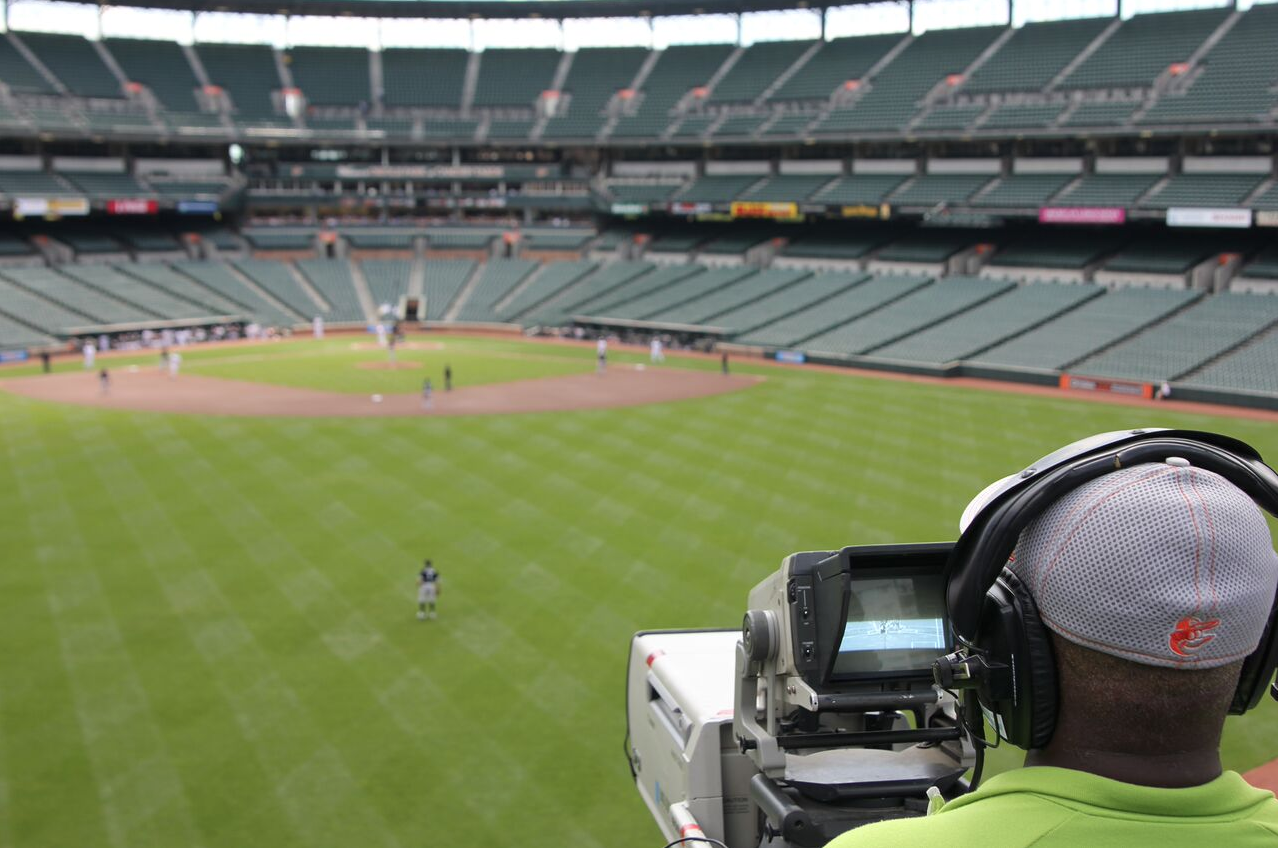 For the most part, players appeared very relaxed before the game during pre-game warm ups and batting practice. But Showalter acknowledged, "This isn't something we prepare for." He said the team pumps in sound during spring training games to simulate the noise of a big league park—to practice communication skills between outfielders, for example. "That's what we prepare for," Showalter said. "Not this."
He also joked that he was concerned about the umpires hearing "all the sweet nothings" that typically are expressed in the O's dugout, but go unheard.
Jim Palmer, outside the MASN booth before the game, recalled once playing before less than 1,000 fans in 1965 in Dodger Stadium where the Angels first played their home games. "There had been a Sunday rainout and it was the first game of a Monday doubleheader," Palmer said. "There were 655 people there. I was in the bullpen, I counted them." Still, a bigger crowd than today at Camden Yards.
John Denver did play during the seventh-inning stretch and there was music in between innings, including one attempt at humor—a blast of the '80s classic "Enjoy the Silence" by Depeche Mode.
In the first MLB game to be played with no audience, the Orioles beat the Chicago White Sox 8-2.