Cantlay posing with the winner's trophy on Sunday evening. —Courtesy of Maryland GovPics via Flickr Commons
Late on Saturday afternoon, in the third round of the BMW Championship golf tournament, Bryson DeChambeau stood in ankle-high grass off the left side of the fairway of the 16th hole at Caves Valley Golf Club, surrounded by sea of raucous fans who waited to catch a glimpse of him all day. But now they needed to part so he could find—and hit—his ball following a wayward, 360-yard drive from the tee.
Spotting the tiny white ball was the easy part, but clearing a path for his next shot was more difficult. As DeChambeau gripped a club and gazed at his target on the green, about 200 yards away, maybe a dozen people lined a giant white vinyl wall of a BMW Championship-branded hospitality area, and they were still in his line of sight. (Less concerning, given his pro skill, was the in danger of being hit by his ensuing shot). The group looked like a golf shirt and shorts-wearing lineup at a police station, if there were such a thing, backs to the wall, and DeChambeau asked them all to move, but there was seemingly nowhere to go.
After a few moments with no resolution, a frustrated DeChambeau again urged them to stand somewhere else, like a nearby walkway out of view.
"You're not going to be able to see the shot," he finally said, but the shot was all, of course, anyone wanted to see. Security officials acted, and shocked the onlookers by directing them onto the course inside the ropes (a rare sight) to make room, and so they could still watch DeChambeau—then leading the tournament—eventually launch the ball into the sky and onto the green ahead.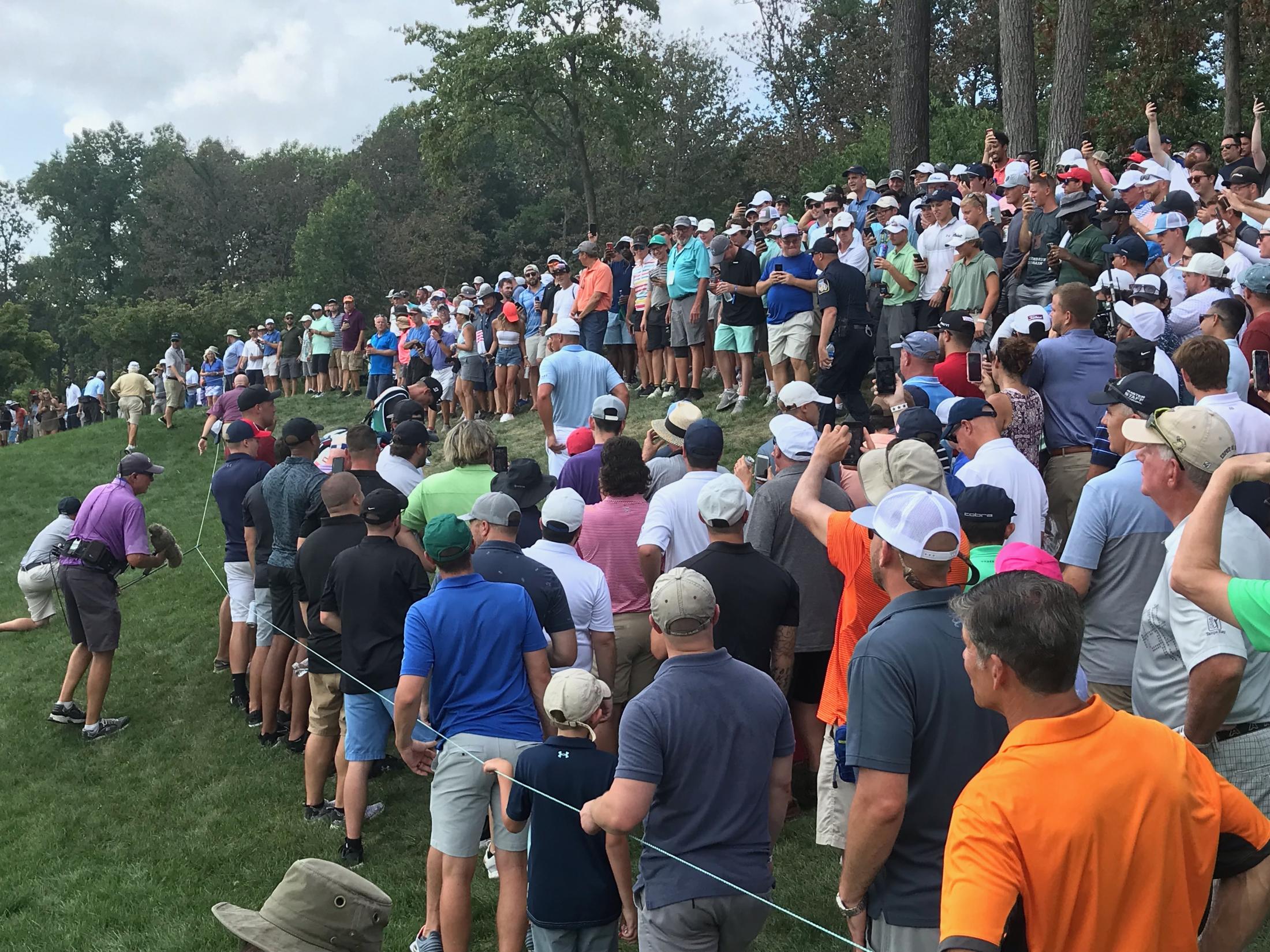 All week, it was like this. Big crowds—around 120,000 spectators overall spanning Wednesday's pro-am to Sunday's final round, Caves Valley club chairman Steve Fader told us—crawled, jostled, drank, and cheered, across the normally private, roughly 1,000-acre property in the Baltimore County hills, which hosted Baltimore's first PGA Tour event in nearly 60 years.
And the biggest and loudest throngs followed DeChambeau—a mainstream-ish, old-style hat-wearing, lightning-rod of sorts, known for his envelope-pushing long-distance driving and take-it-or-leave-it personality—right up until the very end.
That's when DeChambeau, who set the course record with a 60 on Friday and bombed jaw-dropping drives all week, missed a series of crucial putts down the stretch, including lipping out a six-footer that could have won the tournament if it dropped. It left the door open for Patrick Cantlay, to first tie DeChambeau in regulation at 27-under par, then win the tournament in a thrilling six-hole overtime that sent fans scrambling back-and-forth between the 18th and 17th holes twice.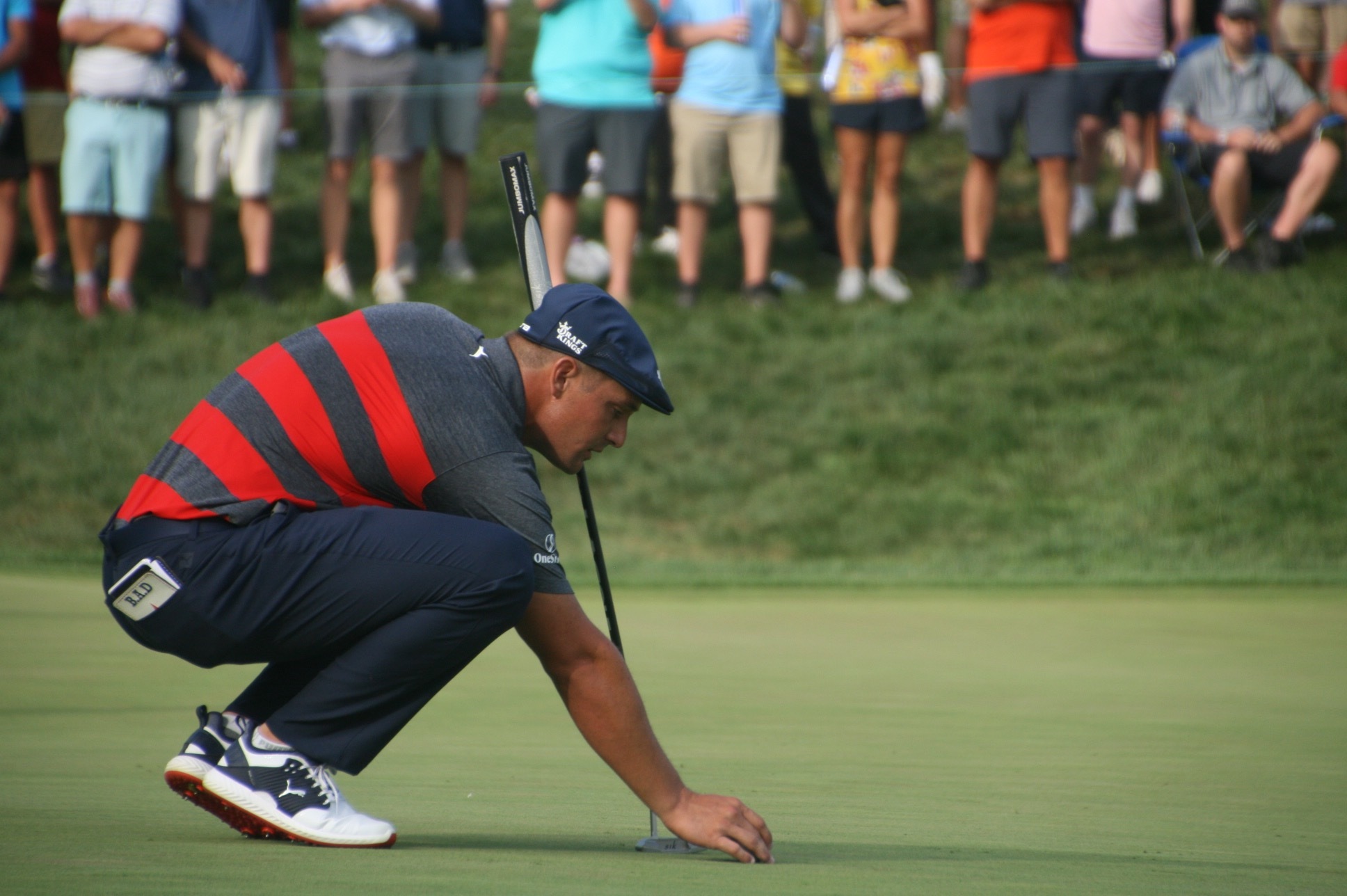 By the end of the 90 extra minutes it took, with the sun setting, Cantlay—who was anointed "Patty Ice" by his supporters in the crowd for his steely personality (he said he very much heard and appreciated those chants all week)—held the winner's trophy, posed for flash photography with dignitaries, and talked about it all.
"These were some of the most supportive, loudest fans I've ever experienced," Cantlay said. Call it his—and the pro golf world's—Welcome to Baltimore moment.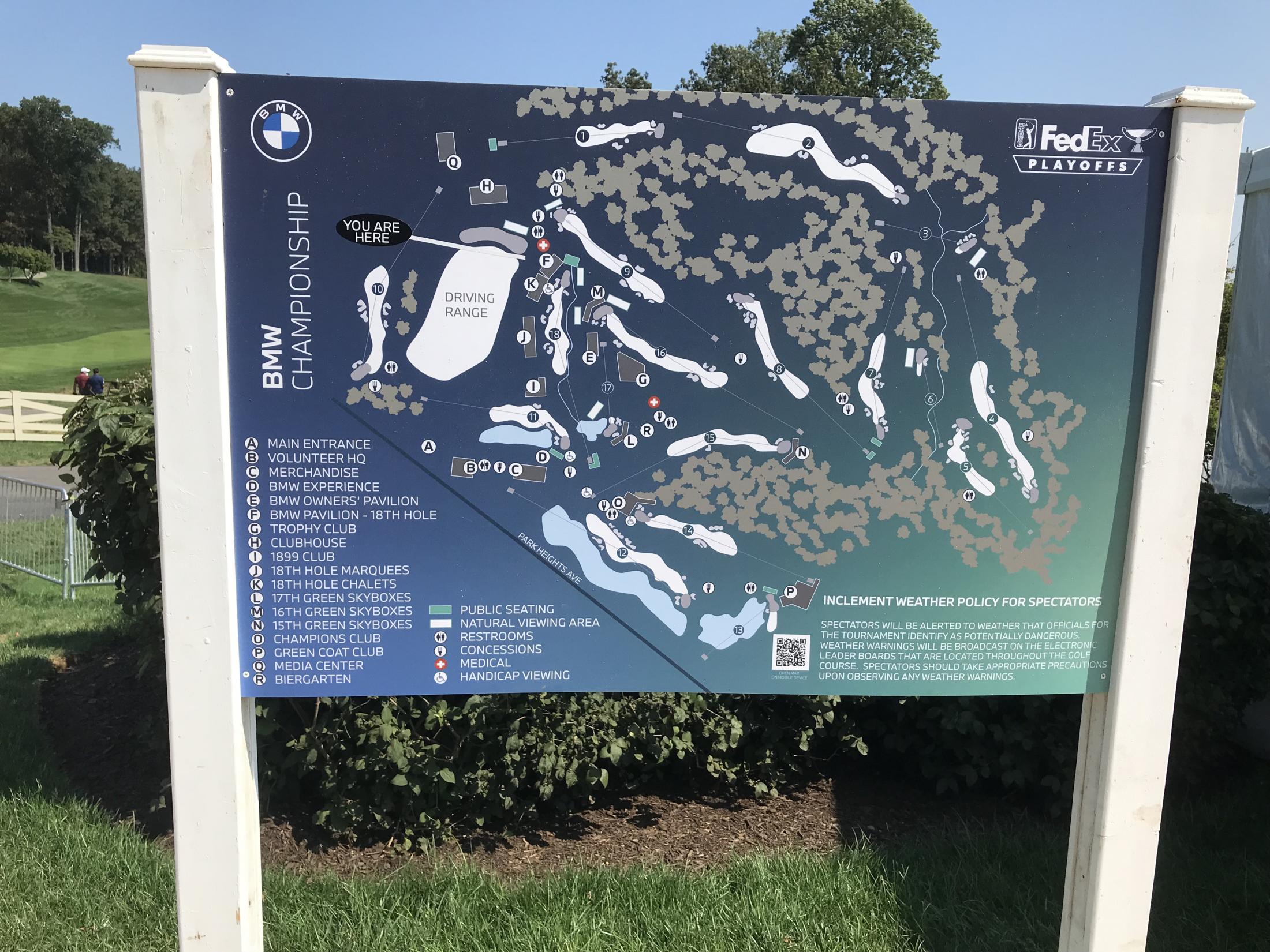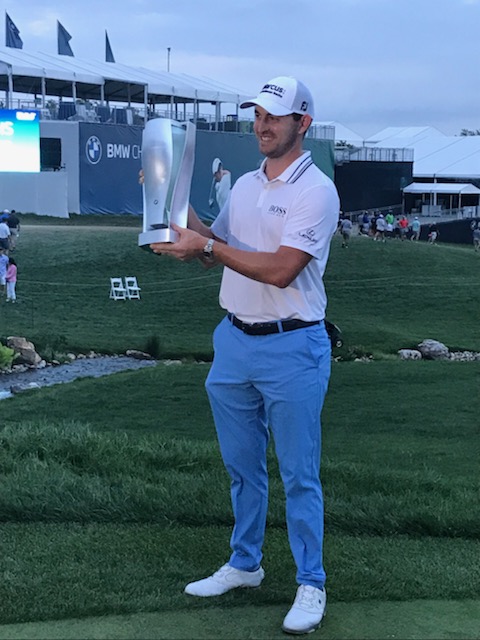 This was the first PGA Tour event in Baltimore since the 1962 Eastern Open at the public Mount Pleasant course in East Baltimore, and it did not disappoint. It was easily the highest-attended sporting event, and public gathering, in the area since the start of the pandemic, and at times it felt like a euphoric party—even in sweltering, typical Baltimore summer conditions.
BMW signage and cars (they're going electric, if you haven't heard), giant hospitality areas, and concession tents dotted the landscape. There was traffic on the roads around and long lines to board shuttle-busses from parking lots to the entrance gates.
Fader told Baltimore on the 18th green after the trophy ceremony to expect a report on the economic impact on the area within the next six weeks. We also heard him speak with Baltimore County executive Johnny Olszewski Jr.—who was on hand for much of the action—about scheduling a post-mortem.
Tournament organizers have said the BMW Championship—played mostly in the Midwest in its 14-year history, but on an East Coast rotation as of late, including at Wilmington Country Club in Delaware next August—has typically brought more than $20 million in activity with it.
"When you look out and see the thousands of people, the merchandise sales, the concession sales, the people that come out here and enjoy this event, it's terrific," says Fader, the CEO of MileOne Automotive Group, which operates two local BMW dealers. Fader got the ball rolling on hosting the tournament five years ago. "All over, there was energy and excitement."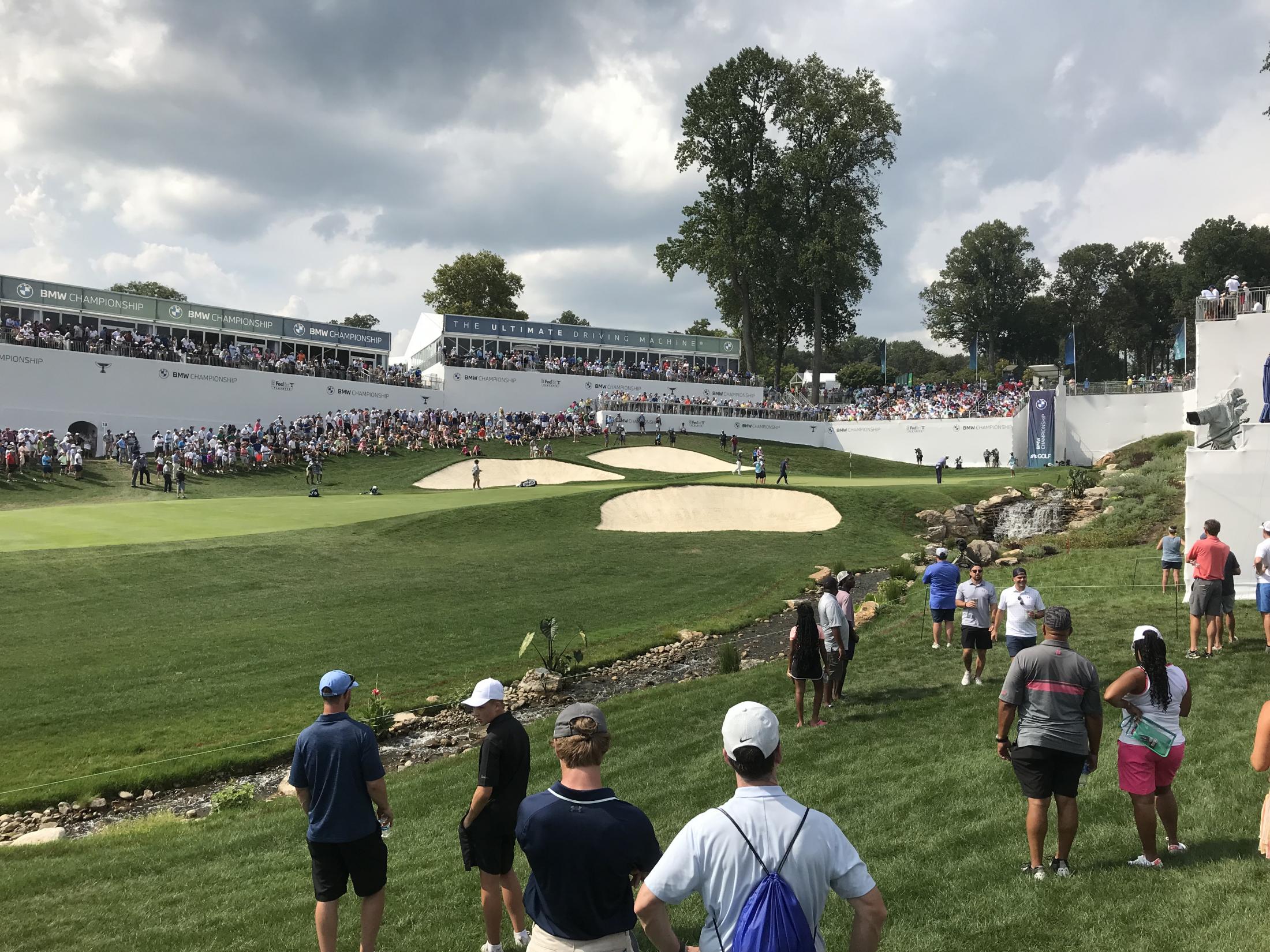 Loud roars from crowds in response to impressive shots echoed amid the tall trees in the hills, with enough volume for players to notice. "I know why they call it Caves Valley," said Harold Varner III, who led the field during Thursday's opening round. "It seems like if you make a putt, you can hear it on the whole golf course, so that's pretty cool."
Indeed, it was. Throughout the five-day event, we spotted many familiar faces walking the grounds, including Michael Phelps, former Ravens general manager Ozzie Newsome, and current defensive coordinator Don "Wink" Martindale (easily identified wearing his sideline apparel, fresh from practice Friday afternoon.) All were compelled to get a look at the world's best golfers attack a local and rarely seen, exclusive course.
Despite renovations at Caves Valley in the last 18 months to toughen the challenge in advance of the tournament—like adding 500 yards of length and replacing and deepening every sand bunker on the course to make them pro style—the top-70 PGA pros, battling in the second round of the FedEx Cup playoffs (golf's equivalent of the NFL playoffs), picked it apart. Each of the top 20 finishers posted at least 15-under par, an uncommon result.
It was because of the weather, mostly. Inches of rain from the remnants of a tropical storm the week before, as well as summer heat and humidity kept the course "soft," many players said—meaning they could expect balls to reliably stop, spin, and roll on the turf as they intended, and not fear shots running off  into the rough.
Aside from growing the rough higher and narrowing the fairways, which takes a lot of time and construction, there wasn't much of an alternative to prepping the course.
"I'm much more of a fan of 9- to 12-under winning golf tournaments, especially playoff events like this, but you can't really do anything about the weather," Harris English, who finished tied for 26th at 13-under par, said on Friday. "The heat index is probably over 100. It's just hard to get these greens firm. If you don't have tight fairways, don't have really long rough, you're going to have really low scores."
Said NBC course commentator Roger Maltbie, who could be seen zipping from hole-to-hole in a golf cart to get a good view of the action: "It's a big ballpark. Big fairways, and big greens." And a lot of big hills—as anyone who walked the course at all over the past week can tell you.
"It's exciting," former world No. 1 and four-time major champion Rory McIlroy said Saturday. "I think everyone out on the course enjoyed it today. They enjoy watching us try to drive greens and make eagles on par-5s and all that."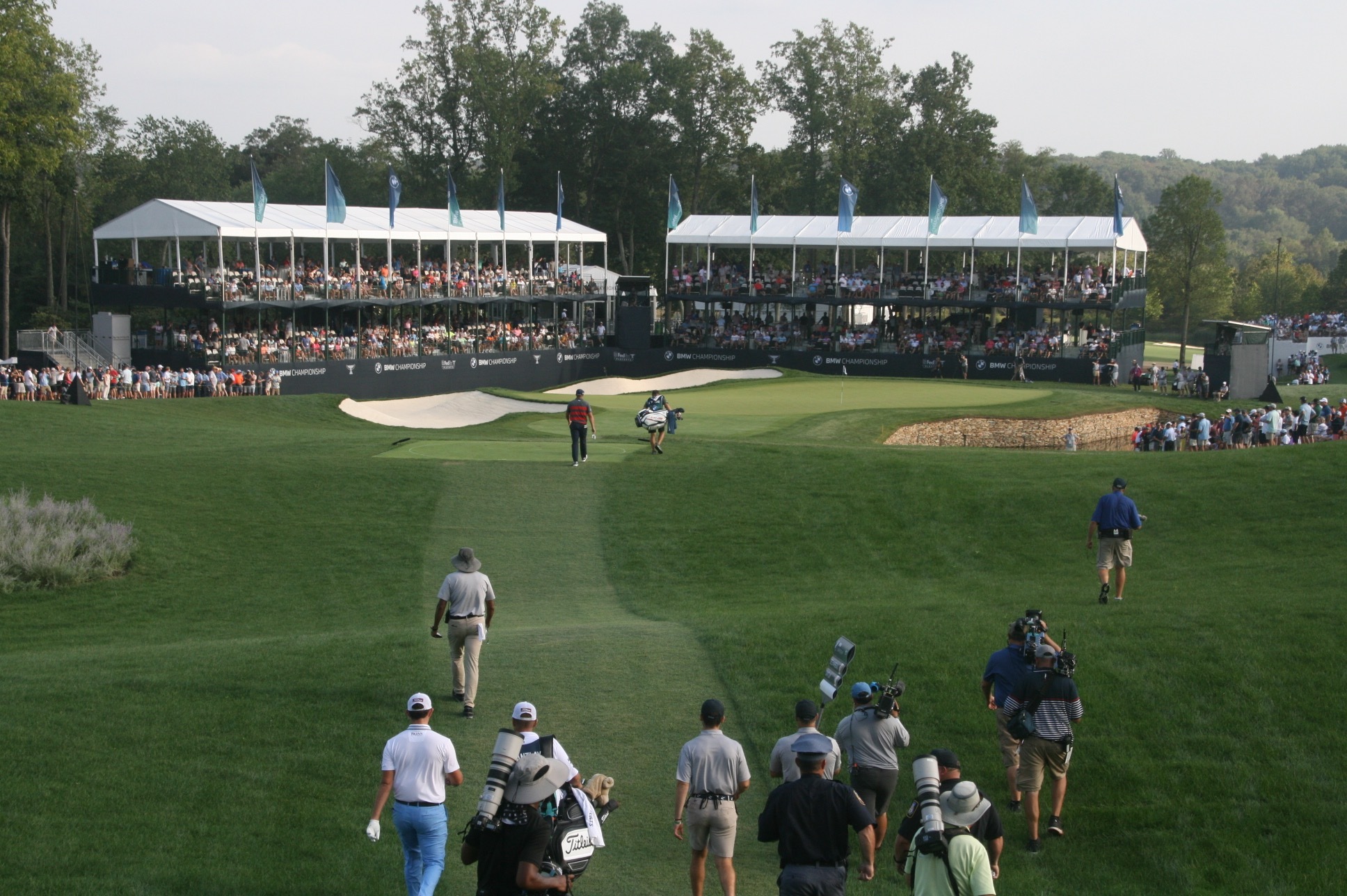 The setting made for great theatre, said Cantlay, who was one of the main characters in the tournament's climax late on Sunday. He and DeChambeau, as much as a polar opposite fire-and-ice pairing as you can imagine, started the day tied and traded the lead throughout the round.
Things heated up on the long par-4 14th hole, with DeChambeau asking the mild-mannered Cantlay, yards behind him, to "stop walking" as DeChambeau prepared to hit an approach shot from the fairway. It suggested a breach of etiquette by Cantlay, or maybe an instance of gamesmanship. ("We had just been told by the rules officials to kind of speed up, and I'm not always the fastest walker, so I was trying to get ahead and do my part," Cantlay said. "No big deal.")
DeChambeau sunk a birdie putt on the 16th hole to go ahead by one, fist-pumped, and looked in control. But he bogeyed the par-3 17th, missing an opportunity with Cantlay's tee shot having trickled in the water. That started the string of missed putts—five in a row at one point—that cost DeChambeau his ninth career win. In the meantime, Cantlay was clutch on the greens, draining a 12-foot birdie putt on the final hole of regulation force overtime and ending the marathon round with an 18-footer to win.
"Lots of birdies and a great finishing hole," Cantlay said. "I knew it was going to play easy and you were going to need to make a lot of birdies…and that's just mostly to do with it being as soft as it was. I think this golf course would be very different if it was firm, but it's wide and there's not a ton of trouble, so it was a birdie-fest out there."
DeChambeau, who set the course record on Friday with a 60 and shot 66 on Sunday, didn't talk to the media afterward. But he appeared to be self-aware (giving his signature driver hat to a young boy,) as well as a bit heated coming off the course. He cursed at a heckling fan who shouted "Brooksy" at him—something he heard all weekend—as part of his ongoing and well-publicized feud (or circus) with fellow pro Brooks Koepka. (It's a bit of complicated backstory, but worth catching up on.)
Up at the top of the hill from that scene, closer to the stone farm-style Caves Valley clubhouse, is the practice range and a few putting greens. Looking west, the land descends toward Park Heights Avenue and the club's entrance. Golf balls hit by the pros this week seemed to disappear into the horizon, where trees on the other side of the valley met the sky.
Late Saturday afternoon, around 4 p.m.—as DeChambeau was busy hitting two balls in the water on consecutive holes after eagling each of the previous two during his third round—another top pro, Tony Finau, practiced his chipping after finishing his third round in relative quiet.
A half dozen 20-somethings, each holding 25-ounce cans of light beer and wearing golf shirts, were among a small group of fans watching Finau knock balls from the grass and sand near a few flags on the practice area. A few repeatedly tried to get his attention and one finally did with a specific question. "How do you like the course?" he said. "How do you like Caves Valley?"
Finau, the winner of the PGA Tour's previous stop in New Jersey a week earlier, turned to the group, pursed his mouth and squinted his eyes beneath his flat-brimmed white hat, and shook his head in the affirmative. Yes, he was saying, it was all good. Maybe better.
"It went great," Fader said. "All in all, I think it's going to prove out to be all the things we wanted it to be. When you do the retrospective on it, I think we're going to say, 'All the things we hoped for, we got.'"