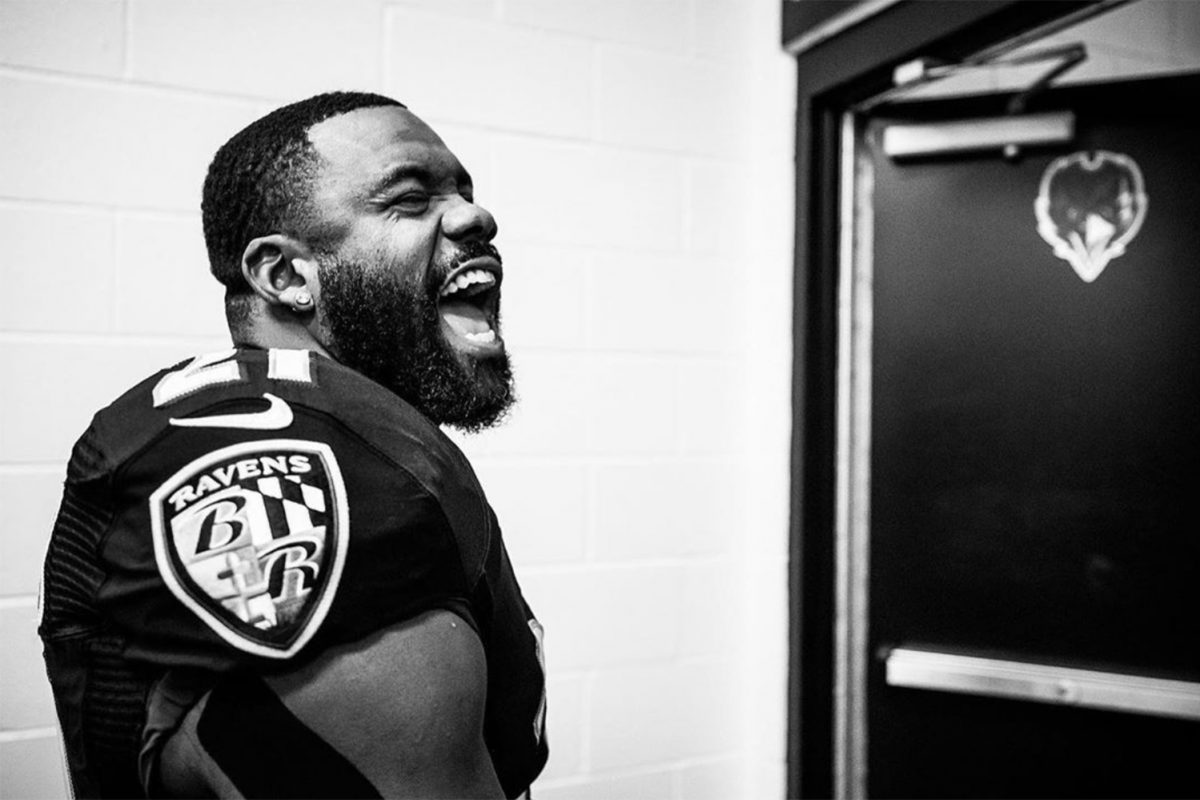 @markingram21 via Instagram
Getting a straight answer out of constantly comical Ravens running back Mark Ingram can be a tough task. Just ask his teammates, or listen to him banter to anyone at practice or before a game, or talk in the locker room afterward. But there is so often truth in his now well-known brand of irreverent humor.
"I feel like people say that when you're 30, I guess you're like dead or something," Ingram told reporters this week, alluding to his upcoming milestone birthday on Saturday' and the reputation for running backs of his age to break down physically due to the violent nature of pro football and his position. "But I think my best football is still ahead of me."
The way this season is going, the Ravens don't need a lot more. Maybe just a few more games of Ingram being himself. At 5-foot-9, 215-pounds, he is a proverbial battering-ram inside runner on the field. And he's also perpetually positive—an internet meme-inspiring "heart of the team," between the lines and everywhere else, Ravens quarterback Lamar Jackson says.
"When you guys see on TV is what you get throughout the days, behind the scenes," Jackson says. "That's Mark, and we love it."
You could see the camaraderie building in snippets earlier this season, for instance when Jackson shared a video on his Instagram story of Ingram dancing wildly in the locker room at its practice facility in Owings Mills, with a caption suggesting that Jackson had no idea what was going on.
He and Ingram have a brotherly relationship, as in maybe older brother is the crazy-yet-wise one. It started in the preseason when they shared a flight up from Florida to Baltimore. Jackson, the 22-year-old coming back for his second season here and first as full-fledged starting QB, and Ingram arriving for his first in any capacity after signing a three-year, $15 million free-agent contract following nine seasons with the New Orleans Saints.
Like Jackson, Ingram is a former Heisman Trophy winner. He won college football's top individual honor as sophomore in 2009 at the University of Alabama. (Here's our obligatory mention that RGIII once won the award, too).
But unlike Jackson, who has emerged a bonafide nationwide sports star in his second pro season and can't keep his own branded apparel stocked quick enough, Ingram has almost a full decade of relatively under-appreciated NFL experience in him. In his world that means a lot of tread on his running back tires, 1,515 carries for 6,970 yards and 60 touchdowns, and 252 receptions to be precise—as well as a lot of jokes, chatter, passion, and good vibes in the locker room.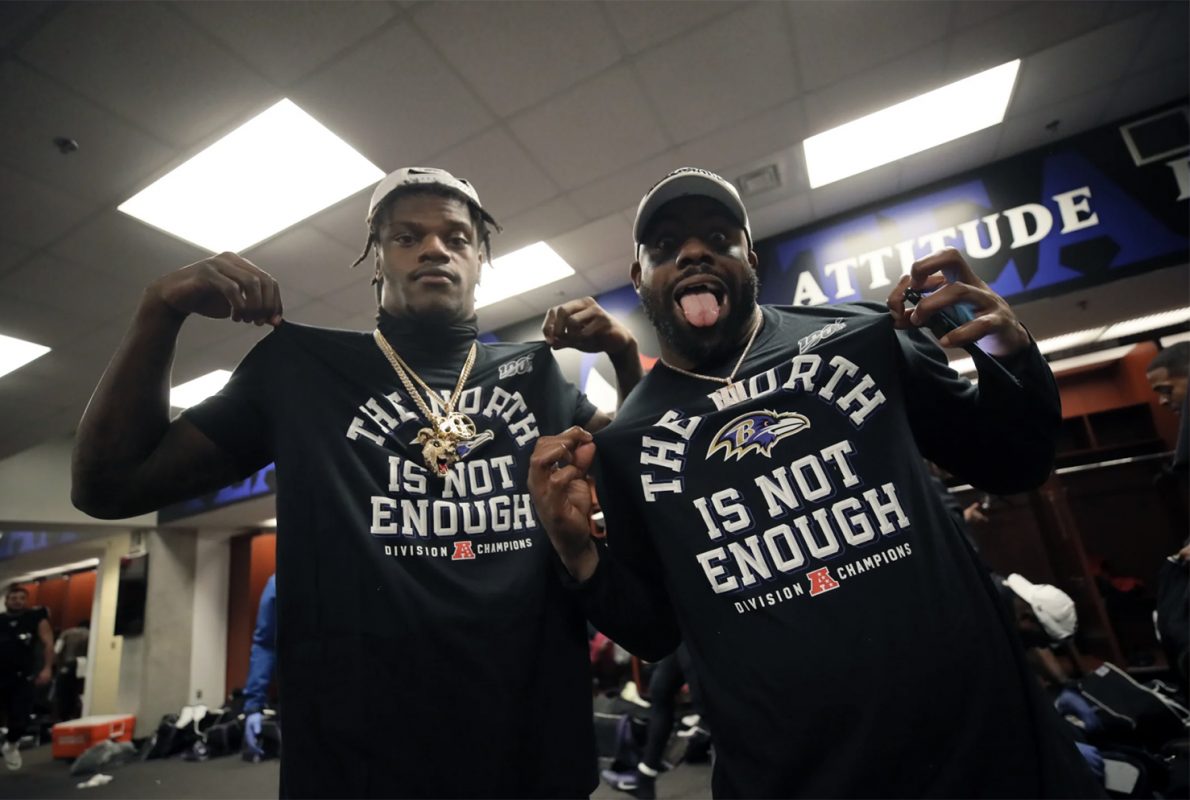 Ingram's former quarterback and future Hall-of-Famer, Drew Brees, in 2017 said he was the "heart and soul" of the Saints, too.
"I just try to be myself," Ingram said Wednesday, in an unusually business-like interview session. "Love all my teammates, love all my coaches, be the best person I can be. Treat them with respect, treat them with love, and just work my butt off. That means the most to me, when my quarterback and my other teammates say that about me. That's what I do it for."
Most notably, Ingram is, of course, the main character in the origin story of "Big Truss," the Ravens' unofficial and totally appropriate child-like mantra for this breakout and now Super Bowl-dreaming season.
It goes like this: Jackson, since last year, has been saying "Truss," as in trust (your teammates, coaches, whoever; like "I got you.") It's a purposely misspelled and misspoken variation of the powerful noun, cited with originating in Pompano Beach, Florida, where Jackson is from.
This season, Ingram added the "big" emphasis on the idea, seemingly off the top of his head. "Because everything Mark does is big," says wide receiver Willie Snead, who also played with Ingram for three seasons in New Orleans. The saying most famously went public in Ingram's Jackson-for-MVP "hype man" rant after the Ravens convincing win over the Houston Texans a month ago, and it's now internet meme-worthy and essentially Bawlmerese.
So it goes with this eminently likable team, now with an 12-2 record, the title of "Kings of the AFC North" already locked up ahead of Sunday's game against the divisional foe Cleveland Browns—the last team to beat the Ravens way back in Week 4. That seems like eons ago.
The Ravens have since captivated a sports-watching nation with 10 straight wins and a great blend of veterans like Ingram, kicker Justin Tucker (also 30, and not dead) and offensive lineman Marshal Yanda, 35, who's happy he was cajoled out of retiring. Plus more than a half dozen first-or second-year starters who have rallied around their fast, friendly and now beloved quarterback Jackson.
This week, a league-high 12 Ravens, including Ingram, were named to the Pro Bowl, a best-in-class showcase for NFL players held the week before the Super Bowl.
For his part, Ingram arrived in Baltimore in March as a relatively unheralded free-agent after the Saints decided to hand the starting running back role to talented rookie Alvin Kamara. (That "turn 30 and they think you're dead" comment does have truth to it.) But plenty of others still knew about Ingram's effective ability on the field. Less about his character off it.
For all the bluster and funny-man schtick, there's a serious, grounded side to Ingram. Back when he was a freshman in college in 2008, his father Mark Sr., who played 10 seasons in the NFL as a wide receiver and won a Super Bowl with the New York Giants, was sentenced to seven years in prison after being found guilty on money laundering and fraud charges. He decided not to turn himself in to officials on time because he wanted to watch his son play for Alabama in the 2009 Sugar Bowl, so he got two years added on to his jail sentence, and didn't get out until 2015.
In a nod to that part of his story, this week Ingram and Snead led 25 elementary school kids with an incarcerated parent on a $125 holiday shopping spree at Dick's Sporting Goods store in Glen Burnie, an event paid for through Ingram's charitable foundation.
This sort of thing played into the glowing recommendation Snead, who arrived here two years ago, gave the Ravens' front office this offseason—telling them that Ingram was the type of player with a strong makeup that could help make the team a legitimate championship contender.
"He's everything we hoped for," Ravens coach John Harbaugh said. "I didn't know his personality as much. I didn't really know how boisterous he was and how outgoing he was… It's really been fun to be around. He really gets it. He knows how to treat people, knows how to practice. He plays with great passion and great energy, [and he's] very physical. You've seen him. You know what I'm talking about there."
Because while the pro football locker room is unique in some ways, it's very familiar in others. Like any workplace, there's a variety of personalities. The quiet, the outgoing, the serious, the person you know nothing about, the person who you know too much about. Ingram is a proverbial "glue guy"—someone who is good at their job and has a fun time doing it. That's some people seem to get more than others.
In other words, get yourself or your organization a hype man, agent, general life supporter, and a positive influence like Jackson and the Ravens have in Ingram, and your chances of success go up. There's an example of why every week.
Perhaps you missed it late last Thursday night, after the end of the Ravens' blowout win against the New York Jets (we know people had to work the next morning), when Ingram literally stole the post-game show from NFL on Fox sideline reporter and Dancing With the Stars co-host, Erin Andrews.
Ingram was standing next to Jackson on the field. They were both just interviewed, and Ingram had just reminded Jackson about when exactly he broke Michael Vick's single-season rushing record for an NFL quarterback. "Someone suggested I should give you the mic, and ask a question. Do you want to go ahead?" Andrews told Ingram.
Ingram again showed what he's all about—about what being the heart of a team really means—with a Saturday Night Live-ish skit on national television. He asked Jackson a mock interview questions about winning the division, while using a variety of nicknames. "Freaky L, aka Action Jackson, aka Era8Apparel… How it feel, tell me how it feel L Freaky?" he said. Jackson, of course, played the straight-man and went along with it, saying there's more to accomplish. "So you're saying the story is unwritten? Book unfinished?" Ingram said.
"That was awesome," Fox play-by-play announcer Joe Buck said.
"Give me the mic and let me interview some people," Ingram said from behind the podium this week, talking to reporters. "I like it. It's pretty cool. Y'all be careful. I'm coming."
There's some truth in that too.