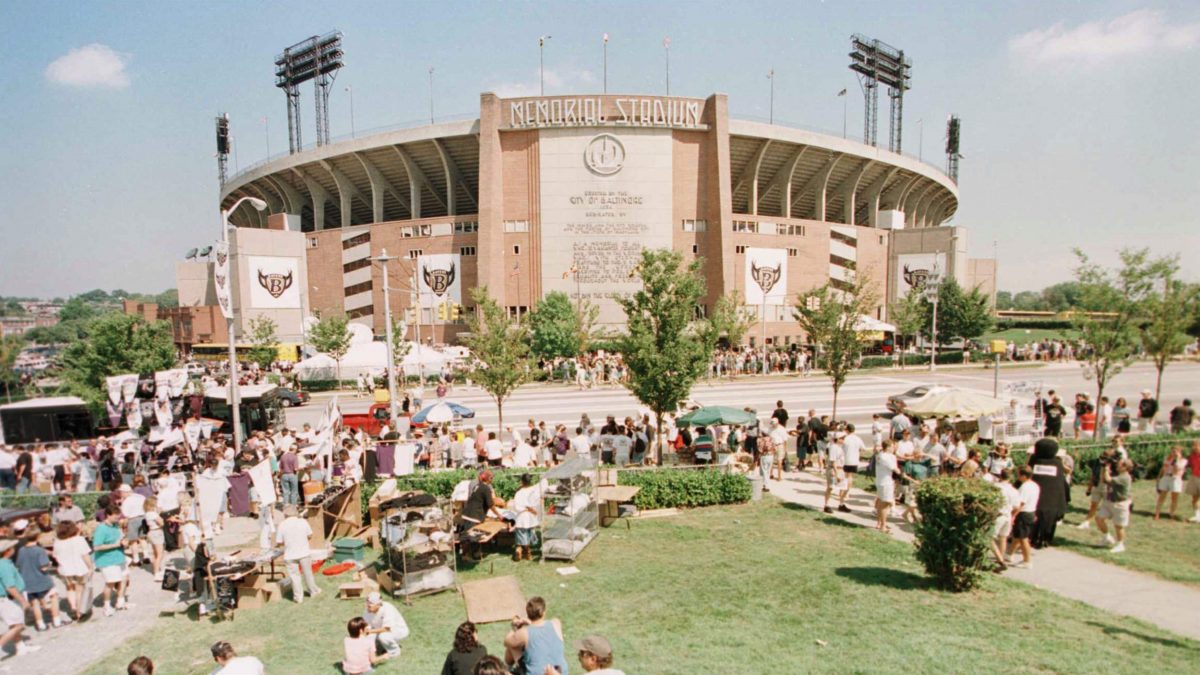 Photography by Shawn Hubbard/Baltimore Ravens
#8: First Game in
(New) Franchise History
September 1, 1996
How it happened: Ten
months earlier, owner Art Modell stunned the sports world—and broke the hearts
of millions of Ohioans—when he announced he was moving his Cleveland Browns to
Baltimore. Here, football-starved fans rejoiced.
Twelve years and nine months after the Colts played their
last home game (a 20-10 win over the now no-longer Houston Oilers before just 20,418
fans), NFL football returned to Baltimore. A raucous crowd of 64,124—at the
time, the largest in Baltimore professional sports history—flocked to Memorial
Stadium to welcome their new heroes. This was more than just a football game—it
was a resurrection.
While some wore their old Colts gear and others sported T-shirts
offering colorful opinions (most of which rhymed with "duck") of Colts owner
Robert Irsay, the majority were decked out in the new purple and black of the
Ravens.
A brew of nostalgia and history-in-the-making excitement engulfed the old
stadium on 33rd Street. Before the game, the Baltimore Colts
Marching Band (which never disbanded) performed and legendary Colts quarterback
Johnny Unitas presented the game ball at midfield.
The decidedly-less-legendary Vinny Testaverde was under
center for the Ravens, and he scored the franchise's first touchdown on a
9-yard run. There was another NFL debut that afternoon. In his first game, rookie
linebacker Ray Lewis recorded an interception. Trailing the Oakland Raiders in
the fourth quarter, the Ravens took the lead on a touchdown run by Earnest
Byner (a future assistant coach for the team) and won the game, 19-14.
The 1996 Baltimore Ravens were far from a great football
team—they finished the season 4-12—but they were our football team, and on that memorable first Sunday in September, that was all that mattered.
---
All season long, we'll be counting down the Ravens top moments in franchise history to celebrate the team's 20th season in Baltimore. Take a look back at what moments we've chronicled so far.
#20: Naming the Team
#19: Testaverde Throws for 429 Yards
#18: Ring of Honor
#17: Terrell Suggs Becomes Thigh Master
#16: The Insane Final Minutes of the Vikings Snow Game
#15: Torrey Smith's Emotional Win Over Patriots
#14: Peter Boulware Gets Four Sacks in a Single Game
#13: Justin Tucker Nails a 61-Yard Field Goal to Beat Detroit
#12: Flacco Connects With Ray Rice on Fourth and 29
#11: Ray Lewis Strips Eddie George in 2000 Playoffs
#10: Ed Reed's 106-yard Interception Return Against the Browns