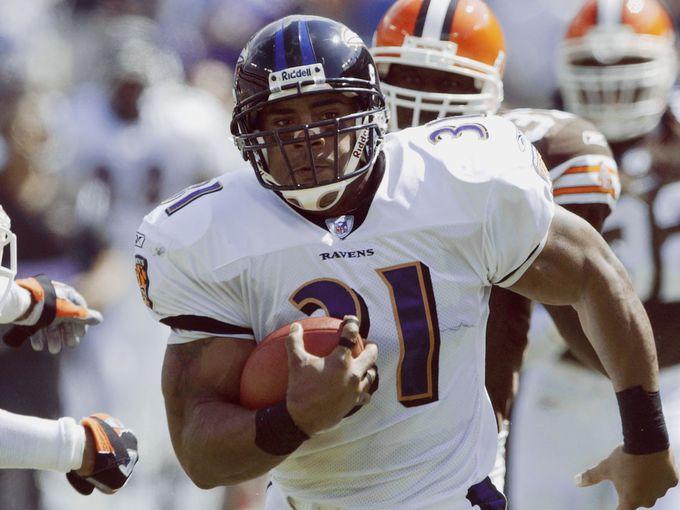 USA Today
#9: Jamal Lewis rushes for 295 yards against the Browns.
September 14, 2003
The Ravens' best running back ever was a rare beast coming out of the University of Tennessee: a 240-pounder with 4.5 speed, just as capable of running over an opponent as by him. He ranks 24th on the all-time career rushing list with more than 10,000 yards and, in 2003, posted the third-best, single-season total ever with 2,066 yards. That same year, he broke the NFL's single-game rushing mark with 295 yards on 30 carries in a 33-13 win over the Cleveland Browns at M&T Bank Stadium. (The Vikings' Adrian Peterson topped Lewis' record by one yard against San Diego in 2007.)
How it happened: Remarkably, Lewis actually called this. Two years after knee surgery, the big back wasn't feeling like he was getting his due and in a phone call with Cleveland's Andra Davis a few days beforehand, he told the Browns' linebacker that, if he got 30 carries, he'd break the record Corey Dillon of the Bengals had set in 2000.
In fact, Lewis would've went over 300 yards on the day, but 12 yards on one long run were called back because of a holding penalty. Lewis blasted open the game with an 82-yard rampaging run in the first quarter and sealed the deal with a 63-yard run in the fourth quarter, averaging an incredible 9.8 yards per carry on a very busy day. The 2003 squad was not exactly an offensive juggernaut with Kyle Boller at QB, but with a strong defense and Lewis running behind a Jonathan Ogden-led O-line, the Ravens went 10-6 that year and won the NFC North Division title.
---
All season long, we'll be counting down the Ravens top moments in franchise history to celebrate the team's 20th season in Baltimore. Take a look back at what moments we've chronicled so far.
#20: Naming the Team
#19: Testaverde Throws for 429 Yards
#18: Ring of Honor
#17: Terrell Suggs Becomes Thigh Master
#16: The Insane Final Minutes of the Vikings Snow Game
#15: Torrey Smith's Emotional Win Over Patriots
#14: Peter Boulware Gets Four Sacks in a Single Game
#13: Justin Tucker Nails a 61-Yard Field Goal to Beat Detroit
#12: Flacco Connects With Ray Rice on Fourth and 29
#11: Ray Lewis Strips Eddie George in 2000 Playoffs
#10: Ed Reed's 106-yard Interception Return Against the Browns