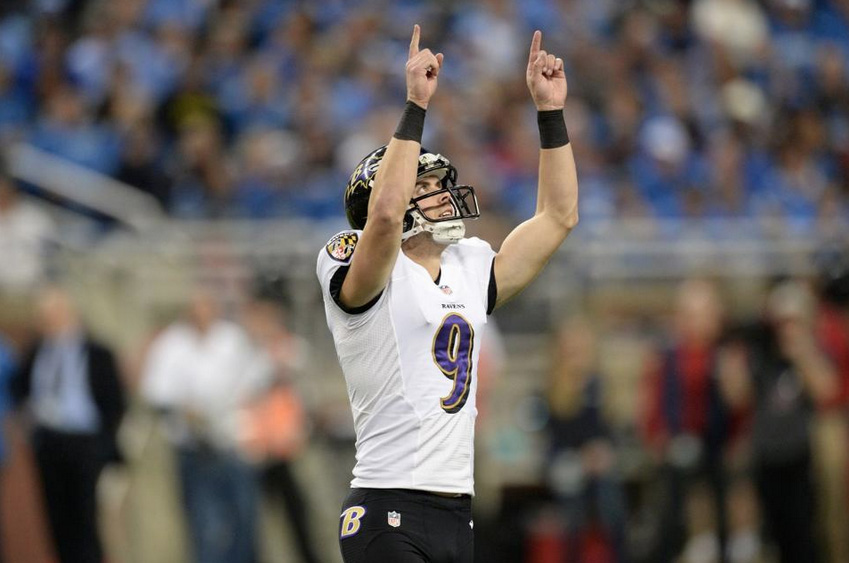 Photography by Phil Hoffmann / Baltimore Ravens
#13: Justin Tucker
Nails a 61-Yard Field Goal to Beat Detroit
December 16, 2013
How It Happened:
Sixty-one yards is 183 feet. It's 2,196 inches. Manute Bol, one of the tallest
players in NBA history, stood 7-feet-7-inches. If you stacked two dozen Manute
Bols on top of one another, you'd still be shy of 61 yards. So when Justin
Tucker lined up for a 61-yard field goal attempt on the fake grass of Ford Field
in Detroit with Baltimore trailing by one point and just 43 seconds left in the
wee hours of a Monday night two seasons ago, you couldn't blame Ravens fans if
they didn't hold out much hope for a victory.
Thankfully, Tucker, who can famously sing opera,
pitch Dr. Pepper,
and channel his inner Matthew McConaughey,
also can kick a football, as they'd say in his native Texas, doggone far. He'd
already hit five field goals in this excruciating game, accounting for all of
the Ravens' points. But Detroit still led, 16-15. His team needed one more.
Later that week, Tucker would tell USA Today that he hit one from 70 yards in pregame warmups. Just eight days earlier, Matt
Prater set a new NFL record when he connected from 64 yards for the Broncos in
the thin air of Denver. (He's now the Lions' kicker). For what it's worth,
Tucker says he once hit a 79 yarder during practice in Denver.
After an accurate snap and a perfect, laces-out hold,
Tucker crushed the kick, which sailed end-over-end through the stale dome air
before barely clearing the crossbar. His 33rd consecutive made field
goal set a new franchise and personal best for length. More importantly, it
gave the Ravens a two-point win that kept their playoff hopes alive. (For another
few weeks, at least).
Only Justin Tucker could provide such an operatic ending to
a memorable game.
---
All season long, we'll be counting down the Ravens top moments in franchise history to celebrate the team's 20th season in Baltimore. Take a look back at what moments we've chronicled so far.
#20: Naming the Team
#19: Testaverde Throws for 429 Yards
#18: Ring of Honor
#17: Terrell Suggs Becomes Thigh Master
#16: The Insane Final Minutes of the Vikings Snow Game
#15: Torrey Smith's Emotional Win Over Patriots