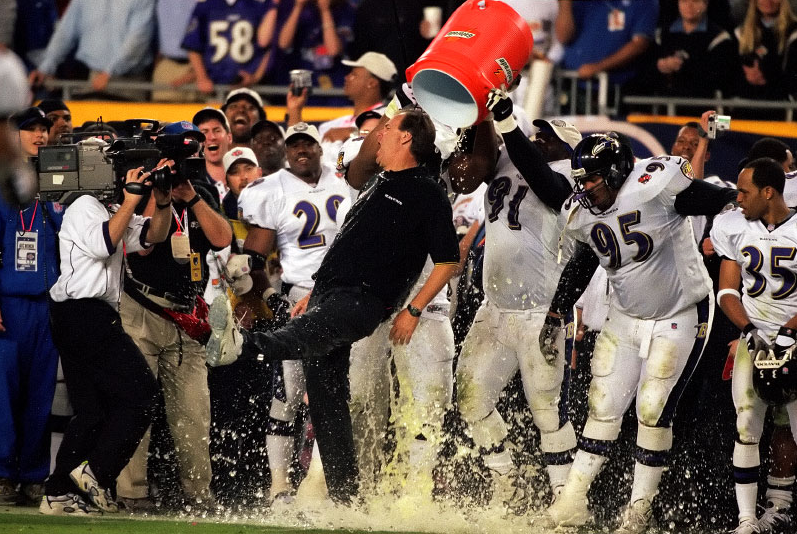 Bob Rosato/SI
#1: Ravens win Super Bowl XXXV
Jan. 28, 2001
How it happened: Defense. Defense. Defense. Simply put, the 2000 Ravens' "D" was one of the best units of all time. They delivered four shutouts, the most since Pittsburgh's Steel Curtain lineup of 1976, and allowed the fewest rushing yards and fewest points ever, barely 10 a game, over a 16-game schedule.
In the playoffs, Ray Lewis, Peter Boulware, Jamie Sharper—how's that for a linebacking corps?—and company somehow ratcheted the intensity up another level, allowing just one TD in four games. (Remember, the TD that the Giants scored in the Super Bowl came on a kickoff return). In the big game, they held the G-men to 152 yards on offense and intercepted four passes, include the one Duane Starks ran back for a TD.
Offensively, the Ravens struggled at times during the year, but it didn't matter. A rookie freight train named Jamal Lewis ran for 1,364 yards; Trent Dilfer took over and ran an efficient, if not prolific attack; and Matt Stover kicked a zillion field goals—a league leading 35 of 39, to be exact.
The bottom line is that our boys in purple went all the way in just their fifth season. And, really, they've been fantastic ever since—playing great defense and hard-nosed football every season. They even made us proud with their effort, if not always the results, during this past injury-plagued year. We totally expect to add a new "Top 20" moment or two to this list with a healthy squad in 2016.
---
All season long, we counted down the Ravens top moments
in franchise history to celebrate the team's 20th season in Baltimore. Take a
look back at what moments we've chronicled.
#20: Naming the Team
#19: Testaverde Throws for 429 Yards
#18: First Ring of Honor
#17: Terrell Suggs Becomes Thigh Master
#16: The Insane Final Minutes of the
Vikings Snow Game
#15: Torrey Smith's Emotional Win Over
Patriots
#14: Peter Boulware Gets Four Sacks in a
Single Game
#13: Justin Tucker Nails a 61-Yard Field
Goal to Beat Detroit
#12: Flacco Connects With Ray Rice on
Fourth and 29
#11: Ray Lewis Strips Eddie George in 2000
Playoffs
#10: Ed Reed's 106-yard Interception
Return Against the Browns
#9: Jamal Lewis Rushes For 295 Yards Against
the Browns
#8: First Game in (New) Franchise History
#7: Ray Lewis's Last Dance
#6: Ravens Beat Steelers in Playoffs For
First Time in Franchise History
#5: Mile High Miracle
#4: Draft Day '96
#3: Art Modell Announces He's Moving
Browns to Baltimore
#2: Winning Super Bowl XLVII