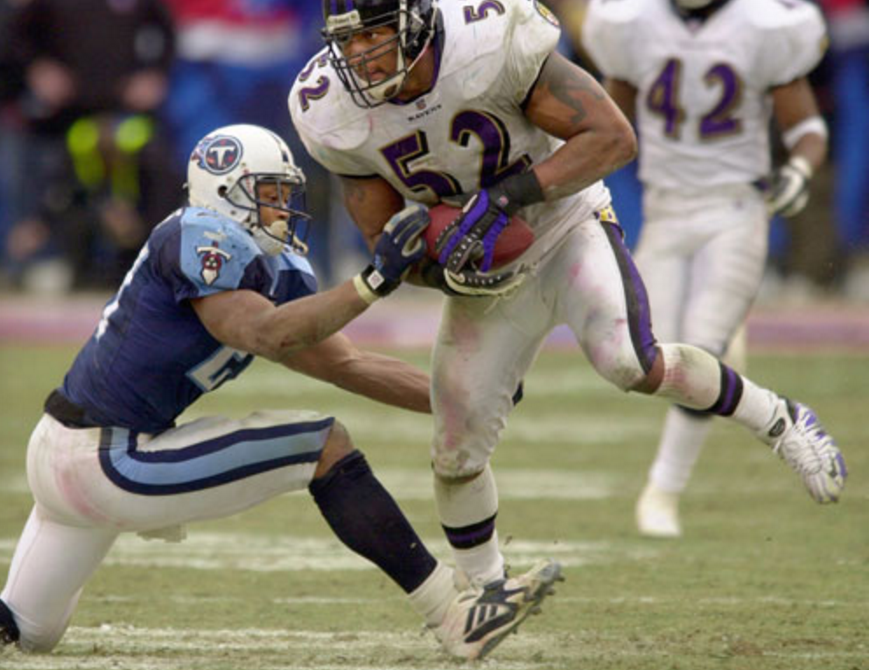 Courtesy of BaltimoreBeatDown.com
#11: Ray Lewis Strips Eddie George in 2000 Playoffs
January 7, 2001
How it happened: Ray Lewis has been in the news a lot these past two weeks, due to controversial remarks he made about the infamous double homicide in Atlanta, which he chronicled in his new memoir I Feel Like Going On: Life, Game, and Glory. But, something that is not up for debate is how crucial Lewis was in getting the Baltimore Ravens team its first Super Bowl ring. Between his sheer will, monstrous strength, and defensive leadership, Lewis almost single-handedly marched his team toward the Lombardi Trophy in 2001.
The moment that epitomizes Lewis's command over the sport came during the Divisional Playoff game against the Tennessee Titans. Long before Terrible Towels made our blood boil, the Titans were Baltimore's primary arch rival and the game remained a contentious one until Lewis crushed the hopes of Tennessee fans everywhere in the fourth quarter.
Knowing full-well that the Titans' main offensive weapon at the time was running back Eddie George, Lewis bodied up against him in man-to-main coverage and, when George bobbled a pass from quarterback Steve McNair, Lewis grabbed the ball in midair and ran the interception back 50 yards for the first touchdown of the game. With just under seven minutes to go, this sealed the deal and brought the Ravens up a commanding 24-10.
After the game, Lewis discussed the play against George, who is a close friend.
"He's their offensive cornerstone, and I am our defensive cornerstone," he said. "We went at it good today. It was just a great war. We are great friends off the field, but when we are on the field, it is just two gladiators going after one another."
Of course, we all know the rest, as the Ravens went onto defeat the Raiders in the AFC Championship and completely manhandle the Giants in the Super Bowl, getting the organization a ring while it was still in its infancy. Despite an inconsistent offense lead by QB Trent Dilfer, Lewis and his defensive team stopping people like the talented George made all the difference.
"We don't believe that one man can come in and pound us and pound us and pound us and win the game and gain 150 yards," he said at the time. "I'm not being boastful. It's against our religion."
---
All season long, we'll be counting down the Ravens top moments in franchise history to celebrate the team's 20th season in Baltimore. Take a look back at what moments we've chronicled so far.
#20: Naming the Team
#19: Testaverde Throws for 429 Yards
#18: Ring of Honor
#17: Terrell Suggs Becomes Thigh Master
#16: The Insane Final Minutes of the Vikings Snow Game
#15: Torrey Smith's Emotional Win Over Patriots
#14: Peter Boulware Gets Four Sacks in a Single Game
#13: Justin Tucker Nails a 61-Yard Field Goal to Beat Detroit