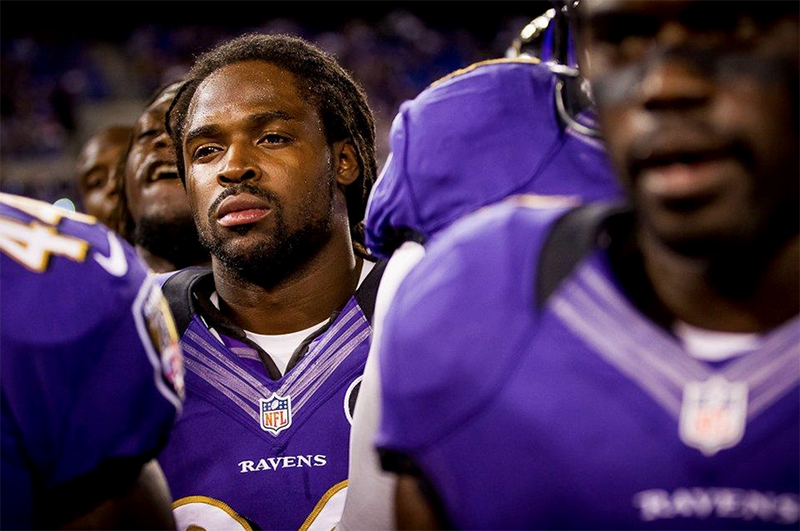 Photography by Shawn Hubbard / Baltimore Ravens
#15: Torrey Smith's emotional win over Patriots
September 23, 2012
How it happened: It's been a tough start for the Ravens organization—to say the least. For the first time in franchise history, the team has gone 0-3 and, to make matters worse, heads to Pittsburgh on Thursday after a short week (silver lining: Big Ben is out 4-6 weeks). Now more than ever, fans could use this heartwarming sports memory, a story that puts the game of football into perspective.
In the early hours of September 23, 2012, beloved Ravens wide receiver Torrey Smith lost his 19-year-old brother, Tevin Jones, in a motorcycle accident in Virginia. That same night, the Ravens were scheduled to play the New England Patriots and, astonishingly, Smith told coach John Harbaugh that he wanted to play.
Even more remarkable was his performance that night. Smith finished the game with six receptions for 127 yards and two touchdowns in a 31-30 win over the New England Patriots. Some of the more poignant moments came when Smith took a knee after a second-quarter touchdown, he passionately hugged linebacker Ray Lewis after the game, and answered questions in an emotional post-game presser.
"That's for my little brother, man," Smith told NBC. "We're just thankful for the support from everybody around the league, and all the fans in general. My family really appreciates it."
At his side, of course, were his supportive teammates, including quarterback Joe Flacco, who was in awe of Smith's performance.
"I can't imagine what he's going through," Flacco said. "For him to come out and show up and play is one thing. To come and play the way he did, and for all the guys to rally around him and bring his day up, it was really unbelievable."
Though Smith is longer with the Ravens organization, he is still firmly connected with the city of Baltimore, whether it's through charity events or simply cracking some Jimmy's Seafood crabs. This moment is one of many reasons why No. 82 will always hold a special place in the heart of Ravens fans.
---
All season long, we'll be counting down the Ravens top moments in franchise history to celebrate the team's 20th season in Baltimore. Take a look back at what moments we've chronicled so far.
#20: Naming the Team
#19: Testaverde Throws for 429 Yards
#18: Ring of Honor
#17: Terrell Suggs Becomes Thigh Master