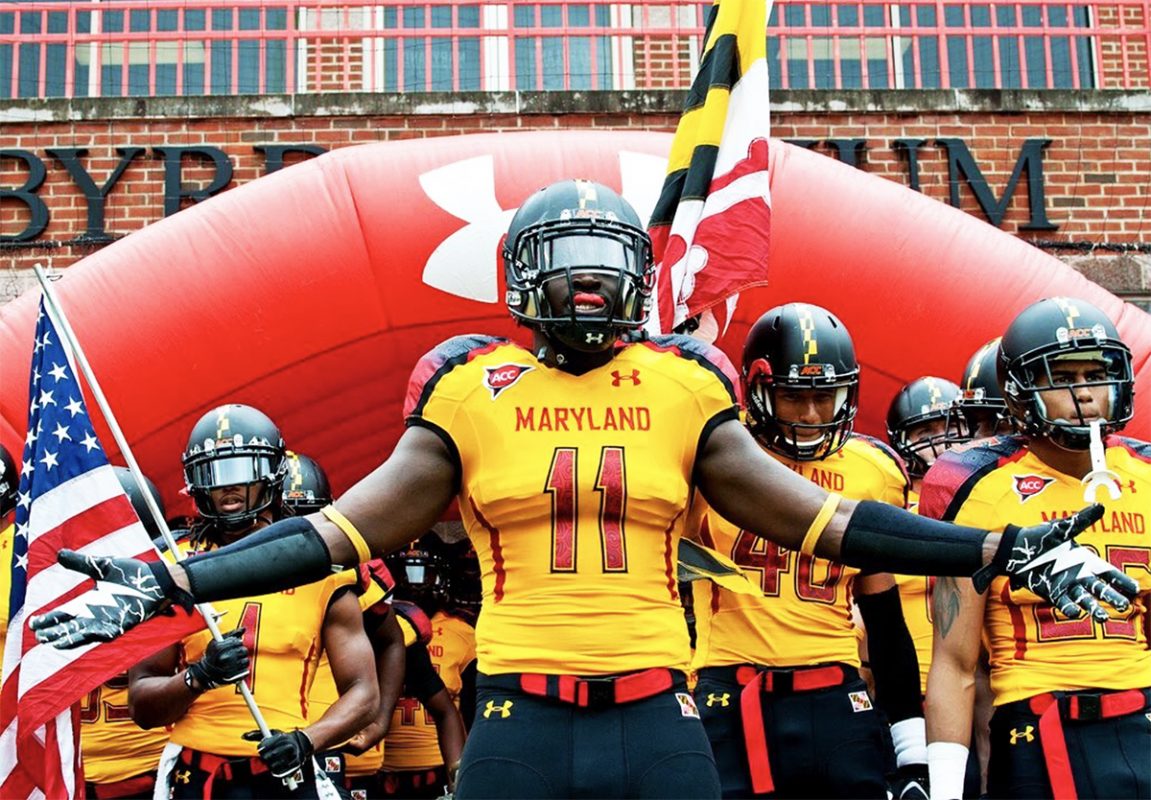 University of Maryland
David Mackall's mother stood over her son's open casket last Saturday morning, sobbing inconsolably, her back turned to a standing-room-only crowd gathered at Wylie Funeral Home on Liberty Road. She was mourning her child, the former University of Maryland football player gone way too soon at the age of 28, leaving two young children of his own behind.
Heartbreaking might be the only way to describe it. Indeed, as Ava Mackall cried over her son, a singer a few feet away, as if on cue, bellowed as part of his song, "Why . . . why so much pain?" The rest of the family, his father and cousins, sisters and nieces eventually got up from their seats to offer support and grieve themselves. "There's so many wonderful things I could say about him," his niece, Shawnaya Cawthorn, said. "I called him about anything. I don't know who I'm going to call anymore."
The headline that brought us to his funeral has since filtered out of most minds, as they often do: Former Maryland football player David Mackall Jr. identified as victim of fatal shooting in West Baltimore. But, like the others who were compelled to come Saturday (and the parking lot was full; some people parked their cars on the adjacent grass), we knew there was more to the story, one that you know the man wanted to be told.
I actually had a chance to meet Mackall last year. It wasn't much in the grand scheme of things, a chance encounter as random as your location, but I'd sat in the backseat of his car one Saturday afternoon in January, as he drove me home from the Baltimore Museum of Industry in his Uber-commissioned black sedan. Unprovoked, he quickly started talking about how proud he was of his son playing sports, the things he was teaching him, the joy it gave him. And with a part-time sportswriter as the one-man audience, we went on to talk for the entirety of the ride.
He spoke, with a humble sincerity and endearing upbeat attitude, about how he got here. How a former four-star football recruit from Edmondson-Westside High—who played before thousands of paying fans as a linebacker and defensive end at Maryland and later at the University of Delaware; who once tried out for the Baltimore Ravens—was now making ends meet by driving strangers around the city. It wasn't what he wanted to be doing, of course, but it was what he needed to do to support his growing family, his longtime girlfriend, Jarenae, and his young son, Jacoby, now 6. Their second, Dylan, was soon to come. Mackall had plans for the future, he said, to apply for a college program, maybe in IT.
It turns out he was often proactive. "I recruited a lot of players, but he's the only young man who recruited me," former Edmondson football coach Dante Jones said, remembers when years ago Mackall, in 10th grade but already "looking like a grown man," approached him in line at a local Sam's Club and told him he wanted to play football for him. He would grow to be 6-foot-3 and 240 pounds. "He was special."
That was the start of Mackall's journey from the city to College Park, which included a year at Fork Union Military Academy to boost his grades, and eventually a full scholarship to play for the Terps under former football coach Ralph Friedgen. Mackall played one season for Maryland, one of only five true freshman to see playing time that year, before Friedgen was fired and Randy Edsall was hired, which resulted in 13 players bolting from the program and Mackall suspended for the final four games of his sophomore season amid a clash with the new coach. (In the car that day, Mackall told me that, in order to speak with Edsall, he needed to make an appointment with his secretary.)
Mackall was granted his release, chose to stay close to home, and transferred to Delaware. After sitting out the 2012 season with an injury, he played all 12 games for the Blue Hens at outside linebacker, and started at middle linebacker his senior season, leading the team with 84 tackles in 2014. In the summer, he worked at popular Newark restaurant Klondike Kate's, and Mackall graduated in May 2015 with a bachelor's degree in sociology and a minor in criminal justice. Then he started working as a truck driver for Coastal Sunbelt Produce.
We do not yet know the exact circumstances of his death, but two weeks ago, on May 29, Mackall was shot and killed in broad daylight, gunshot wounds to the head and torso, in Walbrook, a neighborhood in West Baltimore where he grew up. He passed away at a local hospital. Police haven't named a suspect or anyone arrested in his death, an all-too-familiar refrain attached to many of the 300-plus homicides in each of the last four years in the city. "Baltimore people, God's people, wake up. Get your community back," Cynthia Bruce, a representative from Mothers of Murdered Sons and Daughters, said at Mackall's funeral on Saturday. Her son, Marcus Downer, 23, was shot 19 times and killed in the city in July 2015.
I thought about the injustices—of a city where gun-related murders are as common as a football game, of a college athletics and university system that makes so much money from its players and too often doesn't really care what happens afterward—when I first met Mackall, and I think about it now. He'd "made it," but not far enough. That much we know from his death.
"He was a wonderful man. He touched a lot of us," pastor Steven Hinnant, Mackall's cousin and a teacher at Edmondson-Westside, said Saturday. "The thing that really struck my heart was that he was an overcomer. I saw him face things in life. Sports is wonderful because it's a microcosm of life. He had some challenges, because of the system, before he could go to the University of Maryland. He tackled his grades, and accepted that scholarship. Some other challenges came. He had to tackle that situation and moved on to the University of Delaware. I'd never been so proud that he persevered through those situations."
That's a story worth telling, which is what we'd discussed near the end of our delightful conversation in his car. We exchanged contact information, and I sincerely wanted to speak with him again. "I'd really like that," he said. He said he'd thought about speaking at city schools, to inspire other kids to try to get to college, to make something of themselves. He even said he'd written out some of his story, hoping to one day share it.