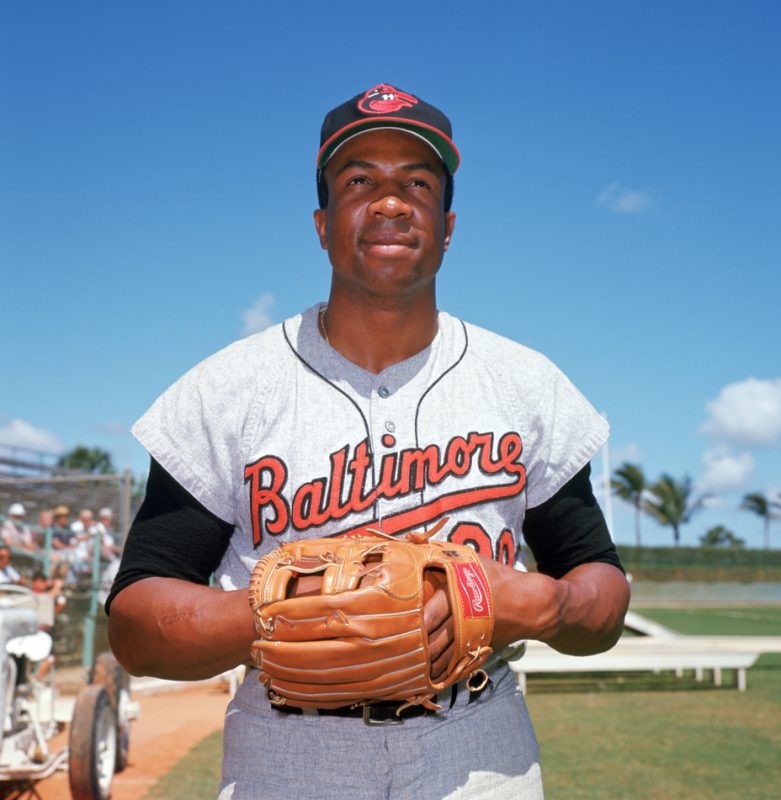 David Durochik / AP Photo
On Thursday, Baltimore—and baseball as a whole—lost a legend as Frank Robinson passed away at the age of 83 at his Los Angeles home after a long battle with cancer. Not only did Robinson fulfill more roles than any other person in the history of the Orioles organization, but the former manager, player, and front-office executive was multi-faceted when it came to his character.
Maybe it's presumptuous to think that Robinson, as a player, had any deep-rooted reason to position himself as head of the Orioles' silly kangaroo court. He wore a white mop atop his own hair and levied playful small-dollar fines against teammates for things like base-running mistakes, talking to opponents, or anything else deemed an infraction. But it's hard not to imagine that the light-hearted foolishness, with Robinson banging a baseball bat as a gavel, didn't provide some sense of escape from the serious judgement he faced outside the refuge of the clubhouse.
This was a man who, when he was traded at age of 30 to an implicitly segregated Baltimore in 1966, couldn't find a place to live because he was black. His wife phoned him in Florida during spring training to say she was about ready to move with their two children to California, where they had family, since many landlords refused to rent them a space.
The Robinsons ultimately settled in Ashburton, then a racially mixed, upper-middle-class neighborhood in the northwest part of the city, but only after Orioles owner Jerold Hoffberger asked members of his public relations staff to help the family find housing. Even still, certain shops, bars, and restaurants refused their entry.
As a boy, Robinson grew up in Oakland, California, the son of a single mother who raised 10 kids, and he found a sanctuary in sports. And as a teenager in the 1950s, he learned first-hand what it meant to be a black man in the South when he played in the minor leagues as a 17-year-old, hard-hitting outfielder in the Cincinnati Reds system.
As an adult, he was gruff, ferociously competitive, no-nonsense, and often hard to get to know. "I'm not sunny," Robinson once told Washington Post writer Barry Svrluga. "I'm a quiet, kind of withdrawn person. I don't mix easily with people."
Yet, in Memorial Stadium, Robinson was both the court jester and king of the diamond.
Ten months after he settled in Baltimore and after several seasons in which the club got close to capturing an American League pennant, Robinson—an intimidating right-handed presence at the plate—famously got the Orioles over the postseason hump and led them to their first World Series championship.
"He made us all better," fellow Hall of Famer Jim Palmer said Thursday night, and Robinson won the Triple Crown while doing it, leading Major League Baseball in batting average, runs batted in, and home runs.
The 1966 season was his greatest year, one of the best individual seasons in baseball history, and one that quickly cemented his legacy as a Baltimore sports giant and hero— even before the Orioles captured three more American League pennants and the 1970 World Series in his six seasons here.
But Robinson's proudest accomplishment happened in 1975, nine years later, when he broke ground as the first black man to walk a lineup card to home plate, as the Cleveland Indians' player-manager.
Just as the Dodgers' Jackie Robinson broke baseball's color barrier for players in 1947, Frank Robinson, unrelated but forever linked, did the same for minority managers that followed. But he was a reticent pioneer. Being the first African-American manager "was nothing compared to what Jackie did or what he went through, but it was important because I was the first and that meant the door's open," Robinson said in 2016.
He piled up accomplishments decade after decade. Robinson was the only player to win MVP in both leagues, with the O's in '66 and Reds in '61, he was a 14-time All-Star and, when he retired in 1976, was fourth on the all-time home run list with 586, only behind Hank Aaron, Willie Mays, and Babe Ruth.
This Miller Lite beer commercial featuring the Brothers Robinson from 1980 is especially memorable too:
Robinson later managed the Orioles for four seasons, one of four teams he managed over parts of 21 years. He replaced Cal Ripken, Sr. as O's manager in 1988 after an 0-6 start, lost his first 15 games and the team finished 54-107. The next season the O's went 87-75 and Robinson was AL Manager of the Year.
As the Angelos family recognized, Robinson is the only person in O's history to serve as a player, coach, manager, and front office executive. He also worked in MLB's offices. And despite playing only six of his 21 seasons for the Orioles, and having statues of his likeness and jersey No. 20 retired in three different towns, he went into the Hall of Fame with an O's cap in his first year of eligibility in 1982.
"The only regret I have about my relationships in Baltimore is that my playing career was too short there," Robinson said during his induction speech, "but the love affair still goes on."
Once he found a place to live, Robinson embraced Baltimore as his second home. Having a street named after him following the 1966 World Series win didn't hurt. But most of all, as Robinson told The Sun in 2016, he hoped that his play and presence—we have to think the mop-headed kangaroo court judgeship included—helped change the racial biases in the city that he encountered upon arrival.
"I hope it did," said Robinson, who is survived by his wife, Barbara, and daughter, Nichelle. "That was always on my mind."