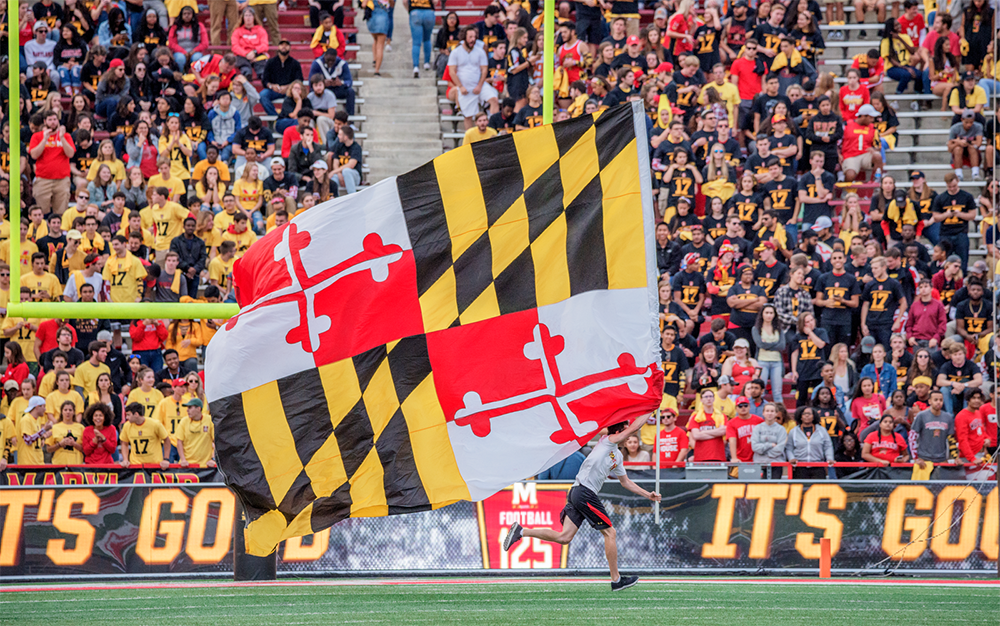 Flickr / Creative Commons
Jordan Martin McNair was my son. He was flesh of my flesh, and bone of my bone. He was good. I don't say this just because I am Jordan's father; I say this because it took an entire village to raise the son I, and his mother Tonya, had the privilege of raising. Our plans did not include his death. Our plans included something more. Our plans included him.
—Martin McNair, July 15, 2018, "Jordan's Journey: A Letter From a Father."
As heartbreaking as the death of University of Maryland football player Jordan McNair was and continues to be—with last weekend his former teammates threatening to boycott their game against Michigan—it's somehow even more startling when you consider the circumstances are part of a larger, fatal trend.
Martin McNair and Tonya Wilson, the grieving parents of the 19-year-old former McDonogh standout lineman who died June 13 from complications of heatstroke suffered during an offseason conditioning session at Maryland, recently sat down for an interview with HBO's Real Sports for a segment in which the newsmagazine show noted that McNair's death was the 30th of its kind since the year 2000.
That's right, 30 college football players have died in the last 18 years as a result of workout sessions, deaths that are entirely avoidable, according to medical experts, McNair's case included.
"He went from a healthy kid Tuesday morning to you're talking about a liver transplant Wednesday afternoon," Martin McNair said. "We're still trying to grapple with, 'What happened?'"
By now you probably know: McNair began to struggle after an organized series of 110-yard outdoor sprints, and amid a mismanaged diagnosis and treatment of heatstroke, he had a seizure. By the time team personnel called 911 an hour and seven minutes after McNair showed his first symptoms of being ill, he arrived at the university's shock trauma center with a body temperature of 106 degrees.
Two weeks later, his organs failing, McNair died after doctors took him off the machines that were keeping him alive. "There was nothing else we could do," Tonya Wilson said.
In August, university president Wallace Loh said the school accepted "legal and moral responsibility" for McNair's death and athletic director Damon Evans said that training staff didn't follow standard heatstroke treatment best practices, which include cold-water immersion upon a player showing signs of symptoms.
Dr. Douglas Casa, CEO of UConn's Korey Stringer Institute, dedicated to preventing heat and sudden death in sports in the name of the former NFL lineman who died from heatstroke in 2001, told HBO that McNair's death was avoidable. Putting a player in a cold-water tub would save lives 100 percent of the time by dropping body temperature rapidly, Casa said. The problem is, for McNair and at least a dozen others in college football in the last two decades, this didn't happen.
Reports of the incident didn't go public until an ESPN report more than two months after it, which led to the negotiated dismissal of head athletic trainer Rick Court, the suspension of head coach D.J. Durkin and members of the training staff, and a pair of investigations. One was into the circumstance of the death itself, which found staff failed to quickly diagnose and treat McNair's heatstroke, and another, still ongoing, is focused on the reported "toxic culture" of the football program under Durkin, who remains on administrative leave as the team continues to play.
But, last weekend, they almost didn't.
Ahead of their game last Saturday at Michigan, a 42-21 loss, some members of the team found out that a booster who'd made comments to the Maryland student newspaper that essentially blamed McNair for his own death—"As much as we hate to say this Jordan didn't do what Jordan was supposed to do," Rick Jaklitsch, a lawyer and former president of the Terrapin Club, said—was scheduled to fly on their charter. Players threatened to boycott the game unless Jaklitsch was booted from the flight. He ultimately was, but the confrontation was telling.
In a statement Monday, Martin McNair called Jaklitsch's remarks "outrageous and despicable," and asked the university's board of regents "to show our deceased son and our family some decency and respect by asking your surrogates to discontinue blaming Jordan for his own death."
"It has been over 100 days since Jordan died, and President Wallace Loh accepted moral and legal responsibility for the death of our son. Our nightmare continues," McNair said. "Words can't describe the added anguish and new hardship we now are experiencing as we listen to and watch the University of Maryland and surrogates of the university continue to blame our son for his own death during a football practice conducted by adult coaches who should have known better."
The McNair family has already started a foundation designed to educate athletes and parents about the symptoms of heatstroke, while an institution—using other powerless players just like McNair to generate revenue, exposure, and tuition—pays them only lip service.