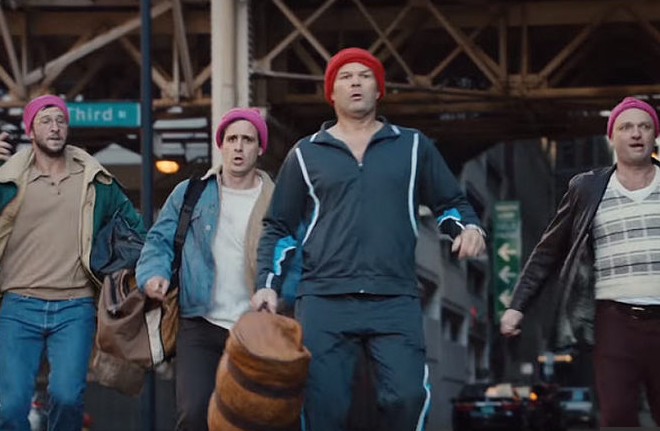 1. The Sobotka boys use Prius as a getaway car.
Chris Bauer, Pablo Schreiber, and James Ransone (aka the Sobotka clan from The Wire) were all featured in an unlikely Super Bowl ad for the new Toyota Prius. The ad starts on familiar turf: The boys have just robbed a bank, wearing bright pink ski caps to (fabulously) conceal their faces. But when their getaway car has been towed, they're forced to, um, borrow a Prius (leaving behind a bag of money as thanks) and hit the road. The hilarious ad is meant to showcase how nimble, fast, and quiet the Prius is (at one point, they are able to stealthily snake the car through a caravan of sleeping police officers), but it was also a surprise treat for The Wire fans, including creator David Simon.
Kudos to the Sobotka clan of South Baltimore. You can't keep good men down:https://t.co/EhP52aDHyM
— David Simon (@AoDespair) February 8, 2016
2. Former Oriole Delmon Young arrested for assault—while pantsless.
To O's fans, Delmon Young will always be remembered for his game-winning double against Detroit in the 2014 ALDS. But now he has a new, decidedly less heroic, thing he'll be remembered for: On Sunday, Young tried to get into a Miami club at the hotel where he lives, was told it was closed, and allegedly assaulted the valet. He then ran to his room where he was later arrested—yes, naked from the waist down—and, according to reports, was belligerent to the arresting officers. Young, who has experienced anger management issues in the past, has not been with a major league team since he was cut by the Orioles last year. He has been charged with battery.
3. Orioles to raise ticket prices.
Well, they were going to have to pay Chris Davis's massive salary somehow, right? On Tuesday, in a move that surprised absolutely no one, the team announced that it was raising ticket prices by approximately 20 percent. Inevitably, fans grumbled a bit on Twitter. . .
That's quite the season ticket price increase for essentially the same team @Orioles
— Vasanthi (@purplephenom) February 9, 2016
But pretty sure if the team gets back in the playoffs, they'll all agree it will have been worth it.
4. Lefty Driesell thinks this could be the best Terp team ever.
On Saturday, the Terps beat conference rival Purdue, with former coach, 84-year-old Lefty Driesell in attendance. The win bolstered their NCAA seeding prospects and jumped them to number 2 on the AP coaches' poll. Driesell got a standing ovation from the crowd, which "almost brought tears to my eyes," he admitted. Old Lefty also liked what he saw. "These guys have got a chance to be the best Maryland team of all time," he said. In related news, Terps star point guard Melo Trimble has been named as a finalist for the Wooden Award, given to the best player in all of college hoops.
5. Lee Hull leaves Morgan State.
Well, it was nice while it lasted. Lee Hull, who led Morgan State's football team to their first ever Division I-AA co-title and won Coach of the Year in 2014, has been tapped by the Indianapolis Colts to be their new wide receivers coach. Morgan State offensive coordinator Fred Farrier is expected to be named Morgan State's new coach.