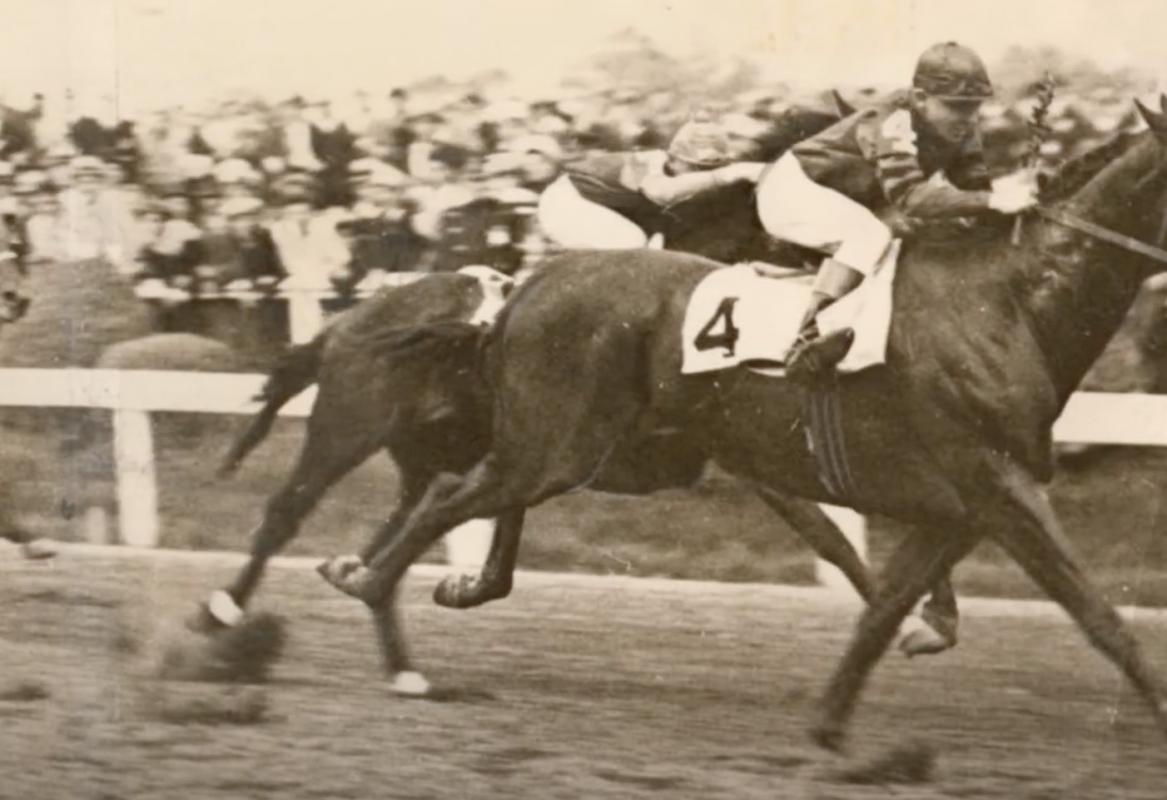 —Courtesy of Maryland Racing
Baltimore's place in American horse-racing history is so cemented that tomorrow's Preakness Stakes will actually mark the second time the race will be run on Pimlico Race Course's hoof-trampled dirt oval during a once-in-a-century pandemic.
Things were a little different than they were today. First off, news and the Spanish Flu of 1918 didn't travel nearly as fast as information and COVID-19 seem to today. As World War I was still being fought—and about two months after reports first surfaced in U.S. newspapers about a flu outbreak at a military base in Kansas—fans were present at Pimlico on May 15, 1918 to watch the 43rd running of the Preakness.
And the race was run on a Wednesday afternoon, which evokes a different impression than the pageantry and excitement of the third Saturday in May that we (usually) see today. Though, like then, this year's race will be run at an unusual time—at 5:45 p.m. on the first Saturday of October. And it will happen at a largely empty venue void of fans, something we had similarly never imagined.
But here's the fascinating kicker about the last time the Preakness was run during a global pandemic. Back in 1918, for the first and only time ever, the race was so popular that it was split into two divisions. And because folks back then couldn't decide one true winner, there were actually two. One was a 3-year-old appropriately named for the time, War Cloud, and the other went by the speed-invoking moniker Jack Hare Jr. To this day, the 1918 Preakness is the only classic race—that's what the Preakness, Kentucky Derby, and Belmont Stakes were known as before the Triple Crown label was invented—to be so-called, "split."
It happened because William Riggs, then secretary of the Maryland Jockey Club, hatched a marketing idea to increase the Preakness prize money to attract a strong field after the Kentucky Derby winner from 11 days earlier dropped out. So many horse owners wanted a piece of a then-record $25,000 of prize money (roughly equivalent to $470,000 today), that 26 horses entered. Rather than run them all in one race, officials decided to split the money and the race into two heats.
Today, another marketing genius might come up with a way to determine a Preakness winner in an NCAA basketball-style tournament over a few weeks for television purposes, but back then, two races—and two winners—was evidently a satisfying solution.
The Preakness that year was represented by the fourth and sixth races of a seven-race card at Pimlico. A jockey named Johnny Loftus rode War Cloud to a win in the first division. And Jack Hare Jr. took the second heat in 1 minute, 53.4 seconds—which was 0.2 seconds faster than War Cloud's time in the earlier race.
That's just about a photo finish if there was such a thing. If this were happening today, NBC might superimpose each horse into video of a single race—like the Discovery channel did when Michael Phelps took on that shark a few years ago—and show us the real winner in slow-motion to satisfy our curiosity and the betting public. (Or you could enter their data into a computer and run the horses against each other digitally like a Race-Horse Keno game, and crown Jack Hare Jr. the ultimate winner after everyone sees the result.)
But back then, according to a story from horse racing website PastTheWire.com, "Neither A.K. Macomber, owner of War Cloud, nor William Applegate, owner of Jack Hare Jr., could agree who should take temporary possession of the Woodlawn Vase for the year, as was tradition, so the trophy remained in Baltimore."
At some point, though, a trophy went to the Applegate family (known for its Kentucky-based distillery), as a descendant, Missie Rennie, described in this video a few years ago…
A little more than hundred years later, the Preakness will be run again during a pandemic. It's grown into an event that attracts tens of thousands of people to Pimlico each year (and thanks to an agreement reached just before the shutdowns in March by the state, city, and the track's owners, The Stronach Group, one that will continue for years to come). The purse is now $1.5 million.
But tomorrow, there will be no fans. Only the horses, jockeys, trainers, officials and some media will be there. (We'll be one of them, fortunately.) When track announcer Dave Rodman announced the post positions for the field of 11 horses earlier this week, he did so while wearing a mask, while those pulling the cards were seated nearby—socially distanced. That's the protocol for race day, too.
The betting machines won't even be active at the track tomorrow. No Black-Eyed Susans poured either, nor plethora of big hats to be found. In short, there will be no buzz on any part of the property in Northwest Baltimore, be it the grandstand or infield. If you want to bet, you've got to do it online. If you want to watch, you have to do it on television or your phone. (To that point, the Stronach Group, the race's operator, has partnered with The Greene Turtle to host watch parties at their restaurants around Maryland.)
Like people were in 1918, in the early days of what became a years-long pandemic, we're happy to have a race at all. Sports, even those in which horses are the celebrity participants, are a welcome distraction in times of chaos. That was as true more than 100 years ago as it is today. And this year, only one winning jockey will be handed a big trophy.