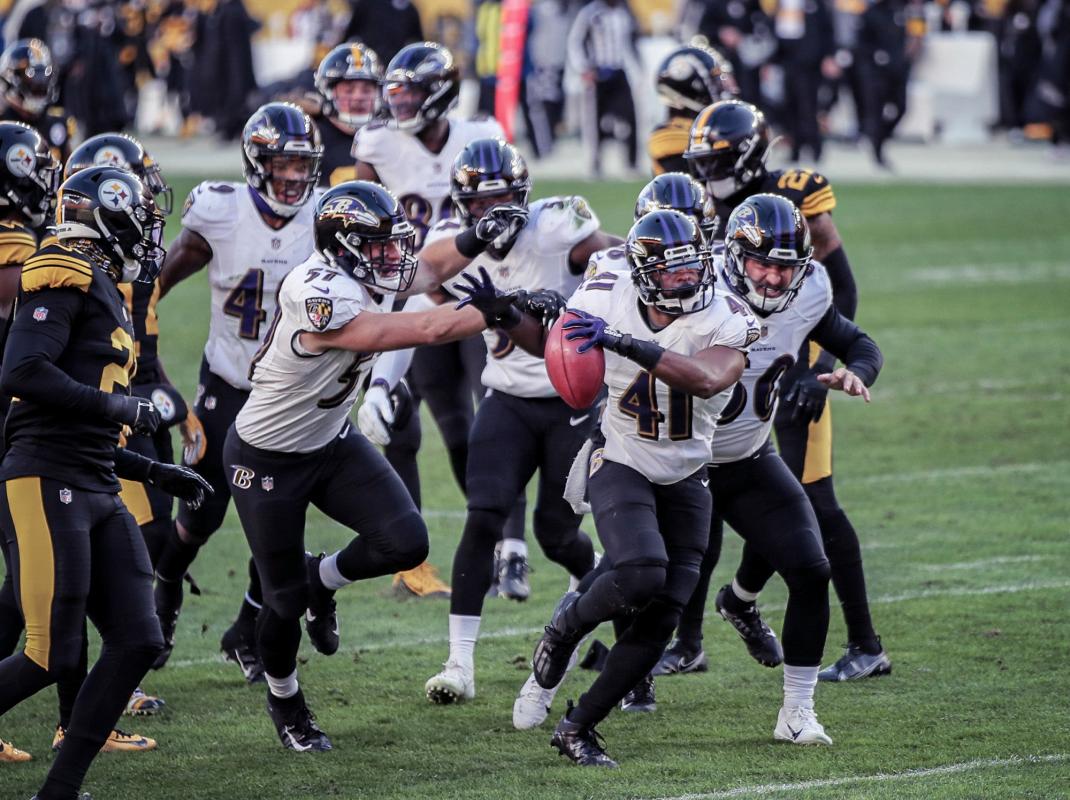 —Baltimore Ravens
Perhaps the longest week in NFL history—which began on Thanksgiving Day when the Ravens were first supposed to play the Steelers and finally ended almost a week later when the teams actually faced each other for the 54th time—would have been a little bit longer had it not been for the Rockefeller Center Christmas tree.
Television dictates a lot of sports decisions these days. After three postponements of the latest edition of what we consider pro football's greatest rivalry—as the Ravens dealt with what became pro sports' largest COVID outbreak of the pandemic thus far—executives at NBC finally said "enough" when the NFL wanted to play the game after the sun went down on Wednesday.
That was the night of the annual tree-lighting ceremony in New York City, right outside the NBC headquarters.
"We're not moving that," they said. "There is life outside of football, you know. Start your game earlier."
And so the Ravens and Steelers kicked off—finally—around 3:40 p.m. Wednesday at Heinz Field in Pittsburgh in front of a handful of in-person spectators, mostly family members of Steelers' players. It was 139 hours after originally planned, and a lot had happened in the meantime.
For those working from home or able to stream the broadcast from anywhere on their phone, the few hours of entertainment was a nice mid-week treat, just what the NFL wanted for itself and its television sponsors. For everyone involved in the action of the game itself, it was a kind of a mess. The play was ugly. The undefeated Steelers eked out a 19-14 win over the clearly overmatched and short-handed Ravens, who didn't have a real practice all week and traveled to Pittsburgh on two different private planes the day before the game—the NFL edition of "social distancing"—while not knowing if the outbreak was truly contained.
They played without nine regular starters on Wednesday, including star quarterback Lamar Jackson and six other Pro Bowlers. Everyone on the Ravens sideline was wearing N95 masks for the first time all year, after a maskless and contact-tracing deviceless team staff member reportedly sparked the outbreak that ultimately put 20 players on the team's COVID-19 injured list more than a week earlier.
If anything, this story serves as a cautionary tale for how quickly the virus can spread. To wit: Ravens defensive lineman Calais Campbell, the reigning NFL Man of the Year who is appearing in television PSAs urging people to wear masks, was one of those who caught the virus. (The team has only publicly said it's "punished" one staff member for causing all of the chaos, and didn't name who, but multiple reports have said its head strength and conditioning coach Steve Saunders.)
The Ravens confirmed Jackson, the franchise quarterback, was COVID positive on Friday. Two days later, the Ravens had a players-only meeting where at least some said they didn't want to play on Tuesday, given that they hadn't had a proper practice at all in the last seven days because of the still-spreading virus among them. They went 10 days straight with at least one positive test through the day before the game.
From the #Ravens players-only meeting, two main points:
— They want to play.
— Health and safety has to come first. Once source in the meeting asked, "Can't we have at least two days of negative tests after this outbreak before we are expected to get back on the field?"

— Ian Rapoport (@RapSheet) November 30, 2020
By Wednesday, many, many backups played as fill-ins. Former NFL Rookie of the Year Robert Griffin III started the game at quarterback and third-stringer Trace McSorley finished it. McSorley—the little-used, but super-talented second-year QB from Penn State who tested positive back on November 20—threw his first career touchdown pass late in the fourth quarter to give the Ravens an unthinkable chance of an upset.
A third-string center, Trystan Colon-Castillo (who?!), snapped the ball to both of the quarterbacks, and the defense had only four defensive linemen. Injuries piled up, and players looked frustrated when they inevitably did.
Of particular irony, defensive lineman Derek Wolfe, who earlier in the week tweeted "player safety…what a joke," twisted his ankle on linebacker L.J. Fort's foot. To which NBC commentator Cris Collinsworth said, while watching the replay, they're probably saying on the sideline, "We don't care. You're playing. We only have four defensive linemen." A few plays later, Wolfe was back on the field.
Most notably, Griffin—the former college star who has enjoyed life as a backup the last few years—pulled his hamstring in the second quarter, which he later attributed to lack of normal preparation during an interview where he sounded off about a lot of things, which we'll get to. But he kept playing, while also being furious.
Despite everything, though, the Steelers—with almost all of their usual starters—didn't have a substantial lead until early in the fourth quarter. That's when Big Ben Roethlisberger threw a one-yard touchdown pass to JuJu Smith-Schuster, who easily beat 37-year-old reserve cornerback Tramon Williams to get open, for a 12-point lead. In the end, the only thing Ravens-Steelers about the game was the close final score after McSorley's late pass to Marquise "Hollywood" Brown.
"We did enough to win, but that's all," Steelers coach Mike Tomlin said afterward. "It was really junior varsity, to be quite honest with you."
The Ravens, meanwhile, fell to a 6-5 record, putting their playoff hopes in question even more—although that circumstance is kind of an afterthought to the questions about the game being played at all, and the drama and uncertainty leading up to it.
"There was a lot of emotion earlier in the week," Colon-Castillo said, "a lot of unknowns, and we didn't really understand what was going on, but we knew the game was going to happen at some point."
Ravens coach John Harbaugh said so much was going on that he started jotting down notes for a possible future chapter of a book he might write. (We'd help you, coach, by the way.) After the game, he thanked "the people associated with the last 10 days plus," including the league, front-office staff, and the players.
"It was a challenge," Harbaugh said, "but they fought through this really unique deal. From that sense, I'm proud of those guys for doing that… This is a crazy year in a lot of ways."
Like all other workplaces and organizations in America dealing with the pandemic, different people had different views. Griffin, a 30-year-old seasoned vet with a wife and children, made pointed comments to reporters after the game that made it sound like he rather wouldn't have played at all.
"We understand that this game makes a lot of money, and a lot of guys get paid to play a kid's game for a king's ransom. But at the end of the day, we have to make sure our guys stay safe," Griffin said, "because of this huge outbreak that we had within our team, it does make—to be honest with you—wives, family members, it makes them upset. It's not about whether or not guys want to play. It's about whether or not our safety is actually being taken into account… At the end of the day, just because you're a football player doesn't mean you're not human."
Hollywood Brown, a 23-year-old second-year pro, had a different opinion. "We know what we're getting [ourselves] into," Brown said. "We know this thing is serious."
Safety Chuck Clark questioned some of the actions the team took on Monday and Tuesday, like a pair of walk-through practices in Owings Mills while contact tracing was still happening and the rest of team staff had been working largely remotely for the previous week. "I don't know what comes with me saying this," Clark said, "but, of course, on Monday and Tuesday, we're wondering, 'Why were we allowed back in the building…?'"
Two hours before kickoff on Wednesday, the NFL's chief medical officer, Dr. Allen Sills, defended the league's handling of the outbreak. On a conference call, he said "we can say with confidence" that there would be "no active infection" among anyone on the Ravens sideline. That appears to be true—and the team is practicing regularly again today—but whether everyone believed any virus particles weren't floating along the sideline in Heinz Field two days ago is an open question.
In any event, the show went on, for better or worse. Ravens-Steelers stops for nothing, apparently, except a Christmas tree.