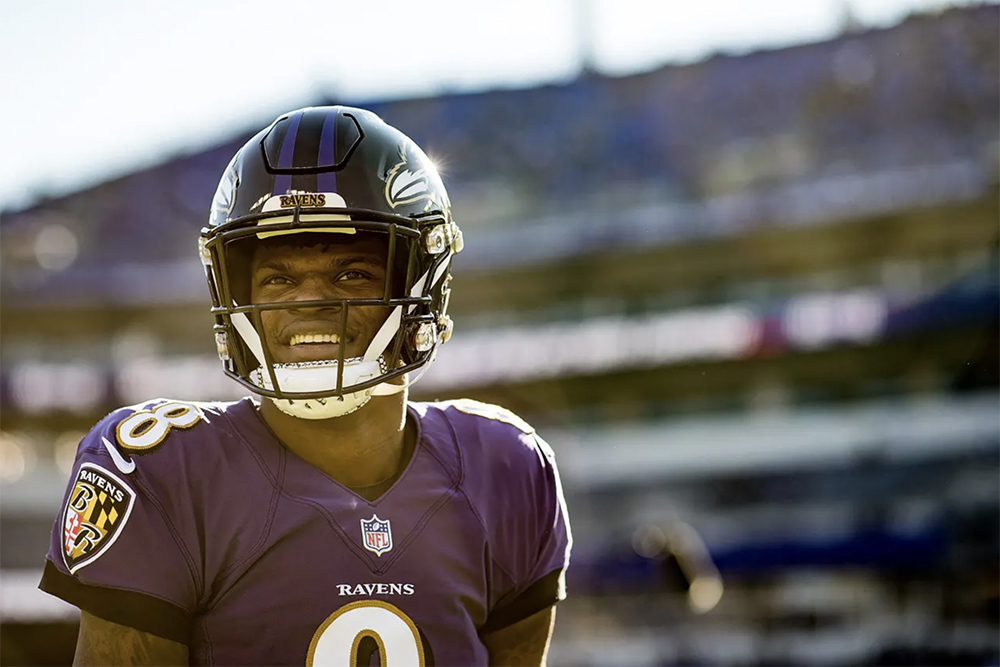 Shawn Hubbard / Baltimore Ravens
There was a little less than 10 minutes left in the third quarter, and the Los Angeles Chargers were already leading by 17 points and looking like they were about to score again, when Ravens coach John Harbaugh finally approached quarterbacks Lamar Jackson and Joe Flacco on the sideline and broached the touchy subject that many others—like the pockets of 70,000-plus fans at a frenzied M&T Bank Stadium who had started to boo and hiss; and the television and radio announcers; and the social-media commenters—had already been discussing.
Who should be in at quarterback?
The polarizing question of the last month served as the central conflict in Sunday afternoon's oftentimes frustrating and bizarre (how about those replay reviews?) wild-card game, the Ravens' first playoff appearance in four years. For the first time since the electrifying and—as one Chargers player said Sunday, "ridiculously fast,"—21-year-old Jackson took over as starting quarterback from an injured Flacco in November, the Ravens looked downright bad. They struggled to create any offense, and they fell behind 23-3 in the second half before somehow rallying to have chance to tie the score with under a minute to go. By then, a lot of fans had left.
In a moment you might see this week on one of the NFL's behind-the-scenes mic'd up segments (since five different cameramen were capturing the images and audio), the Ravens trailed 20-3 when Harbaugh crouched down in front of the Ravens' QB duo as they sat beside each other on the bench. There they were, the former Super Bowl-winning hero who had been there, done that in the playoffs, wearing a winter hat; and Jackson, in a body-length black hooded coat, the youngest quarterback to ever start an NFL postseason game, who had -1 passing yards and was sailing the ball over and under receivers while dodging a flurry of defenders.
"I wanted to know what they thought," Harbaugh told Baltimore. "We could have gone with Joe then." Indeed, fans behind the Ravens bench and elsewhere in the stadium were calling for the switch. Twitter and text chats were abuzz with the topic. CBS Sports analyst Tony Romo, the former Dallas Cowboys quarterback, mentioned the possibility of pulling Jackson at halftime, saying it's hard to leave a former Super Bowl winner like Flacco on the bench in a game like this.
It was like a Greek drama and a Roman circus rolled into one three-hour, 17-minute story. The protagonist: Jackson. The dispatched, lightning-rod former starter: Flacco. The stage: a long-awaited home playoff game. But in reality, there wasn't as much debate on the sideline as there was everywhere else.
Flacco, perhaps having already accepted his fate a long time ago or not wanting to get beat up by a ferocious defense, got out of the way, and told Harbaugh he should leave Jackson in. "Stay with what we're doing," he said.
"We made the decision with what was going to happen here weeks ago," Flacco said in the locker room later. "I really wanted to see the guys turn it up a little bit and make a play."
With that, the deed was done, and in some ways, the Ravens' quarterback situation was made clearer than it's ever been since the Ravens drafted Jackson out of Louisville last April. "Lamar is our quarterback going forward, no question about that," Harbaugh said afterward.
Flacco essentially and gracefully closed the door on his own career in Baltimore. And, in what was probably the worst game of his young NFL career, Jackson's position in the Ravens' quarterback hierarchy was somehow solidified. "He's the future," Ravens safety Eric Weddle said of Jackson, who went 6-2 as a starter this year. "He's going to be a great one."
Maybe a weight lifted from Jackson's shoulder pads after the sideline chat, because he threw his first touchdown pass of the day to Michael Crabtree on the Ravens' next drive, then threw another to him to pull the Ravens' within 23-17 with two minutes left. They got possession back with 28 seconds left. But, on the first play of a possible game-tying drive, Chargers linebacker Uchenna Nwosu slapped the ball from Jackson's right hand and his teammate Melvin Ingram III recovered the fumble. It was a fitting ending to what was, at many times, an ugly game, lowlighted by Jackson's three lost fumbles and even a Justin Tucker missed field goal (what?!).
"There were a lot of things we could have done, I could have done, to put us in a better situation," Jackson said. "We have to move on now, get ready for next year."
Ah, yes, next year. No sense in stalling the discussion about it. Now we await news regarding a possible contract extension for Harbaugh, whose job Jackson might have saved. Will Terrell Suggs be back? "I would like to be a Raven for life," he said. There's also the matter of the eventual whereabouts of Flacco, who is owed $25 million next year. (The bet here is Washington.)
Harbaugh spoke wistfully of his now former starting QB, with whom he arrived with in Baltimore 11 years ago, and he also talked as if Flacco was headed elsewhere. That would either be by trade, or if the Ravens simply cut the 33-year-old father of five in the offseason. "Joe can still play," Harbaugh said. "A lot of teams are going to want Joe. . . . I'll be in Joe's corner, wherever he's at, unless we play him."
Speaking to reporters in what was very likely his last media appearance in the M&T's home locker room, Flacco said about his future plans, "It's not really up to me. We'll see what happens," and he also reflected on his time here.
"I love the people of Baltimore," Flacco said. "I can't imagine a better 11 years. Just how many different life changes I went through and how much we won here. I'm not from too far up the road. People around here are a lot like the people I grew up with. It's definitely a group of fans and a community that I loved to be around."
After fielding a final question, he closed with "See you guys." We sure will, somewhere.
About 10 minutes later, Jackson stood near the same spot in the corner of the locker room where Flacco held court, and spoke with a pair of team staffers for a few minutes. Then, in a quiet moment soon after, when someone asked about the tough day on the field, he acknowledged that truth, but then offered a few simple words that bode well for the future that everyone is so interested in: "It's all good."