Two Baltimore Natives Prepare for the NCAA Tournament
Terps players bring energy, teamwork, and defensive ability to the Big Dance.
Though they may not get as much court time or mentions on the highlight reel, two Baltimore natives are making a big impact on the men's and women's Terps basketball teams. Senior forward Jonathan Graham and redshirt freshman forward A'Lexus Harrison both bring energy, teamwork, and defensive ability to their squads as they prepare for the NCAA Tournament.
Graham, a Catonsville native and Calvert Hall alum, is following in the footsteps of his father, Ernie Graham, who was a Terps great that also wore No. 25, a jersey that now resides in the rafters of Xfinity Center in College Park. "The more I kept hearing about his story, watching him in the early years, it really inspired me," Graham says. "The original mission I had when I was 10 years old was to go to Maryland and break his scoring record."
Similarly, Harrison knew from a young age that Maryland was her dream school. "When I was 12, we came to a game," she recalls. "The intros were about to start, the lights went out, and the fight song was playing. It was mesmerizing to me. I looked up at my mom and told her I was going to play here one day."
Of course, between the dream and reality was a lot of hard work for Graham and Harrison, would pushed themselves to the limit in high school.
"We recognized his potential right away," Calvert Hall head basketball coach John Bauersfeld says of Graham. "He played varsity as a freshman and, by sophomore year, his numbers were tremendous. After that, he did such a good job of buying into the team player part of it, whether he was cheering on the bench or bettering himself as a defender."
"In high school, I really learned that it wasn't about one guy," Graham says. "And Coach taught me how to be a good defender because I wasn't when I got there."
For Harrison's part, it came down to inherent confidence and early-morning motivation. Digital Harbor head coach Patrick McDonald would pick her up at her Lansdowne home for 6 a.m. practice.
"I wouldn't knock or blow my horn," McDonald says. "I would flash my lights so she had to be ready and waiting. She never missed a morning practice for two years. She brought that energy to her play. She has a terrific motor and could sprint down the court so fast it made your jaw drop. She plays relentless basketball."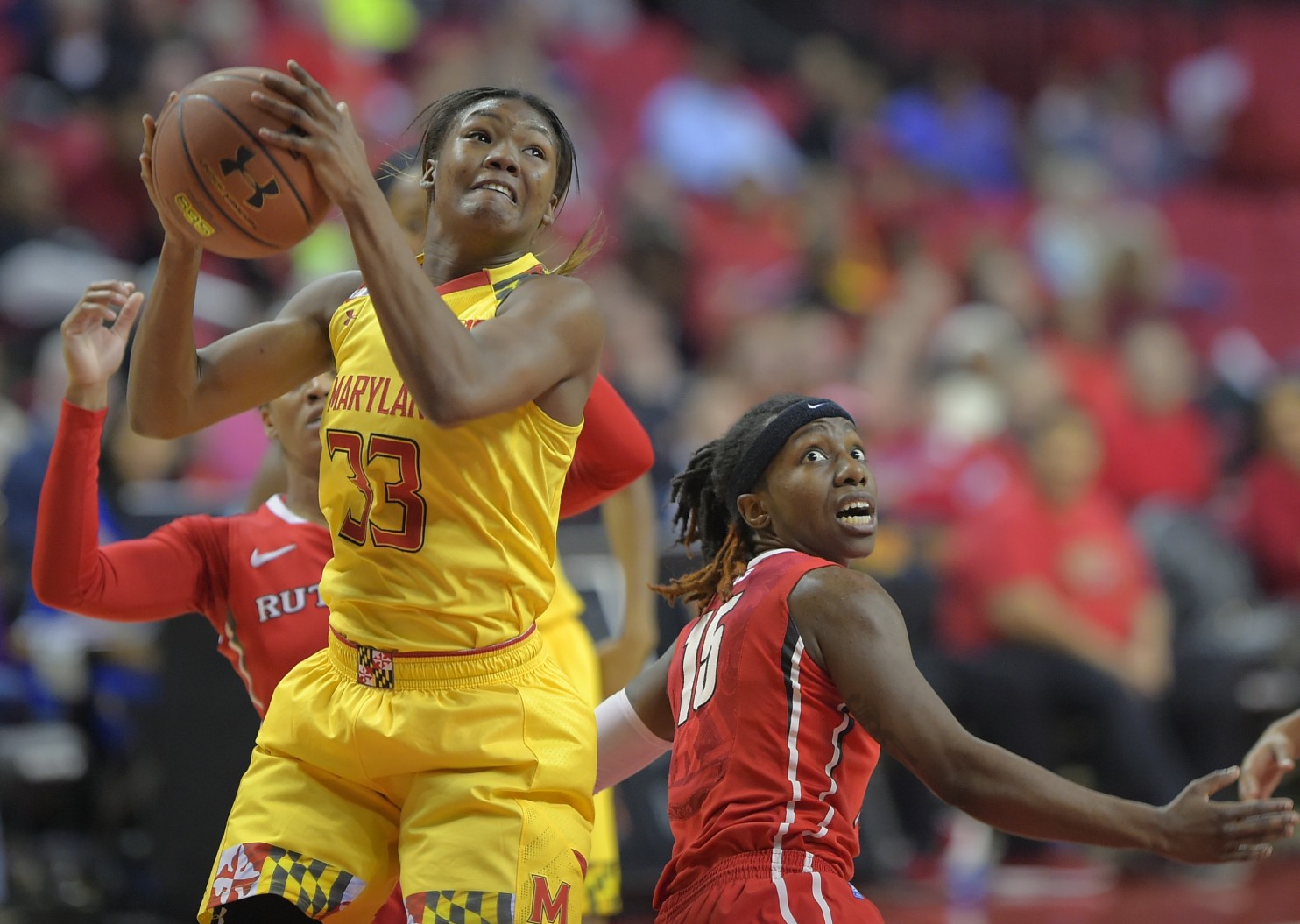 Her relentless style helped Harrison lead the Digital Harbor Rams to a title her senior year and Maryland came knocking. But a setback came her true freshman year when she got appendicitis and had to sit out.
"That was a big step back for me," she says. "But I also got a year to just learn and adjust, to both college life and a faster, more physical college game."
Graham's basketball career also took an unorthodox path, as he played for Penn State for two years before transferring to Maryland to be with his family while his dad was going through surgeries.
"My dad isn't the most patient guy in the world," Graham says with a laugh. "So I wanted to help my mom out. Plus, we always dreamed about me possibly coming to Maryland."
Now, Graham is living out that dream with successful performances like a career-high 16 points and six rebounds against his former team Penn State in February. And, now he's looking to prepare for the men's basketball team's first NCAA tournament bid in five years. The team was seeded a controversial fourth and also in a tough region with Kentucky and Kansas.
"We're definitely going in with a chip on our shoulder," he says. "The team's been great about that all year—playing with something to prove. We ended up second in the Big 10 behind a really good Wisconsin team. A lot of things people thought wouldn't happen, we've made happen. I'm really excited for our first game against a really good Valpo [Valparaiso] team. The elephant in the room is that Kentucky is in the region, but we're not looking too far down that road yet."
The women's team has had an incredible year, going practically undefeated and winning the Big 10 Championship, despite losing last year's star player Alyssa Thomas to the WNBA. Unlike the men, they're extremely happy with their No. 1 seed, which Harrison attributes to successful team chemistry.
"We're more than a team; we're sisters," she says. "As a whole, we're so excited for the tournament. For me, I've been through it, but never been able to play before. I've worked all year to prepare myself for this moment. And now we have a big target on our backs. Every team wants to send Maryland home."
On the court, Graham and Harrison's play styles are similar, with strong defense and impressive rebounds. Off the court, they both say they want to work with young children and motivate them the same way they were inspired by their parents and coaches like Bauersfeld and McDonald.
"With Maryland being close to my heart," Graham says. "I have a little extra motivation to bring Maryland back where it belongs—to the NCAA Championship."
Catch Graham and the men's squad play at 4:40 p.m. on Friday on TNT and Harrison and the women's team on Saturday at 1:30 p.m. on ESPN2.