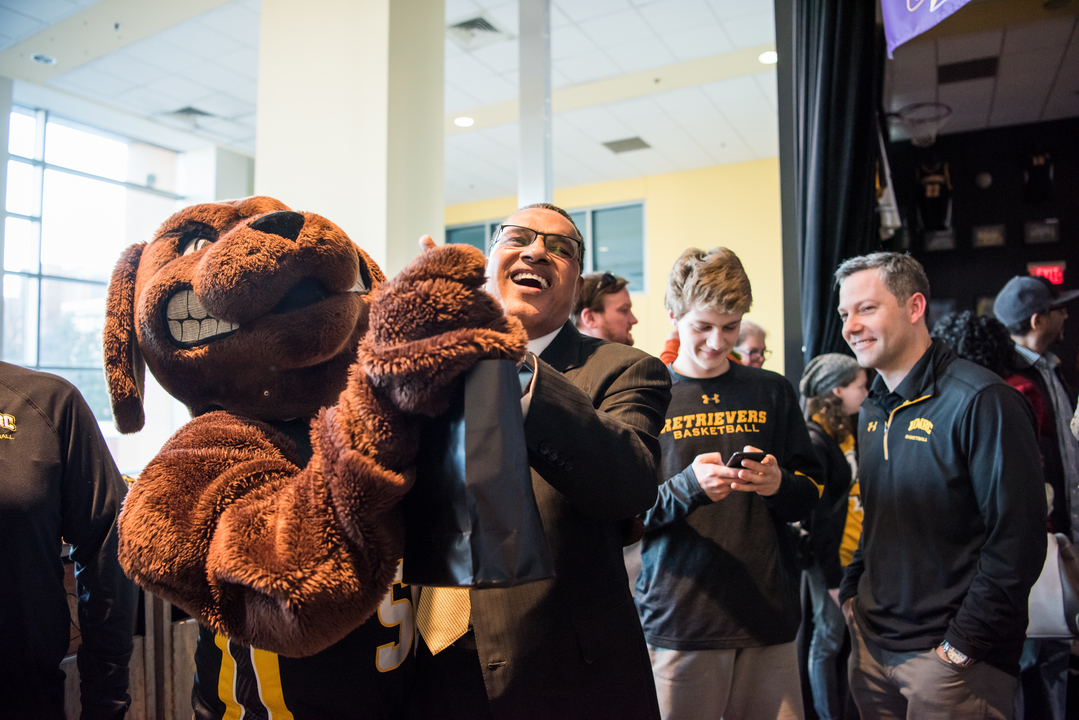 Marlayna Demond / UMBC
It was fun while it lasted, this Cinderella story that was quickly written but will long be remembered. 
"Our students have already won," UMBC president Freeman Hrabowski said Sunday afternoon, a few hours before the men's basketball team that two days earlier launched the Catonsville university into the national consciousness played an unlikely second game in this year's NCAA tournament, "and for the rest of their lives and for the rest of UMBC's existence, and that's forever, we will be known as the institution that made history." 
That, of course, happened Friday night, when the Retrievers trended all over social media while becoming the first 16-seed to ever upset a No. 1 in the first round of the annual rite of spring known as March Madness. They did it by 20 points no less against the tournament's top overall seed, Virginia. 
Just by having a reason to throw on their gold and black jerseys again Sunday for a second-round game against ninth-seeded Kansas State meant UMBC—U Must Be Cinderella, the University of Millions of Brackets Crushed, the University of Maryland, Baltimore County—had accomplished something that never had been done before.
Second-year coach Ryan Odom's 15 Retrievers (of the Chesapeake Bay variety, as the nation learned this weekend) nearly extended the fairytale another week. They scrapped and clawed and willed their way against another major conference power for two-plus hours Sunday night, in what was a one-point game with less than six minutes left, but ultimately fell, 50-43.   
You wouldn't have known the outcome afterward looking at Hrabowski, who was all smiles as he absorbed a hug from UMBC's anthropomorphic, fuzzy brown mascot, True Grit, and led cheers in front of the small section of fans inside the Spectrum Center in Charlotte, North Carolina. Instead of heading to the locker room, the team saluted their family, friends and faithful, too.
It seemed a lifetime of memories were made in a three-day span. The feel-good story. National attention. Free publicity. It's what any relatively small public institution like the one located just off the Beltway southwest of the city, known more for its academics than athletics, dreams about. Just think, anyone who Googled enough or heard by word of mouth, could have learned the life story of the 52-year-old institution, its men's basketball players, and staff. 
There was a first-person story written by Hrabowski on Sunday, which outlined the big picture and filled in the details. The university's birth in 1963, as a school that would serve students of all races during a time when much of America was still segregated. The contributions of philanthropist Robert Meyerhoff to the cause. And the fact that school, population 14,000, is now is a top producer of African-American graduates who go on to earn PhDs in the sciences, and is the leading producer of ones who go on to earn MD-PhDs. 
There was the measured head coach Ryan Odom, who looked somehow like he had been here before. The son of former Wake Forest head coach, Dave, who was also a former Virginia assistant, was a ballboy for the Cavaliers when his father worked in Charlottesville. The 43-year-old inherited a program that went 9-51 the two years before his arrival and he's now one of the hottest coaching commodities in the nation after leading a pair of 20-plus win seasons.
There were plenty of other articles in various outlets written about star Jairus Lyles, explaining his roundabout journey to suburban Baltimore by way of Virginia Commonwealth and Robert Morris universities. After being courted by big conference programs after last season, he elected to stay at UMBC and pursue a master's degree, earning a 4.0 grade point average in the fall. 
There was the jubilant, unreal scene in the post-game locker room on late Friday night, after Lyles led the upset with 28 points, where a few bench players shared how the video game Fortnite may have partially inspired the historic victory. The team didn't get back to its Holiday Inn hotel until 5 a.m., but when they did a welcome crew awaited. And so did the unexpected need to do laundry for a second and third day in town.
There were athletic communications staffer Zach Seidel's tweets heard round the world. Followers of @UMBCAthletics now number more than 110,000, a 1,700% increase from tipoff of Friday night's game.
Well, it was fun y'all. KState may have won (50-43), but we hope to have won your hearts.

— UMBC Athletics (@UMBCAthletics) March 19, 2018
And there was tiny point guard K.J. Maura. "I'm 5-foot-7 on a good day," he told the media more than once. He well represented his home country of Puerto Rico and whose father celebrated his son by hoisting an oversized cardboard cutout of his Under Armour head-banded noggin for two games straight.
"I wrote one word on the board [in the locker room] about how I felt about them and it was proud," Odom said Sunday night. "This was just really special." It was a short story, yes, but an unforgettable one.