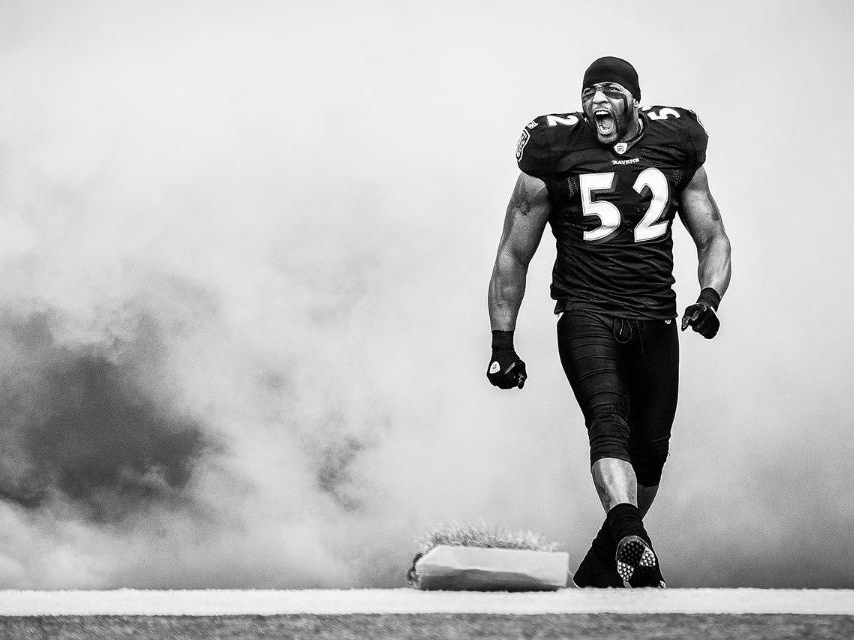 Baltimore Ravens
Hard hits and motivational speeches are what recent Pro Football Hall of Fame inductee Ray Lewis was known for. Baltimore's 1996 first-round draft pick becomes the second homegrown Raven to earn the honors (aside from left tackle Jonathan Ogden in 2013). When it came time to discuss Lewis's candidacy, there wasn't much to say—his talent and natural born leadership speak for themselves.
During his nearly two-decade career, he was a 13-time Pro Bowler, two-time defensive player of the year, and Super Bowl 35 MVP. He is also the only player in NFL history to produce at least 40 sacks and 30 interceptions. Lewis also holds a Ravens' franchise-record of 2,643 career tackles, including a single-season best of 225 stops in 2003.
"For 17 years, we could point to No. 52 and tell the other players, 'Follow his lead," said Ravens general manager Ozzie Newsome, who drafted Lewis. "It was our privilege to have him as a Raven. We are all better for having him here. His play on game days speaks for itself. When you talk about the great players of all time, no matter the position, he is among the greatest of the great." 
Here are some Lewis highlights, from memorable sacks to the patented squirrel dance, that made him a shoe-in for the Pro Football Hall of Fame.
Lewis was one of the hardest hitting linebackers.
"In the first half of his career, when the run game was the most prominent, he was a beast," said former Raven Shannon Sharpe. "He singlehandedly shut down great backs like Jerome Bettis, Eddie George, and Fred Taylor. No inside linebacker in the history of the game has the résumé of the man I call 'Suga.'"
He was an entertainer.
Although Lewis was the on-field hypeman, he was also the main attraction before the coin was even tossed with his famous tunnel dance to Nelly's "Hot in Herre." Fans and opponents alike made sure to watch—and even imitate—his signature moves before he hit the field. 
He will forever be the best at motivational pep talks, on and off the field.
"What needs to be said about a guy who was, by far, the best leader I witnessed in my 17 years of play?" said former teammate Rod Woodson. "Not only a great leader to the whole team, but a mentor to teammates and players on other teams—so unselfish and so selfless."