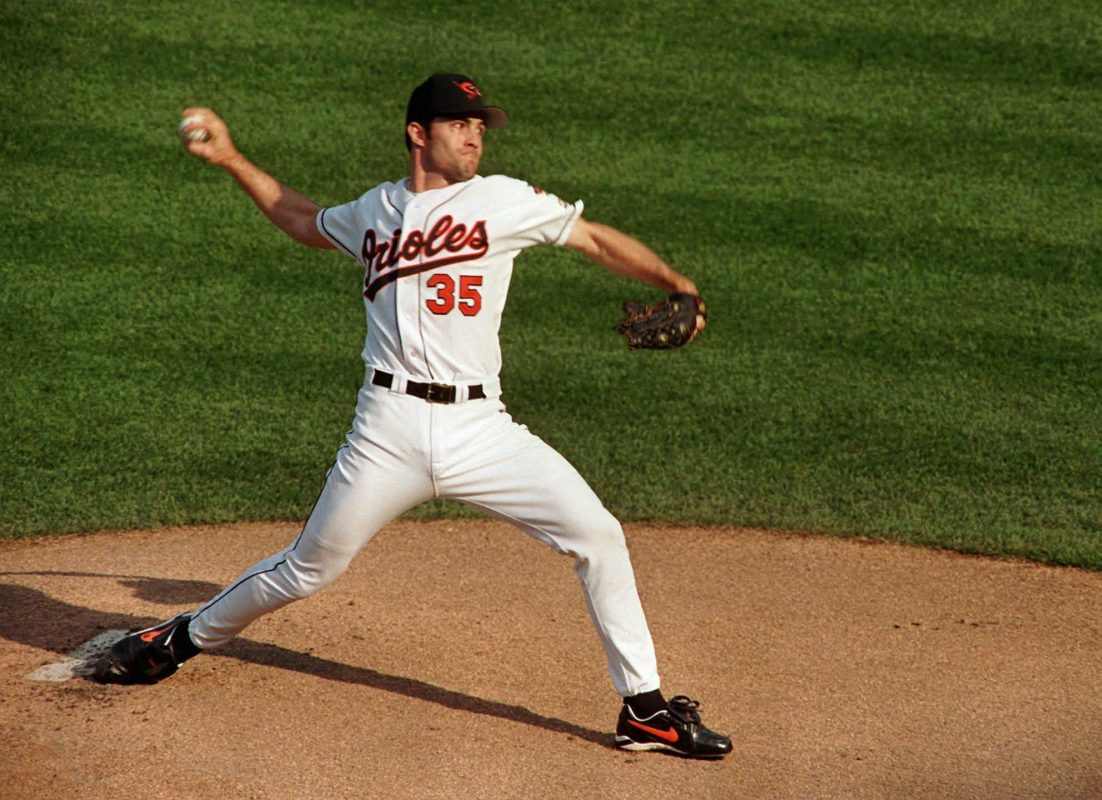 AP Photo/Dave Hammond
Mike Mussina, now 50 years old with gray in his goatee, was just finishing coaching a practice of his son's high school basketball team Tuesday night in Montoursville, Pennsylvania, when his phone rang. The voice on the other end delivered the good news. In Mussina's sixth year on the Baseball Hall of Fame ballot, the former Orioles and Yankees pitcher was finally chosen to be enshrined among the game's greats in Cooperstown.
Once he shrugged off the bit of surprise, left the gym, and texted his wife and oldest son at college to let them know, Mussina soon spoke by phone to commentators on the MLB Network about the honor and how he earned it, via a remarkably consistent career marked by at least 15 wins in 11 0f his 18 pro seasons, which looks even better in hindsight given the performance-enhancing drugs era he pitched in.
"Moose," as crowds often bellowed in praise, played his first 10 years with the O's, making the All-Star game five times and winning 147 games before he chose to sign as a free agent in 2000 with the team in pinstripes. Mussina played his final eight seasons in New York, winning another 123 games, yet never captured the elusive championship he sought, though he did reach the World Series in 2001 and 2003 and won 20 games in his final year before retiring in 2008.
All this background begs a relatively innocuous, some might say even silly, question. But given our allegiances and the history at hand, it's rather timely and important: Which logo will Mussina, or more precisely, his bronze bust likeness, wear on his cap when he is enshrined in the Hall of Fame Museum this August in upstate New York?
There can only be one. None is an option, too. Either way, the Hall of Fame's crack research staff tries to decide where the player "made his most indelible mark," Baseball Hall of Fame president Jeff Idelson has said. Importantly, officials also get input from the subject himself, but to hear Mussina speak about it, they won't get much help from him. He's torn, and open to suggestions.
"Both places were huge factors in my career," he told reporters in New York on Wednesday. "[You have] the place you start, the team that drafts you, brings you to the major leagues, and gives you an opportunity, and an organization like the New York Yankees, it's a tough decision. I'm going to need some guidance, some help—opinions, options, whatever they are—to ultimately make that decision."
Mussina and the plaque cap question:
Orioles: 288 games, 2009 2/3 innings, 3.53 ERA.
Yankees: 249 games, 1553 innings, 3.88 ERA.
Drafted by the Orioles; left Baltimore and chose to sign with the Yankees.
HOF has final say; it'll usually work with HOFer for these choices.

— Buster Olney (@Buster_ESPN) January 23, 2019
If you ask us, it's a pretty clear case. We want a big O's logo or an Oriole bird on his hat, no questions asked.
The Yankees have had plenty of extravagantly paid, glitzy stars, but Mussina will be the first Baltimore pitcher to go into the HOF since Jim Palmer in 1990. He was homegrown talent, twice drafted by the Orioles (first out of high school and then out of Stanford) and grew into the team's best pitcher of the last 30 years. A right-hander with precision control who got by at times with a knuckle curveball, he always seemed to finish his throwing motion in exactly the same position—that damn right leg landing in the identical spot off the mound.
His 15 strikeouts against Cleveland in one game of the 1997 American League Championship Series are legendary. That came after he famously out-dueled Randy Johnson at Camden Yards in the series-clincher the round before. And, for crying out loud, Mussina was the winning pitcher the night Cal Ripken, Jr. broke Lou Gehrig's consecutive-games-played streak.
He won more games as an Oriole than a Yankee, made more All-Star teams, threw 456 more innings, and had a slightly better earned run average while wearing No. 35 in an orange and white uniform. Do we need more?
It'd be case closed if Mussina finished his career here. But that didn't happen. Still, we can forgive him for bolting to the Yankees after Orioles management skimped on a hefty long-term contract extension for the team's ace after the spectacular 1997 season in which the O's led the AL East from start to finish. Three years later, when Mussina, then 32, was the most sought-after free-agent in baseball, the Yankees and manager Joe Torre courted him in the days after they won the 2000 World Series, and outbid the O's by one year and almost $30 million while promising deep postseason runs. That's a hard deal to turn down.
But now it's time for Mussina to be remembered for where he started. The Orioles already inducted him to the team's Hall of Fame in 2012. It would feel just plain weird if Mussina's cap bears an interlocking NY in the most beloved Hall of all, yet his number is retired at Camden Yards, as it should, or a statue of his windup joins the six other larger-then-life guys beyond centerfield, as it could.
Reading between the lines, "I almost split my career down the middle between the two organizations," Mussina said, he might be angling for the no-logo option. That'd be better than the other alternative. But Moose, if you see this, Baltimore wants the hat.