On The Ropes
Young Baltimore boxers find a safe haven in the ring.
It's near dusk on a weekday in late summer, and at 1901 Pennsylvania Avenue in West Baltimore that means work is about to begin. Dozens of kids and a few adults, too, will soon arrive at the Upton Boxing Center to train, spar, and take in the advice that coach Calvin Ford and a partially volunteer staff dish out nightly at this city-funded recreation facility.
"You ain't nobody until you beat somebody," Ford says while preparing stations, drills, and matchups for the next few hours. Sage words float around this place, much like the pops from leather gloves smacking training mitts, the beats of 92Q on the radio, and the late afternoon light piercing through a run of high windows in the converted basketball gym.
There are tires to flip. Boxes to leap. Ropes to pull weight. The boxing ring in the center of it all represents a sport, yes, but in the bigger picture, also a refuge from the realities of what's outside.
With a Bluetooth in his right ear and a black T-shirt tucked into a pair of workout pants, Ford is the 52-year-old real life inspiration behind the character Cutty from The Wire, a former drug dealer turned neighborhood do-gooder, who speaks softly.
"I call it the gym struggle," Ford says. "You have some success stories and you have some bad stories. We're doing all right. If you come in here and work hard, something good can really happen."
"I'll be home soon," Ford's top protégé and Baltimore's next potential world champion boxer, 22-year-old Gervonta "Tank" Davis, tells his coach over the phone. The 5-foot-6, 130-pound spark plug is ranked in the top 10 globally in his super featherweight class and has signed a deal with Las Vegas-based Mayweather Promotions.
Normally, Davis would already be here at the boxing center, blocks from where he grew up in the city's blighted Sandtown neighborhood. Though his name, likeness, and accomplishments are ubiquitous on the Upton walls, Davis is out of town—and out of state—for safety reasons.
Following last summer's murders of two of his peers in a two-week span—the popular local rapper Lor Scoota and his manager, Trayvon Lee—Davis decided to leave, "before it happened to me," he says. Two springs ago, he shared the stage with Scoota, born Tyriece Watson, at several city high schools. Positioned as up-and-coming role models, they delivered a message of perseverance after the death of Freddie Gray. On June 25, Watson, 23, was gunned down in his car while leaving an anti-violence, charity basketball game at Morgan State University. Police called it targeted. Lee, 24, was shot and killed 11 days later.
"The people that I was brought up with are either dead or in jail," Davis says.
As of press time, Davis remained away from his hometown, save a few days here and there. But he vowed to return for training, once his next fight was set.
"Every time you are doing something good," says Davis' close friend, 20-year-old top local fighter, Malik "Iceman" Hawkins, "the devil always finds a way to try to stop it."
Such is the sentiment in the world they come from, one where children, especially boys, face the worst odds of escaping poverty of any major jurisdiction in America, according to a 2015 Harvard University study. The Sandtown neighborhood is where a third of families live in poverty and gang-related violence contributes to the backdrop of 263 citywide homicides as of early November. It's where Davis bounced around—from his drug-addicted parents' house to foster care—often sleeping on the floor and fighting in the street during the day, causing a pair of uncles to drag him to the Upton Boxing Gym when he was 8 years old.
"He's had it rough, but in the ring is where he gets his life," says his mother, Kenya Brown. "That's where you see the most emotion and happiness. Gervonta turns into a different person. And his talent, you cannot play it down."
After a decorated amateur career, with more than 200 wins, Davis is 16-0 as a pro, with 15 knockouts. He is quick, strong, and powerful—and given his small size, the nickname "Tank" befits him. He has only needed to go more than four rounds three times and has performed well in televised bouts on Spike and Showtime. In his most recent fight in June in Hollywood, Florida, Davis ended Mexico's Mario Rorozco's night with a right hook 41 seconds in.
"I think he is going to be a world champion," says sports writer Gary "Digital" Williams, who has covered local boxing for 33 years. "He doesn't look like he has a lot of power, but he does. He's a good tactician, very patient, and has quick hands. What's good about his career, he's been challenged in certain bouts, and survived. The bright lights don't seem to get to him."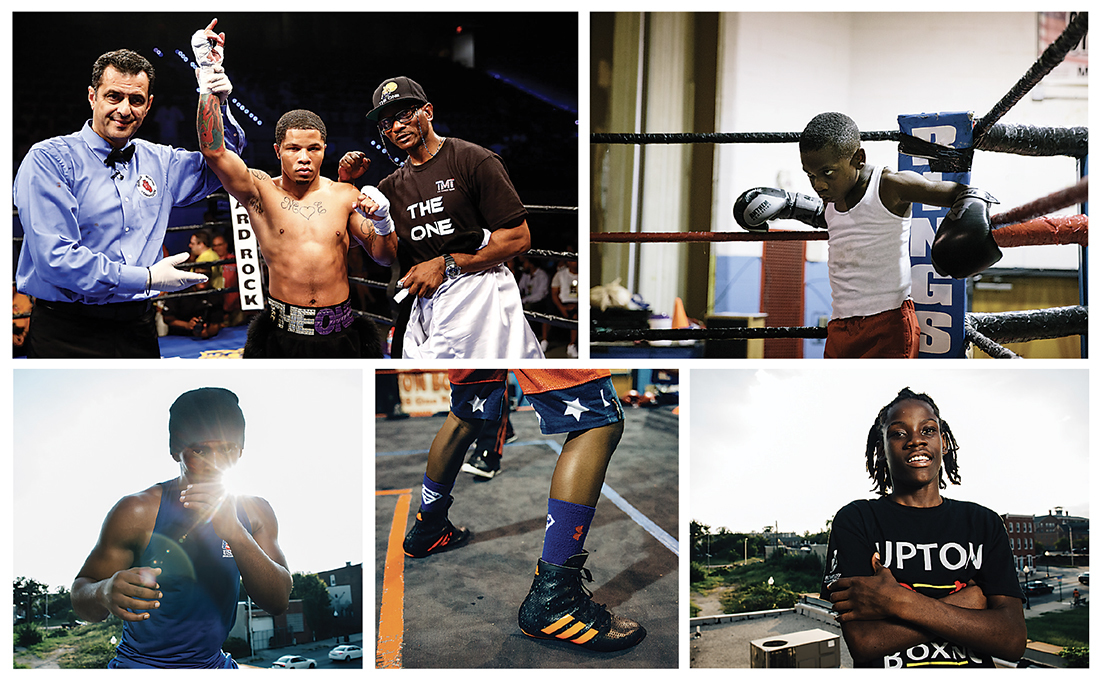 Davis is in the spotlight now largely because of people like Ford. There are several dedicated boxing gyms in the city, and more training centers if you count multi-use facilities. Fellow Upton coach Kenny Ellis, plus Marvin McDowell of Umar (a gym on North Avenue), Jake Smith's Baltimore Boxing Club in Fells Point, and those that came before, like the late and legendary trainer Mack Lewis, have all been integral to the local boxing culture.
In 1994, Vincent Pettway, one of Lewis' students, became the city's first world champion in almost 100 years. Then, with one shocking knockout punch in South Africa in 2001, Hasim Rahman, another local boxer and a former enforcer for drug dealers, took the world heavyweight title.
"I started out in the same spot, as a young boxer from Baltimore and really kind of flew under the radar," Rahman says. "I want there to be the same chances [for this generation]. I want boxing to be a safe haven." Rahman's nephew, Lorenzo "Truck" Simpson, 16, is currently the most decorated junior amateur boxer in the country, No. 1 for six years running. He, too, has seen his share of violence. When he was 4, burglars killed his father during a home invasion. An Upton trainee and "captain of the gym," Ford says, in Davis' absence, Simpson will try to make the 2020 U.S. Olympic team. "I'm going to go get it," he says with a bright smile.
"Iceman" Hawkins is considered the area's second-best young pro behind his friend Davis. Like many young men at the gym, he uses boxing to funnel his anger—in his case over his older brother Domenique's murder at a Fourth of July cookout on Park Heights Avenue in 2002. An angry kid, Hawkins says he once punched through an opponent's facemask on the football field.
"At first, I was using boxing as a way to defend myself," Hawkins says. "Everyone who picked on [you], you got to get them back. As the years progressed, I got them back, but I had one foot in the gym and one foot in the streets, hanging with the wrong people. I wasn't as focused as I am now."
The 6-foot welterweight (147 pounds) is 9-0 and already had a televised fight on the CBS Sports Network. He earned his high school diploma through Living Classrooms' Fresh Start program in 2014.
On the women's side, Tyrieshia "Lady Tiga" Douglas—who was raised in foster homes with her brother—owns world championship belts as a bantamweight (118 pounds) and a flyweight (112 pounds), and came up one decision short of making the 2012 Olympics.
Up-and-comer Stephon "The Surgeon" Morris trains at Umar and is from the Yale Heights neighborhood, where he and his older brothers work in the family business, delivering medical equipment. At what was just his second professional fight, at the Maryland State Fairgrounds in May, Morris won before a partisan crowd, having sold $25,000 worth of tickets—which bodes well since promoters are always looking for good draws.
Morris was just seeking a good outlet. "People don't understand how hard it is to stay on the straight and narrow path. Rest in peace to all my friends I've lost the past year," he says. "Six or seven friends died, then I got a few in jail. It hurts to be able to say that, because they didn't make the same decision I did."
"Before I had one foot in the gym and one foot in the streets."
Coach Ford has fought from both corners. He's been at Upton since 2003, and before that volunteered at Herring Run Recreation Center—where he enrolled his son—while climbing the ladder to a managerial position with Phillips Seafood.
But previously, he spent 10 years in federal prison serving a racketeering and conspiracy conviction and was a kingpin in one of the city's biggest drug rings in Lexington Terrace. The ring included boxer Reggie Gross, who in 1986 fought Mike Tyson. While in prison, Ford earned his GED certificate and learned the nuances of boxing from Gross and others. Ed Burns, the former police detective who once investigated Ford and became a writer for The Wire, brought him to life on TV. Other stories were based on Ford's crew.
"I know what you've been through—and more," Ford has told his top prospect Davis.
Articles taped on the walls of Ford's Upton office show the reality of his current tale.
The headlines: "Fighting to Save Themselves From the Streets," "Amateurs to Talk With Fists," "Upton's Tank Davis Is On the Rise," "Douglas Makes Pro Debut," are juxtaposed with pictures of those who have passed. Angelo Ward, a super featherweight who allegedly sold drugs near the gym, was killed in 2012. Ronald "Rock" Gibbs, a promising Olympic hopeful, was stabbed to death at the age of 17, after intervening in an incident involving his sister.
This dichotomy can even be seen in two of Ford's sons. There is Rayquan, 14, a promising boxer and trainee at the gym. Then there's Quaadir, who was killed in July 2013 in New Jersey, where he had moved and allegedly became a drug crew leader. Quaadir was a friend of Davis, and he and Ford grieved together.
"They helped each other," Davis' mother says. "Calvin was going through losing his son, and Gervonta was going there because he needed somebody in his life."
Ford mentored Davis, giving him equipment and clothes, checking in on him at school, providing money, punishing him when needed, and convincing his grandmother to let him keep coming to the gym.
Davis, in turn, remained committed. He won the 2012 Golden Gloves nationals at 123 pounds, fulfilling his end of a deal with Ford to turn pro. Davis' eyes lit up at the $500 earned for his first pro fight.
"I was younger than everybody. I was looking at their mistakes," he says. "I want to be a world champion, make money to help my family, my friends, my team. Because we are one. Without them, there's no me. But there's more work to be done."
That work continues in the Upton Boxing gym this evening, where a kid they call "The Brutal Machine," Nieem Somerville of Odenton, is putting in time, exhaling with every punch and combination. He is 10.
"Truck" Simpson, the decorated junior and Olympic hopeful not yet out of high school, gravitates toward Somerville and sees something good in his future, just like Ford's son did for Davis and Davis did for Simpson. The youngster shuffles along the ropes, practicing defense. During a break in sparring, an excited Ford guides Somerville to a corner.
"What's your job?" Ford asks him.
"To be better than Truck and Tank," the kid responds.