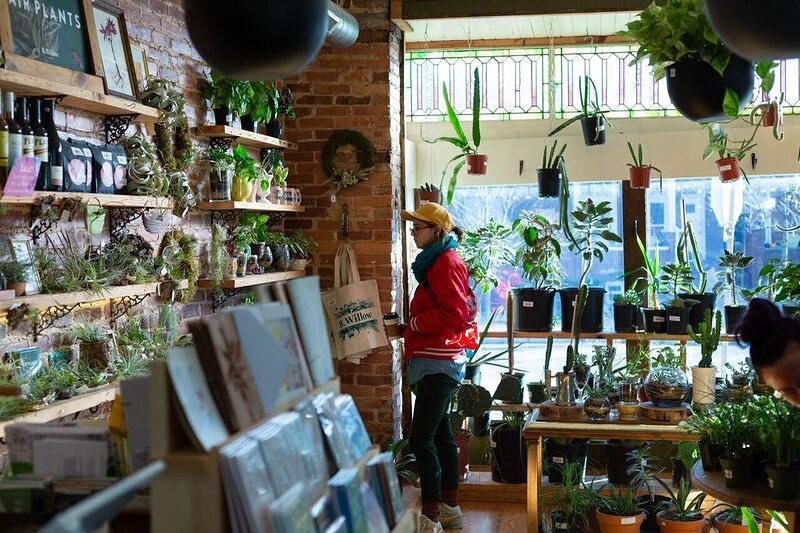 Courtesy of B. Willow. Photo by Micah E. Wood.
B. Willow to open in Canton
After two years of laying down roots on West 27th Streetin Remington, everyone's favorite plant palace, B. Willow, is opening a second location in Canton. The two-story space just off O'Donnell Square will host their already excellent array plants and terrariums, as well as a selection of furniture and home goods from Cedar & Cotton, a local company specializing in new and vintage furnishings. We have a feeling that everything in this store will spark joy. Sorry Marie Kondo. 2822 O'Donnell St.
Radcliffe Jewelers thrives in new Kenilworth home.
This past September popular local jeweler Radcliffe made the move from Towson Town Center to The Shops at Kenilworth and has been received with open arms—and more parking spaces. After over 30 years in the mall, Radcliffe is happy to be in a new space that has a real community feel with other local retailers like Ruth Shaw, About Faces, and South Moon Under. Along with their new digs, this location offers styles from Rolex, David Yurman, and many more. Keep an eye out for upcoming trunk shows and their big annual sale in April. 800 Kenilworth Dr., Towson, 410-321-6590
Poppy and Stella to open in Old Ellicott City
Fells Point favorite Poppy and Stella announced they will be opening a location in Old Ellicott City this April. The store, which was once home to toy store All Time Toys, will feature a similar assortment of shoes, apparel, accessories, and gift items from brands like Sam Edelman, Knot Sisters, and Dolce Vita to name a few. Follow along on social media for more details on the new store and an opening date. 8185 Main St., Ellicott City
Cohen's Clothier closes after 115 years in business
It's the end of an era for preppy style institution Cohen's Clothier. After 115 years in business, the shop announced via Facebook earlier this month that it would be closing its doors for good. Originally located on South Broadway in Fells Point, Cohen's was first opened in 1904 by Max Cohen and has stayed in the family as it evolved, expanded, and relocated to its Cockeysville location. In a message to his customers, owner Gilbert Cohen explained that their current lease was up and that the time had come for him to retire. "Goodbyes are never easy," states Cohen. "But the satisfaction of filling a need in our community for so many years will remain." 64 Cranbrook Rd. 410-666-8020