Gift Ideas for Kids, Even When You're Feeling Like a Scrooge
We went to Amuse Toys in Fells Point to pick out gifts for every little one on your list.
I am a not a Christmas person. I think December is a super fun month because the long nights are cozy and exciting and there are lots of parties and lights everywhere, but the actual 25th part has never done it for me. I'm married to someone who shares this lack of enthusiasm, which means the extent of our yuletide glee is getting wine-drunk while watching Elf and then turning our attention to Rob's birthday and New Year's Eve, which are both the following week.
But now we have a child and we don't get to be the terrible neighbors in Christmas Vacation anymore. We have to become the Griswolds.
In that spirit, we took our kid to meet Santa. (Step one of Griswolding is creating a file of proof that you actually did Christmasy things, lest your child's future therapist sadly whisper to his parole officer: "If only they had celebrated the holidays more enthusiastically…" ). We headed to Rawlings Conservatory figuring, if we were going to stand in line with 400 people, it may as well be in a beautiful place. To our absolute delight, Santa was sitting alone in a room filled with poinsettias and he and Lou posed for pictures and got along swimmingly. We strolled through the desert room, fed the massive koi fish in the pond, and headed to Hampden to catch the tail end of the Mayor's Parade. A dream situation for our first weekend of letting go of Christmas disdain.
Our hearts slightly thawed, we headed to Amuse Toys in Fells Point where we spent the morning playing with toys and chatting with owner Claudia Towles about gifts for toddlers. Below is a gift guide for the little ones organized by your role in the giftee's life. May the dim light of our Christmas spirit inspire yours to burn more brightly.
Gift For Your Boss's Kid or Another Obligatory Recipient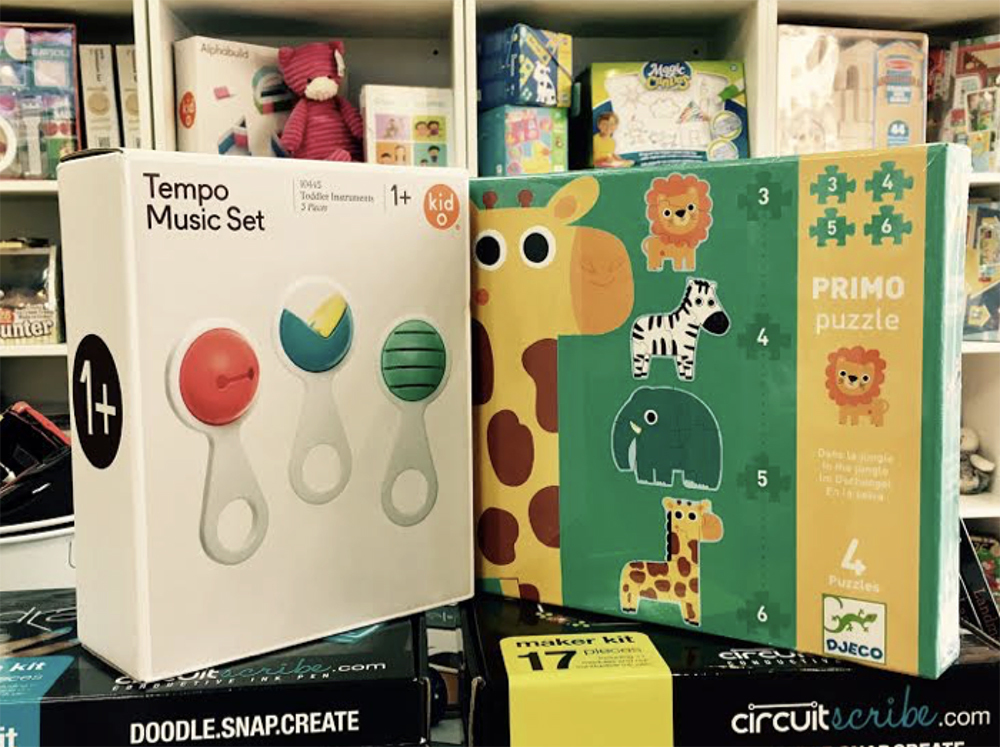 The prices are right, they invite both imagination and fine motor skills to the table, and they both say, "I thought of your child this Christmas season because I would like a raise in Q1 2017." Yes, the music set makes musical sounds (and sounds are the enemy of sleep) but the card writes itself ("A gift for your brilliant little Mozart! xoxo, Your Subordinate.") And puzzles are always, always a good gift.
---
Gift For Your Best Friend's Kid or Best Frenemy's Kid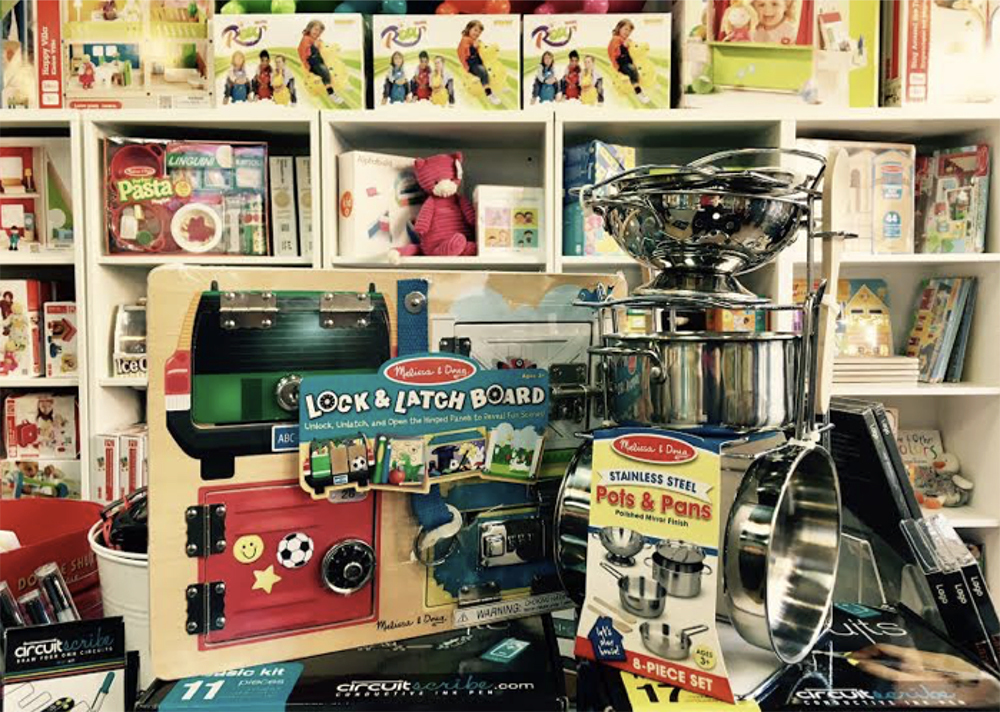 My life can now be organized into two epochs: Pre-Melissa & Doug and Post-Melissa & Doug. I don't know them—maybe they're unhappily married or divorced, but still good friends or siblings or pseudonyms for two of the Shiloh-Pitts—either way they've recently become really important in our lives. They produce a ton of children's toys (check them out online, but definitely buy from Amuse because they seem to choose the sturdiest stuff and you should shop local, you animal) and we're slowly building our toy stockpile with their wares. The Latch Board is perfect to keep little hands busy at restaurants or on car/plane trips, and the pots and pans are an incredibly devious way to ensure your friend's local wine shop stays open.
---
Gifts For Your Niece or Nephew aka Future Hand-Me Downs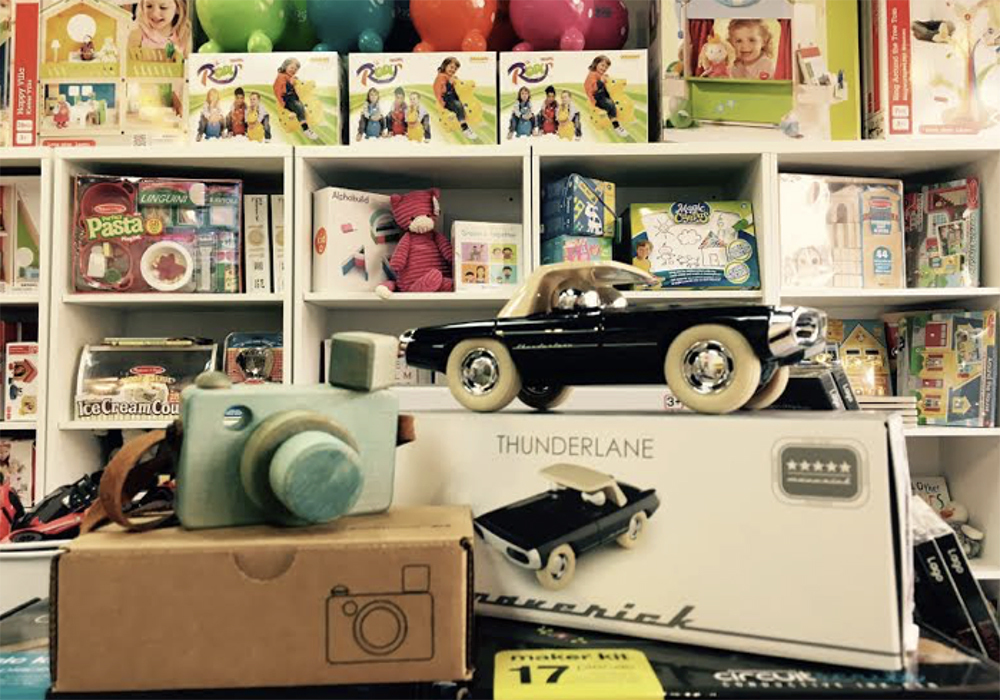 If you're related to them, you've got to up the ante. And more importantly, you've got to give gifts you'll want to inherit when it's your turn to have kids. This camera is beautiful and will teach your young family members that before iPhones there were other means of producing images. And the Thunderlane is just extremely cool. Lou has a race car version and zooms around the house using it as an extension of his hand. They're gifts that stand the test of time and will earn you some major familial points.
---
Gift For Your Grandkid or Own Kid, Which Will Basically Because Home Décor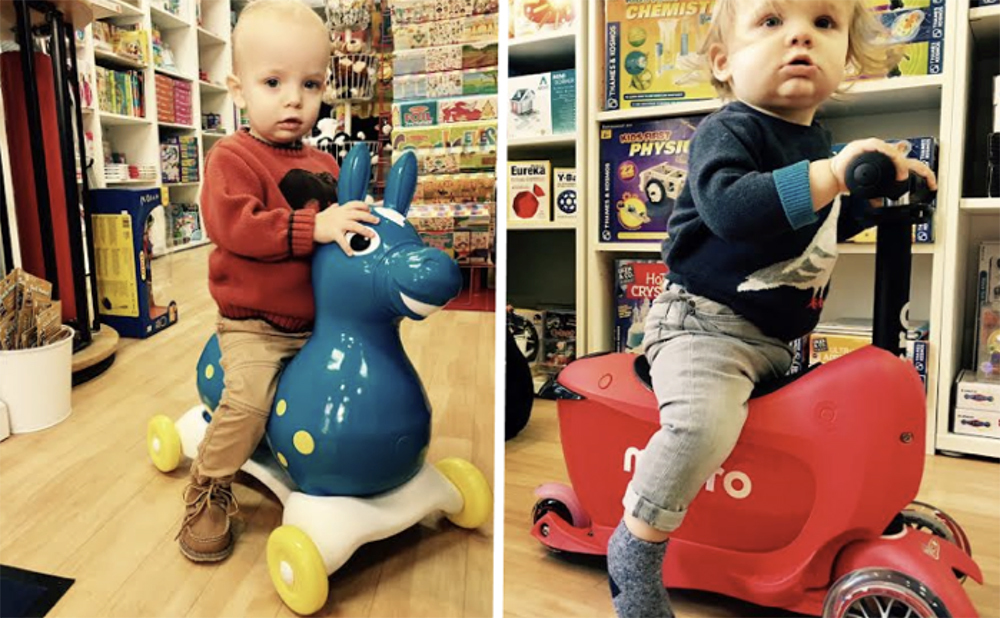 Little kids are excellent scooters and bouncers. Indulge their talents with the Rody Horse (whose name says Horse but whose ears scream Donkey) or the Micro Mini. Both look super cool, which really starts to matter as the assault of primary colored-toys take over your home, and both will last a long time and grow with your child. The Micro converts from a seated ride to a big kid scooter, making the price tag much friendlier to your wallet.
(Big thanks to Lou's buddy, Will, for modeling the Rody. And also thanks to Will's mom for putting shoes on her kid, illuminating the fact that our child is in socks in December. We bought him shoes immediately after this picture was taken, I promise.)