—Photography by Sean Scheidt
Shortly after losing his older sister, Chimere Faye Didley, to cancer, East Baltimore native fashion designer Bishme Cromartie found himself back on the set of Bravo's Project Runway, this time competing as an All-Star. (He had come in fourth in Season 17, just missing the chance to showcase his collection in the finale.)
Returning to Project Runway so soon after Chimere's death proved to be strange, even surreal timing, but it also offered Cromartie a distraction—a way to get his mind off his grief. He had been incredibly close to his sister and she had been the great cheerleader in his life—the person whose unflagging belief in him allowed him to believe in himself.
So the self-taught designer used Chimere's life and her faith in him as inspiration, and dove into the competition with gusto. (He even re-read his 2019 Baltimore magazine profile to be reminded of her voice and words of encouragement.) He had a remarkable run, landing in the top or near the top for most of the challenges, and showcasing his boyish, warm, infectiously playful personality along the way.
Only in the tension-filled finale did some of his anxiety—and grief—rise to the surface. At one point, he stormed out of the workroom and threatened to give up. (Naturally, this being reality TV, they cut to a commercial.) Still, he regrouped, rolled up his sleeves, and presented a remarkable final runway collection, filled with the kind of edgy, elevated, and abundantly creative street style he is known for.
On Thursday, Cromartie was crowned the winner of Project Runway: All Stars. Shortly after, I sat down with him, via Zoom, to discuss his incredible run and what comes next.
So you're in New York right now for New York Fashion Week, right?
Yeah, I'm in Brooklyn at the moment. Getting everything situated because my debut show is this Tuesday. Look out for a live streaming link on one of my social media platforms.
You had a little more time to prepare for a collection this time.
[Laughs] Yeah. A little bit more than eight days [like on Project Runway].
I feel like in Project Runway seasons past, they let the designers go home and spend more time on their collections?
Yes! Normally, they let you go home and rest a little bit and kind of refresh your mind and think of what it is that you want to present. But we were just running off of whatever adrenaline we had left to kind of come up with something in eight days. It was crazy.
Are you almost astounded at what you were able to do?
Yeah, but what cracks me up is that all my life I've had these gigs where I'm doing something with a crazy, hard deadline, so I think the universe prepped me in a way. You would be surprised what you can do in five minutes.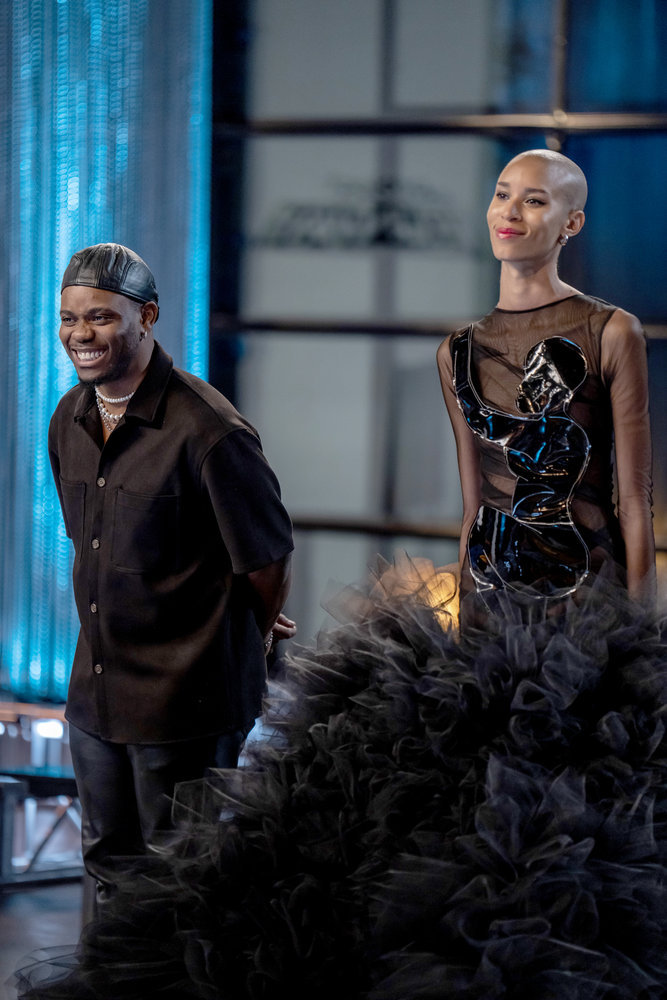 Throughout the run of the show, you seemed very laid back. But then in Thursday's finale, you were seriously stressing, and I'm just wondering, to what do you attribute that?
Lack of sleep. [Laughs] The truth is, you're not in the right mind frame. It's a $250,000 on the line. Everything is on the line and you're like, "Oh my goodness, if I mess up now, it could all go away." But then another side of me was like, "What if I win everything and the only person that I want to see here to say congratulations at the end isn't physically here?" It's just a lot. You have to trust yourself as a human being because [until you experience it,] you don't know how you'll react to certain situations where you don't have sleep. You don't know how you'll react to situations where you have to make this massive thing in 12 hours.
But it did seem like the final three—you, Laurence Basse, and Brittany Allen—were very close and sort of bonding. Was it a weird thing that you were close friends with your direct competition?
To me it wasn't weird because I've always wanted to be amongst a crowd of people that reminded me of school. I never got the chance to go to FIT or Parsons anything—I'm self-taught. So I saw it as like the experience of being in college with friends. Also, I think the more mature you are and the more you do, the more you realize your competition is yourself. You have to make something better than the last thing you created. Now had there been another person named Bishme who designed like me…Or maybe his name would be Dishme or something [laughs] . . .that's when I would be looking over [my shoulder]. But I think it makes you more confident in who you as a designer, your aesthetic, because there's no second guessing. You have to kind of like, go with it, trust your instincts, and stick with a plan that helps you create the vision that you want.
And Brittany and Laurence seemed genuinely happy when you won. Of course, they wanted to win but I really got the sense that they were happy for you.
Yeah. Laurence turned to me after they announced the winner and she was like, 'You know, I'm so happy that it's you.' And that made me cry even more.
Wow, that's especially impressive because Laurence suffers no fools, you know what I mean?
Yeah, like, it's funny because you don't see it on camera, but when we are chillin' and stuff, my silly side brings out the silly side of hers.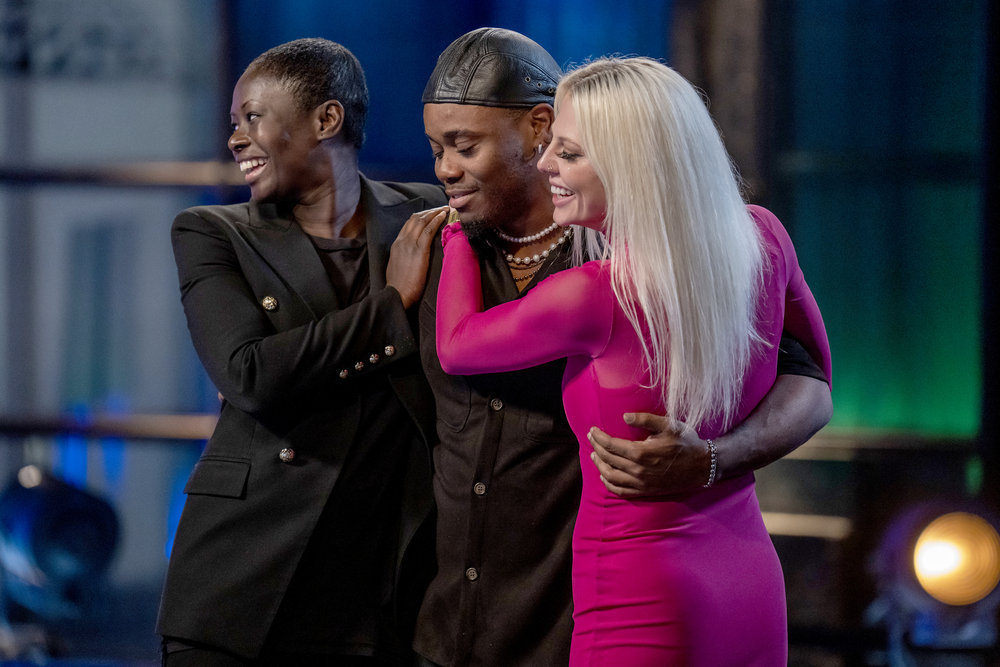 I want to talk about your relationship with Christian Siriano. I love Christian, but I would think that if I was completely stressing out and Christian was, like, flitting around my workstation, I would find him incredibly annoying! But you had a great way of playfully giving him shit. Can you describe that relationship a little bit?
[Laughs] Look, he's my mentor and I'm always gonna listen to whatever he has to say, but I'm also going to joke around if I'm stressed. [I made jokes to] distract him. Also, realistically, I was the most sensitive I've ever been in my whole entire life while filming and the only thing that makes me not cry is to laugh. So if I can say something funny or weird, that helps me not go to a place of like, "Wow I can't believe that my sister's not here." So yeah, it was like a defense mechanism for me not to cry or be so emotional.
In a way it was kind of a good thing that you got thrust into this environment so quickly after she died because obviously it's a distraction. And then you can also feel like it's something that you're doing for her.
I would never put that pressure on anyone to do that, to do the show while they're handling something that's extremely difficult. But if it's something that you have a passion for and it's your first love, it's actually the best thing to do because I don't know how I could've ended up with a greater start of my grieving process. It was like, I love sewing. I love to sew on someone else's budget! [Laughs]
I'm just going back to Christian for a second. He's from Annapolis. You're from Baltimore. Did you guys ever talk about Maryland or discuss that you had that in common?
Yeah, I like to mess with Christian and say, "Yeah, you're from Maryland, but let's go to the inner city of Baltimore so you can hang a little bit." And he's always like, "I'm good in Baltimore!" It's funny because I do think a Marylander has a different type of hustle. I don't even know how to explain it—it's like when you're hungry for something, you go for it in a different way. And everyone keeps saying, I feel like you're going to do what Christian did—take this title and like run with it. And I'm like, Yeah, I have no choice.
Baltimore isn't exactly the fashion capital of the world. Do you have to overcome that stigma?
Baltimore is the last place I tell people I'm from just because I love to hear them boast about my work and then when they go, "Where are you from?" and I say Baltimore, it shocks them. [Laughs] But I love it because I'm changing the narrative of what a Baltimorean is capable of doing. It sucks because I have friends I grew up with who have been locked up or killed from gun violence. And what I always tell myself is that like, gosh, if I never had fashion, like literally, I don't know what I would have done. I had rec centers [in West Baltimore] that catered to the fact that I loved fashion by giving me sketchbooks. The rec center would literally subscribe to a fashion magazine for me.
It's amazing the city nurtured you like that.
Super cool. And it's cool because at any point, someone could've said, no, that's not what boys do. But no one ever gave me any slack or raised eyebrows or anything like that.
You have to feel like you're a role model to young Black creatives in Baltimore, and especially young gay creatives, to see you thriving and kind of being this cool guy on TV. Have you heard from any people like that?
Um, yeah, I get a lot of thank yous from people that say, "thank you for allowing me to feel comfortable in my skin." But some don't know I'm gay! A lot of people relate to my grieving process. So many people, when they contact me say, "I cannot imagine what it must have felt like to go compete a month and change after your sister's transition." So it's a wide range of people. And what I think is so cool is that I have a way of not only communicating to my demographic, but connecting to people that may not look like me, but they probably went through something similar or they understand what I'm experiencing.
That's such a good point. I mean, if somebody is going through grief, and they feel like they're in this very dark place, what you showed them is yeah, you can sit in that dark place, but you can also step out of it and create something beautiful. Those things can coexist.
It's like, you can't explain grief. It could be a smell. You could be literally laughing at a joke, or at times I would be cutting fabric, and my mind would drift from my design into hearing my sister's voice and I would just start crying. So it makes you discover something about yourself that's truly beautiful. You have to just allow yourself to go through it.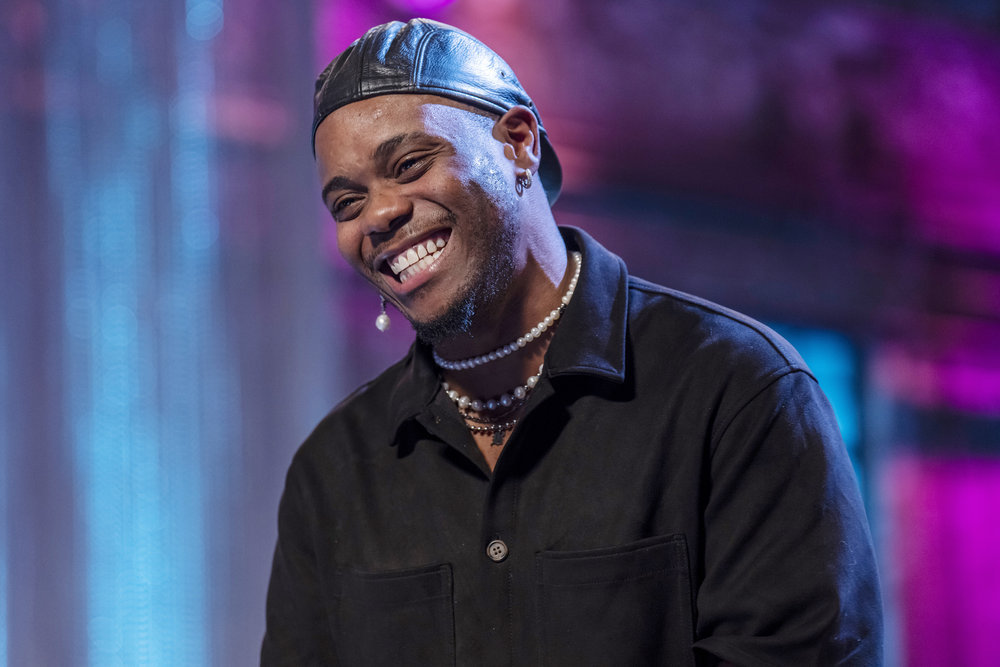 Were your castmates supportive of you, understanding that you are going through something really difficult?
I didn't tell a lot of my castmates. I'm not that kind of person. Like, I know we came here to work. I make everything professional. I don't want anyone to know what problems I got going on. But as time went on, I opened up a little bit. They were really understanding. And then me and [fellow contestant] Kara Saun connected as well, because her mom passed before she came to film.
And of course you were often wearing that trucker hat that says Black Women Are Essential. Was that in honor of your sister?
Um, honestly, I love truckers. [Laughs] No, a designer who was a friend of Brittany's gifted it to me. But it was kind of like anytime I wore that hat I felt like I was closer to my sister. And also my mom is a woman of color. And I'm a mama's boy.
Speaking of people not knowing you were gay, how shocked were you that judge Brandon Maxwell did not know you were gay?
Yeah, I'm just like, what? I'm like, I have pearls on up here for God's sake. And sometimes I put my hand on my hip and stand and put all the weight on one side! I mean, it was just funny. When I was young, I used to try to be closeted. But there was no point. I say gay stuff a lot! Everyone knows I'm gay.
How often you get home to Baltimore?
I have not been home since my sister passed away. So I think that's been a year and some change. But I do want to. After this, I'm gonna have to come home anyway to celebrate with some people. But yeah, it's still hard for me to visit Baltimore without having this weight. I love Baltimore but it reminds me of my sister too much. One day I'll be back.
What have you learned since the win, because you've gone through a whole year of CFDA [Council of Fashion Designers of America] mentoring, right?
Nothing has kicked in yet. It all kicks in, like really, really, really soon. But what I have learned is that I can keep a secret for a year! [Laughs] But I'm also learning a lot about myself. I'm building my brand, my team, learning how to delegate, and making the transition from self-taught to actual fashion brand and putting the Bishme Cromartie name out there.
So has Christian continued to be a mentor?
It's funny because I call him "Pimp C"—that's my nickname for him, but in my phone I call him "Cheat Sheet." No matter the time, it can be like like 12 or one o'clock. I'm like, Sorry, I have a question. He's like [puts on Christian voice], "No worries: Do this, this, and this." He's just so helpful. He's one of those people that when they believe in you, they want the best for you and they're willing to help, but they'll also give you that little bit of tough love if you need it.
Any closing words?
I'm just thankful. I'm thankful I'm who I am because of the people that I have been fortunate enough to surround myself with. I'm thankful for this journey. And I'm thankful that I'll be able to inspire other people.