Brands to Watch
Keep your eyes peeled for these local designers.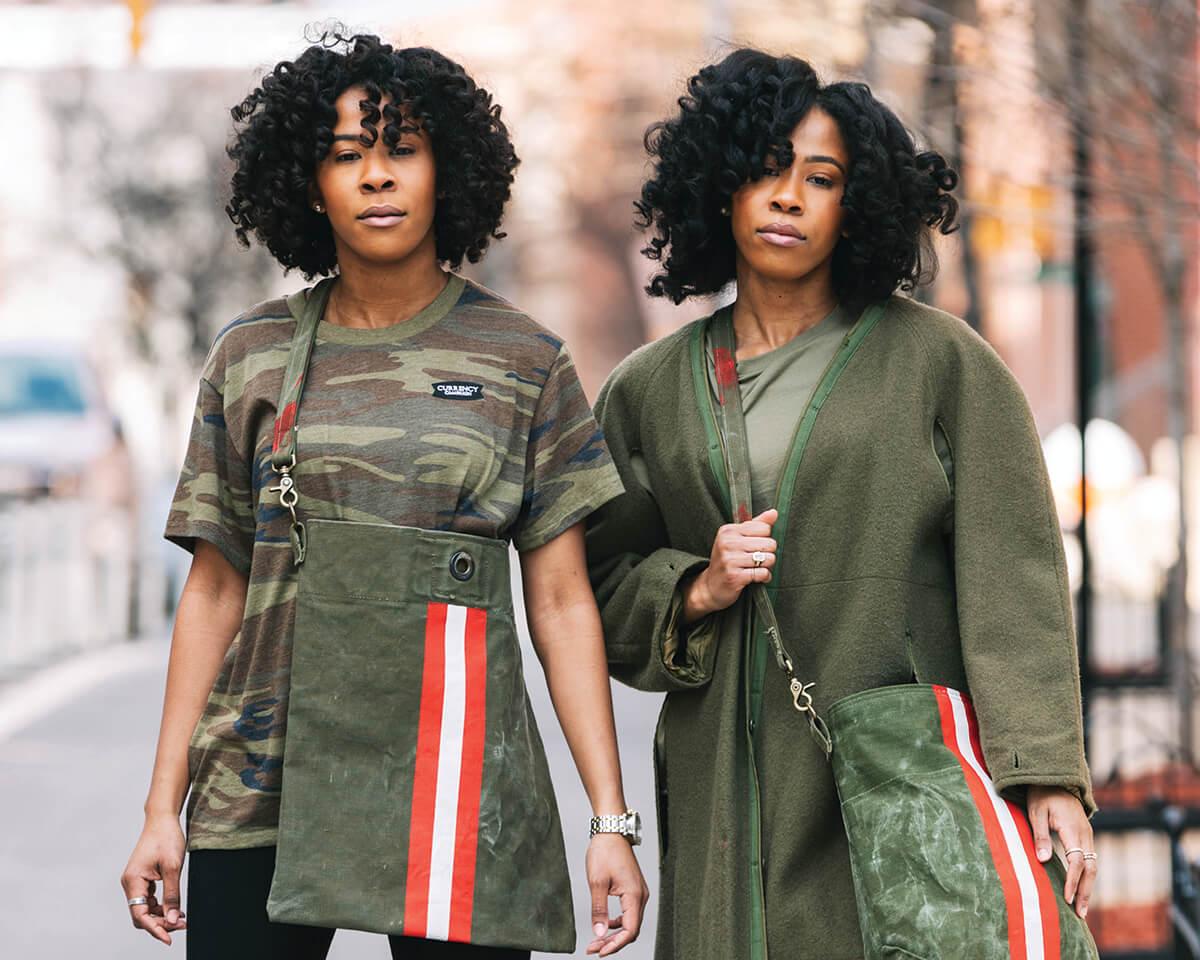 Currency Studio
Back when he was a kid, Michael Haskins' mother worked at a bank. He would go to work with her, sitting in the break room. One day, he saw a large sum of money handled by one of the bank tellers.
"That's a lot of money," he said, shocked. "Honey, this isn't money—this is currency," she told him.
That's where it all began. Haskins became enamored with the concept of currency and came to the conclusion that we are all our own most valuable currency.
Over the years, he's expressed this belief through a variety of art forms, including clothing design. Now, Currency Studio is a full-fledged showroom at the edge of Canton. Militia A was the first commercial collection produced by the brand, released in March.
"[The name] comes from feeling like a creative at war, where there is a lack of respect until proven profitable," Haskins says.
The clothing is made of repurposed military jackets, utilitarian styles, and also features accessories. Everything is made for function and lasting wear, and all pieces are reimagined with the brand's (soon-to-be) iconic hand-painted red and white stripes. Within the showroom (which is currently open by appointment only), shoppers can browse the carefully curated small batch of clothing. But this is way more than a typical boutique: It's an exhibit, it's an installation, it's a shop.
The industrial feel of the building is only enhanced by Haskins' art installation of carefully stacked pieces of found stones. The message of Militia A is displayed through the photography on the walls—two models styled in the collection, shot in Baltimore's Mount Vernon neighborhood, but captured in such a way that avoids any sense of artifice.
And, should the concept still be unclear, the thought process behind Militia A is detailed in a zine with further photography available for free to all visitors. Stay tuned, though. Currency Studio has another launch coming soon, this time inspired by all things equestrian.
---
Sewlab USA
Once upon a time, manufacturing was one of Baltimore's largest industries. Today, what's left are remnants of industrial warehouses and a handful of manufacturing companies, one being SewLab USA.
Owned and operated by duo Jeremiah Jones and Cecilia Grimm, SewLab, which specializes in soft goods made of sustainable material, has become an underground mainstay, with sales reaching both local and global markets. In keeping with its mission, the company has also pivoted to produce masks for the community throughout the COVID-19 crisis.
"Our goal is to bolster the industry locally so smaller businesses right behind us in growth have resources so that they can grow," Jones says.
He teaches sewing at Open Works and has hosted a seven-week workforce training program to teach others about manufacturing, from design to business operations. SewLab's latest long-term project has been one that gives back tenfold: reusable bags made of discarded material. Vinyl from old MTA signs and grain sacks from craft breweries have all been donated to the company. The plan is to develop a design that can be produced widely and efficiently. SewLab intends to sell its reusable, recycled bags at farmers' markets and use the proceeds to prove to the Baltimore City government that there's a sustainable, Baltimore-made alternative to plastic bags.
Eventually, Jones and Grimm hope to distribute those bags to Baltimore's at-risk communities—the kinds of people who once were employed by Baltimore's manufacturing industry but now don't have the resources to purchase items such as reusable bags. It's a tall order, sure. But SewLab USA is determined.
"Baltimore City is our garden," Jones said. "We need to rebuild the soil."
For SewLab USA, manufacturing isn't just an entrepreneurial project to sell cool recycled products, it's a mission to rebuild a piece of the prosperity the city once had.