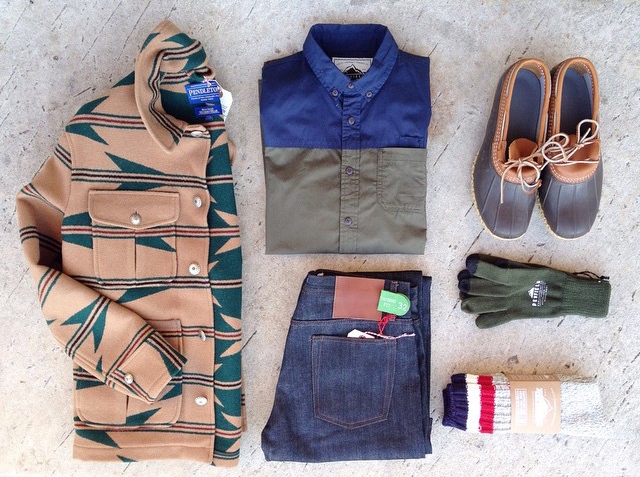 Hunting Ground
There's a change in the wind and it's blown over Baltimore. Men's fashion is on the rise and our local favorites aren't holding back. Whether you're looking to refresh you spring wardrobe, searching for a classic leather jacket, or just need to get your hands on the latest sneaker release – we've got you covered with Baltimore's fashion hot spots for men.
VINTAGE: Hunting Ground
Searching high and low for the perfect pair of vintage Levi's 501 jeans? In the old church on Falls Road is where you may strike luck. Hunting Ground's racks are filled with an ever-rotating selection of both affordable vintage finds and pieces from local brands. 3649 Falls Rd., 410-243-0789
SPORTS FANATIC: This Sporting Life
A curation of embroidered patches, snapback caps, and (never) forgotten jerseys are what This Sporting Life is all about. History-inspired and all things sports, this online store features vintage and handmade items in by the store's own Arvay Adams.You can also find This Sporting Life also stocked at For Rent Shoes, Sewlab Factory Store, and Sixteen Tons.
TIMELESS STYLE: Sixteen Tons
Don't miss Sixteen Tons located in the same space as sister store Doubledutch on Hampden's avenue. Stocked with vintage and new apparel that stand the test of time, the store also hosts a great selection of local duds from brands like Creative King and This Sporting Life (as mentioned above). We also love their wide assortment of accessories and grooming products, ensuring you will be stylish from head to toe.
TRENDY: Brightside Boutique
One of Baltimore's favorite shops, Brightside is no longer just for women. Head down to the avenue in Hampden to find what's hot and trending this season. From vinyl bomber jackets and woven knit button-ups to beard maintenance kits, you'll slowly but surely find yourself a Brightside regular. 915 W 36th St., 410-814-0595
SNEAKER-HEAD: For Rent Shoes Baltimore
If you've noticed the uptick in the Baltimore sneaker game, you may just have to thank FRS. Owner Harrison Davis noticed a lack in decent sneaker shops back in 2013 and ever since has been keeping Baltimore's sneaker lifestyle thriving from his Federal Hill store. Major brands, local designers, and up-and-coming labels all have a home here so stop by and you may just find an exclusive release. 515 Cathedral St., 443-873-9928
A MODERN TAKE: Six2Six Society
Streetwear fashion isn't just for New York City. Fed Hill's Six2Six Society brings together contemporary trends and vintage steals. Make a statement in a color block Tommy Hilfiger windbreaker or throw on a brightly colored Coogi sweater. Hanging from the ceiling and covering the racks are one of a kind pieces that will take your style up a notch. 912 S. Charles St., 443-717-1210
PERFECTLY TAILORED: Different Regard
Nothing says class like a well-tailored outfit. Different Regard brings together modern style and luxury quality with polished clothing. Upgrade your style with a fine-knit sweater, precisely cut slacks, or even a custom suit at this Mount Vernon shop. 825 N. Charles St., 410-225-3777
ON TREND: Angel Park
For the guy who keeps track of the latest trends, Angel Park is the place to go. Owner Justin James has curated the perfect selection of men's clothing and accessories with just the right amount of edge. Inspired by West Coast fashion, one trip into this Fell Point shop will have you feeling like an off-duty celeb. 1707 Aliceanna St., 410-669-0600
THE PROFESSIONAL: J. S. Edwards
Looking to spruce up your work wear? Head to J.S. Edwards in Pikesville for their upscale selection of classic and dependable suits, sportswear, shoes, and accessories. The super helpful staff will have you looking your best in no time with styles from Canali, Jack Victor, and Hugo Boss. 1809 Reisterstown Road, 410-653-2266
STREETWEAR: The Lor Store
This local streetwear-focused shop in Mt. Vernon definitely brings Baltimore's cool level up a notch. With unique artwork, lego-inspired tables, and clothing from brands like Bape and Stussy, Lor Store offers a unique and innovative shopping experience. Through collaborations with local rappers and artists, founder Malik Smith hopes to connect the community and offer a home to local designers and makers. 1110 Cathedral St., 443-683-5296