Designer Stacy Stube Launches Garment Industry Trade School and Studio
SEW BROMO in Pigtown is on a mission to revitalize Baltimore's textile work.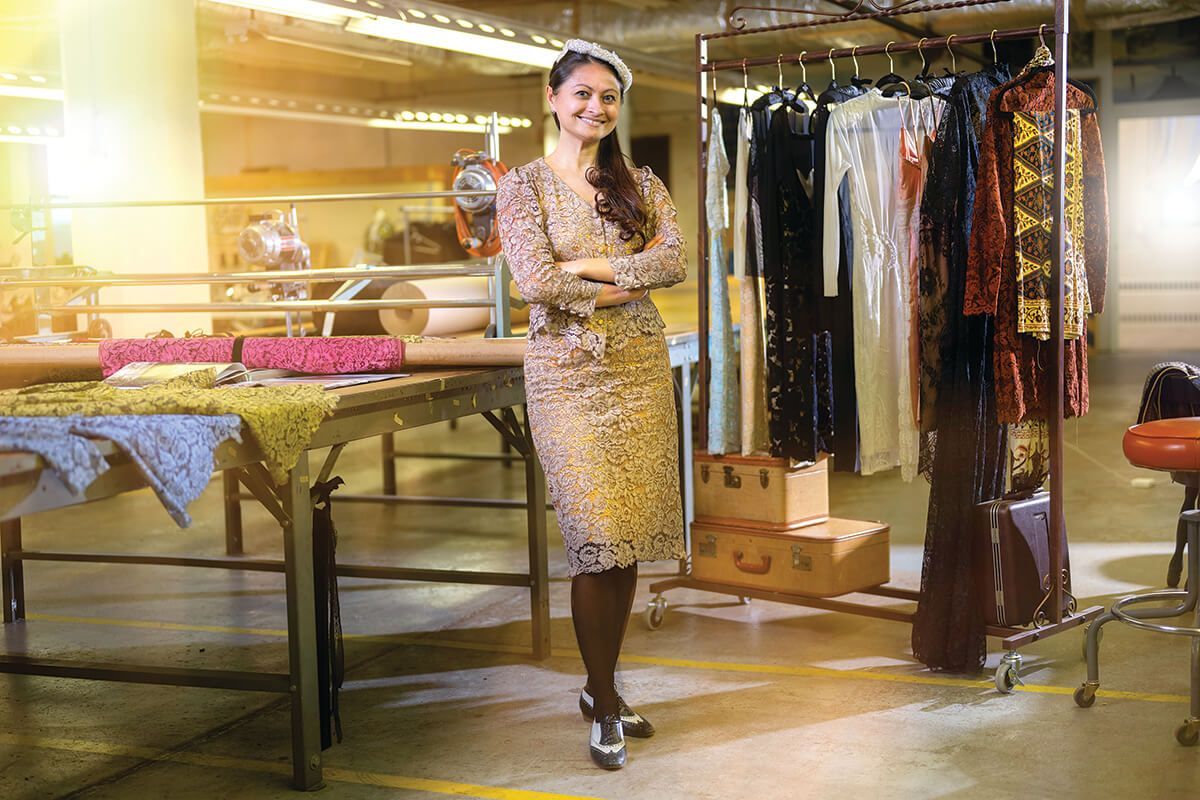 Stacy Stube was living the dream. In 2009, after graduating from the University of Baltimore, she moved to London to pursue a degree in Fashion Entrepreneurship & Innovation. Her goal was to one day launch a fashion company with a social conscience, one that would give back to local communities.
After 13 years working in management for various brands, such as Burberry and Alexander McQueen, she headed to her native Bali for education and inspiration. As an Indonesian-American, Stube was fascinated by the textile artistry of the Balinese. Studying with the local artisans, she experienced first-hand how painstakingly difficult it was to preserve traditional craftsmanship. But she wanted to keep that tradition alive. It was there that she built her brand, Elsa Fitzgerald, an evening womenswear line.
In 2019, Stube headed back to Baltimore, where she volunteered at the Baltimore Museum of Industry, working in the garment loft and giving visitors a glimpse into the life of a fashion designer. While at the museum, "I started to look at Hutzler's, old Baltimore, the heritage—F. Scott Fitzgerald lived here, Billie Holliday, interesting and talented individuals who were inspired by the city," she says. "That gave me my new starting point."
Through her time at the museum, it became Stube's mission to revitalize Baltimore's textile work.
"We need some type of fashion that is mindful and full-bodied—like farm-to-table but from factory-to-boutique," she explains.
With that in mind, she launched the SEW BROMO fashion heritage and needle trade school in March 2021. Located in a former factory in Pigtown, the school offers classes where you can learn a range of industry basics, from sewing techniques to entrepreneurship training. At the studio, budding designers can learn to develop their products from Stube and other experts and graduate with a sample run of garments to bring to market.
In the not-too-distant future, Stube says, SEW BROMO will offer monthly online memberships that will provide regularly uploaded content, including video walk-throughs of trade skills, on the studio's Facebook group and member portal page.
For Stube, SEW BROMO offers a chance to merge the past and the present. "A big part of the work is to expand it to a fun and interesting space," she says, "but we don't want these [artisanal] skills to die."