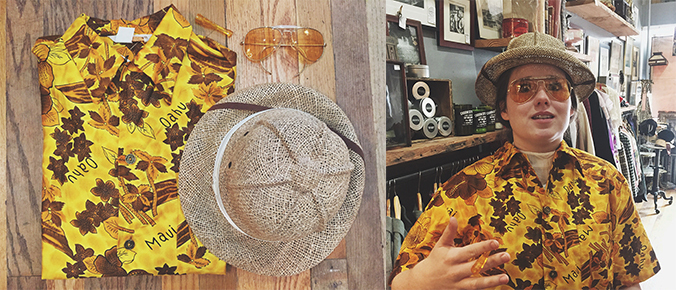 Photography by Lauren Bell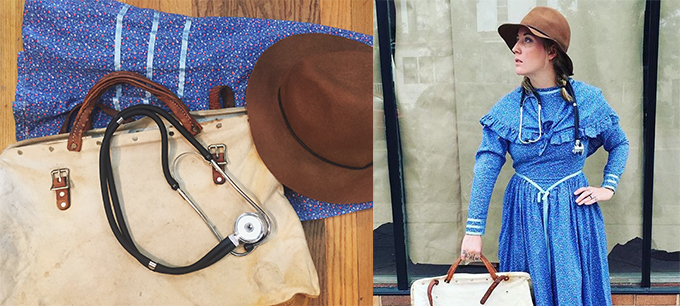 Do you think people are intimidated to try a DIY costume?
AG: Sometimes I feel like people just don't think about it. But that's what we are here for. We want to walk with you on this journey.
KT: We take people to a different level of costume. It's not just going to a Halloween store and finding a pre-made "sexy" Raggedy Ann thing. You can come here and get an actual red and white gingham house dress and possibly even wear it again. You can get a cape and be so many different characters, but then you can wear a cape for winter.
There is nothing worse than "sexy _________" costumes.
AG: Yeah, we are so not into that. We find it funny when we are like, 'I'll be this gross thing.' And maybe that is a confidence thing, but don't be afraid to be something different. Like if you are a dude and you want to do a tight shave on your head and be Eleven from Stranger Things, you should go for it.
KT: In some cases, you gain confidence after you have everything on. I mean, I was dressed as Doc Brown yesterday from Back to the Future and, as soon as I had it all on I was like, 'Man, I look fucking cool.' And it wasn't exactly what he looked like, but we made it work with everything that we had.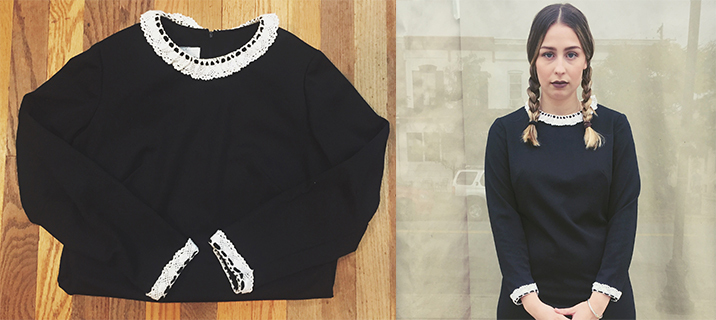 What is the key piece or item to pull off a DIY costume?
AG: We always say that accessories are really important. If you don't have the exact outfit or color that the character wears, you can still pull it off with accessories. Like if you are being Jackie Kennedy Onassis, you don't have to have a '60s pink two-piece suit, you can wear a blue one. But get the pill box hat, gloves, pearls, and all the little things that are nuance-y. Wigs and makeup can help a lot, too. We always tell people for $20 you can do a head-to-toe look in our shop and then spend the rest of your money on a wig and/or makeup from a specialty or Halloween store.
What is your favorite costume you've put together in the store?
AG: I think Nancy Kerrigan and Tonya Harding was pretty funny because it really was random. We found these '60s leotards and of course we didn't have ice skates or anything but I think the angle worked.
KT: That one was really fun because it was so random and we were like, "Huh, we have these leotards, what are we going to do?" And then we had to research to characters to make sure Tonya was the one with the baton.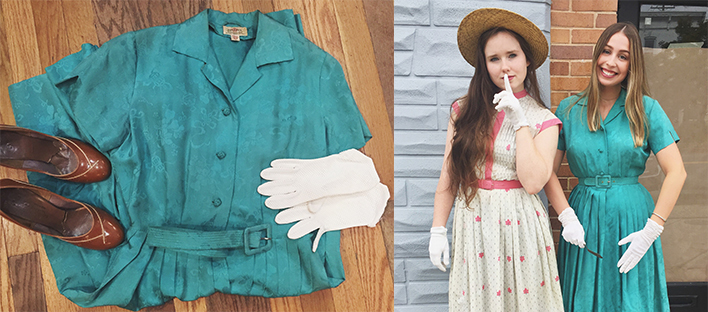 What are you being for Halloween this year?
AG: After doing this now for three years, we always end up doing something avant-garde and really out there for our personal costumes because we have all month to think about it. If we have funny things that we have ideas about we get that creativity out through the month of October for the store.
KT: Last year we were the sun and the moon, but it was very '30s style. We had pin curls, gowns, and big headpieces.
I've noticed you guys also do amazing Halloween window displays each year. How do you come up with the theme for the windows?
AG: This year we did Stranger Things, which kind of caters to vintage. We felt like we had to do it. The timing was so perfect.
KT: Our first year we did witches and they were all in crazy vintage black gowns. Last year we did Carrie with a mannequin in a vintage prom dress, and then someone pulling the cord to pour the bucket of blood, which was actually metallic streamers, onto her head.