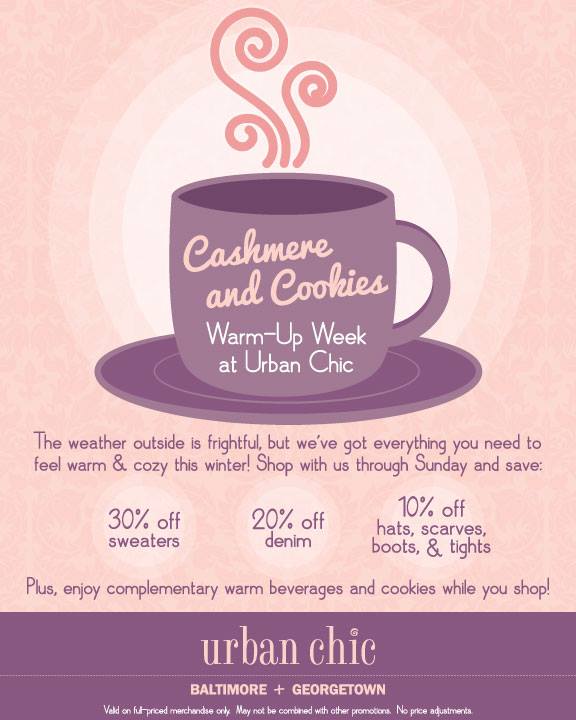 Urban Chic Facebook Page
With the end of every season comes great savings! Here's a list of some local sales worth shopping.
There's still time to take advantage of Warm-Up Week at Urban Chic.
Now through Sunday, escape the cold and enjoy complimentary food and
drink while shopping the store's sale: 30 percent off sweaters, 20
percent off denim, and 10 percent off hats, scarves, boots and tights.
Hurry across the street to Handbags in the City.
The shop's ongoing Friends & Family Sale will award you 20 percent
off all regularly-priced merchandise (excluding MCM). But don't wait—the
savings end this Friday!
Owings Mills
Also ending this Friday is Fresh! Boutique's
Winter Blues Snowball Sales. The sale—which started by saving you 30,
and then 40—will now save you 50 percent off select jewelry and
accessories.
Down the street, there's another sale that keeps getting better. Treasure House Accessories
is offering 50 percent off select sweaters, jewelry and other
accessories, as well as 60 percent off select handbags and Ugg
accessories.
A Style Studio is also offering half off on select merchandise, including apparel, accessories, and cosmetics.
Head over to Lori K for the store's winter blowout sale and save 75 percent off on select items.
And you don't even have to leave the shopping center for more great deals—at Liza Byrd, enjoy a 70 percent discount on select items.
Need a gift for Valentine's Day? At Bijoux, the entire store is on sale until the holiday. Each jewelry case is reduced, ranging from 10 to 50 percent off.
Trillium's sale items are marked down anywhere between 50 to 75 percent off of items' original prices.
At Matava Shoes, you'll be delighted to find 30, 50, and 70 percent off sale sections.
Ruxton
The Little Shoebox is also offering a steal on shoes. Pick up a new pair—any of the store's winter shoes or boots—for half the price.
Across the street, shop fall and holiday merchandise 50 to 75 percent off at JG Sassy's Semi-Annual Sale.
Take an additional 20 percent off of Jones and Jones sale items, which have already been reduced 50 to 75 percent off.