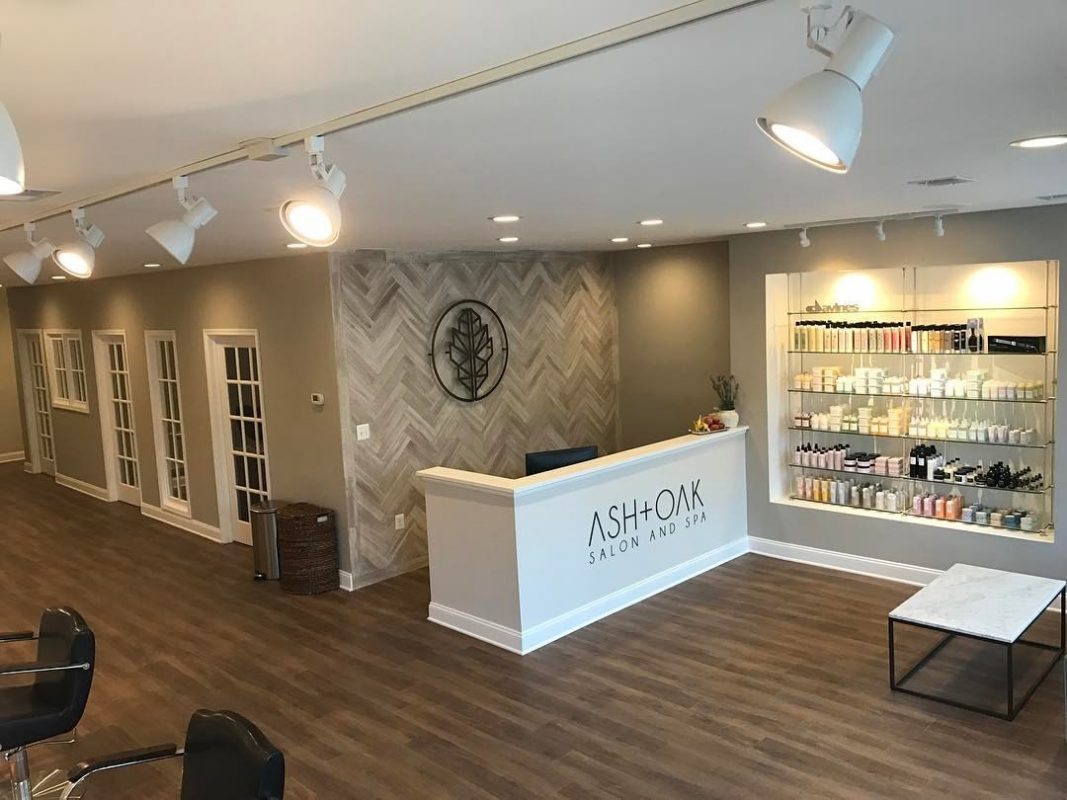 Ash and Oak Salon
New year, new you, new haircut? If it's nearing that time for your next trim you may want to check out the latest salon to open in Catonsville. Ash and Oak opened last February and specializes in sustainable beauty services and products. They offer everything from haircuts and color to waxing, eyelash extensions, and organic spray tans. 
The space is bright and beautiful, offering an instant feeling of relaxation and is decked out with displays of Davines hair care products and Little Shop of Oils candles, body oils, and room sprays. You also can't help but notice that everyone working in the salon has great hair, which I believe to be an early predictor for how your hair will turn out. (Like I said…instant relaxation.) We talked to the salon's owner, Amanda Hancock, about the inspiration for the space, its name, and her guilty pleasure. 
What made you want to open your own salon?
I had been behind the chair for almost a decade and had sort of reached a creative plateau. When you work in a salon for someone else, even though your work is your own, you are following someone else's vision. I wanted to have complete control over my creative vision, as well as the experience my clients had while they spent time with me. 
How did you come up with the name?
I really spent hours trying to find the right name. Ultimately, I read an article in a business magazine that helped guide me. It said that the best way to name a business in 2017 was to take two short words that described your space or your mission and put an ampersand between them. My vision for my space was always grey, white, and wood. Ash for the grey and white, and oak for the wood accents. It also worked well because my business has a very strong focus on sustainability. 
What makes Ash and Oak different from other salons?
Our dedication to the environment and our impact. I wanted to be able to have a place that delivered exceptional services that left you feeling good about your look, but that also allowed you to feel good about the impact you left on the world around you. In the 10 years I have been behind the chair, Ash and Oak is the very first salon that I've worked at that recycles every single scrap of paper, cardboard and plastic that we consume and we are also in the process of becoming a green circle salon. We also have programs in place that allow clients to refill their empty shampoo and conditioner for a discounted price. 
Why did you choose to open in Catonsville?
Frederick Road is such a cool little gem of an area. I think there is a definitely a demand for more upscale businesses here. 
What is your favorite hair trend currently? Least favorite hair trend?
I'm super into Balayage bobs. I know that they are kind of played out and basic, but the longer something gets played out the more time you have as a stylist to really perfect it. My least favorite trend is probably fashion tones and vivid color. I love doing them, but their longevity just kills me. 
What is your favorite hair product that you couldn't live without?
Davines Dry Texture Spray.
What is your guilty pleasure?
Candy crush. Yes, I am still playing Candy Crush. 
Who would you say is your style icon?
Joan Jett. 
If you're on a deserted island and could only bring three things, what would they be?
My son is a given, right? My bed, lavender essential oil, and a hair tie. 
If you could travel anywhere in the world where would it be?
Tahiti.