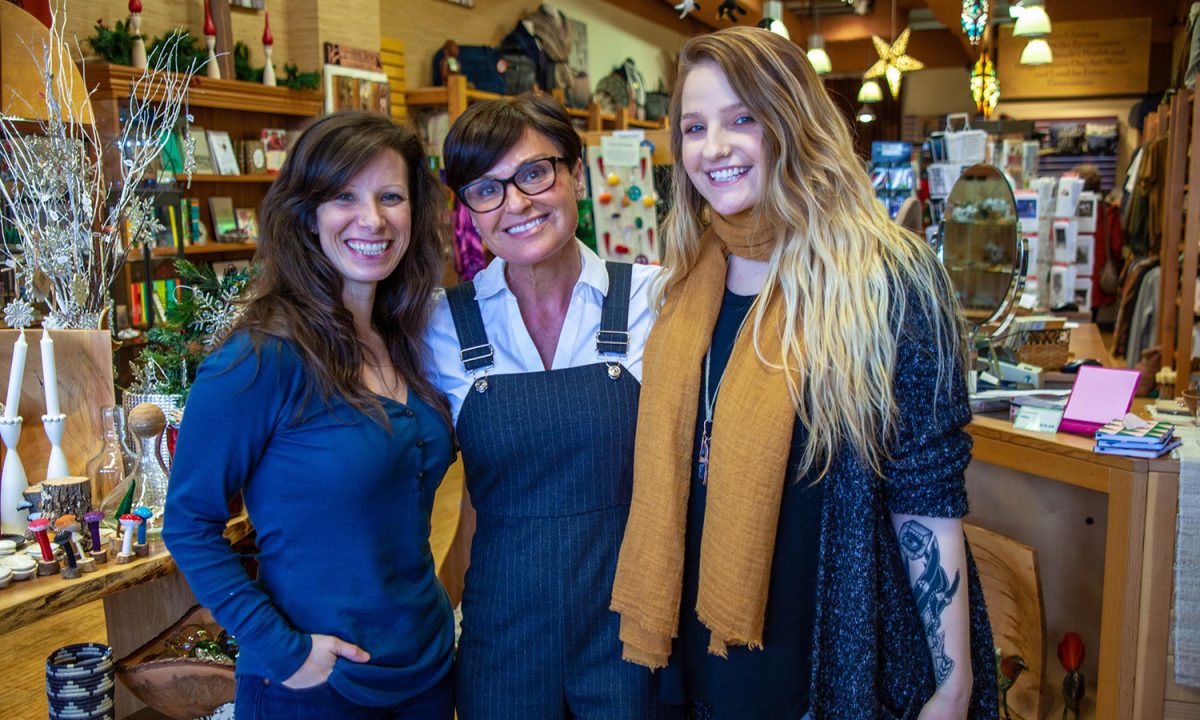 Nest Natural Home
In 2003, Holly and Jeff Kaufman, the owners of Great Sage and The Roots Market, added yet another ethically sourced business to Conscious Corner—their eco-friendly retail cluster in Clarksville. Throughout the years, earth-friendly clothing and gift shop Nest Natural Home has offered a cozy environment for consumers to learn about eco-friendly, vegan, and fair trade products. At the female-run boutique, every item has a story. In fact, many of the pieces are handpicked creations by female, local, and small-batch artists. "We're really excited that people are shopping with consciousness, care, and concern," says manager and buyer Jenny Glazier.
We chatted with Glazier and assistant manager and buyer Tanya Zirbel to learn more about Nest's products, packaging, and sustainable mantra.
What makes your product line unique?
Tanya Zirbel: Everything here is ethically sourced, and the energy that is in each piece is the positive energy coming from all our different artists. People feel that when they come into the store. So they are consuming, but they also come to be in a space where they can see beautiful handmade items—and where they know they're making a difference with their purchases.
What is your favorite item currently in the store?
Jenny Glazier: We're a lifestyle store, so that's a hard question because we have everything from organic cotton wraps, to wooden bowls that you can display in your home, to clothing, to baby items. We also have some beautiful olive wood pieces for around the house and wooden cutting boards. We handpick everything, so I can say there's love in every single piece in the store.
How does packaging play a role in your sustainable mission?
JG: We do love to gift wrap here, but it's all recyclable material. Most of the companies that we work with are sustainable, so anything that comes in is usually recyclable. They're on the same idea path as we are.
What's one thing no home is complete without?
JG: Some of our soy-based vegetable oil candles are incredible, and they just make for such a nurturing environment. Our incense are also very warm and loving. I guess that's a big one because a lot of people come in, and the first thing they say is, "It smells so good in here!" To have your home smell beautiful and know it's ethically sourced is pretty nice.
What's one thing no outfit is complete without?
JG: Some of our organic cotton basics.
TZ: Our main clothing lines are Toad and Co. and Prana, and they are major players in the sustainable clothing movement. They used to focus on was more activewear, but they're transitioning to stylish pieces that are also ethically sourced. No outfit is really complete without a sustainable piece that makes you feel good about what you're wearing.
Is there a motto that you live by?
TZ: Something we've been talking about amongst ourselves lately, is how a lot of people are coming here to find some joy. So, just living in your joy and doing what you can to live consciously.
What upcoming events can shoppers look forward to at Nest?
JG: We are having our annual Vegan Fest on July 20. There will be two local authors here that day. One [Rebecca Gilbert] has a beginner's guide to becoming vegan, and the other [Rissa Miller], is an amazing animal advocate and poet. She's going to be here doing a poetry reading from her book Vegan Tales. The Vegan Fest is going to be a huge event, not just with book signings, but also with trunk shows and a guided meditation.
As female managers, what message do you have for young female entrepreneurs?
JG: I have a 17-year-old daughter, and I really think that at this point we're learning from them. We need to take a step back and listen, because they have a lot of important things to say.
TZ: Right now, women are all about supporting women. We had a get-together with some folks that are friends of the store, and we realized there were five decades of women around us at one point. So, it's just about sharing knowledge up and down and across in different areas. Finding women who you feel comfortable with and support you in all of your endeavors is important.