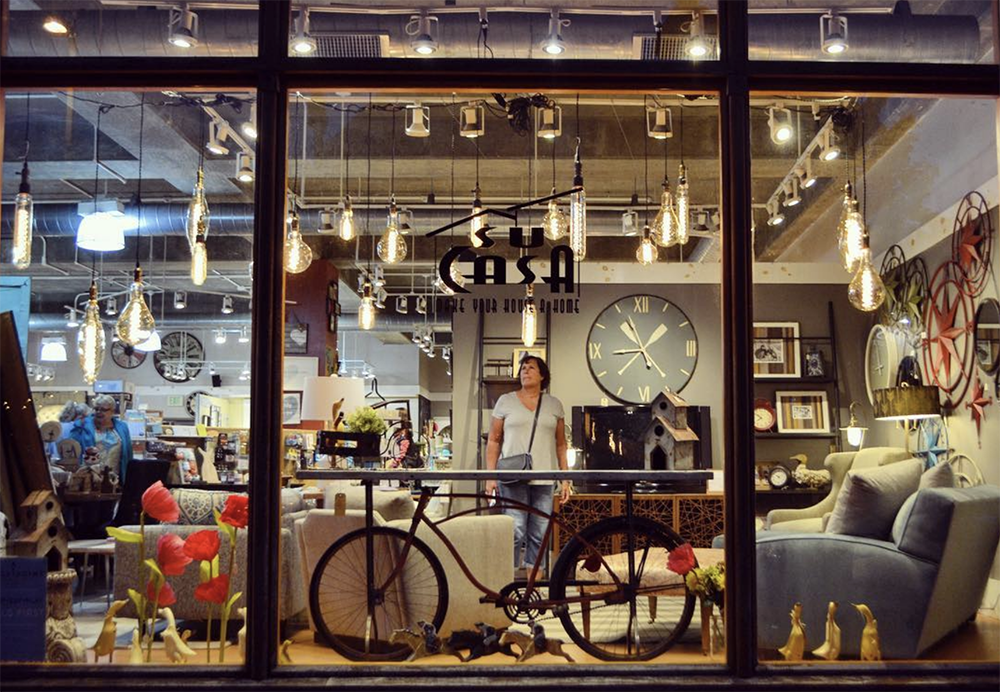 Su Casa
A retail store lasting for 20 years is no small feat. For Nick Johnson, owner of décor and furniture company Su Casa, the key to thriving has been support from the Baltimore community—through unpredictable weather, new locations, and everything in between.
After a long period of personal and product-driven growth, the team at Su Casa has no immediate plans for expansion and is focusing efforts on its current locations in Fells Point, Ellicott City, Bethany Beach, and Ocean View, Delaware. Collaborating with local artisans like Max's Candles, Oak & Iron Designs, and Charlie Barton, Johnson places huge emphasis on the importance of small businesses supporting and sustaining each other.
We sat down with Johnson to chat about the history, evolution, and future of the interior design company.
What was the initial inspiration behind Su Casa?
Back then, we had this model all centered around the Big Iguana. It was basically a hippie store, lots of clothes, jewelry, accessories, and then we started doing candles, candle holders, and art—that sort of thing. Our model was to open a new store based on the parts that are doing really well. We wanted to sell more artwork and accessories and small pieces of furniture than would fit into this little hippie store. So, we created Su Casa. I would have never thought 20 years ago that we would end up with four stores, two warehouses, and this customer service model. We just wanted to sell more mirrors and glassware. Then, whoops it became serious.
How has the community in Baltimore treated you over the past 20 years?
We've loved it. I think part of it is our focus on the customer. We've never been the typical furniture store. It's never about having Fourth of July or Memorial Day sales. We don't do any of those things. Our customers have been super supportive, they come back to us over and over. We built policies around taking care of the customer first and the business second. We've moved with people and, when you take care of the people, they then support you and do whatever they can to help you out.
The flood in Ellicott City is the perfect example. The second time around was a lot harder for us than the first time, except that we knew what the challenges were and what we would have to do to overcome them. But in the end, we got an incredible amount of support, so we feel we've built a much better business the third time around because of the support we received.
What did you have to do for the Ellicott City location after the flooding occurred?
The first time around, we had to do a lot of actual construction because it had never happened to that store before. In the rebuilding, we did things like half-jokingly put in a waterproof floor and we're like, "Oh, if it ever happens again, the floor's going to be great. Because it will never happen again."
And then it happened again. We were truly all set to leave Ellicott City because we had inches of mud covering the entire first floor. And we didn't know if we could go through this again. We literally, in three days, took every piece of inventory, floor to ceiling, walls, everything, out. Then, the landlord said, "The store looks great, when are you going to reopen?" The store looked terrible. But as it turns out, he understood the importance of businesses coming back and so he jumped into action, cleaned out the store for us, made it happen, and then everybody that supported us financially and emotionally made it so we could come back.
Just like you expanded into furniture, do you plan on expanding the business into anything else in the future?
I would leave that up to my wife. If there's one person who is more driven than me, it's her. She has four different businesses right now and she keeps expanding. I love what we do. Other people are like, "You work seven days a week?" But at the same time, I love being at work. I don't have any crazy ideas of how to pull a concept out of this store and create its own concept right now. But that being said, we have a history of doing that. So, who knows?
Do you have any advice for someone just starting out?
Work hard. Ultimately, some of the areas where we've had challenges I've overcome it by plowing into it and putting in the hours. I worry that a lot of people these days who start businesses don't understand that you can overcome a lot just by putting more of yourself into that business. You can overcome being short on cash. You can overcome being short on staff. You can overcome losing the identity of your business, by being your business.
What has Baltimore meant to you?
The city is a great place. It has a lot of challenges right now. But I always end up remembering how fortunate we are to be in this area with things like Johns Hopkins, University of Maryland, Under Armour. They drive a lot of the economy here and being in the city is a part of that. Because I don't think you get that elsewhere. You don't have these main drivers in employment and in an economy in every region. So, the city has been great for that—people shouldn't take that for granted.
Why did you choose to incorporate local artisans?
That has been the most fundamental change for us in the last five years. Some of the things I'm most proud of are the people who started off making things in their garage who wanted to sell it. There are a few stories like that I really love where it's people who end up aligning what they do with what we do. It becomes a symbiotic relationship where we feed their business, they feed our business, and their business grows into other people's stores.
Do you have any goals for the next 20 years?
We eventually want to open more stores. We've really embraced this idea of being a part of a community and I think that's the hardest thing to replicate. We don't want to lose focus on how important a business is to a neighborhood. You can't just open a new store and suddenly be a part of that. We look at areas where we know we have some influence or we have some support from customers or staff. We'd love to expand into Annapolis or go back up to Towson. But longer term, it's growth, being mindful of the impact we have, and how we can support and help the communities we are in.
Are you doing anything to celebrate the anniversary?
We hope to throw some sort of party. But being in four different locations, it's tough figuring out how to handle that logistically. But we will continue to do sales and things throughout the year, where we reinforce the fact that we've been around a long time and we hope to be around a lot longer.