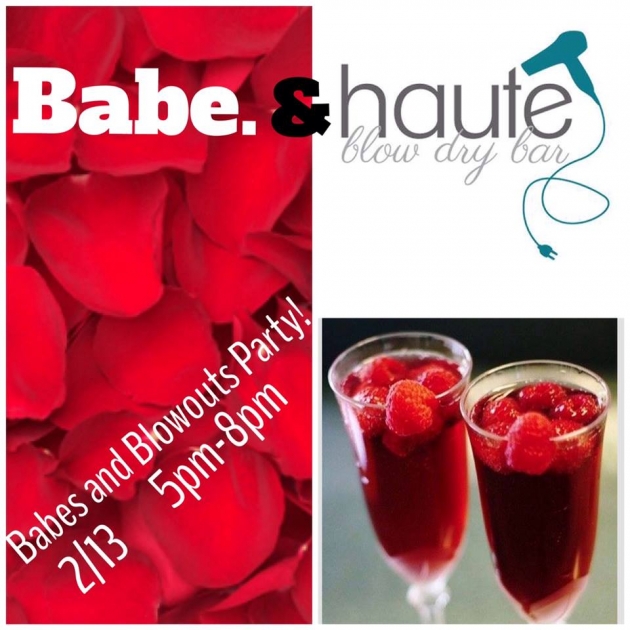 Babe and Blowouts Party Facebook Page
Start celebrating the holiday early this year! This weekend, Urban Chic will host a Valentine's Day Trunk Show featuring Kendra Phillip jewelry—an American-made collection
known for its contemporary twist on a more vintage, classic feel
(including tons of heart-shaped pieces just in time for next week).
Enjoy 10 percent off of any trunk show purchase, as well as the store's
Valentine's Day candy bar and champagne while you shop.
When: Saturday, February 8th
Where: 801 Aliceanna St.
Starting next week, The Shops at Stevenson Village
will host a three-day center-wide sale. With any $100 purchase (at any
Stevenson Village shop), receive $10 toward your next purchase at Morgan Truesdell or The Velvet Chocolatier—perfect for a Valentine's Day gift!
Also next Wednesday, Lori K will be having a jewelry trunk show. Check the store's Facebook page for more information to come.
When: Wednesday, February 12th through Friday, February 14th
Where: 10415 Stevenson Rd.
Take advantage of even more savings at The Village of Cross Keys' Sweetheart of a Sale, where some of your favorite shops will be offering up to 85 percent off of original prices.
When: Thursday, February 13th through Monday, February 17th
Where: 5100 Falls Rd.
And as the holiday nears, head over to Babe. (a boutique)
to prep for the big night, no matter how you're spending it. Pick up an
outfit and treat yourself to salon services—all at a great price! At
the Babes and Blowouts Party, the boutique will be offering 20 percent off of all in-store tops and dresses, so you'll be able to find the perfect piece for any occasion.
The event will also have specialists from Haute Blow Dry Bar, who will be offering exclusive deals on products and services. Enjoy a 20 percent discount on all Davines
hair products—an environmentally-friendly line that promotes
sustainable beauty. Leave the store with a $20 dry style (compared to
the usual $25), whether you want curls or straightened hair. Going
somewhere fancy? Opt for a different look with a $45 updo (compared to
the usual $70)! Either way, add a $5 braid (compared to the usual $10)
to complete your look!
As you're shopping and getting pampered, be sure to enter the raffle for a chance to win one of the store's Ballerina bags.
The shop will also be serving holiday cocktails and snacks throughout the night.
When: Thursday, February 13th from 5 to 8 p.m.
Where: 1716 Aliceanna St.