More Than a Store
What it means when we lose a beloved neighborhood anchor like Trohv.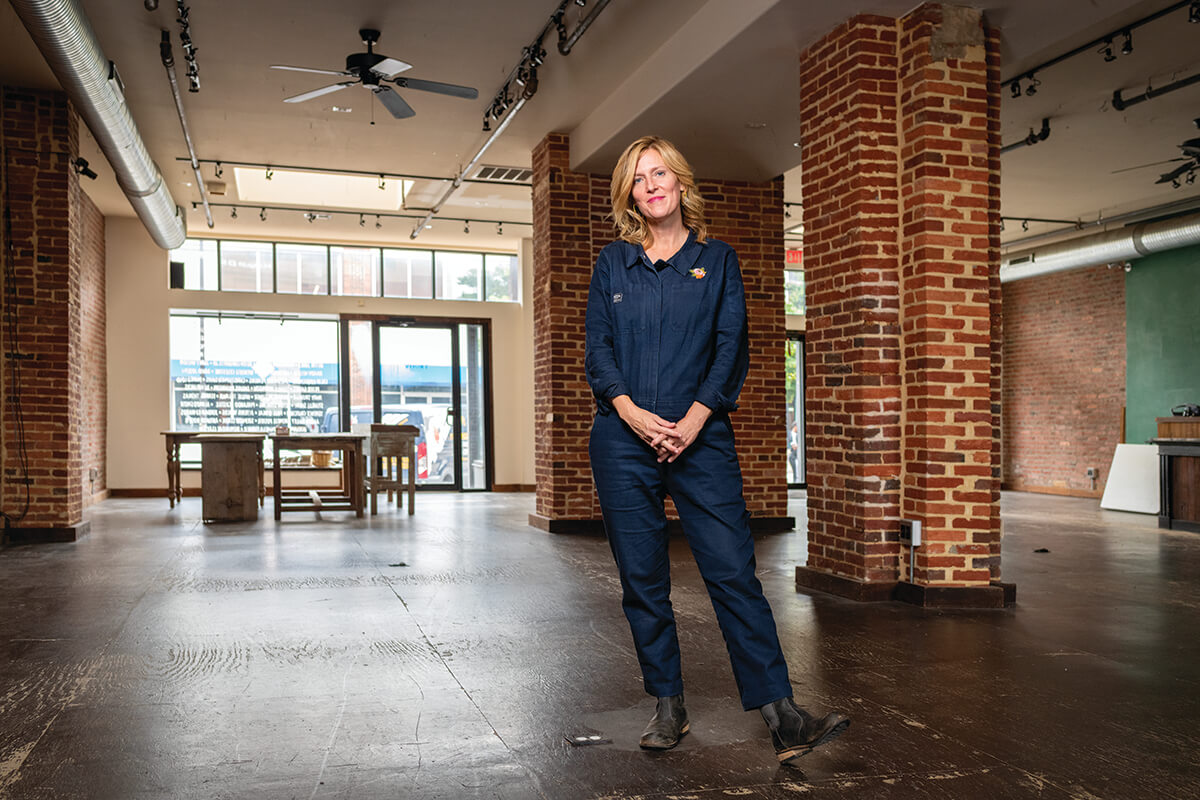 Trohv owner Carmen Brock and I both joke that we gave birth the last week of October 2006. Carmen to an amazing shop on The Avenue in Hampden, and me to my oldest son, Milo. Throughout every "Milostone"—from the Terrible Twos to the angsty double digits to the Bar Mitzvah stage just this past year—Carmen had her own shop version. This included expanding Trohv to the basement level on 36th Street and opening a second location in Takoma Park from 2011 until 2016. We were both proud mamas. So hearing that Trohv would be closing in August felt like a death in the family. It made my heart ache. I felt like I should be sitting shiva. This month, Milo turns 14, and Trohv is gone.
When Trohv—then called Red Tree—opened on The Avenue in 2006, it immediately became a favorite spot for holiday shopping, goods for the home, beautiful jewelry, funny cards, and special presents. (The first thing my daughter, Willa, uttered when she heard about Trohv closing was, "But where will we get your Mother's Day gifts now?")
"When we first opened, people were trying to figure out what we were and what we were doing," recalls Carmen. "People would come in asking for wigs, hair dryers, sports bras—I loved that so much."
In my 14 years at Baltimore magazine, first as style editor and now as Home and Weddings editor, I have probably pulled 6,000 items to photograph for various shoots—and a disproportionate number of those came from Trohv. Carmen always said yes. Even if I busted through the door breathless, gasping "trivet"—something vital missing from my latest styled shoot—she would always say, "no problem" and send me quickly on my way. We've pulled tables and chairs and vases and books and earrings and baskets, all to make the photo look just so. I remember at one point, the late Baltimore magazine executive editor Dick Basoco called me into his office. "No. More. Trohv," he admonished. That only lasted a few weeks before I was back there again. It's hard to stay away from a shop owner who has the best taste.
Since I've known Carmen for so long, I was honored to receive a Google Doc to sign up for shifts and help out the last few weeks the store was in business. The crowds were huge (lines wrapped around the block since, thanks to COVID, only a few customers were allowed inside at a time), but if it could help Carmen and her colleagues, including Dawn Hudson and Bree Rock, of course I would do it. Willa and I spent a few hours there one of the last Saturdays zhuzhing, rearranging, and, yes, shopping.
Even with everyone coming and going and wanting to bask in the light that is Carmen, she made my daughter feel like she was the most important person in the room. If I could describe the Carmen Brock aura, it would be like this: freshly baked doughnuts, puppies, and a bouquet of peonies topped off with a Southern drawl. I was also able to witness so many appreciative customers approaching Carmen––doing their best not to wrap her in a big pandemic-no-no hug—and telling her "this shop was my favorite." Or "I bought my most beloved gift here." Or "I had my first kiss here." Or "I came to a pop-up and it was amazing." Oh, the pop-ups. So many good ones.
HEARING THAT TROHV WOULD BE CLOSING FELT LIKE A DEATH IN THE FAMILY.
"We did this 'Beers and Spears' event in 2012 where we featured Union Craft— they were really new—and Gordy's pickles," Carmen remembers. "It was a really fun thing to do." And then there was the event with Damian Mosley of Blacksauce Kitchen, where he created winter hashes— right inside the shop. And truly one of the best gatherings involved Krystal Mack and the release of Cherry Bombe: The Cookbook. Krystal brought together local female chefs and they "all came to the shop and made amazing food," Carmen recalls.
In my forever memory, there is the beautiful blanket Carmen gifted Willa at her birth in 2009, which is now her younger brother's most beloved "lovey." It's probably in 17 million family photos and will always make me think of Trohv. (That and the smell of rose hips and anytime I pass a store window—Trohv's were the best.)
Let's be honest, those windows deserve a paragraph of their own. Carmen never saw them as a way to push merchandise, but more as an opportunity to take her shop's creativity to street level, with staffers Caleb Luke Lin, James Bouché, and Bree leading the way. Four to five times a year, those windows would shift from highlighting local artists—like papercut creator Annie Howe and local fiber artist Ore and Wool—to showcasing Arctic animals or reflecting somewhere interesting Carmen had visited that year like Morocco. Carmen always insisted that everything be torn down in a way that it was able to be donated to local schools and nonprofits, mostly in Hampden. One of the only times she let a non-staff member take over the window display was when Hilton Carter, plant stylist and author of Wild Interiors, created a striking installation with Treason Toting Company that featured a diorama.
Carmen always fanned the flames of creativity. After she announced the shop's impending closure, all over Facebook, artists and makers talked about how welcoming Carmen was.  "Trohv is one of my favorite shops anywhere and Carmen is the sweetest person on earth," commented jewelry maker Elisa Shere. "They were the first 'big' store that approached me about wholesaling my jewelry after I quit my ad agency job." My friend, Realtor Kate Beck, the one-time creator of Sassy's Tomato Jam, posted, "It feels larger than the fact that Carmen was one of the first to make shelf space in her beautiful shop for my jam, and the enormity of her generosity towards me at that time. Larger than the faith they had in my quirky creativity when I borrowed items for photo shoots. And larger than the smiles, hugs, and high-fives received time and time again when I went in there to chat about another nutty new business idea…"
And now it's all gone. It didn't have to be like this. Small businesses should have been given a lifeline. Now, this city, specifically Hampden, won't be the same. It's hard to believe all these empty storefronts are the only answer. "Trohv occupies a substantial amount of our commercial real estate," says Benn Ray, owner of Atomic Books and president of the Hampden Village Merchants Association. "It's sort of like someone knocking out a front tooth."
Hampden has seen several shops closing their brick-and-mortars these last few months including Sprout, Hampden Junque, Sturgis Antiques & Collectables, Milk & Ice Vintage, and Ma Petite Shoe. It's just not possible, says Ray, for these companies to bear the weight of a pandemic while paying their usual bills.
IT DIDN'T HAVE TO BE LIKE THIS. SMALL BUSINESSES SHOULD HAVE BEEN GIVEN
A LIFELINE.
"It's a ridiculous expectation," he says.
And while all these closures hurt, Trohv was the heart and soul of this community—sponsoring Stoop Storytelling, Pile of Craft, Skatepark of Baltimore, among several other things. Hosting crafters and dreamers. Always saying yes. The ripple effect of this closure will be felt by many. There are so many lovely shops on the four-block stretch of The Avenue, but Trohv served as the anchor, like the big department store at a mall. It got folks to Hampden—backed-in angle parking and all—something that a thriving retail district needs.
"It's hard to watch," says Leah Taylor, owner of the Smoke + Mirrors salon down the street. "You see people closing places you never thought would and you wonder what that's going to mean for everyone else." She fears Hampden will lose its small-town feel. But it's more than that. "Carmen is such an amazing soul in general—it's heartbreaking to see it happening," says Taylor. "This is a wakeup call."
During Carmen's last week in business, I visited Trohv one more time and she and I sat in her storage room and drank Prosecco out of pint glasses. She told me about her very first sale. She was five years old, growing up on a cattle and tobacco farm in Kentucky. Her father gave her a baby calf. "When you sell it, you owe me $100, plus a percentage of rental of the farmland and food," he told her. Two years later, that cow fetched $1,200 and Carmen opened her first bank account. She was hooked.
Asking Carmen what her next move will be is like asking a newly engaged bride when the wedding day is. We have to give it some time. I have my own fantasies that involve a Champagne bar and a curated selection of goods. Or pairing up with a local chef for a restaurant and mercantile combo. I just know Carmen won't be sidelined for long.
"It has been the joy of my life to have a small business in Baltimore," Carmen says. "For me, Trohv felt like a laboratory that sort of became a personal love story, and I will be forever grateful for the opportunity to have worked, hustled, lived, and loved the many creative people in this beautiful town. So many people have been involved: friends, families, community members, and artists, and they are all a really big part of raising Trohv."
And even though there have been tears, there have also been big belly laughs, too. "We have enormous pieces of furniture and often they come wrapped in big cardboard boxes," Carmen tells me. "It became a tradition: I started hiding inside of them. So when a person on staff or sometimes a customer—it was always during open hours—came in, I would jump out of it or wait until they opened it and tried to move it," she says, laughing.
The thing that is most genuine about Carmen, aside from her wanderlust and wanting the world to be a better place, is that she truly gets joy from other people. She's fueled by their energy. It's hard for her to take a compliment because she wants to put the attention on you. Her motto: I can be nice but I'd rather be kind.
But Carmen, please listen. We hope you understand why you are so loved. We hope you know the huge imprint you leave behind. Thank you for Trohv.