Day Tripping
Grab your keys and head out for one of these 20 road trips.
Yes, spring has finally sprung and wanderlust has likely set in, but that doesn't mean you need to fly from Balto to Bora Bora to tame your travel bug. The beauty of living in the Mid-Atlantic is that when you get the urge for a road trip, nothing beats our own environs for exploration. Whether you want to go spelunking at Luray Caverns, peer into Einstein's brain, or take a pub crawl through Annapolis, consider an excursion to one of these locales—all less than 135 miles or so from Charm City.
ADVENTURE

Billy Goat Trail (Potomac, 48 miles).
Why Go:
Just beyond all the Hill-top hubbub of Washington, D.C., this regional retreat brims with natural beauty. Here, the Potomac River snakes between Maryland and Virginia, serving as a billowing borderline between the states. On the Maryland side, weave your way through Montgomery County's great outdoors with a web of trails in the Chesapeake & Ohio Canal National Historic Park. From hard hikes to mild meanders, take it easy on the C&O Canal towpath or test yourself on the rugged Billy Goat Trail, a 4.7-mile loop divided into scenic sections of varying difficulty. Life's short, so we recommend the latter. Don't Miss: The protected paths boast incredible views of the Potomac River and Mather Gorge and access to the Great Falls Overlook. Trip Tip: Find Billy Goat trailheads along the Clara Barton Parkway, including Great Falls Tavern Visitor Center. 11710 MacArthur Blvd., Potomac, 301-767-3714
Dover International Speedway (Dover, DE, 94 miles).
Why Go:
If you love things that go vroom, you don't have to drive all the way to Daytona. Simply ride over to the Dover International Speedway, where, on spring and fall race weekends, the 95,500-seat stadium fills with roaring fans and riveting racecars. Don't Miss: The big NASCAR races—the XFINITY and Sprint Cup Series—fire up their engines May 29 through 31, but beyond the main motorsport events, there's plenty to do, including test-driving a racecar of your own. You can also head to The Woodlands, 150-plus acres of forested grounds for mega-music festivals, including Firefly, whose talent this year includes Paul McCartney and the Kings of Leon, and the inaugural Big Barrel Country Music Festival, with country superstars like Carrie Underwood. Trip Tip: Plan ahead for heavy traffic on race weekends. 1131 N. Dupont Hwy., Dover, DE, 302-883-6500
Luray Caverns (Luray, VA, 131 miles).
Why Go:
At the turn of the 20th century, the town tinsmith and a few country cronies were looking for a cave in the Shenandoah Valley when they stumbled upon a geological gem beyond their wildest dreams. It was a milky, melting underworld, with 10-story ceilings dripping in tapering stalactites and a Martian desert floor studded with towering stalagmites. Their discovery, now a U.S. Natural Landmark, was more than 400 million years in the making, and is the largest conglomeration of caverns in the American East, still growing one cubic inch every 120 years. Don't Miss: The main event is Giant's Hall, cathedral-sized chambers of stone castles that look like Indiana Jones booby traps, but there are other must-do wonders, like the optical illusion of Dream Lake and the haunting, symphonic sounds of the Stalacpipe Organ. Trip Tip: There's just as much above-ground beauty in this lush valley as there is below. Located along the Blue Ridge Mountains, rolling hills are dotted with cozy towns, serpentine byways, and breathtaking overlooks. 101 Cave Hill Rd., Luray, VA, 540-743-6551
If you love things that go vroom, you don't have to drive all the way to Daytona.

Skydive Delmarva (Laurel, DE, 105 miles).
Why Go:
Skydive Delmarva instructors are complete pros. They've logged thousands of jumps and provide the proper encouragement needed for you to take a leap. If you focus on that and the sweeping scenery of farms, forests, and the Chesapeake Bay, you'll forget all about that pit in the middle of your stomach. Plus, everything always looks better—even the Indian River PowerPlant—from 13,500 feet up. Best endorsement? Delaware state Senator Brian Pettyjohn flew with them last summer. Don't Miss: Keep your eyes open: The aerial view of Maryland's coastline is breathtaking. Trip Tip: Splurge on the $110 video, since we're guessing this will be a one-and-done on the old bucket list. And if the videographer happens to miss your initial jump, the video is free. (Just trust us on this one.) 32524 Aero Dr., Laurel, DE, 888-875-3540
Theodore Roosevelt Island (Washington, D.C., 44 miles).
Why Go:
Take a walk on the wild side at this 89-acre wilderness preserve that serves as a living tribute to the nation's nature-loving 26th President. Miles of trails through swamps, marshes, and upland forests rife with rabbits and raccoons will make you marvel that you're in the middle of the Potomac River. Don't Miss: Pay homage at the 17-foot statue of Roosevelt in the northern center of the island, where four 21-foot tablets are inscribed with his conservation philosophy. Another way to show your respect: There's an annual family-friendly birthday celebration for Teddy (Oct. 24 this year), including physical tests of strength. (Roosevelt was fitness-obsessed and kept records on how fast he could run and how high he could jump.) Trip Tip: To add to the fun, rent a canoe and paddle over from Thompson Boat Center on Virginia Ave. Word to the wise: Parking spots for cars go fast. Washington, D.C., 703-289-2500.
CHARMING TOWNS
Chesapeake City (Chesapeake City, 63 miles).
Why Go:
Escape the bright lights and big city and go revel in the simple pleasures of a small town. Chesapeake City feels like a world away—a quintessential, Eastern Shore whistle stop with historic houses, antique shops, and brackish tides that lap up and lick at the tiny town's edge. Listed on the National Register of Historic Places, the city sits beside the C&D Canal, tucked beneath a suspension bridge. It's not much bigger today than it was back then (current population: 688), and many of the old buildings still stand, albeit with a fresh coat of paint. Don't Miss: Learn about the waterway and its coastal community at the C&D Canal Museum or watch the sunset with Miss Clare Cruises. On land, partake in waterfront fine dining at the historic Bayard House, raw bar beauties at Chesapeake Inn, or crab feasts and cheap beers at Tap Room Crabhouse. Trip Tip: Tour nearby Mount Harmon Plantation, an early 17th-century waterfront manor set on 200 acres of former tobacco farmland. Route 213, Cecil County.
Georgetown (Washington, D.C., 40 miles).
Why Go:
Sometimes in the bubble of Baltimore, we forget about our next-door neighbor, D.C. Beat the throngs of Capitol Hill tourists and make your way to Georgetown for 18th-century architecture, historic homes, red brick sidewalks, and a scenic waterfront. But don't let the Colonial charm fool you: Georgetown is a hip and happening 'hood, with great shopping, incredible eats, and a nightlife scene that includes lots of live music. Don't Miss: After you've perused the Georgetown Flea Market, the string of stores along M Street, and various vintage and antique shops, treat yourself to a taste of the district's world-class culinary scene. Restaurants for every palate and paycheck abound—date-night fine dining (Bourbon Steak, Chez Billy Sud); above-average pub grub (Martin's Tavern, The Tombs); playful comfort food (Luke's Lobster, Thunder Burger); and, of course, cupcakes. Trip Tip: For Instagram-worthy tourist attractions, climb the iconic Exorcist steps from the 1970s horror film at 36th and M Streets, or stroll between the landmark homes and haunts of Jackie O and JFK. Washington, D.C., 202-298-9222.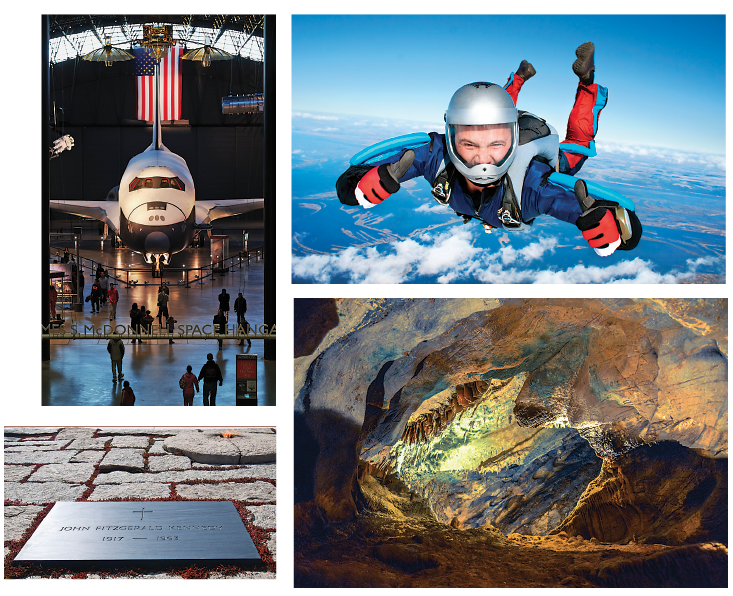 Lancaster County (Lancaster, PA, 74 miles).
Why Go:
Time seems to stand still in dreamy Lancaster County—and that's exactly the point. Here, amongst the Amish and Mennonite, you'll find horse-drawn carriages (we recommend Ed's Buggy Rides in Ronks), covered bridges, the nation's oldest pretzel factory, Julius Sturgis in Lititz (try your hand at making your own), and Amish crafts and culture. (The Landis Valley Museum highlights Pennsylvania German life.) Unplug, and be present to the past. Don't Miss: Stop by Lancaster Central Market, one of the nation's oldest publicly owned, continuously operating farmers' markets. We suggest a stop at Wendy Jo's Homemade stall for a slice of Shoo-Fly Pie, anointed one of the Top 10 Best Places for Pie in America by Bon Appetit. (Even if you don't go, you can order it online.) Trip Tip: This is not a place to add to your Instagram image library. Cultural sensitivity is called for, folks: Amish people don't take selfies. Lancaster County, PA, 800-AMISH-PA, lancasterpa.com
St. Mary's City (St. Mary's County, 101 miles).
Why Go: While Williamsburg has its Colonial charms, Maryland's fourth permanent settlement in North America and the state's first capital is not only charming, but a lot easier on the fuel tank. History buffs will love the early 18th-century Sotterly Plantation, a National Historic Landmark and one of the oldest museums of its kind in the United States, as well as a tour of the recreated brick chapel of St. Mary's, the first English Catholic chapel in the colonies. Meanwhile, sun worshippers should consider a few hours at Myrtle Point Park, water enthusiasts can rent canoes or kayaks at Spray Tobacco Plantation, and foodies will delight in North St. Mary's County Farmers' Market for produce and Amish baked goods. Don't Miss: The adults-only tour at St. Mary's City where, based on actual court documents, the dirty little secrets of 17th-century Maryland are revealed. Trip Tip: Given that there's water, water everywhere, a crab cake at Courtney's Seafood Restaurant in Ridge is a must. This is the spot where local watermen enjoy the fruits of the bay. St. Mary's County, 800-327-9023, visitstmarysmd.com
St. Michaels (St. Michaels, 78 miles).
Why Go:
There's something so intriguing about the Eastern Shore—a sort of city-state within the borders of Maryland. Tap into our tidewater roots with a trip to the historic hamlet of St. Michaels. Many of the old shipbuilding and seafood plants are long gone, but the town still displays a rich maritime spirit where watermen reap the bounties of the bay and life moves at a slower pace. Don't Miss: In town, browse antique shops and art galleries, feast on invigorated Chesapeake classics at 208 Talbot, and tour the burgeoning booze scene, with Eastern Shore Brewing, Lyon Distilling, and St. Michaels Winery all on the same block. Visit the Chesapeake Bay Maritime Museum, a dockside treasure trove of bay history, or, to experience the shore for yourself, canoe, bike, and walk a wealth of water and land trails with lots of local wildlife. Trip Tip: On your way to St. Michaels, take a detour on MD Route-333 south to ride the country's oldest continuing car ferry across the Tred Avon River in the tiny town of Oxford. Talbot County, 410-745-0411, stmichaelsmd.org
CULTURE

Antietam National Battlefield (Sharpsburg, 67 miles).
Why Go:
Just because you saw it re-enacted in Steven Spielberg's Oscar-winning Lincoln doesn't exactly make you an expert on September 17, 1862, the bloodiest one-day battle of the Civil War, when 23,000 Union and Confederate soldiers lost their lives. To truly walk though the pages of history, visit this hallowed ground, which led President Abraham Lincoln to issue the preliminary Emancipation Proclamation. This serene site, with rolling cornfields and dense woodlands belies the battles that unfolded here. It's also one of the best-preserved battlefields in the country. Don't Miss: The Pry House Field Hospital Museum features a recreated operating room with implements used to care for the fallen on display. Trip Tip: The well-curated bookstore is worth a visit to further your understanding, and purchases directly benefit the historic site. 5831 Dunker Church Rd., Sharpsburg, 301-432-5124.

Arlington National Cemetery (Arlington, VA, 43 miles).
Why Go:
Pay your respects with a visit to the more than 400,000 active-duty American soldiers, as well as many notable Americans (Presidents John F. Kennedy and William Howard Taft, Supreme Court Justice Warren Earl Burger, novelist Samuel Dashiell Hammett) interred on the grounds of this serene cemetery established as the nation's military burial ground in 1864. Don't Miss: The more than 8,600 native and exotic trees offset the somberness of the site. Check out the Medal of Honor Historic Trees such as the white ash tree grown from seeds collected at the Hartford, CT, birthplace of abolitionist Harriet Beecher Stowe. Trip Tip: With an average of 27 to 30 funerals held every weekday, see a service while you can. It's projected that the cemetery will be filled by 2060. Arlington, VA, 877-907-8585.
Mütter Museum (Philadelphia, PA, 102 miles).
Why Go:
This museum of medical oddities has a certain Ripley's-Believe-It-or-Not quality to it. But whether you're drawn to the tumor removed from President Grover Cleveland's jaw or the seven-foot-six-inch skeleton (the tallest on display in North America), we're willing to bet that you won't be able to look away from a comprehensive collection that includes fascinating anatomical organs and pathological specimens. Don't Miss: It doesn't take a genius to figure out that the museum's display of sections of Einstein's brain should be at the top of your list. The death cast of Siamese Twins Chang and Eng Bunker, whose autopsy was performed on the same premises, is also great for gawking. Trip Tip: Before you head to the museum, consider a hot corned-beef on rye at the Famous 4th Street Delicatessen for a true taste of Philadelphia. 19 S. 22nd St., Philadelphia, PA, 215-560-8564.
National Air and Space Museum's Steven F. Udvar-Hazy Center (Chantilly, VA, 65 miles).
Why Go:
The National Air and Space Museum on Washington, D.C.'s, Mall is on everyone's culture radar, but fewer day trippers seem to know about the sister Smithsonian museum in Chantilly at the Steven F. Udvar-Hazy Center, which houses more than 3,300 space artifacts, including the first supersonic commercial Concorde jet, a Lockheed SR-71 Blackbird (the fastest-ever jet flown), and the space shuttle Discovery. Don't Miss: Take a moment of silence while standing in the presence of the Enola Gay, which dropped the first atomic bomb used in combat over Hiroshima. Trip Tip: Even if you normally go the self-guided route, don't miss the chance to tour with one of the museum's docents. Many of them are former NASA employees, pilots (some who flew the actual aircraft in the exhibitions), engineers, and historians. Taking a tour is rocket science. 14390 Air and Space Museum Pkwy., Chantilly, VA, 703-572-4118.
It would not be hyperbole to call the Freer's Peacock Room one of the most beautiful rooms in America.
Peacock Room at the Freer Gallery (Washington, D.C., 45 miles).
Why Go:
With its floor-to-ceiling gold murals painted on peacock-blue walls and a peacock-feather patterned gold-leaf ceiling, James McNeill Whistler's recently restored room is a masterpiece of Anglo-Asian design. It would not be hyperbole to call this one of the most beautiful rooms in America. Don't Miss: Check out the pair of fighting peacocks on the south wall. Whistler depicted this aggressive confrontation between the birds after a fight with Frederick Leyland, a shipping magnate, for whom the room was originally built in London. Whistler was brought in to touch up the tycoon's walls, but instead—and much to Leyland's dismay—revamped the space. While there, view the museum's collection of Whistler's works, the largest in the world. Trip Tip: At noon on the third Thursday of every month, the shutters are thrown open to bathe the room in natural light. 1050 Independence Ave., SW, Washington, D.C., 202-633-1000.
FOOD & DRINK

Annapolis Pub Crawl (Annapolis, 29 miles).
Why Go:
From the Naval Academy to the State House to a brief 1700s stint as our young nation's capital, Annapolis has no shortage of history, culture, or political attractions, but for a warm-weather visit, we suggest something a bit more, you know, Colonial. Wander the cobblestoned streets, peek into the windows of historic homes, then make like a local and head to the harbor for an afternoon pub crawl with some of the region's best raw bars, draft beers, and good old-fashioned fun. Don't Miss: Bop between waterfront watering holes and historic taverns like Dock Street and McGarvey's for oyster shooters and pints of Guinness. When evening falls, hang out to hear live local music or scramble to West Street for marquee talent at Rams Head Tavern. Trip Tip: Need a palette change? Try the small plates at Level, or mosey over to Eastport and nab a seat and a sip of wine at the lauded brick-oven pizza bungalow, Vin 909. Anne Arundel County, 410-280-0445.
Dogfish Head Brewery (Milton, DE, 107 miles).
Why Go:
With hourly tours, boundless beer samplings, beer-infused food, and even an adult-sized tree house, the Dogfish Head brewery is a must-play jungle gym for grownups. Proudly billed as "off-centered stuff for off-centered people," Dogfish Head Craft Brewed Ales are made for bold beer-lovers. The dozens of Delaware drafts and bottles range from fan-favorites like Shelter Pale Ale and 90 Minute IPA to beer-wine hybrids and experimental elixirs made with wasabi, "moon dust" (literally lunar meteorites), and even local breakfast meat, Rapa Scrapple. Most brews are poured exclusively at the brewery's Milton tasting room or at the nearby Rehoboth brewpub. Don't Miss: The company encourages artistic expression, so don't pass up the chance to donate an item—be it art, craft, or found object—to the tasting room's Off-Centered Wall. Trip Tip: If you tipped back one too many, spring for a stay at hipster haven, the Dogfish Head Inn in nearby Lewes. 6 Cannery Village Center Blvd., Milton, DE, 302-684-1000.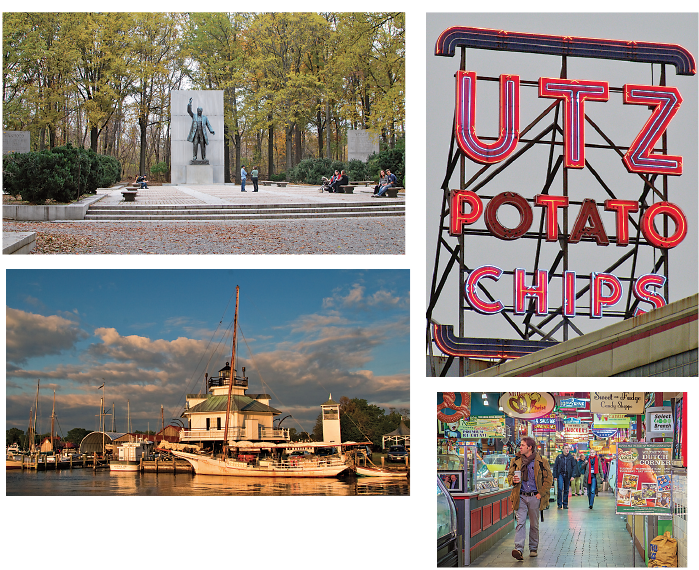 Reading Terminal Market (Philadelphia, PA, 100 miles).
Why Go: The Reading Terminal Market is a big, bustling, melting pot, like the city it calls home. Whether you're buying groceries from the Middle East, scouting for Pennsylvania Dutch fudge, or searching for that classic cookbook, the market is a Philly institution. Don't Miss: With everything from Cajun crawfish to Peking duck to the obvious cheese steak, come hungry. Sit at the counter for roast pork at DiNic's or shoot the breeze with the guy making your corned beef Reuben at Hershel's. As for dessert? That's easy: a cannoli at Termini Bros. and a scoop at Bassett's, America's oldest ice cream company. Trip Tip: Need to walk off your lunch? The Liberty Bell, Constitution Hall, and the Betsy Ross House should get you started. 51 N. 12th St., Philadelphia, PA, 215-922-2317.
Utz Potato Chip Factory Tour (Hanover, PA, 52 miles).
Why Go:
You'll never think negatively about snack foods again after touring the headquarters for the 94-year-old business that turns out 16,000 pounds of chips per hour and 52-million pounds of chips per year. Yes, it's a bit of a shameless self-promotion for the largest privately owned snack food company in America (and every conceivable Utz product is on hand at the nearby outlet store to tempt), but tracing a chip's trip from raw spud to bagged crisp is legitimately fascinating—and it's a great field trip to take with the tykes. Don't Miss: Get your free bag of chips at tour's end—you'll understand why they're called "crisps." Trip Tip: Consider combining your jaunt with another snack-food tour at Synder's of Hanover or Martin's Potato factory. 900 High St., Hanover, 800-367-7629.
Virginia Wine Country (Virginia area, 60 miles).
Why Go:
With more than 230 wineries and dozens of wine trails, Virginia is for wine lovers. You could easily spend a week wending your way from Arlington to Williamsburg to the North Carolina border, but if you want to conquer this countryside within a day's drive, consider the wineries in Loudown County (known as D.C.'s Wine Country). Tarara Winery, Winery 32, and Fabbioli Cellars are all within easy proximity to each other and offer highly heralded Bordeaux blends, tannats, and Cabernet Franc. Don't Miss: Grab your lawn chair and head to Tarara Winery's summer concert series for classic rock. Trip Tip: Appoint a designated driver, but also sop up the alcohol with a farm-to-table repast at Magnolias at the Mill in nearby Purcellville. Another tip: Hit the wine trail on a weekday to meet and mingle with the winemakers (Tarara's Jordan Harris was named one of the Top 100 Most Influential U.S. Winemakers by IntoWine.com) and learn the difference between plonk and pomace. Virginia, 804-344-8200.
---
Stay Tuned
Our picks for the best songs on the open road.
---
Great Escape

Why taking a break is a must.
When Jack Kerouac wrote about the romance of the road, he was onto something. In fact, industry experts say that hitting the road is not a luxury, but actually vital to good health.
"Going away gives our nervous systems a chance to rest," says psychologist Lara Wrigley of the Metta Integrative Wellness Center in Hampden. "We are designed to experience short bursts of stress, then have a recovery period, but with the way our lives are structured now, bombarding our minds and bodies at all times, we're always on high alert and affected by chronic stress. Going away, even on a day trip, interrupts that cycle."
Giving your brain a break can change the way you think, says Nathalie Savell, a holistic wellness counselor also at Metta Integrative. "Taking time off shifts our perspective," Savell says. "It's like taking a very deep breath that takes us out of survival mode and brings us to a calmer state. From there, we can make better decisions and stay present." Sums up Wrigley, "Getting away gives us space for reflection and a chance to quiet. It's a vaccine against burnout."
---
Ones for the Road
There's nothing like reading on the road. (And no, we're not talking about our email Inbox.) Audio Books prove that, indeed, getting there can be half the fun. check one out at your local library or download an audio app. We could go on forever, but here are just a few suggestions for great listens:
Blood, Bones & Butter: The Inadvertent Education of a Reluctant Chef: Gabrielle Hamilton's brilliant memoir about food and a family is one of the best of its genre. Word of warning: Wherever you are, you'll want to reprogram your GPS and head straight to Hamilton's East Village restaurant, Prune. Hamilton reads her own work, adding to the allure.
David and Goliath: Underdogs, Misfits, and the Art of Battling Giants: Malcolm Gladwell's ambitious examination of the advantage of disadvantage is a page-turner, or, in this case, a mile-mover. Narrated by the author.
Middlesex: Jeffrey Eugenides's sweeping Pulitzer Prize-winning coming-of-age masterpiece about hermaphroditism clocks in at a whopping 21 hours and 26 minutes, so a drive to Savnnah and back might be more approriate than a jaunt to D.C., but 30 minutes in, and you'll be all ears. Kristoffer Tabori's narration is captivating.
Orange is the New Black: My Year in a Women's Prison: Piper Kerman's insightful and self-deprecating memoir turned Emmy-winning Netflix series details the Smith College alumna's days spent in the slammer. Cassandra Campell narrates.