Close Comforts
Boutique hotels offer a getaway without having to leave Baltimore.
It's that time of year again: When airlines entice you to head west, toward snow-powdered mountains in Tahoe or Telluride. When temperatures lure you south, to snap bikini-clad Instagrams on some sandy beach near Tulum. We can't deny the transformative power of a vacation, but here in Baltimore, thanks to a growing number of hip and haute hotels (many centered in Mt. Vernon), there are also now plenty of reasons to simply stay put. Staycations are an easy way to rediscover your city and revel in its own attractions, and the perks of doing so are piling up like room service trays in a hotel hallway. And the competition is getting fierce. Stunning views? Check. First-class spas? Check, check. Heavenly pillows, mattresses, and sheet sets? You can bet your lower back (and best of all, you don't have to make the bed). So forget jet lag and the TSA this winter and treat yourself to a getaway without ever leaving home.
200 International Dr., 410-576-5800, rooms start at $369.
Walk into this grand dame of local lodging in Harbor East and you'll likely hear your inner voice vying for "Serenity now!" That voice, of course, has expensive taste, with every inch of this Baltimore branch of the Four Seasons empire exuding its trademark lavishness. From sweeping waterfront views, top-tier restaurants, and the hotel's signature scent of teakwood and cardamom mingling with a weekly tower of fresh flowers in the front lobby, you'll be swaddled in the lap of luxury before you even hit the five-star spa. But this plush pad, located in the city's deluxe shopping district, isn't just for socialites and celebrities ready to relish the private pool. It's also surprisingly family friendly, with in-room babysitting services and glamping for kids—toy teepee and all.
Sweet Dreams: Each room is simple and sophisticated, featuring an earthy color palette, luxe linens, and a prime vantage point overlooking the city skyline. For that, splurge on a balcony, like those of the aptly named Serene Suites, which also include a built-in fireplace and a full kitchen with Wolf appliances. Room Service: The Atlas Restaurant Group is taking over the hotel's (and neighborhood's) dining scene, with three on-site restaurants—the splashy Azumi sushi bar, the buzzy Loch Bar seafood spot, and the sceney, rooftop Bygone—as well as another upcoming concept opening in the former Wit & Wisdom space later this year. (For what it's worth, the shrimp and grits at chef Cindy Wolf's nearby Charleston would be part of our last supper.) Concierge Cue: The hotel spa is reason enough to visit, be it for a stellar massage or a stint in the spacious sauna, and Baltimore residents make up the majority of appointments throughout the year. Just don't miss the warm stone seats in the "heat experience."
24 W. Franklin St., 410-625-6200, rooms start at $89.
It's easy to feel inspired after an overnight at this fresh-faced Mt. Vernon hotel, located in a 1908 landmark building that once housed the city's first YMCA. Just around the corner from the Enoch Pratt Free Library's central branch, the Baltimore location of this national boutique hotel chain is designed with the city's literary legacy in mind. Murals depicting pencil-drawn book shelves float above the beds. Physical books for your perusal linger in the lobby library, where live jazz is performed on Thursday nights. Manhattan cocktails are made-to-order at the marble bar of Poets, the hotel's aptly named restaurant with high ceilings and giant windows looking out onto the city streets. (And, of course, the gilded George Peabody Library is just a short scramble up Charles.) Soon enough, you, too, will be drinking the Kool-Aid (aka the spa water next to the concierge), as the entire space is sleek, modern, and fittingly funky without being overly cool. We especially love the rotating art exhibit, curated by local gallery Maryland Art Place and featuring works by Baltimore artists.
Sweet Dreams: Colorful furnishings and fixtures add a pop of energy to every room, while Aveda bath products and solid shower pressure inspire you to relax. We left wishing that more hotels had hardwood floors. And pups are also welcome for a one-time fee of $25, which is far less than the other guys. Room Service: Since you're only one block away, be sure to scoot over to the venerable Tio Pepe for sangria pitchers and paella platters. For breakfast, make the four-minute walk to Jack and Zach's for bacon, egg, and cheese sandwiches on homemade English muffins. Concierge Cue: Sleep in without nightmares of Baltimore City meter maids thanks to the Penn Parking garage directly across Franklin Street, which costs only $5 a day.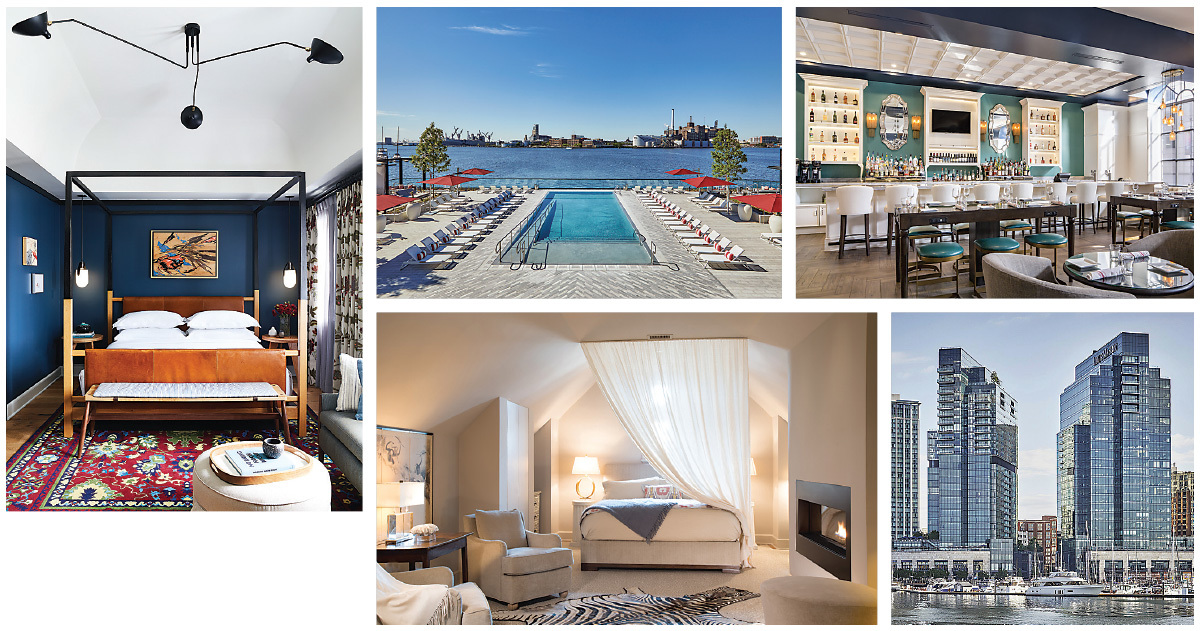 205 E. Biddle St., 410-514-6500, rooms start at $595.
Prepare to be pampered like Baltimore royalty at this almost-all-inclusive former mansion in Mt. Vernon. Entering the stately home-turned-boutique hotel, you're greeted with a glass of gratis champagne and then given free rein to the sprawling grounds, from the leafy conservatory, where you can try your hand at the grand piano, to the handsome library, where you can grab any book off the self, to even the Hemingway-worthy game room, where you can play a round of eight-ball on an antique pool table. That's not to mention the afternoon tea time or access to the verdant courtyard, which quickly makes The Ivy feel like your new home away from home. Take our advice and stay awhile.
Sweet Dreams: With in-room fireplaces, heated bathroom floors, oodles of natural light, and a complimentary minibar—yes, you read that last part right—your bedchamber gives you little reason to leave it. The two-story Suite 18 is especially lovely, with vaulted ceilings, a spacious interior, and après-ski-chic design. Did we mention the heated bathroom floors? Room Service: A regular on our annual "Best Restaurants" list, Magdalena is an experience in and of itself, where chef Mark Levy turns out some of the most inspired fine dining in town. For morning meals, the restaurant also offers what Food & Wine has rightfully hailed "the best hotel breakfast you can't have"—that is, unless you're a lucky guest. Concierge Cue: There are a few fringe benefits for an additional fee, such as bringing Fido, with dog beds, crates, and walking services available upon request, or indulging in a tailored massage at the tranquil guests-only spa. We recommend the in-room treatments, which are followed by an aromatherapy soak in your very own bathtub.
101 W. Monument St., 410-727-7101, rooms start at $139.
From vintage furnishings and whimsical wallpaper to a whole rooftop room of succulents supplied by Remington plant shop B. Willow, this chic boutique hotel follows the nationwide trend of providing a respite for younger travelers who crave unique experiences over the big, beige, cookie-cutter options of yesteryear. But the hip new space, opened last April to much applause by the San Francisco-based Joie de Vivre hospitality group and situated on the western edge of Mount Vernon Place amidst the neighborhood's historic brownstones, is more than just millennial fodder (though we won't judge you for Instagramming your toes on the incredible tiled floors). As the name implies, the hotel draws on its local roots, past and present, with small odes to former resident Mary Garrett, whose father founded the B&O Railroad, and modern homages to the local arts, as the walls are decorated with works by contemporary creatives like collage artist Beth Hoeckel and Baltimore Print Studios. The lobby's small gift shop also showcases regionally made goods, like candles by Knits Soy & Metal and bags by Treason Toting Company.
Sweet Dreams: Snag an east-facing room for a front-row seat to the Washington Monument. Swoon over the old-fashioned doorbell on your way inside, and spend some time finding redecorating inspiration in the eclectic aesthetic. Extra points for the in-room fabric steamer. Room Service: While the sub-level Square Meal is worth a cup of Ceremony Coffee, the main event is up the elevators on the 15th floor. At Topside, the rooftop bar and restaurant, the cocktails are current (think house-made shrubs and decorative garnishes), the tap list touts the hotel's own beer (Thirstay, made by Peabody Heights Brewery), and the views (once again) are epic. Concierge Cue: Forget fitness centers and fresh-pressed laundry—our new favorite hotel amenities are the private B-Side Karaoke rooms. Book a solo session or bring a group of friends, with liquid courage available throughout the night.
1715 Thames St., 443-552-1400, rooms start at $350.
When it was announced that the iconic Recreation Pier in Fells Point, circa 1914, would be converted into a glitzy new hotel backed by Under Armour CEO Kevin Plank, you could almost hear the community's collective grumbling: "There goes the neighborhood." But nearly two years after opening its doors, the Pendry has become a welcome addition—in part for having the hands-down coolest pool in town. Sure, it's hard to connect such modern amenities (and a $60 million renovation) with the former 1990s TV set of Homicide: Life on the Street, but outside, the original façade remains intact against the sparkling waterfront, and inside, local interior design guru Patrick Sutton has created a tony tribute to Baltimore's heritage. Both the industrial décor and the curated art collection tip their hats to the city's maritime, manufacturing, and historical heydays (with plenty of nods to the county's horse country and Plank's own thoroughbred farm). Go just to marvel at the colorful, complex, Maryland-centric mural by local street artist Gaia in the lobby lounge.
Sweet Dreams: Fancy yourself a stylish sea captain in these natty, nautically inclined rooms, featuring rich leathers, warm fabrics, and dark wood throughout. Whatever the season, a west-facing Harbor Suite offers exceptional sunsets behind the Domino Sugars sign, especially during the city's festive fireworks on New Year's Eve and the Fourth of July. Room Service: While the revered Rec Pier Chop House by celebrity chef Andrew Carmellini might be only a few feet from your bedroom door, we suggest the few extra steps across the street for the whole-belly clam rolls at Thames Street Oyster House, followed by a little late-night boogie next door at Cat's Eye Pub. Also beware the time-sensitive "honor bar" (aka the trendy term for minibar) that charges you 60 seconds after you've lifted that Sagamore Spirit bottle from its perch. Concierge Cue: Leave your car at home—the hotel features a fleet of Cadillacs that you can personally cruise around town for up to four hours.