A River Runs Through It
The Brandywine Valley is a winter wonderland.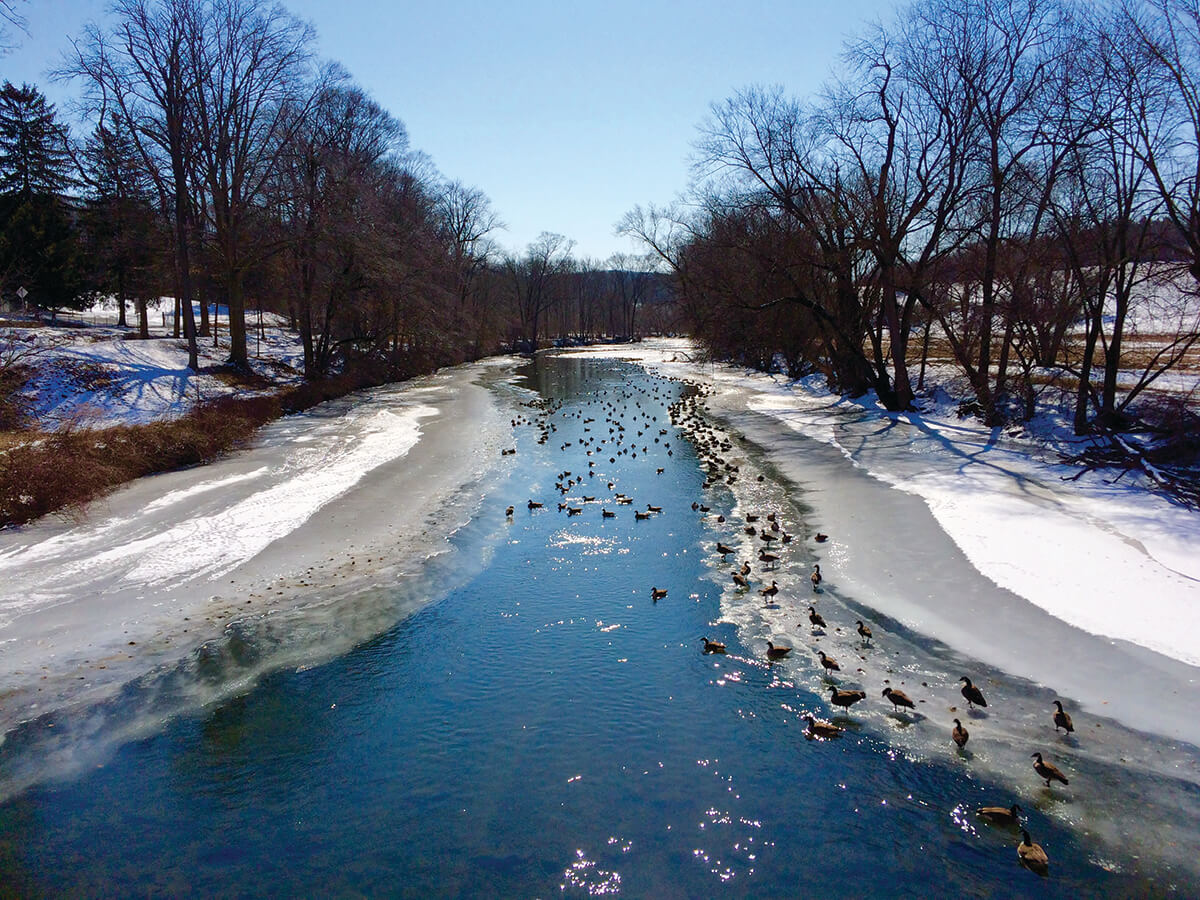 Pierre Samuel du Pont, the shrewd scion of prominent Delaware industrialists, was well on his way to growing the family business in 1906 when he wondered whether his impulsive purchase of some country real estate was a boneheaded investment.
"I have recently experienced what I would formerly have diagnosed as an attack of insanity; that is, I have purchased a small farm," he wrote to a friend after acquiring a modest Quaker farmhouse on a lovely, wooded tract near Kennett Square, Pennsylvania.
Its aged trees were destined for the sawmill, hence du Pont's intervention. The plan for this visionary nature-lover's real estate lark? Spare the forest and renovate the property, making it a place where he could entertain his friends.
Du Pont realized his ambitions—and then some. This time of year, nearly half a million guests visit his now-1,100-acre legacy, Longwood Gardens, to behold the Brandywine Valley's crown jewel of holiday displays.
Longwood is one of several du Pont estates gracing the pastoral countryside northwest of Wilmington, Delaware, the city where the first du Ponts arrived from France in 1800. As they amassed considerable fortunes, various family members erected country mansions, filled them with fine art and furnishings, and surrounded them with magnificent gardens they often designed themselves. In the 20th century, Brandywine Valley's first family of industry and philanthropy began bequeathing many of these post-Gilded Age oases for public enjoyment as museums, gardens, and nature preserves.
A land of rolling hills, misty meadows, split-rail fences, and old stone buildings, this corner of southeastern Pennsylvania and northern Delaware draws visitors galore for its seasonal floral and foliage displays, but the landscape and its historic estates also make a compelling winter destination, as so captured by the region's famous native son, painter Andrew Wyeth.
What better antidote to last year's muted festivities than a dose of spare-no-expense celebration in vallée du Pont? Throughout December, get a glimpse into the region's one percent, who decorate their homes for a season of aristocratic entertaining.
The valley cradles Brandywine Creek (aka the Brandywine River), which rambles from its southeastern PA headwaters to a rendezvous with the Christina River in Wilmington. A 12-mile national scenic by- way weaves through the area, linking historic du Pont properties and picturesque small towns offering tony shopping and diverse dining in the city's suburbs and exurbs. One such town is Greenville, which happens to be the home of another prominent Delaware family—the First Family of the United States, Joe and Jill Biden.
Born in Pennsylvania coal country, "Middle-Class Joe" did well for himself politically and financially in the state that he represented in the U.S. Senate for over three decades. His first Greenville residence was once owned by a du Pont, albeit a five-bed- room "fixer-upper" slated for demolition. Biden has since upgraded his residences—in the Nation's Capital and in Greenville—but not his average-Joe persona. The President and FLOTUS like to frequent beloved sandwich and burger joints around the First State when they're in town.
A two-hour drive from Baltimore via I-95 and U.S. 1, Longwood Gardens provides a striking jump-off point into the valley's historic and natural attractions. Other du Pont properties are clustered nearby across the state line in Delaware.
Like the delectable fungus for which Kennett Square is known, Pierre du Pont's "small farm" mushroomed into a grand horticultural showcase. Today, it's a wonderland of formal and informal gardens, meadows, woodlands, and a pair of du Pont-designed flourishes—a four-acre, 20-room conservatory, and a five-acre, Italianate fountain garden.
Once the conservatory was completed in 1921, du Pont and his wife, Alice, began hosting Christmas parties there for estate employees and their families. Longwood began celebrating the holiday publicly in 1957, expanding and enhancing "A Longwood Christmas" to the extent that decorating now begins in late summer.
Carpeted in cyclamens, poinsettias, and fragrant paperwhites, the conservatory beckons guests through room after room of twinkling Christmas trees, floral sculptures, and arbors dripping with lighted evergreens. (A drone video offered virtual visitors a tour last year, but it can't compare to the full sensory experience.) Outside, illuminated trees, glowing orbs, sparkling "snowflakes," and a tunnel of lights brighten brisk winter evenings as guests warm themselves with hot cocoa around fire pits, now through January 9.
Don't Miss: The always-imaginatively decorated Music Room and its 18-foot fir tree, the popular Garden Railway featuring Thomas the Tank Engine, and dazzling performances in the Fountain Garden. Locally: Four miles southwest of Longwood sits Kennett Square, whose surrounding farms provide half the nation's mushrooms. Sample this singular crop at Portabellos, a local favorite. Buy fresh and dried mushrooms, plus mushroom souvenirs, growing kits, and cookbooks at The Mushroom Cap.
Henry Francis du Pont was born at Winterthur and inherited the family's Delaware estate he so enjoyed exploring as a child. In du Pont's adulthood, the house and its sprawling grounds became the playground for his twin passions: collecting and gardening. By the time the estate opened publicly in 1951, its owner had expanded Winterthur into a 175-room mansion, filled it with the nation's finest collection of decorative arts, and personally designed the 1,000 acres of gardens, meadows, and woodlands that delight visitors today. Du Pont and his wife, Ruth, owned three other homes, but Winterthur is where they celebrated the holidays with their daughters and friends. "Yuletide at Winterthur" affords visitors a peek at their glittering lifestyle: polished silver and sparkling crystal; floral arrangements and fine antiques; swagged greenery on the Hollywoodesque staircase; and a towering conservatory Christmas tree.
Visit the estate on Wednesday evenings through January 2 to tour the decorated mansion, listen to live jazz, and toast marshmallows and Champagne. Take a guided tram ride through the winter garden, stopping at the Enchanted Woods, a grove of stately oaks guarding the thatch-roofed Faerie Cottage.
Don't Miss: The conservatory's stunning 15-foot tree composed of dried flowers, live performances of A Christmas Carol by Charles Dickens' great-great-grandson (Dec. 8-9), and an 18-room dollhouse filled with Lilliputian antiques and holiday decor. Locally: Centreville, Delaware, a way-stop on historic Kennett Pike, lies less than two miles from Winterthur. Grab breakfast all day at the Centreville Café before visiting the du Pont mansion-turned-museum. Decorate your own castle with contemporary and antique finds from shops like Adorn Goods, The Beehive, and Found.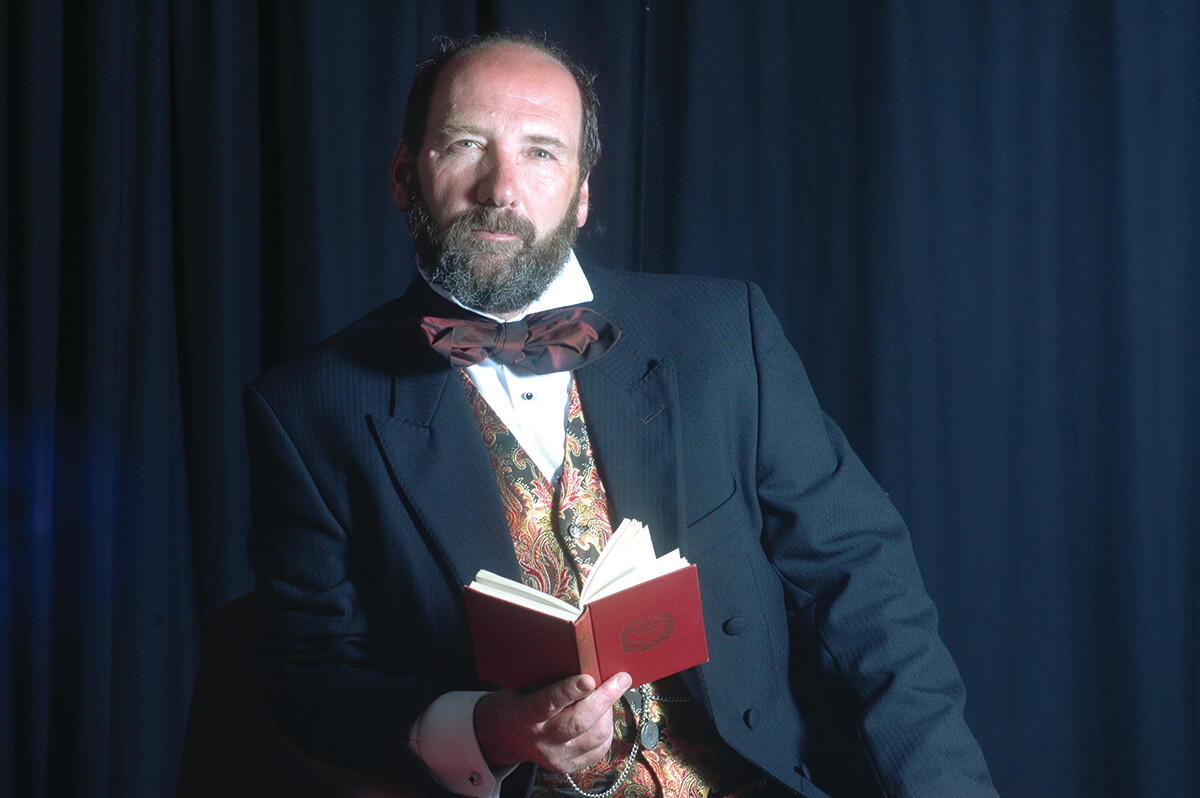 Alfred I. du Pont, Samuel's great-great grandson, loved showering his beloved second wife, Alicia, with gifts. The grandest was Nemours Estate, the opulent Wilmington mansion into which the newlyweds moved in 1910. Named for the du Pont ancestral home in France, the then-3,000-acre estate was everything Alicia adored: a Delaware chateau designed in the style of Louis XVI with formal gardens and a reflecting pool modeled after Versailles. The couple furnished Nemours with dazzling chandeliers, rare oriental rugs, and an impressive collection of original paintings. The du Ponts decorated for the holidays with equal opulence, inviting family, friends, and estate employees to celebrate with them.
Today, "Holidays at Nemours" welcomes the public to a Francophiles' fantasy Christmas: marble mantels draped in garlands of flowers, greenery, and many of the du Ponts' original Christmas decorations, including a rare, late 19th-century German crèche. On December Saturdays prior to Christmas, the estate extends its hours into the evening.
Don't Miss: Ornaments hand-decorated by patients at the Nemours Children's Hospital, which occupies part of the estate's grounds, hand-blown glass on the mansion's trees, and twin elk statues guarding the grounds.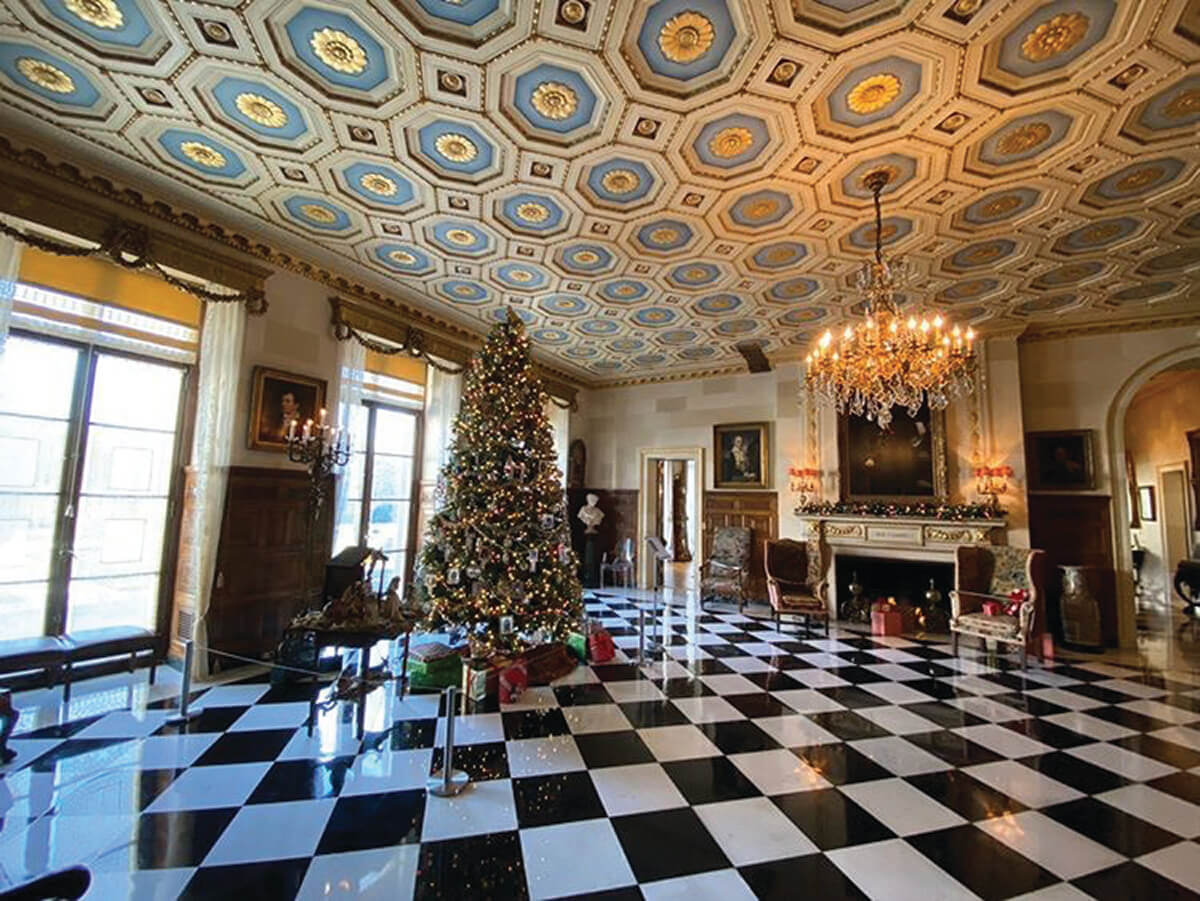 For the last stop on your tour, visit the oldest of the family's American estates, located just west of Nemours. Built in 1802 for Eleuthère Irénée du Pont, a gunpowder manufacturer, Eleutherian Mills perches on a hill overlooking the company's first gunpowder yard on the banks of Brandywine Creek. The estate housed not only five generations of the du Pont family, but the first DuPont Company headquarters.
Today, they're part of the larger Hagley Museum and Library, a Smithsonian affiliate, dedicated to the study of American business, technology, and innovation. The 235-acre museum complex includes restored mills, a workers' village, and du Pont's preserved Georgian-style home and gardens, where E.I. practiced botany. In early September, severe flooding from the remnants of Hurricane Ida extensively damaged the mill yard and lower half of the property, but the house, gardens, and library reopened shortly afterward. That means guests will be able to enjoy "Home for the Holidays," with a celebratory family theme. Six of the residence's 12 rooms will be dressed festively, much as its owners would have done in the 1920s when E.I.'s preservation-minded great-granddaughter, Louise, and her yachtsman husband, Frank Crowninshield, lived there.
Don't Miss: Home-sweet-homes crafted by local families for Hagley's annual gingerbread house competition through January 2, plus December twilight tours, a rare opportunity to see the festively decorated, softly lit Eleutherian Mills at its finest. Locally: The Hagley Museum and Nemours both sit on the eastern outskirts of Greenville, a popular shopping and dining destination for locals, including the First Family. The Bidens frequent Janssen's gourmet grocery, where they breakfast with the grandkids, and PureBread Deli, whose savory house sandwiches are named for dog breeds. Pizza by Elizabeth's, another local favorite, plays delicious name games, too, titling pies for celebrity Elizabeths (Taylor, Queen) and Bettys (Davis, Boop). Shoppers can satisfy holiday needs with artisan-made jewelry and clothing at Bloom, and fanciful gift wrap and cards from Whimsy.
On the banks of Brandywine Creek near Chadds Ford, Pennsylvania, sits the Brandywine River Museum of Art, the pet project of a latter-day member of this illustrious family. Best known for its collection of art by the revered Wyeth family, the museum is noted also for popular holiday displays, including the O-gauge Brandywine model railroad and an atrium-tall evergreen festooned with "critter" ornaments handmade from natural materials. Closed due to Hurricane Ida flooding, the museum and its holiday plans remained in limbo at press time.