Ice Ice Baby
A short flight from Baltimore, Iceland is sure to warm your heart.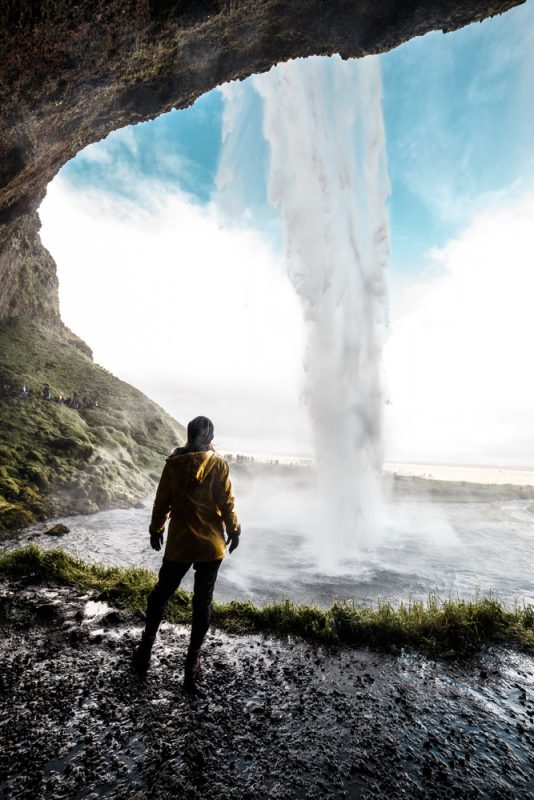 What can we say? Iceland is hot these days. Scrolling through Instagram, you've likely come across images of the Nordic island's dramatic sights: marvels of volcanic landscapes, massive aqua-tinged glaciers, explosively spewing geysers, plummeting waterfalls, and snow-streaked craggy peaks. It's easy to be seduced by the spectacular natural phenomena populating this island country. Here, a wealth of natural and cultural treasures compete for your attention when you drive the famous Ring Road, a slim 800-mile loop that circumnavigates the country. Many visitors use the snug, sophisticated capital, Reykjavík, as a home base for day trips or to quickly depart in favor of a more rural setting, but each region has a unique personality worth experiencing.
This time of year, the Northern Lights are not visible, but summer does bring endless days (albeit cool ones, ranging from the 40s to the 60s in Fahrenheit with some sporadic winds and rain) and all the more hours of sunlight to explore with.
Best of all, your entrée to this stunning landscape is a less than six-hour flight from Baltimore and Washington, D.C. Sure, Wow Air might have gone under, but you can still immerse yourself in this world-away with affordable flights via Iceland Air, both direct and with layovers. We've broken down three distinct regions in and around Reykjavík to help you get started.
RENDEZVOUS IN REYJAVÍK

Just a short drive from the Keflavik International Airport, the capital city feels like a picturesque village in many ways—peppered with pastel facades and in close proximity to snow-coated mountains and teal seas. But that quaintness belies Reykjavík's urban sophistication, awash in hip coffee shops, contemporary art galleries, and restaurants helmed by world-class chefs.
Start with a jaunt around this walkable mini metropolis to admire its bountiful history and architecture. Modern designs abound from the futuristic Ásmundarsafn sculpture museum, featuring massive figurative and abstract works by famed sculptor Ásmundur Sveinsson, to the Nordic House art institution, designed by Finnish modernist architect Alvar Aalto and featuring a regular roster of exhibitions by Nordic notables.
For al fresco attractions, circle "The Pond," aka Lake Tjörnin, an enchanting landmark with benches to idle on and colorful old houses to ogle. You can also walk or bike toward the Grótta Lighthouse on a paved trail along the city's waterfront toward the Atlantic Ocean. At low tide, step across a sandbank to the rocky islet that leads to a nature reserve (though it's off limits until July 15 due to nesting migratory birds).
Wherever you wander, Hallgrímskirkja towers over the capital, and this unusually shaped church is a sight to be seen, soaring almost 250 feet in the air. For the best views of the city, buy a ticket and take the crowded elevator to the top.
But even as the urban epicenter, Reykjavík is never far from natural wonders. The outdoor Reykjavík Botanical Garden boasts numerous paths through the wild diversity of Icelandic flora. For something more scenic, take a 10-minute ferry to Viðey Island, a stamp-size island with sweeping shorelines where you can bike or hike past old stone walls and centuries-old foundations.
Farther afield, there's good reason why the Golden Circle tour is on everyone's must-see list. On this day trip, you'll explore such striking sights as the fissured plain of Thingvellir National Park, the spewing Strokkur geyser next to the dormant Geysir in a sulfur-suffused geothermal valley, and the thunderous, bi-level Gullfoss waterfall.
Meanwhile, Icelandic cuisine is an unexpected assortment of traditional dishes and delicacies (think horse steaks, smoked puffin, and fermented shark). If you're feeling adventurous, try them all, but Reykjavík is also replete with creative cuisine for out-of-towners with weaker stomachs.
Lines form early in the morning at Braud & Co., an artisanal bakery with beautiful breads, buns, and pastries. For a more substantial first meal, start with daily breakfast and brunch at Bergsson Mathús, featuring locally sourced ingredients and inspired accompaniments like Icelandic butter. Whatever the hour, don't leave without visiting Baejarins Beztu Pylsur, a 1930s red-and-white hotdog stand, with the signature dish best eaten with raw and fried onions, sweet mustard, rémoulade, and local ketchup. For lunch, the Grandi Mathöll food hall is a popular hangout located in a spacious old fish market on the edge of the harbor and filled with vendors of every cuisine. For something less crowded, The Coocoo's Nest is a family-owned waterfront restaurant down the street with a whimsical interior and an ever-changing menu.
Come evening, treat yourself to a tipple at Micro Bar, where there are too many Icelandic beers to count. Wine lovers will want to find Port 9 for evening jazz and fine vintages by the glass. Raise one and skål (aka "cheers" in Icelandic).
After a few, find your way home to one of the city's chic, boutique lodgings, like the hip Kex Hostel with vintage décor and bay-view private rooms. Hotel Reykjavík Centrum, situated on one of the oldest city streets, with an especially appealing and sunny contemporary junior suite. See also their seaside Fosshotel Baron for a mid-century modern aesthetic.
THE WILD WESTFJORDS
While the Westfjords feel like a world away from the capital city, it's only a two-hour drive to its edge from Reykjavík. This wild, remote region is the least visited by tourists each year, but we recommend getting to know the hidden gem for its dramatic sea cliffs, unparalleled birdwatching, and scenic solitude. Start on Route 60, then 61, heading north toward the largest town on the peninsula, Ísafjörur, a true and tiny fisherman's village that dates back to the ninth century. Eventually, these roads circle the entire region, but in driving your rental car anywhere in Iceland, be prepared for the errant herd of sheep or team of wild horses.
For a quick introduction to the region, head to the town's harbor and wander through the Westfjords Heritage Museum. Here you'll get a history lesson on its nautical heritage through artifacts of Icelandic watermen. In nearby Súavík, the Arctic Fox Centre is dedicated to Iceland's only native land mammal. Sign up for a private tour to see them in the wild.
For more animal sights, a short boat ride from Ísafjörur takes place daily to transport you to Vigur island to view the region's abundant bird life, such as puffins, eiders, guillemots, and terns. You can also cruise to the untouched Hornstrandir Nature Reserve to walk the verdant landscape, admire the colossal sea cliffs, and view its Arctic flora. Further southwest down 60, pull off and park for a scenic 15-minute hike to the breathtaking Dynjandi waterfall, the largest of its kind in the Westfjords at 300 feet. Two hours onward, you'll also come to the westernmost point of Iceland, Látrabjarg, one of Europe's biggest bird cliffs and home to countless waterfowl. It's a great spot for any budding birdwatcher or wildlife photographer.
In this region, restaurants are few and far between, but the ones that do exist are worth the excursion. For example, one might not expect to find pizza on this Nordic neck, but upon entering Westfjords, you'll stumble upon Café Riis in Hólmavík, a cozy pizzeria with seafood pies featured in The New York Times. If you've set up shop in Ísafjörur, your destination is Tjöruhúsið, a rustic 18th-century barn noted for its fresh-caught fish in a pan. If they're available, trust us and try the tender cod gellur. If you're heading around the ring, Fisherman Kitchen in the small village of Suureyri is a must for local sourcing, maritime-focused day tours, and its onsite hotel. Forty-five minutes down the road, Simbahöllin in Thingeyri boasts a small comfort food menu, walls hung with works by local artists, and horse and bike tours of the surrounding valleys.
Again, lodging options are limited, but a few decent spots do exist, like the pastoral Heydalur on the way to Ísafjörur with outdoor geothermal springs or, 20 minutes past the town, the simple suites of the aforementioned Fisherman Hotel. A fair drive farther south, the Fosshotel Westfjords outside of Patreksfjörur, run by Íslandshótel, has more modern suites and mesmerizing waterfront views. Heading back to Reykjavík, you can also stay at the Fosshotel Reykholt in Borgarfjörur—the trendiest, chicest option around.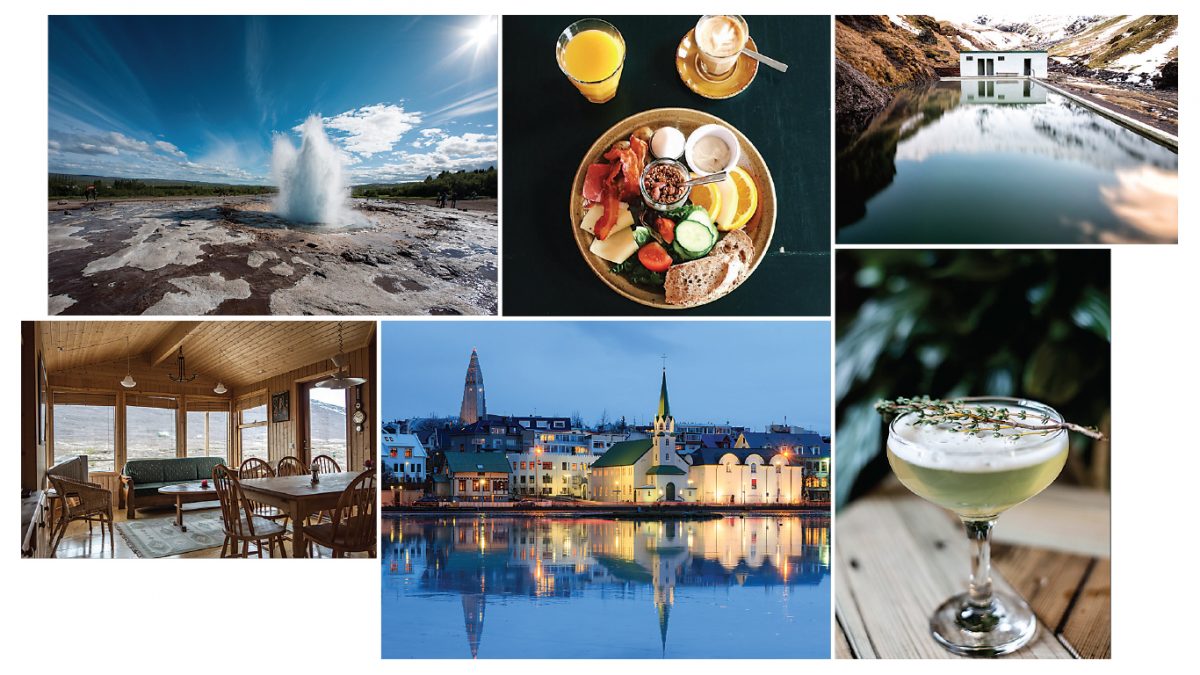 THE SCENIC SOUTH COAST
The South Coast is revered for its diverse natural environments, ranging from breathtaking beaches to towering mountains to age-old glaciers. With all that, it's no wonder it's one of the most visited regions in the country. From Reykjavík, head southeast down Route 1 and onward to the great outdoors.
On your way east, you'll find a few places to pull off for some of the country's most phenomenal waterfalls, like the sky-high Seljalandsfoss, the secluded Gljúfrabúi, or the majestic Skógafoss. Before long, you'll also stumble upon access points to massive Arctic ice sheets, like the Sólheimajökull and Mýrdalsjökull glaciers. Book guided tours for off-the-beaten-path sights such as ice caves and crevices amidst a bright blue backdrop.
Continuing along, you'll find yourself on the Dyrhólaey peninsula in the village of Vík. Explore both the higher and lower levels of this scenic promontory along jet-black sand beaches toward the nearly 400-foot-high archway in the sea. Be on the lookout for puffins and seals.
If you don't mind the drive, or plan to follow the entire Ring Road, Route 1 will take you to the Eastern Region as well, which has continued natural beauty of its own design, with vast frozen deltas, jagged mountains, and even more mesmerizing shorelines. Diamond Beach is aptly named, given the dazzling iceberg remains that litter the beach. They've washed up on shore from the nearby Jökulsárlón glacial lagoon, which you can visit up close via boat tour.
Heading back west, stop into the tucked-away oasis of Seljavallalaug for a warmer dip. Locals love their outdoor swimming pools, and this is one of the oldest, set in the lush green hillside like it's been there forever.
Out here in the wide open, you can find both stylish hotels and eclectic Airbnbs. Our favorite might be the Magma Hotel, an hour east of Vík, situated on a lake with Nordic-chic design, private patios, and in-room Marshall stereos. Similarly, the Brú Guesthouse, heading back west in Hvolsvöllur, features mini modern homes with cozy living areas and great windows for spotting wildlife. In the same town, for something slightly fancier, the Skálakot Manor Hotel is the lap of luxury on a fourth-generation farm with tufted armchairs, clawfoot bathtubs, and horseback riding tours. Just outside of Selfoss, the Frost & Fire Boutique Hotel also offers a luxe experience, with beautifully appointed rooms, outdoor spa facilities, surrounding hot springs, and a renowned restaurant that celebrates Icelandic geothermal cooking.
In addition to Frost & Fire's Restaurant Varma, there are some incredible dining experiences to be had on the South Coast. Perhaps the most memorable is a 35-minute ferry ride off the coast of Hvolsvöllur to the volcanic Westman Islands. Following the slow food movement, Slippurinn in Vestmannaeyjabær utilizes fresh seafood, foraged herbs, and thoughtful recipes. Just book your ferry early, as it fills up fast in the warm months. Other eateries worth a visit in town are Gott, for fun, funky bites, and Fiskibarinn, for traditional fish stews. Back on the mainland in Selfoss, Tryggvaskáli is a warm and welcoming fine-dining restaurant with farm-to-table dishes. A quick detour from there toward the ocean will also take you to Fjöruborðið, a down-home spot renowned for its langoustine, aka Norway lobster.
In the end, fear not all the unfamiliar orthography—most in Iceland do speak English. But whatever region you choose, be sure to fully immerse yourself in the local culture. While this Nordic country is only a short flight from Baltimore, it truly is a world away.