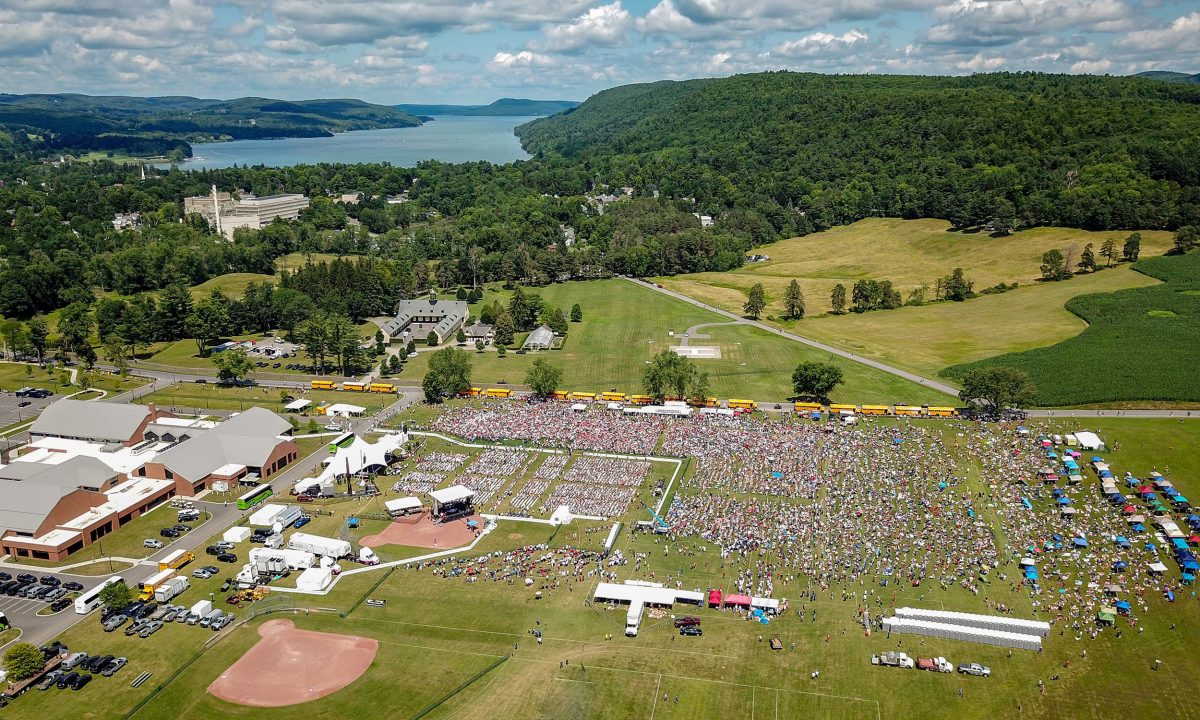 National Baseball Hall of Fame
Cooperstown, a small village in central New York that's home to the National Baseball Hall of Fame and the legacy of 19th century writer James Fenimore Cooper (his famous Leatherstocking Tales include "The Last of the Mohicans"), is one of the most American places in the country.
Nestled in a bucolic paradise of farmland with rolling hills and mirror-like lakes, the village is like a movie set for a romanticized ideal of small-town American life. Mint-condition 19th century homes like life-size dollhouses surround a Main Street that is three blocks long, punctuated only by a single stoplight and a tall flagpole, and often filled with kids and dads in baseball caps doing Norman Rockwell things like eating ice cream or playing catch.
The village of 1,800 is the most-visited in America, luring more than 400,000 people each year. Summer is the height of tourism season—thanks to induction weekend at the National Baseball Hall of Fame (July 19-22 this year), two popular baseball tournament camps for players 12 and younger, lake activities, and the renowned Glimmerglass Festival of opera and musical theater.
Here, we break down must-see sights, where to stay, and what to do during a visit to the idyllic destination—which is about an hour drive from the Albany airport and a five-hour drive from Baltimore.
Baseball Galore
A reverence for the romanticism of baseball reaches fever pitch at The National Baseball Hall of Fame, which attracts legions of sports lovers more than willing to make the pilgrimage to the somewhat secluded village.
Joining the ranks of the very exclusive club of inductees at this year's ceremony on Sunday, July 21, are three former Baltimore Orioles. Perhaps most notably is pitcher Mike Mussina, who split his career between the Orioles and the Yankees. Also being inducted are one-time Orioles Harold Baines (an Easton native) and Lee Smith. The other inductees in this year's class are game greats Roy Halladay, Edgar Martinez, and Mariano Rivera.
An interview with Cal Ripken Jr.—whose 2007 induction attracted the largest crowd—opens the short film "The Baseball Experience" shown every half hour in the second floor Grandstand Theater, where the Hall recommends visitors start their experience. He tears up talking about the honor of following in the footsteps of greats like Lou Gehrig, and by the end of the 15-minute movie, it's hard not to also be inspired by the beauty of the game.
Areas of interest for Orioles fans include a modern-day locker with artifacts like Chris Davis' baseball cap from 2017 and Matt Wieters' mitt. Camden Yards is highlighted as breaking the stadium mold by inspiring a trend in retro design for ballparks, and record-breakers like Eddie Murray, Brooks Robinson, and Ripken Jr. are featured. Babe Ruth's Baltimore beginnings are explained in his exhibit.
The Hall is at the far end of Main Street, which is packed with more baseball souvenir shops than you can dream of. If you can't find a jersey, hat, or Lego version of your favorite baseball player, you're not searching hard enough. Check out Mickey's Place, which carries caps with many of the Orioles' logos throughout the team's 118-year history, as well as Negro League and Minor League baseball team caps.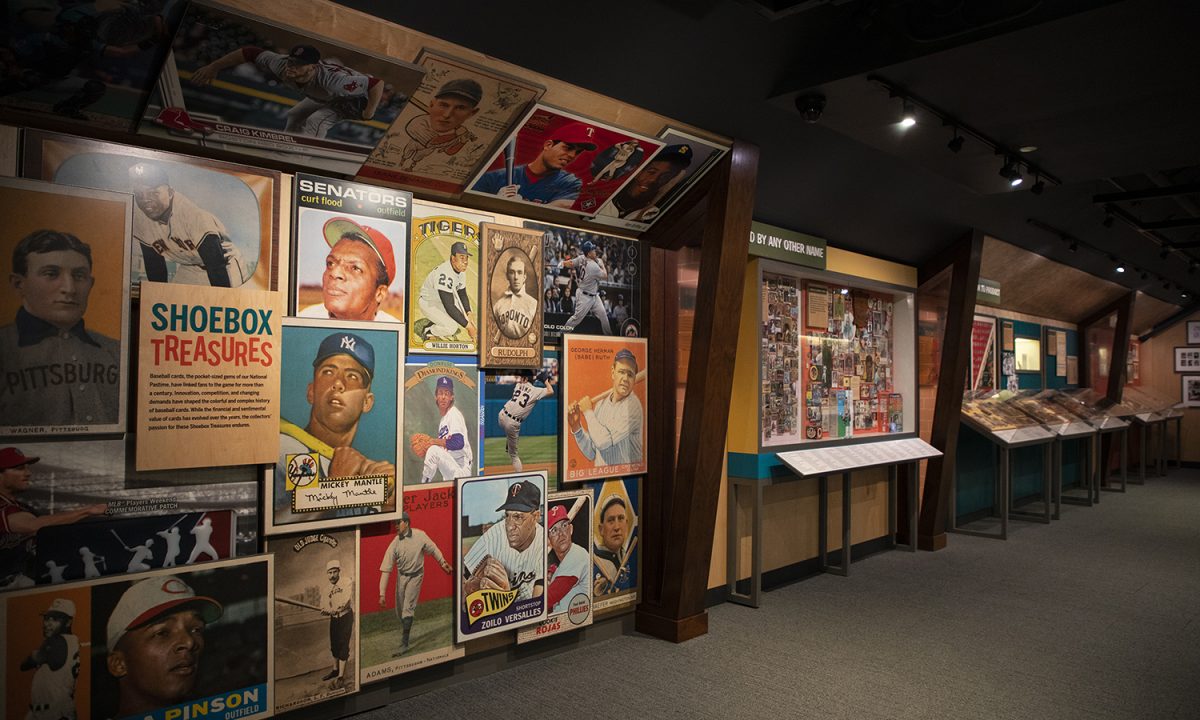 History and Culture
References are everywhere to Cooper's five novels that make up the Leatherstocking Tales, which are set in the author's native Cooperstown. His father, a judge from New Jersey, founded the village in 1789. Various nods to the books are apparent around town, including Glimmerglass, the name Cooper gives Otsego Lake in the books.
Between July and August, the Glimmerglass Festival, with a campus on Otsego Lake about 10 miles from the village, presents the most performances of any opera company other than the Metropolitan Opera. It attracts emerging and established artists from all over the country.
This season includes hits like La Traviata and Show Boat, as well as Blue, a world premiere opera by Broadway music hitmaker Jeanine Tesori (Fun Home, Caroline or Change, Shrek the Musical) and librettist and director Tazewell Thompson—who has recently directed plays at Everyman Theatre, as well as dozens of shows in Arena Stage and other D.C. playhouses. Blue, about a modern-day, middle-class black couple whose teenage son is killed by a white police officer, will be presented in 2020 at the Washington National Opera at the Kennedy Center, whose artistic director, Francesca Zambello, is also the artistic director of Glimmerglass.
In addition to opera and musical theater, this year's festival includes speakers such as Baltimore native Ta-Nehisi Coates and Supreme Court Justice Ruth Bader Ginsburg, who has been speaking at the event about her love of opera and her perspective on law in the arts since 2011. Her event has been sold out since January, with a 15-page waiting list.
The Fenimore Art Museum is another must-stop for art and history lovers. With nearly 900 objects in the Thaw Collection, the museum houses one of the largest collections of American Indian art and artifacts. It is also noted for its impressive collection of American folk art, which began with gifts from Stephen C. Clark—a founding member of the Museum of Modern Art in New York City and heir to the Singer Manufacturing Co. Clark was also responsible for establishing the National Baseball Hall of Fame in Cooperstown.
Across from The Fenimore is the Farmers' Museum, which Clark founded shortly after the creation of the Hall of Fame as a living history museum inspired by genre paintings depicting 19th century American farm life. Here, visitors can witness a blacksmith making an anvil in the historic village or take a ride on the vintage Empire State Carousel.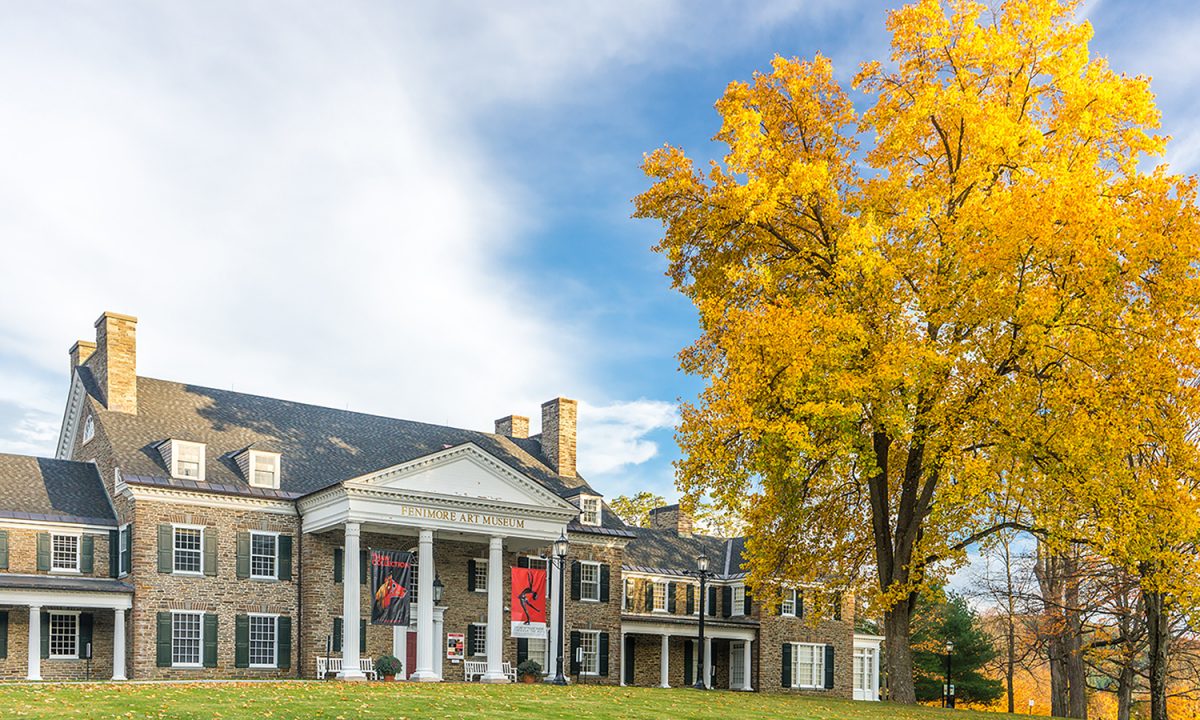 Where to Stay and Play
Seemingly captured in time is the lakefront colonial-style grand dame of a luxury resort hotel, The Otesaga—which, like Cooperstown, hasn't changed much since its opening in 1909. The hotel maintains an early 20th century nostalgia thanks to impeccable décor. It offers activities like tennis, boating and golf (on the property is the picturesque Leatherstocking Golf Course). To stay closer to nature, check out a selection of glamping sites on the lake and in the woods. Like many quaint towns in the country, Cooperstown has a wealth of bed and breakfasts. Cooperstown Lakeview Lodge offers log cabin-styled suites right on Otsego Lake with amenities like fireplaces and a jacuzzi.
It's also possible to rent an entire house on the lake. Cooperstown Luxury and Cooperstown Stay list weeklong and nightly full home rentals on Otsego Lake, as well as nearby Canadarago and Goodyear lakes, each of which are about 20 minutes from the village. The lakes are a major part of life in and around Cooperstown, and will make your Instagram followers envious. (Search #OtsegoLake and drool.) Boat, kayak and other water crafts can be rented at Sam Smith Boatyard and Canoe and Kayak Rental and Sales.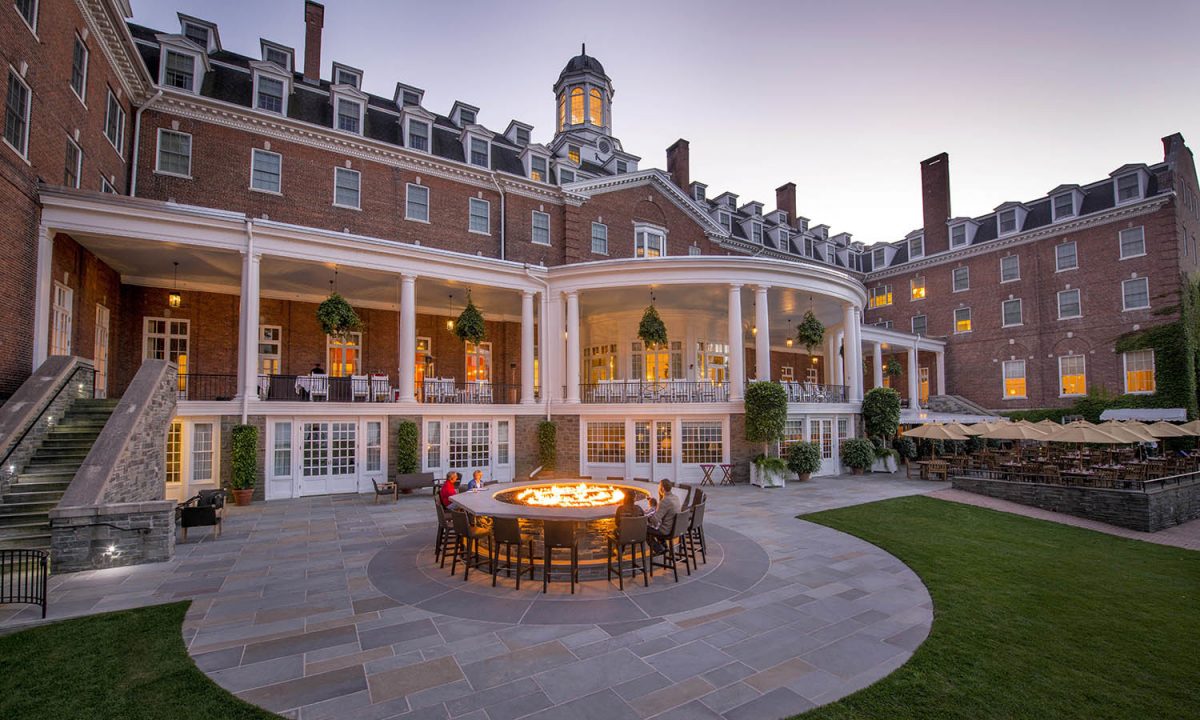 Where to Eat and Drink
At the seasonal Origins Cafe just out of town, diners can savor vegan dishes or paninis with chicken and beef from local farms in a greenhouse surrounded by flowers and plants native to New York. Serving inventive and homey dishes like grilled pork loin with rhubarb peach chutney in the first-floor of a Victorian-style house, Rose and Kettle in nearby Cherry Valley is a favorite for opera goers. Another well-loved spot is Alex's World Bistro, which embraces a global menu with options like a banh mi sandwich, Egyptian falafel, and Thai duck red curry.
One of the best options to take full advantage of the postcard views of Otsego Lake is the Hawkeye Bar and Grill at the Otesaga Resort Hotel. The Hawkeye—with a consistently solid menu of elevated casual dining items like fish tacos, meatloaf and burgers—has an outdoor patio overlooking the lake, as well as the Fire Bar, popular with locals and tourists. The dining porches at the Blue Mingo Grill, located at Sam Smith's Boatyard, is one of the only spots where you can dine directly on the lake. It's a favorite for lunch, with a range of salad and sandwich options—including a respectable crab cake.
This area of upstate New York once produced 85 percent of the hops for the country's beer. That legacy continues with several breweries that can be visited on the Cooperstown Beverage Trail. You can collect a pint glass for visiting all nine locations on the trail, which include wineries, a cider mill, and a distillery. The Duvel-owned Brewery Ommegang produces Belgium-style ale that is distributed in 48 states. The brewery is like an amusement park for beer lovers, with tours, tastings, a gift shop, weekly live entertainment, an outdoor bar, and a 200-seat cafe that's family friendly with corn hole and other lawn games.
Less than a mile away from Ommegang is Red Shed Brewery, which has ample outdoor seating and is committed to using New York State hops and grains. About a five-minute drive from both breweries, in nearby Milford, is the Cooperstown Brewing Company. Located in a former creamery behind antique Delaware and Hudson Railroad cars (which are still in service for special events, including the weekly live music cruise Cooperstown Blues Express), it serves a line of sodas and serves ice cream floats—including an alcoholic version with the Benchwarmer Porter. The company also has a variety of baseball-themed beers like the Bambino American Amber Ale, which it created with Babe Ruth's grandchildren. Though you might be five hours from our own shrine to the Sultan of Swat, sipping the beer—much like visiting the Orioles exhibits at the Hall of Fame—serves as a nice reminder of home.