The High Life
Pennsylvania's Laurel Highlands is a bastion of beauty—both natural and man-made.
For many, Pennsylvania's Laurel Highlands region is drive-by territory, a heavily forested blur seen through the car window as they barrel down the Pennsylvania Turnpike past the region's exit signs (New Stanton, Donegal, Somerset) toward other destinations. But the area's 3,000 square miles of glorious mountaintops, deep green valleys, winding rivers, stunning vistas, and bucolic towns deserve your time and attention.
Only three and a half hours from Baltimore, this slice of southwestern Pennsylvania offers a veritable wonderland of outdoor activities, including white-water rafting on the Youghiogheny River (probably the most popular white-water run east of the Mississippi), endless hiking through rugged mountains (the state's highest) on the Laurel Highlands Hiking Trail, and biking on the Great Allegheny Passage, a more than 150-mile trail that winds past spectacular and varied scenery. But the region is more than just a sportsman's paradise. It is home to one of the most famous architectural landmarks in the world—Frank Lloyd Wright's Fallingwater—plus several other lesser-known architectural gems either designed by or related to the maverick genius.
Add in luxurious resorts, pampering spas, quality dining options, numerous breweries, an amusement park, and even a casino, and there's no reason not to stop.
Seeking Shelter
Even if you're not an architecture aficionado, no trip to the Laurel Highlands would be complete without a visit to what many consider Frank Lloyd Wright's most important work: Fallingwater (1491 Mill Run Road, Mill Run, 724-329-8501).
"The house with a waterfall running through it" is how it's often described, which makes for an irresistible (if slightly inaccurate) lure to anyone with half an imagination.
Commissioned by Pittsburgh department store mogul Edgar J. Kaufmann for his family's summer "cottage," the project grew under Wright's direction into an iconoclastic structure that epitomized his aim to achieve a dynamic union between dwelling and nature. The house—5,000-plus square feet of concrete and steel straddling the rushing falls of Bear Run—was built between 1936 and 1938, became a museum in 1963, and was named a National Historic Landmark in 1966. In 1991, the American Institute of Architects dubbed the house "the best all-time work of American architecture."
And yet, even with its outsized legend, Fallingwater still stuns because, as its website notes, nothing "can compare to the experience of visiting in person."
Feel the temperature drop as you follow a gurgling creek toward the house. Watch the cantilevered concrete roofs appear through the trees, hovering like a great ship over the void. Enter the glass-lined living area and hear fellow tour-takers gasp at the sense of spaciousness and light. Feel the churning water below as it vibrates through the sandstone floor. Inhale the distinct scent of moisture, like the watery fragrance of leaves, and decide that even if the house leaks—which it famously does—who cares? Every inch of it, from the built-in furnishings to the bathrooms, is a wonder. Tours run daily from early March to late November, and reservations are strongly encouraged.
"The house with a waterfall running through it" is how it's often described.

If you can't get in to see Fallingwater, don't be discouraged. It turns out the Laurel Highlands contain a trove of Wright works. The more modest Kentuck Knob (723 Kentuck Road, Dunbar, 724-329-1901) is a 15-minute drive from Fallingwater. And 20 miles north lies Polymath Park (187 Evergreen Lane, Acme, 877-833-7829), the 125-acre setting for a Wright-designed home, plus three others by Wright acolytes, each rentable for an overnight stay.
An in-depth tour of Kentuck Knob reveals the home's subtle appeal. Finished in 1956, it's a shining example of a Wright Usonian home (i.e., small and affordable), delightful not only for its beauty but also for its utter livability. Design details such as the hexagonal kitchen with 15-foot ceilings, filtered skylight, stainless countertops, and flip-down burners (to save counter space) make you realize how profoundly Wright influenced our ideas about how to live. And unlike Fallingwater, which feels fragile and otherworldly, this home is a rugged aerie, as solid as the carefully placed boulders surrounding the property. No leaks or design flaws here, just a seamless meshing of structure and site, like the gorgeous dining terrace overlooking the wooded hills.
"The common wisdom about Kentuck Knob is that Fallingwater is great to visit, but this is the house you'd want to live in," says Mary Ann Perkins, the home's manager of visitor services.
This year is an especially good time to visit Kentuck Knob as it celebrates its 60th anniversary and 20th year of holding public tours, with special events on the last Friday of every month and themed farm-to-table dinners.
Into the Woods
One can't live on architecture alone, so refuel at Bittersweet Café (205 Farmington-Ohiopyle Road, Farmington, 724-329-4411), which you can find on the road to Fallingwater. It's precisely the kind of breakfast and lunch spot you'd want on a rural idyll—cozy, family-owned, and stocked with all kinds of bakery treats, coffees, and sandwiches made with things like homemade red pepper jelly and free-range eggs.
Or make a stop in Ohiopyle, a tiny settlement surrounded by the 20,500-acre wilderness of Ohiopyle State Park. There you can find pizza parlors, pubs, cafes, and a general store. In summertime, this place is party central for paddlers, bikers, and hikers because it's close to the terminus of the Laurel Highlands Hiking Trail. Grab something to go and eat along the banks of the Youghiogheny River (aka the "Yough"), where rafters and white-water kayakers of all levels can ply rapids that range from classes I to V. If you're feeling adventurous and want to join in the fun, there are plenty of outdoors outfitters in town happy to rent gear and lead excursions.
For a slightly less wild version of nature, head to family-friendly Idlewild and SoakZone (2574 Route 30 East, Ligonier, 724-238-3666), named "Best Kids' Park in the World" by Amusement Today. Set amid rolling woodlands on the Loyalhanna Creek, the park is a pastoral respite from the "thrill-ride" vibe of most amusement parks, and features the enchanting Storybook Forest along with, of course, plenty of water-oriented rides and activities.
Pampering in PA
After communing with nature, you'll probably want to commune with a shower and bed, so head back to your lodging. There are all kinds of places to stay in the Laurel Highlands, from the aforementioned Polymath Park and, for glampers, Campbell Farm (1723 Fort Hill Road, Fort Hill, 814-395-5335), to cozy B&Bs and world-class resorts.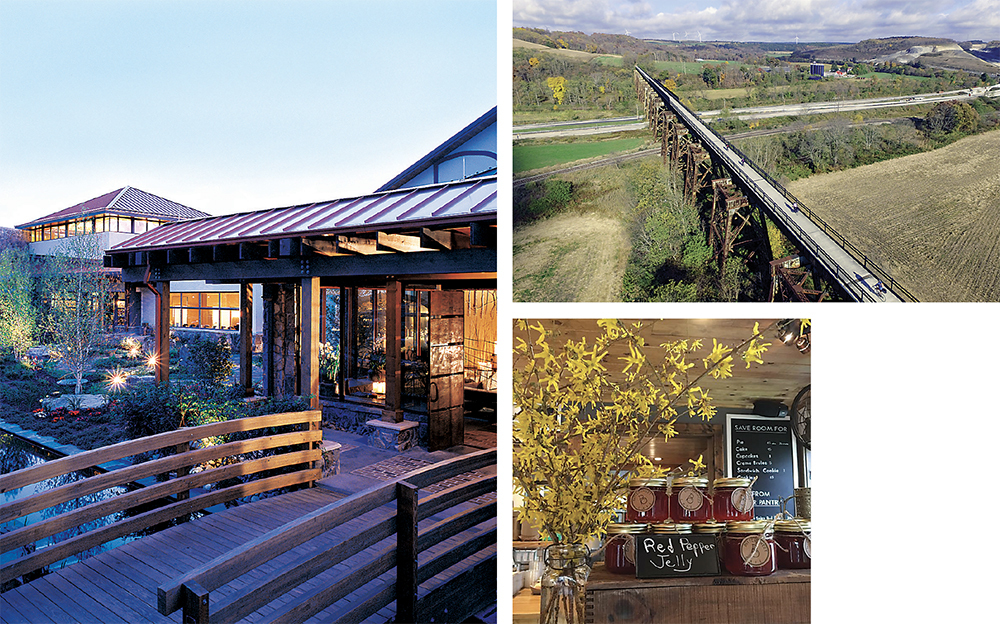 Of the resorts, none loom larger than the AAA five-diamond-rated Nemacolin Woodlands Resort (1001 Lafayette Drive, Farmington, 866-344-6957), a resort so large and comprehensive it constitutes a destination all its own. You can do practically anything you want without leaving the grounds—ski in the winter, swim in the summer, play golf on a Pete Dye-designed course, fly-fish, get a spa treatment, shop, or dine in a different restaurant almost every night. Opt for the farm-to-table Autumn and enjoy housemade ricotta gnudi with ramp pistou and pan-seared lamb loin. Or try the upscale Lautrec with its tasting menu studded with indulgent treats like truffles, lobster, and foie gras.
Nemacolin also contains an improbably quirky mix of pleasures to explore, the product of founder and 84 Lumber tycoon Joe Hardy's irrepressible passions. For example, there's an interactive wildlife academy, where you can go on safari or on a dogsledding expedition. Walk the grounds or the halls of the various buildings and you'll encounter priceless objects from the multimillion-dollar Hardy family art collection, which contains everything from Calder mobiles to paintings by the likes of Toulouse-Lautrec and Frank Stella—and that's not even mentioning the antique car collection or the on-site casino.
Last year saw the completion of a $75 million renovation at Nemacolin, so you can expect updated accommodations in any of the complex's three hotels, including the truly monumental Chateau Lafayette, which is inspired by the Ritz Paris. (Private townhomes and fully detached residences also are available for rent. Plus there is a pet care center called, adorably, Nemacolin Wooflands.)
In summertime, Ohiopyle is party central for paddlers, bikers, and hikers.
But if there is one thing you must do at Nemacolin, it's order a pampering treatment in either the full-service spa or the new Holistic Healing Center. Sign up for stress relief therapy with the center's director of operations, Stephanie Wendell, and she'll thoughtfully lead you through an interactive session combining massage and energy healing to help you identify your inner happy place.
Or pursue your happiness (which, by the way, is Pennsylvania's official state slogan) by traveling a few miles down the legendary Lincoln Highway (U.S. Route 30), the nation's first coast-to-coast thoroughfare. Built in 1913, the two-lane road meanders through the kind of scenery that will make you forget it's 2016: sublime vistas of rolling farmland and charming little towns boasting antique stores and farmers' markets. Stop at historic landmarks both old and new, from the pre-Revolutionary Fort Ligonier (200 S. Market St., Ligonier, 724-238-9701) to the recently opened visitor center at the Flight 93 National Memorial (6424 Lincoln Highway, Stoystown, 814-893-6322). The Lincoln Highway Experience in Latrobe (3435 Route 30, 724-879-4241) provides an excellent overview of the road's history and its many points of interest.
While in Latrobe, "research" the area's newest brewery, Four Seasons Brewing Company & Pub (745 Lloyd Ave. Extension, Latrobe, 724-520-4111), where microbrew enthusiasts can sample about a dozen handcrafted ales and stouts while enjoying live local music on weekends.
And speaking of live music, the annual Flood City Music Festival roars into Johnstown from Aug. 4-7 (Peoples Natural Gas Park, 90 Johns St.). A celebration of American roots music, this year's festival kicks off with the blues-inflected music of rock artist Grace Potter and continues on with a 25-act roster that includes soul singer Charles Bradley and New Orleans roots-rockers The Revivalists. Just one more good excuse to sample the multiple charms of Pennsylvania's Laurel Highlands.