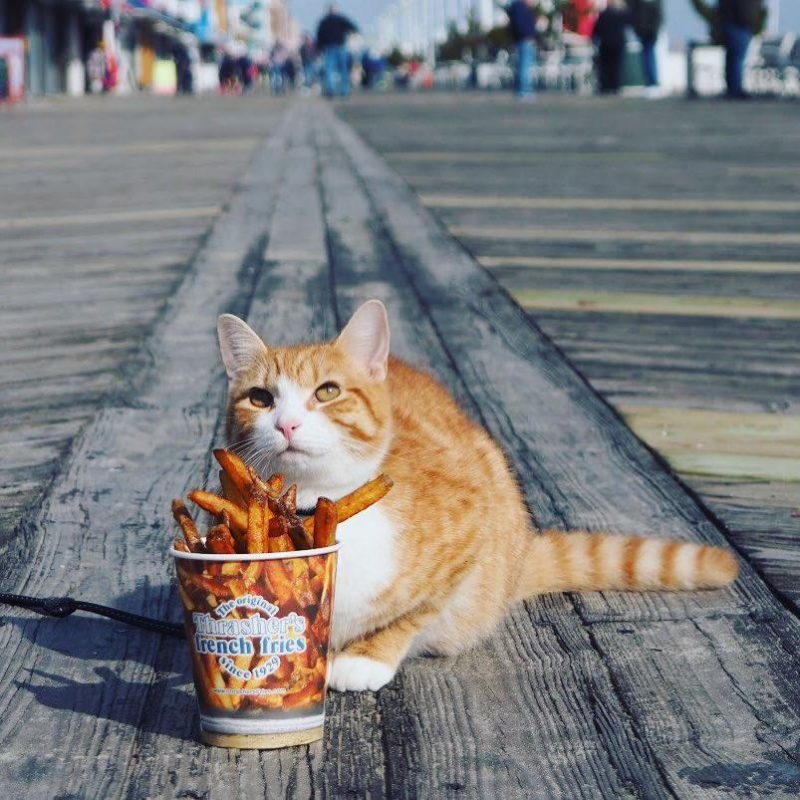 Pip The Beach Cat
When Emily Meadows took her rescue kitten to the beach for the first time, she couldn't believe how he acted. Not only was he a natural on the leash, but he buried his head in the sand to find toys and didn't even mind a wave or two coming his way.
"Once I saw that, I knew he was an adventure cat and that he'd do anything," Meadows says. "I told people he was going to be famous and everyone thought I was crazy."
As it turns out, her premonition came true. Pip the Beach Cat, as he's lovingly called, has become a quasi-celebrity in Ocean City, Maryland, as he strolls down the boardwalk to visit local businesses, volunteers at schools and senior centers, and is even coming out with his own children's book (he signed the contract with his paw).
"People are just drawn to him and love the way he looks," Meadows says. "I've never had a cat where people see him, stop, and say how gorgeous he is. He's very photogenic."
Pip's good looks have catapulted him into social media fame, with more than 6,000 followers on Instagram, 11,000 on Facebook, and a recent article in the New York Post.
At just under a year old, the orange tabby wound up on the doorstep of Meadows' friend of a friend in Berlin, Maryland. When no one else wanted to take him in, she figured she would care for him temporarily but quickly fell in love with his, let's call it, unique personality.
"He is different than any other cat I've ever seen," says Meadows, who lives with her husband and two other cats. "He had a ton of energy and was so rambunctious, we realized we had to take him out in order to tire him out, so that's where his adventures began."
Those adventures have included Pip on a paddleboard and boogie board, or even simply coming along for errands since he loves the car so much.
In fact, Meadows never used to be a year-round Ocean City resident, choosing to spend winters in places like Colorado or Europe in the past. (She even spent a stint in Baltimore, bartending at Cinghiale for a year.) But Pip has shown her there's plenty to do in the community, no matter the season.
Some of their favorite hangouts include Backshore Brewing, which is open to pets and humans all year, as well as Ocean Gallery, where owner Joe Kro-Art has a special affinity for Pip.
"Joe is Pip's biggest fan," Meadows says. "He's made a bunch of art for him and named him the official greeter at the gallery for 2019. We've been calling it Pip's first summer job."
Beyond that, though, Meadows wants to use her cat's popularity for good and regularly takes him to do "readings" at special needs schools, work with underserved kids in the community, and visits local senior centers and nursing homes to keep people company. One patient—who suffers from pretty severe, non-verbal dementia—lights up and even talks every time Pip walks in the room.
"Seeing him interact as sort of a therapy animal has been so neat to watch," Meadows says. "It has been an eye-opening experience because Pip just naturally has this ability to show a range of emotions and people connect with that."
So what's next for Pip (aside from his summer job and children's book deal)? Coming to visit Baltimore, of course. He'll be in town on March 11 hopefully meeting up with another well-known cat, Killer of Hampden, and to volunteer at the after-school program at St. Francis Neighborhood Center and model for the Show Your Soft Side campaign in partnership with BARCS.
"At the end of the day, we want Pip's mission to be helping people," says Meadows, who works at Barn 34 restaurant, but may soon devote her life full-time to Pip. "He's helped me rediscover another side of Ocean City, proved that rescue cats are the way to go, and given light to people who may not otherwise be recognized."