Birdland South
Sarasota is an oasis for white beaches, fresh seafood, and Orioles baseball.
February is right about the time the winter blahs become unbearable. So a quick escape to a sunny clime is just the thing to pull you through until spring. Why not take a cue from the birds (both real and otherwise) and fly south to the Florida Gulf Coast?
Since 2010, the Orioles have been playing spring training games in Sarasota, and faithful fans have been flocking to town to enjoy its pristine white beaches, impressive food and drink scene, and waterfront attractions—and, of course, to catch a few ballgames.
The city of Sarasota almost feels like an oasis in the strip mall sameness of Florida. There's an undeniably upscale vibe to a lot of its shopping districts, and it is starting to cultivate a culinary and cocktail scene all its own. In fact, last April, Condé Nast Traveler ranked it in the top 15 food cities in the country, recognizing its farm-to-table cuisine and quaint Main Street cafes. Plus, Sarasota has all the perks of warm weather and beautiful vistas. So, how lucky are we to have an excuse to make the trek every winter (this year Feb. 26-March 30) to watch the Orioles prepare for the regular season?
To get to Sarasota from Baltimore is easy enough, since Southwest flies direct to Tampa and Sarasota is just over an hour's drive from there—made even more scenic if you loop through St. Petersburg and the barrier island towns of Clearwater Beach, St. Pete Beach, Anna Maria, and Bradenton Beach.
Start in St. Petersburg at its world-class Dalí museum and then visit The Brass Monkey, in neighboring St. Pete Beach, an honest-to-God Baltimore-themed sports bar, complete with Ravens, Orioles, and Terps gear! Anna Maria Island has some of the best fresh grouper around and Clearwater Beach, miraculously, has 361 days of sunshine. We made a pit stop at Gulf Drive Café (900 Gulf Dr. N., Bradenton, 941-778-1919) for margaritas and live acoustic music at its beachfront tiki bar.
Why not take a cue from the birds (real and otherwise) and fly south to the Florida Gulf Coast?
Once in Sarasota, there are a number of places to rest your head, including the brand new Aloft Hotel (1401 Ringling Blvd., 941-870-0900), which is right downtown and conveniently near the ballpark and the shopping haven of St. Armands Circle. Aloft features an outdoor pool, a live music bar, a fitness center, and hip and modern rooms. It also accepts pooches under 40 pounds, so Fido doesn't have to miss the fun.
Our first priority upon arrival was to get to an Orioles game. But, just like back home, we wanted to find a place to pregame. Mere blocks away from the stadium (and offering free parking) is Jdub's Brewing Company (1215 Mango Ave., 941-955-2739). Opened in 2014, the brewery has a taproom with 14 drafts, an outside area that is dog-friendly, and frequent food trucks. Before the game, we recommend sipping on some Passion Wheat beer, flavored with mango and passion fruit, or their milk chocolate porter Bell Cow.
Once you're sufficiently lubricated, head over to Ed Smith Stadium (2700 12th St., 941-893-6300), which truly feels like a mini, tropical Camden Yards. From its green seats (refurbished from the Yard itself) to crab cake sandwiches sold at the concession stands, you just might think you're back on Eutaw Street. But other details, like palm trees and Spanish roof tiles, give away its Florida address.
Though the games were of little consequence, we enjoyed watching the players in a more relaxed atmosphere and couldn't help but make predictions for what we presumed—incorrectly, alas—would be our World Series-winning season to come. (It didn't hurt that we got to see an Orioles win, either.) If you go this year, be sure to pay attention to the ever-budding bromance between Manny Machado and Jonathan Schoop, catch a home run ball from Chris Davis, and check out the Orioles' brand new catcher, Welington Castillo, who has the awesome nickname "Beef."
While the Birds are certainly a draw for Sarasota, there are plenty of other attractions to visit, including the grand and beautiful John & Mable Ringling Museum of Art (5401 Bay Shore Road, 941-359-5700), which is the official state art museum of Florida. This massive museum showcases nearly 6,000 objects inside a sprawling complex that combines the art museum with a circus museum, gardens, gallery spaces, and the stunning Ca' d'Zan—a waterfront Venetian Gothic palazzo-style residence that is a true marvel to behold. Consider it the Ca' D'Oro of the Gulf.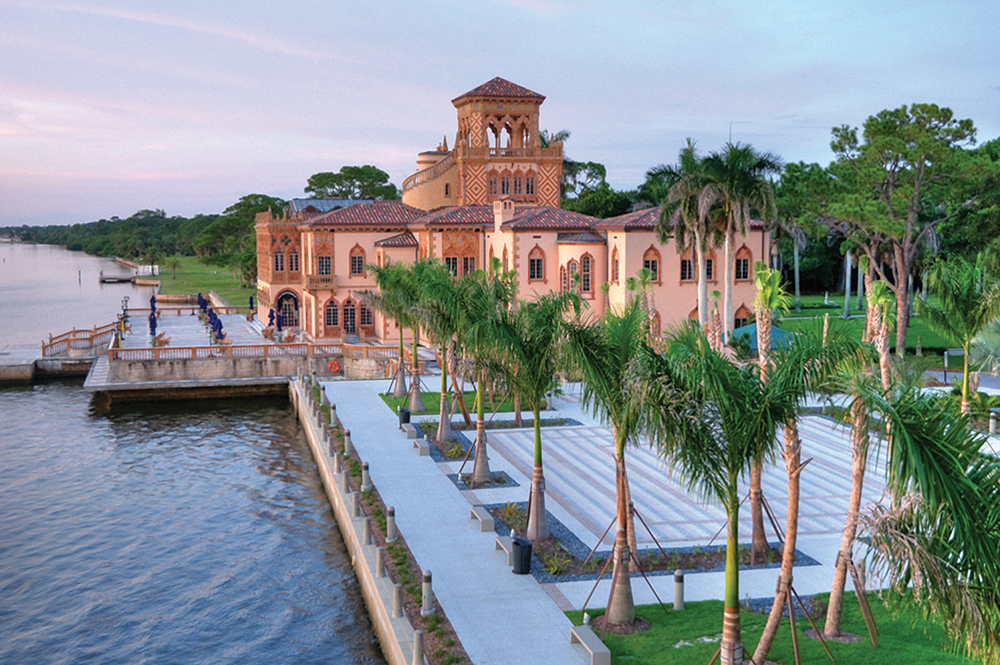 Ca' d'Zan mansion at The Ringling.—Courtesy of The John and Mable Ringling Museum of Art
For some more natural beauty, visit the Marie Selby Botanical Gardens (811 S. Palm Ave., 941-366-5731) with its impressive display of orchids, a butterfly garden, waterfalls, and a koi pond. You can also visit local wildlife—including adorable otters—at the Mote Marine Laboratory & Aquarium (1600 Ken Thompson Pkwy., 941-388-4441) and neighboring Save Our Seabirds (1708 Ken Thompson Pkwy., 941-388-3010), which features endangered birds in its aviary.
Of course, no trip to Sarasota would be complete without visiting the beach. There are many nearby beach towns to choose from, each with its own appeal. We recommend the pristine white sand of Siesta Beach (946 Beach Road, Siesta Key, 941-861-5000). Besides the wide beach and crystal blue water, Siesta offers boating and fishing, tennis and volleyball, and a playground and picnic area. Plus, the nightlife of Siesta Key is reminiscent of Dewey Beach—i.e., plenty of bars with outdoor music and tiki drinks—including the Siesta Key Oyster Bar (5238 Ocean Blvd., 941-346-5443).
Feeling swanky instead? No problem. Sarasota boasts a burgeoning food and drink scene that goes beyond tropical drinks and fried fish. Our favorite meal was dining on the Lowcountry-style porch of Indigenous (239 S. Links Ave., 941-706-4740), which is headed by James Beard-nominated chef Steve Phelps. The menu is constantly changing, but we dined on impeccable Gulf shrimp and short ribs. It's wise to stick with whatever "hook-to-fork" special Phelps is featuring that night.
Sarasota boasts a burgeoning food and drink scene that goes beyond tropical drinks and fried fish.
For cocktails, just take a walk downtown starting at State Street (1533 State St., 941-951-1533) for an impressive wine list and spot-on classics like the French 75 and Manhattan. Then go around the corner to hit up the newly opened Boca (19 S. Lemon Ave., 941-256-3565) with its open and airy bar, sophisticated fruity drinks, and farm-to-table cuisine.
If it's simply pub grub you're after, there are plenty of places for that. Near downtown, on a peninsula jutting out into Sarasota Bay, there's The Old Salty Dog (1601 B Ken Thompson Pkwy., 941-388-4311), a nautical-themed spot that uses a real boat for a bar top and is known for its hot dogs with toppings like bacon and grilled mushrooms. And right nearby, New Pass Grill (1505 Ken Thompson Pkwy., 941-388-3050) has some of the best burgers in town and an oh-so-Florida bait shop next door with bins of live creepy-crawlers, a colorful barracuda on the wall, and an occasional visit from Ernie the white egret.
One of the things that sets Sarasota apart from the rest of the state is the upscale, sophisticated vibe of districts like St. Armands Circle (300 Madison Dr., 941-388-1554), which boasts fancy restaurants and retailers like Lilly Pulitzer, Chico's, and White House Black Market. For even more extravagance, head to The Resort at Longboat Key Club (220 Sands Point Road, 941-383-8821). Located on a narrow strip of land between Sarasota and the Gulf, the resort features two golf courses, tennis, a full-service spa, and a yacht-filled marina. Book a spa day or just luxuriate on the white sand shore, where dolphins and manatees can often be spotted.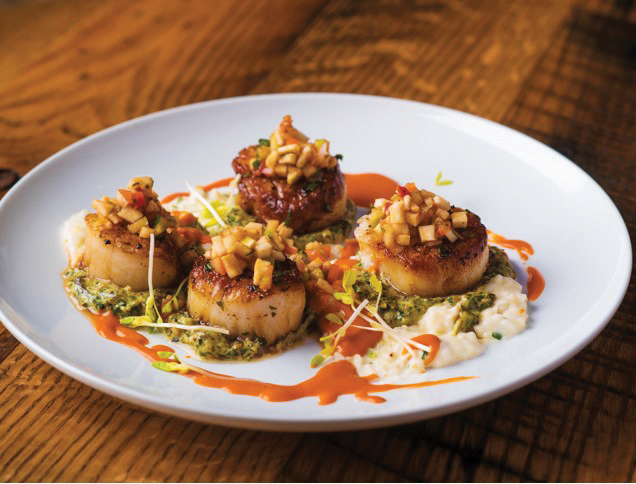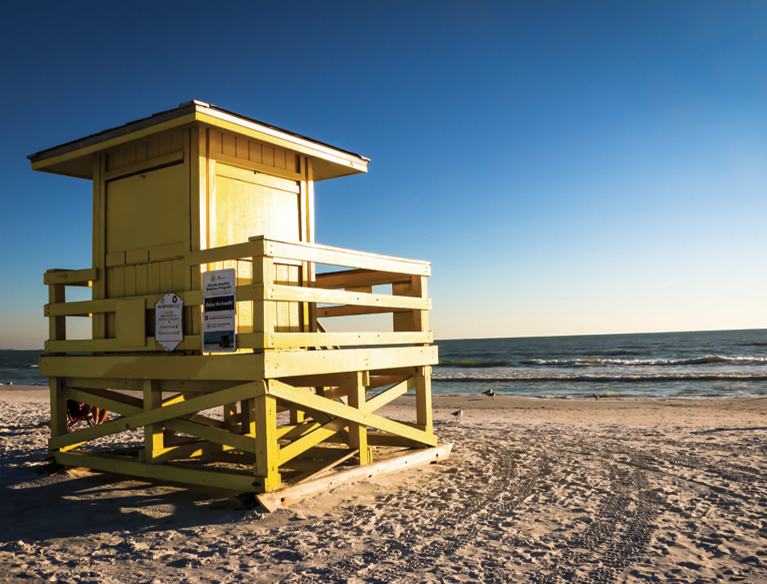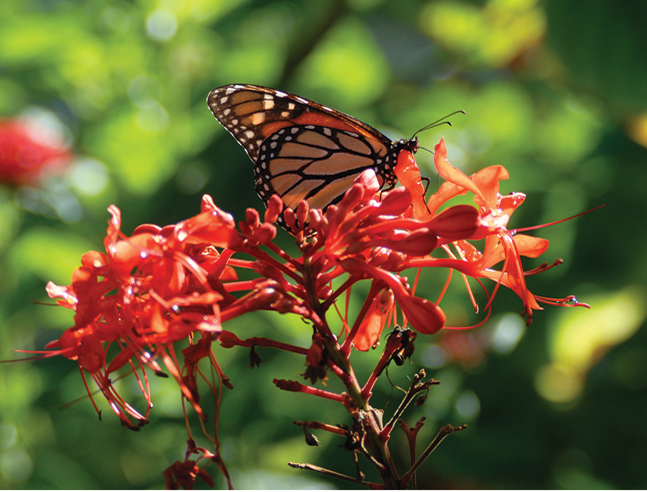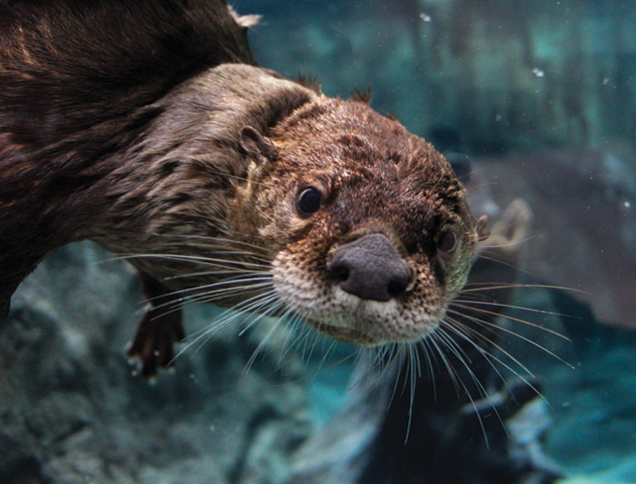 Bronzed scallops at Boca; Siesta Beach; monarch butterfly at Marie Selby Botanical Gardens; otter at Mote Marine Laboratory & Aquarium.—Courtesy of Boca; VisitSarasota.com; Selby Gardens; Mote Marine Laboratory.
For something a bit more active, there is the nearly 37,000-acre Myakka River State Park (13208 State Road 72, 941-361-6511) just nine miles east of downtown. Here you'll find rare flora and fauna, like the bright pink roseate spoonbills that frequent the park. There is also a plethora of campgrounds, hiking trails, bike paths, and opportunities for horseback riding and canoeing. For an Instagram-worthy shot, head to Myakka's canopy walkway—a suspension bridge with an unparalleled view of the forest's sea of treetops.
If it's the real, down-to-earth Florida you're looking for, Sarasota has that, too. The best example is Bahi Hut (4675 N. Tamiami Trail, 941-355-5141), a ramshackle tiki bar off of busy Route 41, where you'll find characters just as colorful as the drinks. Replete with a functioning cigarette machine, wood paneling, and stringed Christmas lights, Bahi Hut is known for its jet-fuel strong mai tais. While the recipe is a secret, we're sure that grain alcohol and various juices are involved—and we advise that you have no more than two.
Once properly sauced, head down the street to Smuggler's Cove Adventure Golf (3815 N. Tamiami Trail, 941-351-6620) for 18 holes of dark caves, a pirate ship, and real-life alligators to greet you at the end.
For a post-golf treat, and just when you start to feel homesick, track down the Baltimore Snowball Factory van (BaltimoreSnowballFactory.com). Charm City native Eric Garfield moved to Sarasota in 2014 and missed his beloved treat so much that he opened this business—selling the crunchy ice we all know and love, topped with familiar flavors like egg custard and sky blue. As he states on this website, "A Baltimore snowball is not Italian ice, a snow cone, sno-ball, shaved ice, and certainly not a Slushie." Preach!
If you're like us, by this point you'll be ready to hit the hay—or at least the sand—so you can be up with the birds, preparing for the summer to come.