Tropical Travel
Here are six sunny destinations where you can chase away the winter blues.
This time of year, when the sun brushes the horizon by late afternoon and the mercury stagnates in the single digits, it's only natural to yearn for palm trees, gently lapping azure seas, and soft, sandy beaches. Luckily for us, several such destinations are easily accessible from area airports. We picked six of our favorites (most with nonstop flights), ranging from quaint Caribbean islands to a sophisticated South American capital, and offer tips for what to see, eat, drink, and do in each. So, pack your passport, bathing suit, snorkel gear, and sunglasses, and say hasta la vista to climatic dreariness.
ARUBA
Located outside the hurricane belt—and thus blessedly unscathed by the vicious storms of 2017—this wee Dutch island is replete with white sand beaches and adventure activities galore.
Flights: Nonstop from BWI via Southwest.
Stay: Located on a lovely stretch of the world-renowned Eagle Beach, Manchebo Beach Resort & Spa (J.E. Irausquin Blvd. #55, 888-673-8036, manchebo.com) is an upscale paradise with luxury amenities (full-service spa, anyone?). With just 14 cottages dotting tropical gardens, the colorful Boardwalk Small Hotel Aruba (Bakval 20 North, 866-976-5948, boardwalkaruba.com) is a magnet for those who covet privacy and intimacy. Try the Romance Package, which includes a champagne breakfast in bed for two.
Eat/Drink: You'll have nothing but ocean views at The West Deck (L.G. Smith Blvd at Governor's Bay, 297-587-2667, thewestdeck.com), which serves creative tapas-size Caribbean dishes, such as West Indian samosas with yogurt-honey sauce. Oenophiles must stop at the Screaming Eagle Restaurant and Lounge (J.E. Irausquin Blvd. 228, 917-725-4242, screaming-eagle.net) to sample a vintage from its impressive wine cellar, as well as its French fusion cuisine.
Do: Visit the factory and museum at Aruba Aloe (Pitastraat 115, 800-952-7822, arubaaloe.com), which has been growing and producing aloe products since the late 19th century and is open for tours. Before you leave, purchase a product to protect your sun-kissed skin. For dramatic landscapes, walk cacti-lined paths that wind past bizarrely beautiful divi-divi trees at Arikok National Park (San Fuego 70, 297-585-1234, arubanationalpark.org). Then check out the park's Natural Pool ("conchi"), which is surrounded by lava rocks that protect you from the crashing waves.
---
CANCÚN, MEXICO
The plentiful sunshine of the Yucatán peninsula attracts undergrads gone wild, but Cancún is more than just a spring-break sanctuary. The resort town also offers shopping and culinary options for those whose keg stand days are firmly behind them.
Flights: Nonstop from BWI via Southwest, Spirit.
Stay: Book a room at the chic Live Aqua Beach Resort (Blvd. Kukulcan Km 12.5, 877-927-7666, liveaqua.com) where you can soak in variant-temperature infinity pools, play beach soccer, or sign up for tai chi or yoga. Another option is the minimalist Le Blanc Spa Resort (Blvd. Kukulcan Km 10, 888-702-0913, leblancsparesort.com), a couple's retreat that's chock-full of pampering: Ask the butler to prepare a cucumber bath.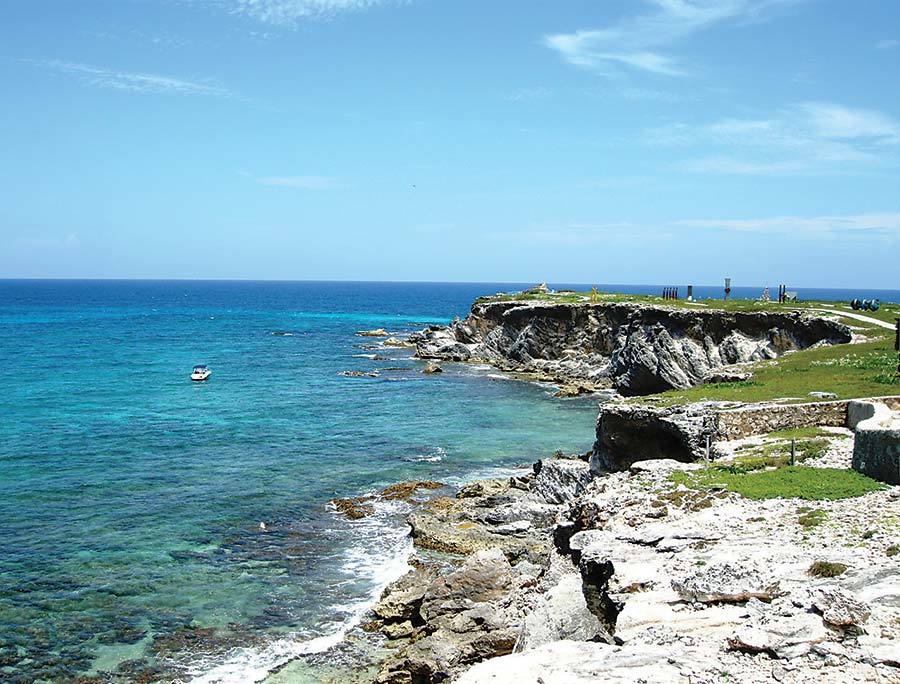 Eat/Drink: Gourmands should make a reservation at Le Chique (Carretera Cancun-Puerto Morelos Km 27.5, 998-872-8450, lechiquerestaurant.com) where the 14-course, molecular gastronomy menu was created by chef Jonatán Gómez Luna, who trained at renowned El Bulli in Spain. The innovative menu at Ramona Restaurant (Blvd. Kukulcan Km 21, 855-696-4982, nizuc.com/cuisine/ramona) updates traditional Mexican dishes. Try the chargrilled sardines cooked with plantain leaves. Chocoholics should stop at Ah Cacao Chocolate Cafe (La Isla Shopping Village, H-4, Km 12.5 Zona Hotelera, 998-883-1927, ahcacao.com) where they can sip cocoa in the outdoor cafe before snagging some chocolate-covered coffee beans for later.
Do: Explore the modern Alberto Garcia Lascurián-designed Museo Maya de Cancún (Blvd. Kukulcan Km 16.5, 998-885-3842, inah.gob.mx/es/red-de-museos/313-museo-maya-de-cancun) to see jewelry and statuary from numerous nearby Mayan sites. As a retreat from raucous Cancún, take a ferry to serene Isla Mujeres where, at the southern tip of the island, you'll find the bucolic Punta Sur Sculpture Garden in picturesque Garrafón Reef Park (Carretera Garrafón Lote 9 Km 6, garrafon.com/park). Among the island's numerous beaches is Playa Norte, which boasts a strip of white sand and shallow waters.
GRAND CAYMAN, CAYMAN ISLANDS
The largest of the three Cayman Islands, Grand Cayman is renowned for its world-class diving and iconic crescent-shaped Seven Mile Beach.
Flights: Nonstop from Dulles via United.
Stay: Set along Seven Mile Beach, the luxe Caribbean Club (871 West Bay Rd., 345-623-4500, caribclub.com) offers beachfront villas that provide guests with plenty of privacy and stellar views from expansive balconies. If you prefer to spend your time diving or snorkeling, the Sunset House (390 South Church St., 800-854-4767, sunsethouse.com) has an even more placid location along a rocky coast with less of the island's usual cruise-ship traffic.
Eat/Drink: Agua Restaurant and Lounge (Galleria Plaza, West Bay Rd., 345-949-2482, agua.ky) is noted for its ceviche and Peruvian tiradito (thinly sliced, sashimi-like fish) prepared with international flavors. Set across from the harbor in the island's capital, George Town, Guy Harvey's Island Grill (55 South Church St., 345-946-9000, guyharveysgrill.com) is a favorite among visitors and locals alike; even the fishermen clamor for the restaurant's signature smoked wahoo pate.
Do: For insights into the myriad plants and animals on the island, sign up with the National Trust for a two-plus-mile hike along the Mastic Trail (nationaltrust.org.ky/mastic-trail-tour), which threads through a largely untouched, hard-to-access forest. The National Gallery of the Cayman Islands (Esterly Tibbetts Hwy., 345-945-8111, nationalgallery.org.ky) shows off a wide range of contemporary art with rotating exhibitions and a permanent collection that preserves the island's visual and fine arts.
ST. KITTS & NEVIS
The two isles in this twin-island British Commonwealth nation couldn't be less alike, with St. Kitts, the larger one, welcoming bustle, while just two miles and a quick ferry ride across the channel, Nevis is all laid-back, Caribbean cool.
St. Kitts
Flights: Connecting service from BWI via American, Delta, JetBlue.
Stay: Perched on the southern tip of St. Kitts, the brand-spanking-new Park Hyatt St. Kitts (Banana Bay, South East Peninsula, Parish of St. George, 869-468-1234, stkitts.park.hyatt.com) provides top-of-the-line accommodations, including two swimming pools, a spa, and beachfront access to a secluded beach on Banana Bay.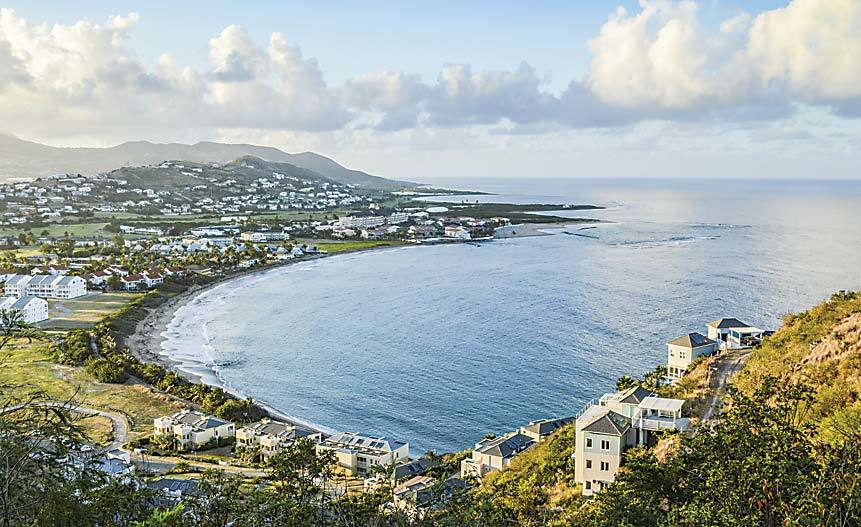 Eat/Drink: Head to The Kitchen at Belle Mont Farm (The Village Kittitian Hill, 855-846-3951, bellemontfarm.com/food/the-kitchen/) for farm-to-table cuisine using ingredients harvested from the grounds of this 400-acre farm/resort. Built on the ruins of an old salt warehouse, Salt Plage (Whitehouse Bay within Christophe Harbour, 869-466-7221, christopheharbour.com/destination/salt-plage) offers the most well-crafted cocktails on the island, including ones that employ local ingredients like soursop and mauby.
Do: Pick up elaborate batik items—including wall hangings, purses, and napkins—produced from locally sourced cotton by local artisans at Caribelle Batik (Old Road Town, Basseterre, 869-465-6253, caribellebatikstkitts.com). Hiking Mount Liamuiga, the dormant volcano that dominates St. Kitts, is strenuous, but its stunning vistas and rainforest scenery are rewarding. Several outfits, including Poinciana Tours (Wingfield Estate, Old Rd., 869-665-1459, poincianatours.com), offer guided excursions up the 3,792-foot peak.  
Nevis
Stay: Thirty-six lemon-hued cottages named for local villages dot 30 acres of manicured lawns at the boutique Nisbet Plantation Beach Club (New Castle, St. James Windward Parish, 869-469-9325, nisbetplantation.com). The Montpelier Plantation & Beach (Montpelier Estate, St. John Figtree Parish, 869-469-3462, montpeliernevis.com), a former 18th-century sugar plantation, is now a Relais & Chateaux property with 19 rooms offering sea and garden views.
Eat/Drink: At the secluded Golden Rock Inn (St. George Gingerland Parish, 869-469-3346, goldenrocknevis.com), order a rum punch or mojito and lounge beside the lily pond that's surrounded by colorful foliage landscaped by respected designer Raymond Jungles. A family-owned inn, The Hermitage (Pond Hill, St. John Figtree Parish, 869-469-3477, hermitagenevis.com) serves a popular West Indian buffet every Wednesday, complete with a roasted suckling pig.
Do: Make like the locals and soak at the Bath Spring (Bath Village), an informal, historic venue—it has been around for centuries—with pools dotting a long channel, each at slightly different, steamy temperatures. Explore the Museum of Nevis History (Samuel Hunkins Dr./Low St., Charlestown, St. Thomas Lowland Parish, 869-469-5786, nevisheritage.org), where displays illuminate the life of Founding Father Alexander Hamilton, who was born on the property.
LIMA, PERU
Sprawling along cliffs high above the Pacific, Peru's capital is a vibrant, sophisticated city with stellar food and an intriguing art scene.
Flights: Nonstop service from Dulles via LATAM Airlines Peru.
Stay: Choose one of the 17 well-appointed rooms at Hotel B (Sáenz Peña 204, 206-0800, hotelb.pe), a refined property within the city's preeminent "bohemian" district that boasts its own collection of modern and contemporary art. Or reserve one of nine guest rooms at Atemporal (Santa María 190, 347-713-7030, atemporal.pe), a boutique hotel in a luxe townhouse.
Eat/Drink: Within a centuries-old colonial hacienda, Astrid & Gastón (Av. Paz Soldán 290, 442-2777, astridygaston.com) is the prime locale for multi-course haute cuisine that melds myriad cultures—Chinese, French, Peruvian—in dishes such as beef and coriander dumplings. Rafael (Calle San Martín 300, 242-4149, rafaelosterling.pe/es/lima/html), the domain of world-class chef Rafael Osterling, offers a tempting menu of Peruvian and international cuisine, such as chorizo pizza with a quail egg and capers. Try the fish head and cheeks with sake at Maido (Calle San Martin 399, 511-447-9333, maido.pe), a fusion of Peruvian and Japanese sensibilities.
Do: Jog or stroll along El Malecón, a coastal clifftop promenade in the leafy Miraflores neighborhood. You'll likely see parasailers overhead. A gallery/museum set up to promote Peruvian heritage and culture, MATE (Av. Pedro de Osma 409, 200-5400, mate.pe) showcases the permanent collection of Peruvian-born photographer Mario Testino, including portraits of celebrities such as Princess Diana and Madonna.
---
PANAMA CITY, PANAMA
Though the country's eponymous canal may be Panama City's most iconic sight, this is an energetic, cosmopolitan capital, brimming with dynamic art, a cutting-edge museum, and even green escapes in the middle of downtown.
Flights: Nonstop service from Dulles via United.
Stay: Located in the compact, charming old quarter (Casco Viejo), the four-story American Trade Hotel (Plaza Herrera Casco Viejo, 507-211-2000, americantradehotel.com) is much loved for its Havana-inspired aesthetic, as well as for its rooftop swimming pool. With just 10 rooms, La Concordia Boutique Hotel (Ave. Central and Calle A/Calle B, 507-300-1125, laconcordiapanama.com) is an exclusive enclave where most rooms come with a private balcony.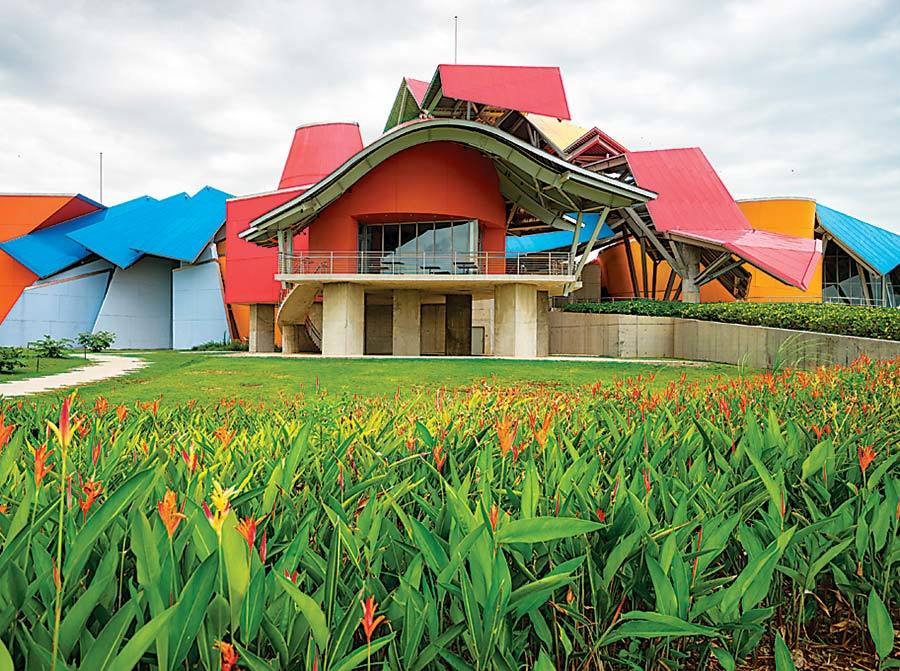 Eat/Drink: The raucous rooftop bar at Tantalo (Calle 8 Este con Avenida B, 507-262-4030, tantalohotel.com/roofbar), a boutique hotel and restaurant, has a hip following, for both the captivating sunsets and well-crafted cocktails. Helmed by chef José Carles, the tiny Donde Jose (1100 Ave. Central, 507-262-1682, dondejose.com) is where you'll need reservations far in advance to dine on inspired, down-home dishes, such as the cold-smoked tilapia. If you can't decide on the night's entertainment, head to multi-level CasaCasco (Calle 10 and Avenida A #8-15, 507-6288-9024, casacasco.com), which houses several restaurants, plus a disco and a rooftop terrace bar.
Do: Explore 3-D installations revealing the country's numerous ecosystems at the Biomuseo (Edificio 136, Calzada de Amador, 507-830-6700, biomuseopanama.org), which has all the boldness one expects from a Frank Gehry-designed building. Hike a verdant route to the top of Cerro Ancon (beside Mi Pueblito on Av. de los Martires), the city's tallest hill. Its 654-foot elevation provides stunning views of the Canal's entrance.