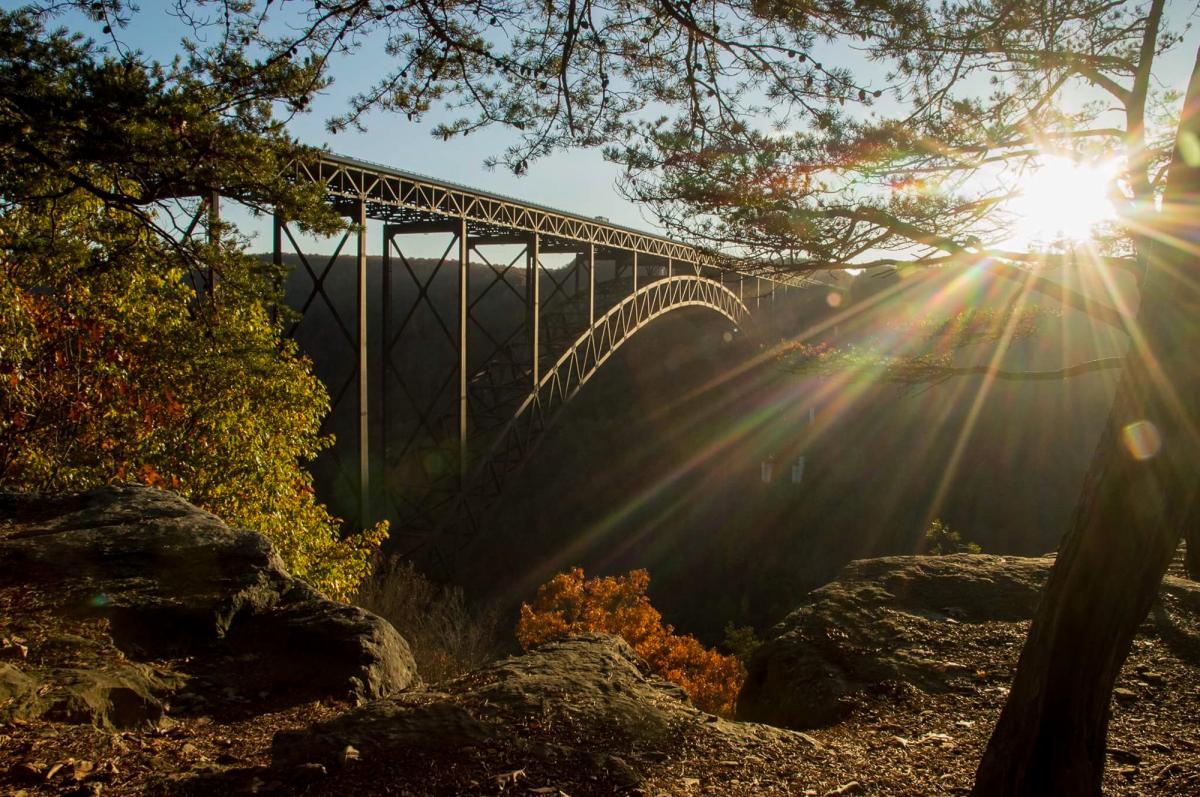 Courtesy of the Fayetteville Convention & Visitors Bureau
I stood underneath the bridge, not looking down more than 800 feet to the river below. 
I had already walked, untethered, along a narrow open catwalk. I grabbed a metal railing, stepping up to climb over and launch off one of the tallest arch bridges in the world, the New River Gorge Bridge in Southern West Virginia.
I should mention—heights terrify me.
My mouth dry, I managed to step blindly backwards, my toes trying to find the lower rim of a girder. I asked the rigging guide: "Can I hold your hand? 
"Yes," he replied, "but you can't take me with you."
The next second, I broke free. And whooosh, I was sailing down the gravity zipline, out beyond bridge steelworks, whirring past a glorious autumnal tree canopy.
"Wooohoooo," I yelled to the tiny people below.
My zip line exit—designed for amateurs, which I am—is a big hit with visitors to this adventure-charged region of Wild and Wonderful West Virginia, a stretch of Appalachian Mountains also home to eclectic towns like Fayetteville, abundant national forest lands and parks, and some of the East Coast's most challenging whitewater rapids.
I was in town for Bridge Day 2019—the region's signature bash which just celebrated its 40th anniversary as America's largest legally sanctioned BASE jump event. That October weekend, about 400 BASE jumpers plunged from the bridge's edge (nearly Eiffel Tower height), relying on nothing but the extreme sport's modified parachutes. Most athletes floated down onto beaches along the New River Gorge National River. Or, if the winds were squirrely, they plunked into tree branches or chilly shallow waters. 
Sadly, Bridge Day, which draws more than 80,000 visitors, is cancelled this year due to the pandemic, though one can get a taste via Virtual Bridge Day this Sat. Oct. 17 with past BASE jump videos, local history chats, and a virtual day-long raffle. (If you're interested in going to still-planned Bridge Day 2021, area lodgings are often booked well ahead, so no harm in reserving.) The cherished event also features a 5K race, "Taste of Bridge Day" fundraiser, massive craft-and-food fair, and a Chili Cook-Off & Craft Beer Festival in downtown Fayetteville. There's plenty of spectacle too: BASE jumper "toys" include a red, yellow, and green catapult aptly named "The Human Rastapult." (An activity definitely not for the faint of blood pressure.) 
—Video by J. Cavanaugh Simpson
Despite the canceled event, this Appalachian wonderland remains a breathtaking outdoor getaway during the pandemic, or any season. The region's fall color hits its peak in late October, with a sunset-colored tableau of Red Maple, Tulip Poplar, and American Beech. The area boasts hundreds of miles of hiking and biking trails, family-oriented and world-class whitewater rafting, rock climbing, kayaking, stand-up paddle boarding, and a plethora of other adventures.
In fact, Fayetteville, 1.8 miles from the bridge, was named among USA Today's 2020 Best Small Towns for Adventure for its "small town vibe with big adventure right at its doorstep." A few town favorites have closed partly due to the pandemic, such as the Twisted Gypsy's boutique, though new businesses are quickly filling spaces, like The Thread vintage shop on West Maple Avenue. Downtown also spotlights 75 historic homes and buildings, as well as a throwback Ben Franklin Five & Dime, a vintage shop called The Hobbit Hole, and NRG Ink with its welcoming sign: "YAY TATTOOS." Many of the restaurants have quickly adapted, setting up outdoor seating and staying relatively busy. 
"In a sense we're lucky," says Tabitha Stover, executive director of the Fayetteville Visitors Center. "We're an outdoor town and lean toward outdoor spaces. Social distancing is kind of our jam." 
In fact, there's a boom-and-bust, survivalist spirit of reinvention in this longtime coal country. Abandoned, ghost-signed company stores can be seen along winding country roads. And King Coal history can be widely explored, including by car on the 187-mile Coal Heritage Trail, part of the National Coal Heritage Area.
Wider Fayette County is also a rural, patriotic locale. A highway sign in nearby Oak Hill marks the "38th Parallel North: In Honor of Korean War Veterans." A blend of country traditional and eco-minded hip, there's something here for nearly every age and point-of-view. (And that's not surprising, as Fayetteville was apparently fought over during the American Civil War no fewer than four times, held by both the North and South.) 
Here's what to note when planning a trip:
→ STAY
The Fayetteville area is about a five-and-a-half-hour drive from Baltimore and an hour east of Yeager Airport in Charleston, WV, so staying over is a must. Since I was focused more on adventure than lodgings, I bunked at the Comfort Inn New River, which was comfortable, clean, reasonable, and included a free hot breakfast. 
A bit of Fayetteville history: Though he didn't actually sleep here, Marquis de Lafayette, advisor to George Washington, inspired the town's name. Lafayette's statue resides downtown, standing tall in front of the Fayette County Courthouse, and you can stay close by at the historic-yet-modern Lafayette Flats.
Area lodgings range from quaint B&Bs, such as the Historic Morris Harvey House, to rustic park cabins, secluded mountain home rentals, and various chain hotels. A nearby woodsy resort, Adventures on the Gorge, specializes in cabins, including those with cable, WiFi, and hot tubs. The resort also boasts an accordion-brochure full of outdoorsy activities, such as mountain or Fat Kat biking tours, smallmouth bass fishing, tree canopy courses, rock climbing, and rafting.
Numerous private vacation rentals are also available, with names like "Red Roost" and "New River Lofts." Or digs like "The Bungalow on Maple" if you're into a townie vibe. (See possible listings at Visit Fayetteville.)
If your goal is getting much closer to nature, camping options also abound in the New River-Greenbrier Valley, including 52 tent sites at Babcock State Park, and other park or private campgrounds with names ranging from Rifrafters Campground to Cooter's Cabins & Campin'.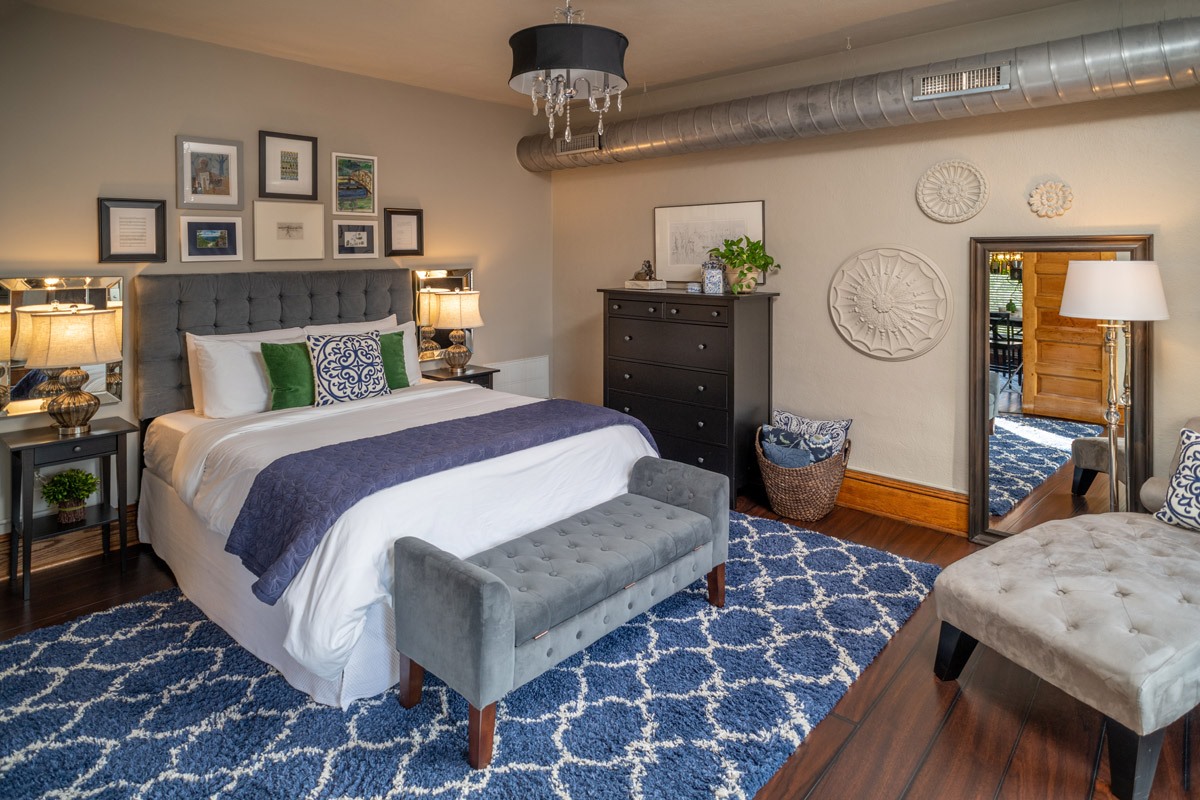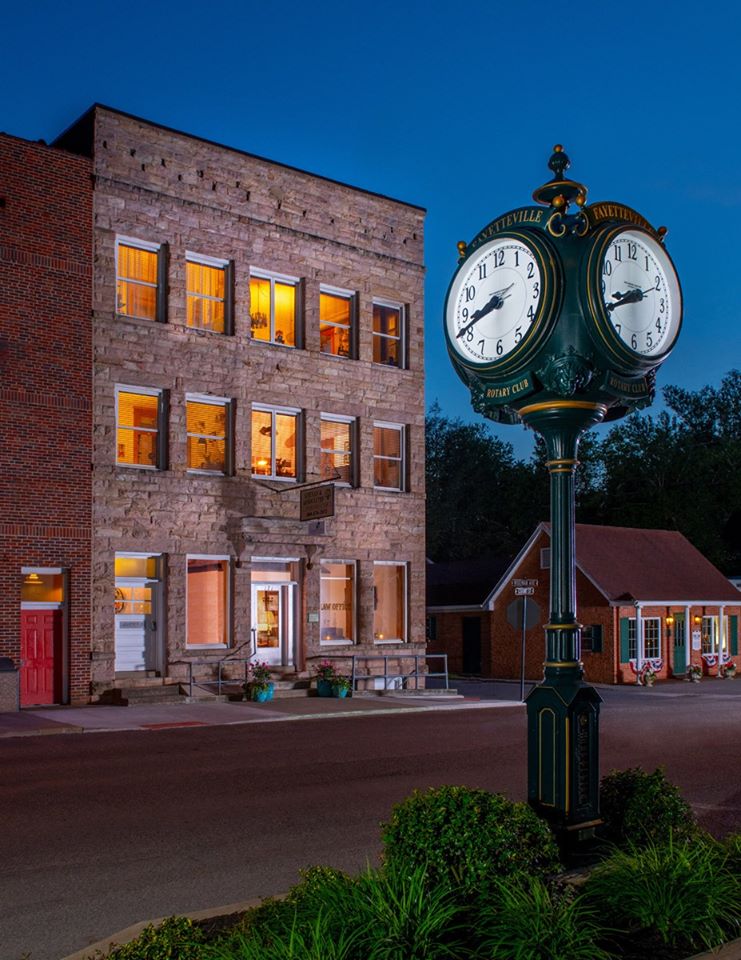 → EAT
To get the lay of the culinary land, before travelling I asked BASE jumpers where the best eats could be found. Top of the list: Secret Sandwich Society, where sandwiches are named for world leaders. (The "Roosevelt," for example, stacks roast beef, bacon, horseradish mayo, and white cheddar on a toasted baguette.) Also on the carry-out menu: fries seasoned with Society "magic powder" and a litany of dipping sauces, such as French onion. (If you can't decide, each additional sauce only costs 75 cents). 
Fayetteville, in fact, provides fabulous foodie fare: farmer's markets, restaurants, and cafe combos such as The Stache, where you can buy ice cream and toys. Heartier fare can be found at Pink Pig pit-cooked BBQ or The 304, whose specialties have included the "Southern Mother Klucker" sandwich. (Just be careful how you pronounce that, though I doubt anyone in town would really mind.)
If you want takeout, there's trendy Pies & Pints pizzeria. And for a down-home feel, stop by the famous Tudor's Biscuit World for biscuits any time of day. 
"If the apocalypse comes, we'll always have a Tudor's and Ben Franklin," says Stover, who adds that her grandmother is obsessed with the Ben Franklin Store, town purveyor of jams, crafts, and Amish bulk food for 65 years. "Whenever she comes to visit, Ben Franklin is always first on the list."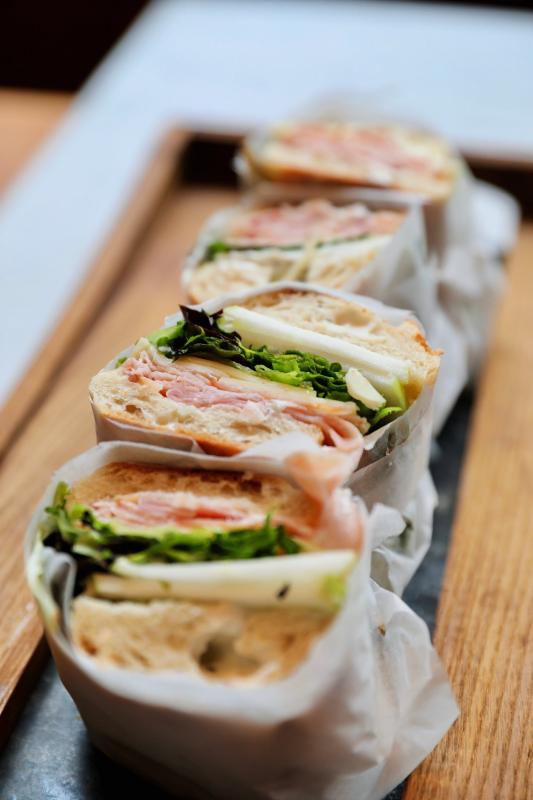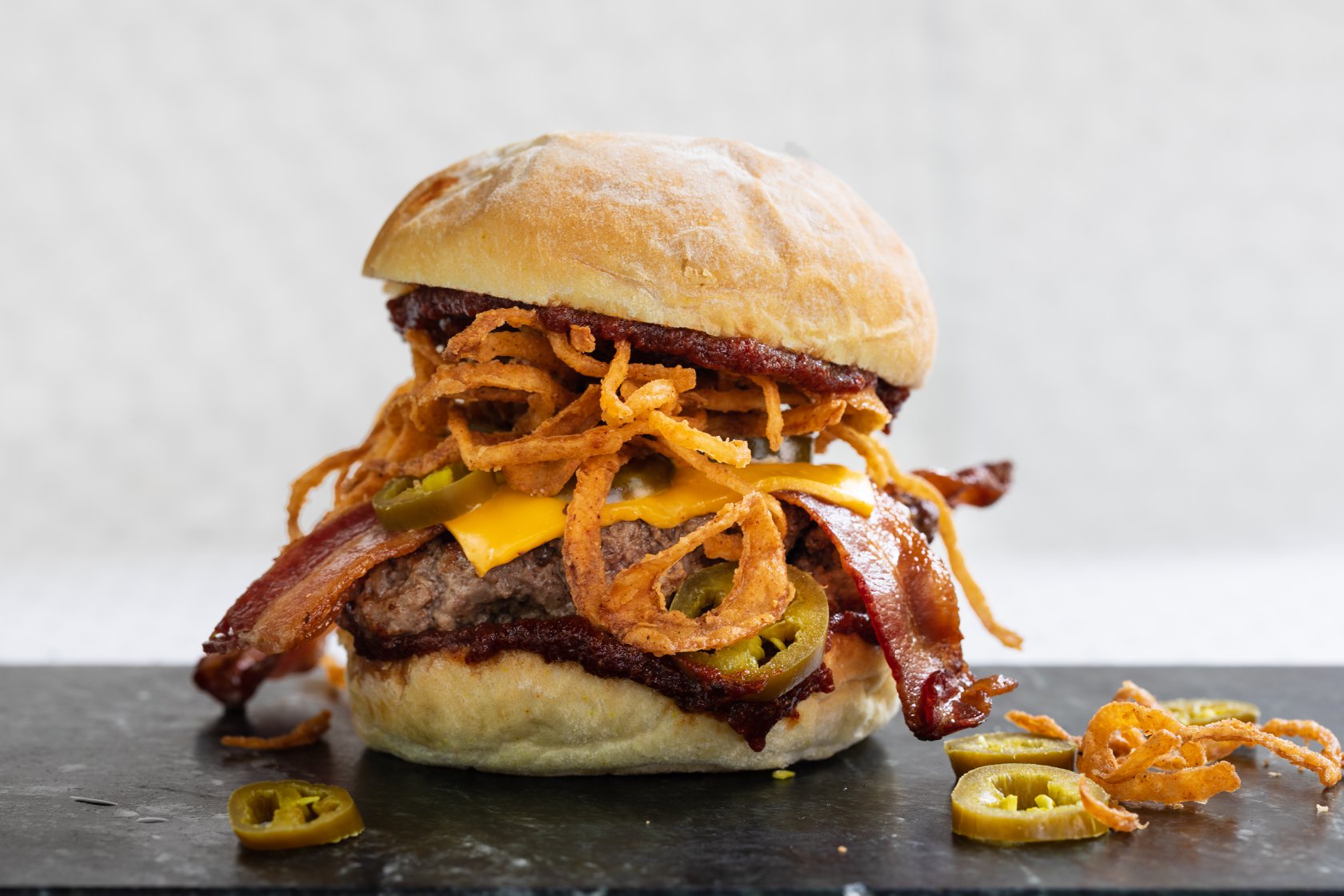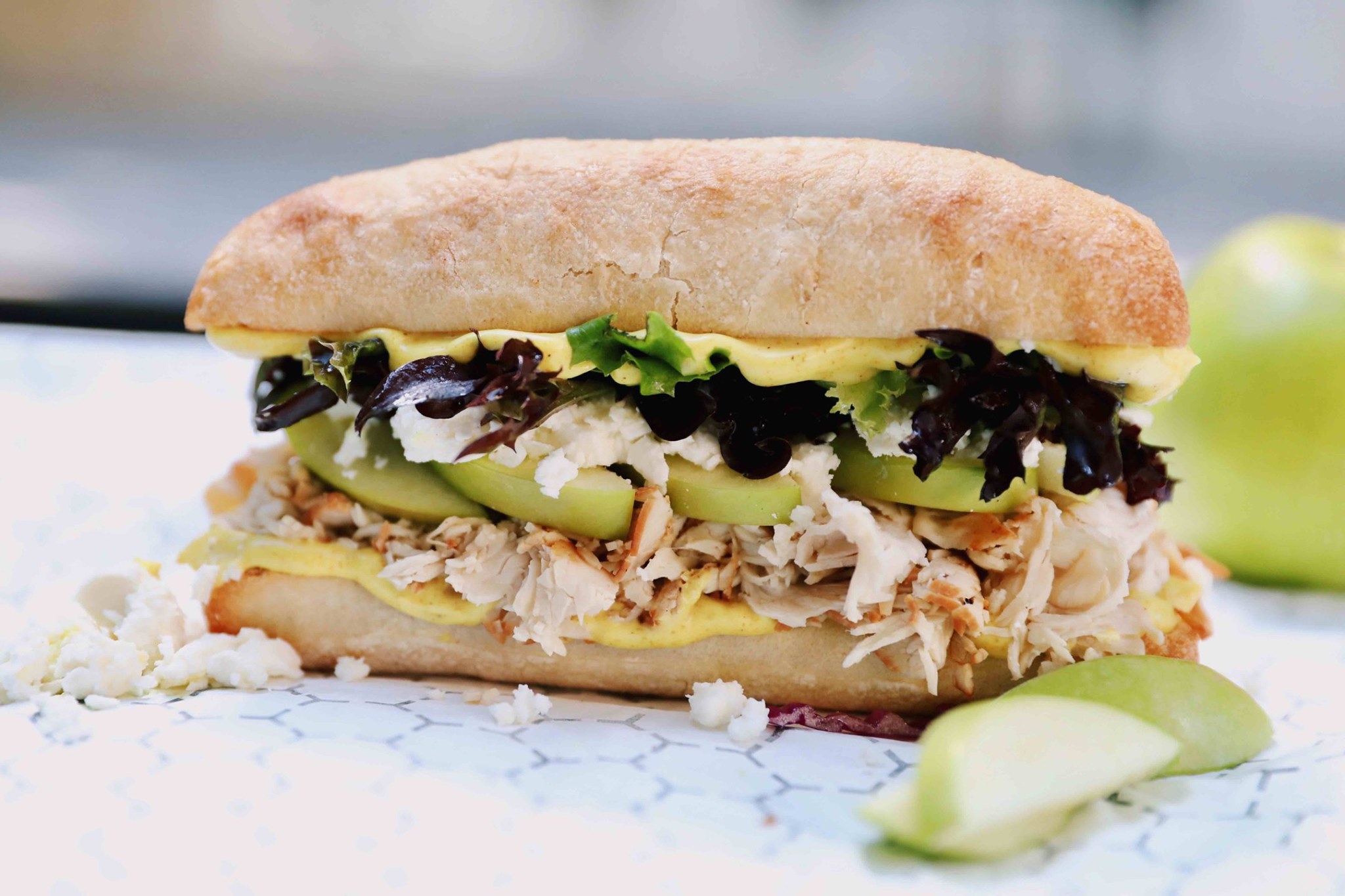 → DRINK
At Rafters Lounge in the Holiday Lodge Hotel, where BASE jumpers gather throughout Bridge Day weekend, sports bar-style beers are on tap. Fayetteville visitors can also easily find locales for coffee and tea, or tap into the best of micro-brewed beers or signature heart-of-Appalachia craft moonshine.
For morning bean grinding, there's Cathedral Cafe, Range Finder Coffee, Wood Iron Eatery, The Station, and elsewhere. (Note: check establishments' websites for possible closures or COVID-19-related adjustments.) Check out craft beers at Freefolk Brewery or Bridge Brew Works. Or grab a draft at Southside Junction Tap House, Maggie's Pub, and other dives where patrons can social distance on outdoor patios.
→ SHOP
For such a small town, there's a robust downtown shopping scene with one-of-a-kind independent shops, such as dog-friendly Wild Art Wonderful Things—which celebrates West Virginia with handcrafted local crafts, art, and eco-items including Sasquatch stickers and natural pumpkin spice deodorant. One can go antiquing or thrifting and, in the spirit of supporting small businesses, virtual shopping options exist even if you can't make the trip. 
In fact, one of my favorite stops was The Hobbit Hole, a tucked-away retro store on South Court Street specializing in antique furniture, clothes, jewelry, and "ephemera knickknacks and paddywacks to help you enhance your unique style." Among the shop's evolving showcase, online or in-store: a country farmhouse-style lard bucket and a 1988 Buffalo Nickel belt buckle. As owners sum up on the store's Facebook page: "It is of absolute importance that we keep it kitschy and vintage and weird at all times."  
→ DO & SEE
The New River—which is actually one of the oldest rivers on the continent—has worked its geological magic for millions of years, carving out layers of sandstone to create the massive V-shaped gorge, whose deep cliff sides have contained rich, accessible seams of coal. Remnants of the boomtown coal mining industry can be spotted via the nearby Kaymoor Miners Trail (also called Kay Moore), which winds down steep stairs to the abandoned mine with its old coking furnace.
To learn more about regional history and landscapes, visit the Canyon Rim Visitor Center—a beautifully crafted sandstone-and-red oak building off U.S. Route 19 at the bridge. The center, which documents the span bridge's construction, is closed amidst the pandemic, but park rangers are staffing an outdoor information site. There's also a short hiking trail, handicapped-accessible wooden boardwalk, and bridge observation decks. And, if you like a catwalk adrenaline rush, you can book an official tethered Bridge Walk, a dizzying bridge-underbelly tour.
Overall, the region's famous multi-season draw will always be the righteous whitewater rapids—which are relatively calm along the Upper New River and ramp up to Class V on the Upper Gauley River, known as the "Beast of the East." If you're in need of gear, Fayetteville is also packed with outfitters such as Water Stone Outdoors and New River Mountain Guides.
Those bound to the earth for exercise can check out abundant hiking trails in the 70,000-acre New River Gorge National Park, including the signature 12-mile Arrowhead Trails (mostly easy to intermediate) created by national Boy Scouts in 2011. Biking trails crisscross the county, including the eclectic Arrowhead Bike Farm and Campground, where you can rent a mountain bike, nosh on a Mojo pork taco, throw back a Punk IPA, and sleep over via RV or tent.
Yet overall, Bridge Day is truly the uber-exciting annual attraction. The High Line I zipped down (launching near one end of the bridge, you slide diagonally 700 feet, dropping 300 feet, or Statue of Liberty height. So take that, fear!) is staged only that weekend. I was inspired to hit the gravity line by all the BASE jumpers' infectious enthusiasm.
While Fayette County and environs vibrate with fun, Bridge Day is juiced with adrenaline (and Red Bull), yet also remarkably chill. BASE, after all, carries the relaxed, rebel vibe of surfers, skateboarders and snowboarders: Wild West athletes on the forefront of their not-always-sanctioned sport.
As I heard one jumper, who witnessed a multi-backflip freefall, respectfully toast: "F*ck, dude. That's rad."