Want smoother skin and fewer wrinkles, scars, and other blemishes? There's a procedure new to the area that could be just the solution you need: It's called Opus Plasma resurfacing, and it's being offered by Maryland Eye & Face, which is known for its expertise in a wide range of facial and periocular reconstructive and cosmetic procedures. And the first physician in the area to be trained in this innovative treatment is Dr. Parag Gandhi, who helped us learn more about it.
What is Opus Plasma resurfacing?
Opus by Alma Lasers is a new energy-based technology that uses sparks of electrical energy that interact with nitrogen and oxygen molecules in the air to produce plasma. The plasma energy is then carefully directed down into the skin in controlled bursts. This design opens small channels in the dermis (the deeper layer of the skin) that provides heat and contracts the underlying tissue, producing a new skin surface. Fractional resurfacing allows us to control and adjust energy settings, treatment depths, etc., while we work on different areas. While fractionated laser platforms have been on the market for some time now, this is the first fractionated plasma device, which is different from laser and a one-of-a-kind technology.
How does it differ from other laser treatments?
Lasers typically use a specific molecule to generate concentrated light energy at a designated wavelength. This wavelength of the laser light determines what the laser works on, such as blood vessels, skin surface pigment, or hair follicles. That target tissue is known as the chromophore. One well-known example is a carbon dioxide (CO2) laser, which we also have at the office. The CO2 is known to be effective for lightening superficial pigment, treating scars, and making skin more youthful. The heating and vaporization of water is what produces the energy to tighten the tissues and stimulate collagen production. Collagen is an important building block of youthful skin that starts to deplete after our early 30's, so we use energy-based devices to generate more collagen naturally. Now, in 2020, we have Opus. It turns out that many of the benefits we see from CO2 laser treatments are also seen from Opus Plasma treatments. However, the Opus is different in that it uses the electrical plasma energy to treat superficial and deep skin. Since it does not have a specific chromophore, the energy distributes in a unique way through the skin and the effects can be seen more broadly. It also is safely applicable to more darkly pigmented skin types and requires less healing time.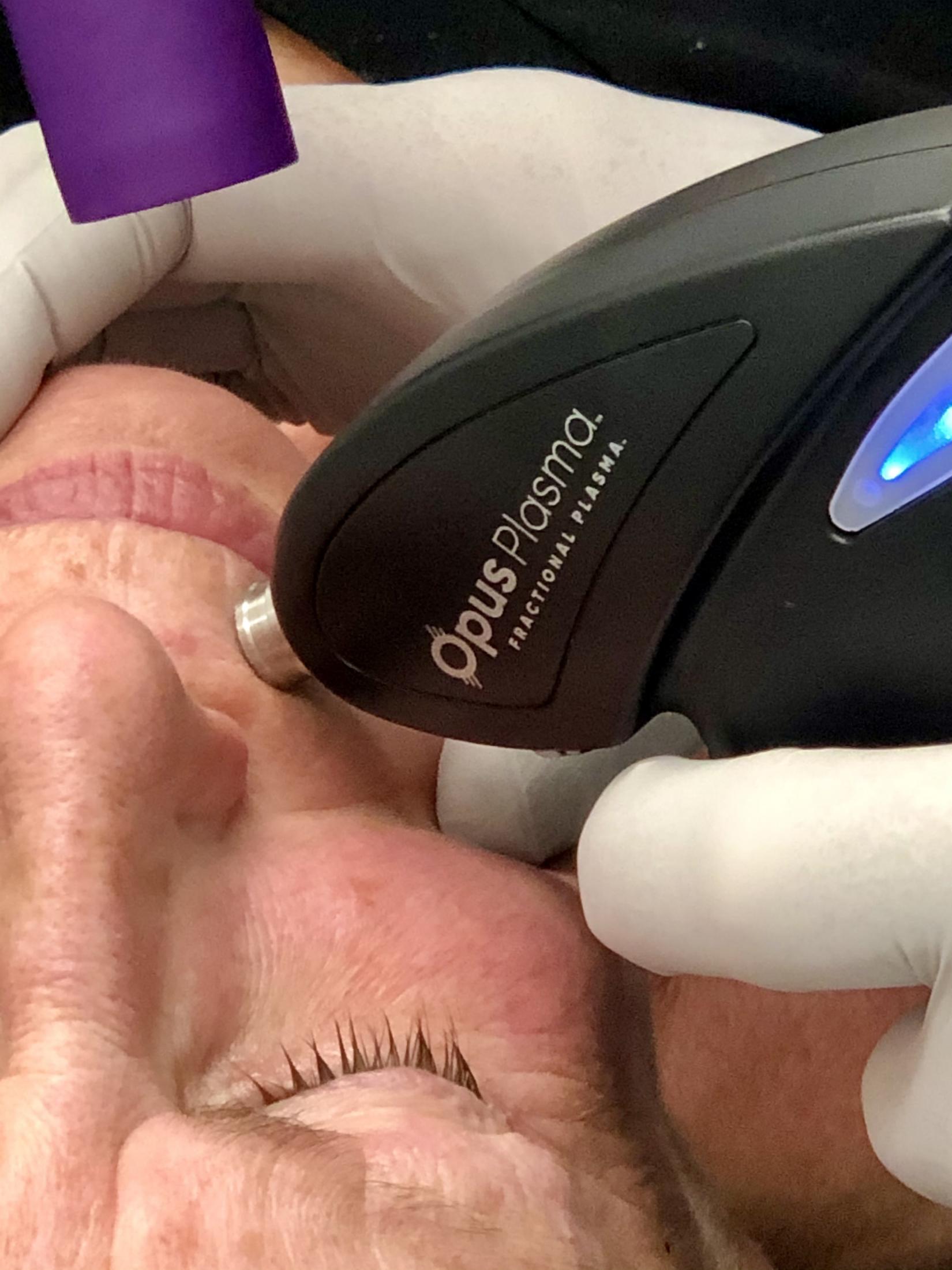 What does Opus Plasma resurfacing treat?
Because there is not a specific chromophore for plasma energy, it tends to be more effective at treating a variety of changes in the skin. Opus Plasma resurfacing lightens skin-surface pigment and brown spots, tightens and shrinks facial pores, reduces the redness of small vessels, softens scars, and smooths out the overall complexion of one's face. The treatment can be performed all the way up to the hairline as the plasma tips will not affect the hair follicles. Smaller areas or the entire face and neck can be treated in the same session.
How long do the results last?
One key difference of the Opus Plasma platform versus other laser platforms is markedly reduced down time while still delivering noticeable results with each treatment. Therefore, we generally recommend a package of two to three treatments about a month apart to achieve optimal results that will then last for many years. Many patients are even seeing results with just one treatment. We first evaluate your skin-care needs, confirm that the procedure can be done for you safely, and determine your broader aesthetic goals and a treatment plan. Opus may be one of several different approaches we can offer for your overall rejuvenation goals. It is often true that combined treatments give the longest lasting and best results, so Opus Plasma can be impressive just on its own or further enhanced with other options. Our goal always is to customize the approach to your needs.
How long does the treatment take?
An average full-facial treatment may take about 20 minutes—give or take. Since every treatment of Opus Plasma is individualized, the timing of the procedure may vary depending on how deeply or how widely we are treating the skin. We will sometimes do multiple passes over areas that require more attention or that can tolerate more energy for an optimal outcome. Also, when treating the full face with Opus Plasma, we may decide to extend the treatment zone into the neck or even further into the décolletage to improve the tone and texture of adjacent areas for a more even result.
What's the down time?
We are generally seeing patients recover from Opus Plasma resurfacing within a week or less. Factors that play a role in healing time include the pre- and post-treatment skin care regimen, maintaining caution with sun exposure, adequate hydration before and after, and proper nutrition for tissue healing. We have currently partnered with Epionce for our pre- and post-treatment skin care regimens. We also offer Colorescience products specialized for the face and eyelids to match the areas we treat with Opus. These two unique product lines work together with Opus Plasma to deliver optimal results, speed up healing, and reduce downtime.