The Progressive Insurance Baltimore Boat Show makes its return to the Baltimore Convention Center January 23-26. From discovering the best boat brands to tackling virtual fishing programs, there is something for all marine aficionados. We sat down with Dave Bachinski, Show Manager, to learn a bit more about the show and what sets it apart from other conventions.
What are some of the must-see exhibits and top activities of this event?
You don't have to be a boat owner to enjoy a day at this show—everyone is invited to experience the boating world and all it has to offer. This is the region's biggest and best show—and it's now the most expansive of any year before with more boats, dealers, horsepower, entertainment, and other experiences. There are hundreds of boats and accessories for every price point, interest, and lifestyle. Whether you're ready to buy or just curious about learning what life on a boat could be like—there's really something for everyone.
The Discover Boating Experience (DBX) is a new area where guests can mingle, relax, and enjoy short form seminars from experts about new boating technologies, navigating a boat show, and much more.
Will there be any educational programs?
Yes! We will offer educational seminars and access to experts for beginner boaters. Boating experts can also take their skills to the next level with more advanced sessions. The best part?  Seminars are free with a ticket purchase.
Part of a larger initiative from the National Marine Manufacturers Association (NMMA), is the boating careers day, which is aimed to educate students from local and tech schools about career paths available in marine technology and the recreational marine industry.  
Are there any specials running during this event?
We have educational seminars, happy hour drink deals, and family-friendly activities all weekend long…
On the 23, the show is offering a super Thursday special—five-dollar tickets after five p.m. Guests can also take advantage of the best deals of the weekend and receive discounted food and beverages. A full list of participating exhibitors and their specials can be found here.
On Friday, it's "Go Fishing" Friday, where guests can learn, shop, and participate in family-friendly activities that relate to all things fishing.
We partnered with the Maryland Marine Trade Association for the annual career day, an initiative aimed to cultivate the next generation of marine professionals. We invite students of all ages to meet top marine professionals and learn about the abundant opportunities in the industry.
This year's show also marks the tenth anniversary of the annual crab-picking contest, sponsored by Conrad's Seafood Restaurant and 100.7 The Bay. Contestants who think they have what it takes can sign up in the show office before the contest Friday evening.
Is this event family-friendly? If so, what kinds of activities can the kids enjoy?
We love seeing families at the boat show, which is why all kids 12 and under get in free! Most boater's childhoods involved being on the water and that's why it's important to immerse kids in all things boating, fishing, and outdoors at a young age. Cool activities for kids include our virtual fishing simulator, where kids can actually experience the feeling of hooking a fish; toy boat-building to create a nautical masterpieces and take home as a souvenir; our touch-a-boat tour encourages little skippers to learn the ropes of the high seas; and a boating skills virtual trainer gives families a chance to set out on a simulated "boat trip".
What else would you like to share?
Be sure to do some research beforehand if you're looking to buy. What you might not realize is 95 percent of boats sold are less than 26 feet—and many of these are financed for around $200 a month. The boats you'll see this year are versatile as more people look for a variety of experiences on the water. According to a recent report from Discover Boating, the mere sight and sounds of water can lower stress levels and improve overall wellness—proving that boating is good for you.
For those not ready to buy—you can consider boat clubs which are similar to joining a gym chain. You sign up and get access to a fleet of boats available all over the nation and world. They handle maintenance, upkeep, and offer new boaters extensive on-water boat training. We really have something for every price point and skill level.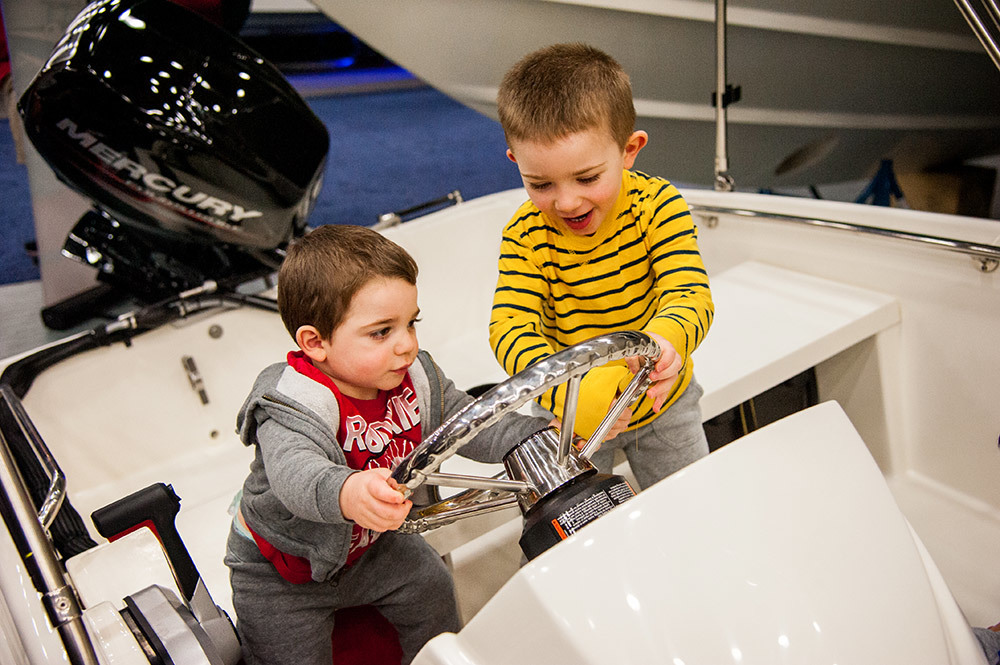 Baltimore Boat Show