When an independently owned retail company stays in business for 30 or 40 years, it's an impressive feat. For those fortunate enough to hit the 50- or 75-year milestone, there's reason to celebrate. However, when a company not only survives—but also thrives—for more than 100 years, it is doing something truly special.
"When you are in business for 103 years, you're doing something right," says Tom Smyth, owner of Smyth Jewelers, the largest jewelry store on the East Coast with locations in Timonium, Annapolis and Ellicott City. When asked about the secret to the company's longevity and success, Smyth doesn't hesitate. "It's all about servicing the customer. If you don't do what's advantageous to the customer, you won't stick around for over 100 years."
And because of Smyth's 100-plus-year history, its customers garner many benefits.
"We've been able to create deep resources within the industry due to our longevity and our integrity," Smyth says. "We can pick up the phone and call on a vendor that we have never done business with before, and they know who Smyth Jewelers is and is willing and anxious to do business with us. We have an A+ credit rating in the industry, so we can quickly open new accounts with the top vendors and get the newest and best products."
In addition to working with new designers, Smyth has a long-standing relationship with some of the most notable designers. "We get the cream of the crop from designers such as Tacori and Lagos, which are very desirable brands that want to do business with us." And while Smyth is the go-to place for engagement rings and wedding bands, there is something for all occasions, tastes and budgets.
Smyth represents the third-generation in his family to be involved in the business, while Karl Getschel represents the fourth-generation. "Having four generations involved in a family business is very unusual. We all bring different perspectives to each decision we make, but at the end, we are a unified voice," says Smyth.
Whether you're family or not, it's important for a business to treat its employees with that same care across the board. "The Smyth family always takes care of its employees," says Ruthann Carroll, who has worked at Smyth Jewelers for 45 years. "When it comes to advancements in the company and bonuses, we know that the Smyth family is always looking out for us. And, when employees are happy, we pass that feeling along to our customers."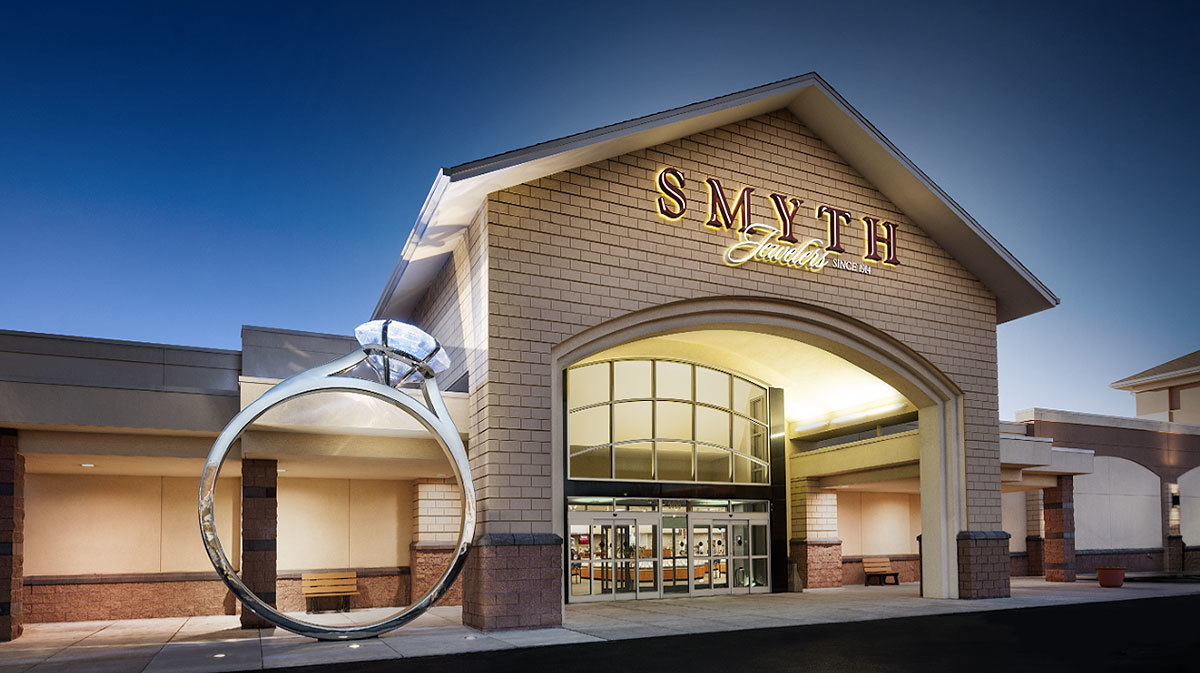 That happiness Carroll mentions is something customers will notice—whether they are long-time customers or it's their first time at Smyth. The jewelry store owners advise that—no matter the retail business—it's imperative to create an experience, one where customers are greeted by a friendly and easy-going associate who listens, asks questions, and shows you around.
"I always have a great experience here when buying, and perhaps more importantly, post purchase. All the salespeople are always extremely helpful and professional," says one reviewer. "Kim made us feel like we were working with a friend," adds another.
Despite its success, Smyth Jewelers is not one to rest on its laurels. "We've been successful by being able to adapt to changes in the industry," says Getschel. In addition to changing styles and tastes in jewelry, some of the most significant changes in the industry—like most industries—has been the result of evolving technological advances. Smyth says he still has his grandfather's diamond scale on his desk—where a diamond was placed on one side, and weights on the other until the scale was even—but recognizes that today's digital scales are more accurate, quicker, and more efficient.
"Also diamonds now have very detailed certificates from the Gemological Institute of America, which is a huge step forward for consumers and allows them to compare diamonds better," he says. "There is a laser grading on the cut to measure the polish and finish and gives a grade for each."
Technological advances have also been important when it comes to engraving. While Smyth offers all types of engraving, laser engraving can now be done on anything from a wooden cutting board to a sterling bowl, crystal stemware, or on the inside of a wedding band. Laser engraving is much faster and less expensive than engraving done in the past. "This allows the customer to personalize the gift and make it just that much more special," Smyth says.
"We also made a $35,000 investment to purchase a laser welder that allows us to solder a piece of jewelry that cannot withstand extreme heat due to the sensitive nature of the gem," he continues. "We can look under a microscope and send a spark to the exact location that needs to be welded without damaging the piece. With this technology, we can repair grandma's heirloom that could not be fixed in the past. We've seen customers burst into tears because an heirloom was such a treasured possession for them, and now they can wear grandma's jewelry."
Even with 100 years under its belt, Smyth Jewelers doesn't take any of its success for granted. "For 32 years, we were in what's considered a B-level location behind a Toy Barn," Smyth says. "If customers were going to make the effort to find us, we wanted to make sure they would want to come back by offering the best products, great value, and unparalleled customer service. I never envisioned that we'd be the largest jewelry store on the East Coast."