Special Section
Retirement Guide 2016
Opening the door to the next stage in life means choosing the right housing option.
By By Rebecca Kirkman | Photography by Mitro Hood — April 2016
We've all seen the demographic bubble coming: The last of the baby-boomer generation turned 50 in 2014, meaning there's now a large group of people nearing retirement or, at the very least, thinking about how they'd like to live the next decade or two. But this isn't a group that's going to go quietly to the old folks' home.
The good news? Baltimore was ranked the seventh best city in the nation for a healthy and affordable retirement in a 2015 study by insurance company Bankers Life. (Washington, D.C., placed 54th.) We scored high marks for our world-class health care systems, including The Johns Hopkins Hospital and University of Maryland Medical Center, ranked high for a large and social senior population, and got points for our many historical attractions.
So whether you're an empty nester looking to trade in a large property in the county for an upscale urban apartment or a frequent traveler looking for the flexibility and security that a midtown condo provides, Baltimore has a variety of options for the over-55 crowd.
---
Baby boomers are rethinking what it means to be retired, with many choosing an active, urban lifestyle. And that often means close proximity to cultural and culinary attractions, perhaps to a continuing job, or maybe to family——but without the headaches of maintaining a large property.

---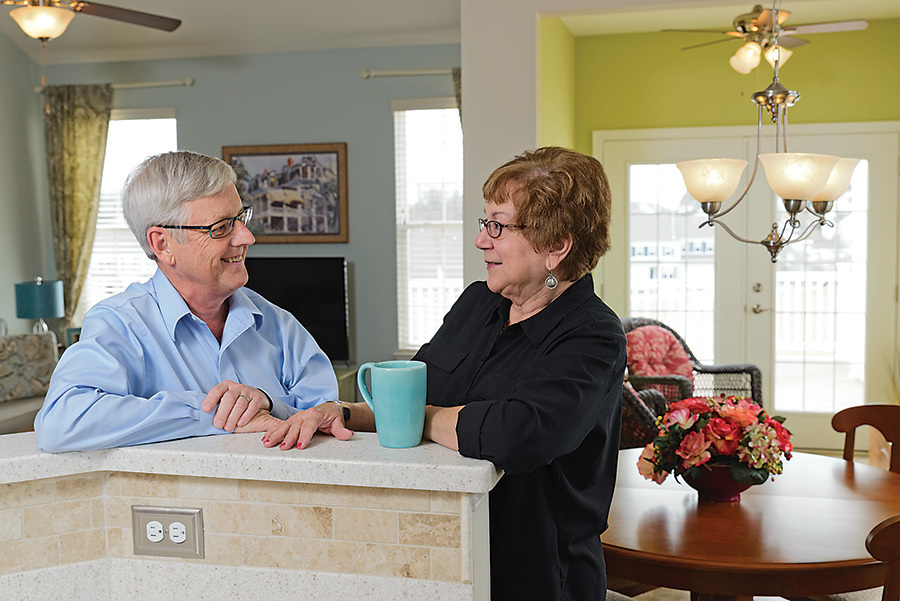 A Worry-Free Community with a View
"We have a neighborhood now," declares Robin Nawrot with a smile. In the spring of 2014, Robin and her husband, Ron, moved to Greenvale Mews, an over-55 community of attached villas in Westminster. Built to include a fishing pond and walking trails with the peace and quiet of a rural area, the community is just minutes away from shopping, dining, entertainment, and medical facilities. The space of a single-family home—think extra storage and a two-car garage—combined with the convenience of condominium living attracted the Nawrots to the development.
The couple's longtime ranch home just south of the Maryland-Pennsylvania border was down a three-quarter mile gravel road and surrounded by farmland. "We knew we were going to move eventually because we couldn't keep taking care of the property," she says. Nawrot discovered plans for the Greenvale Mews development while researching retirement options for a friend, and its benefits lingered in the back of her mind when the couple first started thinking about what they wanted in a move.
The Nawrots didn't plan to end up in an over-55 community. "When we were writing down a list of wants, my husband said, 'We are absolutely not moving to an over-55 community,'" she remembers. "And then when he thought about it, he said, 'You're right, there's no reason not to go there'," she recalls, pointing out that some college-aged children do live in the community with their parents. It's truly an active community, says Nawrot, where residents are "out there walking around, riding bikes—we have a man across the street who runs every day." Most of all, the "over-55" requirement just brings together like-minded people. "We have similar interests, we are of somewhat similar ages. Some are working, some aren't," says Nawrot. "It's been interesting getting to know the neighbors."

The Nawrots actually have more space in their three-bedroom, two-story townhouse than in their last home, which comes in handy when children and grandchildren visit.
The couple actually has more space in their three-bedroom, two-story townhouse than in their last home, which comes in handy when children and grandchildren visit. But despite the larger floor plan, they say they have fewer worries: "Here, it's all maintenance-free outside, so we have nothing to take care of." The amenities of condo-style living mean the Nawrots don't have to worry about mowing the lawn or shoveling snow, but still have the space for grandchildren to play outside, for guests to stay over, and a large enough living and dining area to host parties.
At this stage in their lives—Ron still works full-time, while Robin has been retired for three years—Greenvale Mews allows the couple to minimize their worries and maximize their enjoyment of life, now and into the future.
Solution: Greenvale Mews
Cost: Attached villas start at $334,990
Fees: Condo/H.O.A. fee is $177 a month
The Pluses: Rural location adjacent to woods; fishing pond and walking trails; condominium-style living; easy access to Carroll County entertainment and attractions.
Footing The Bill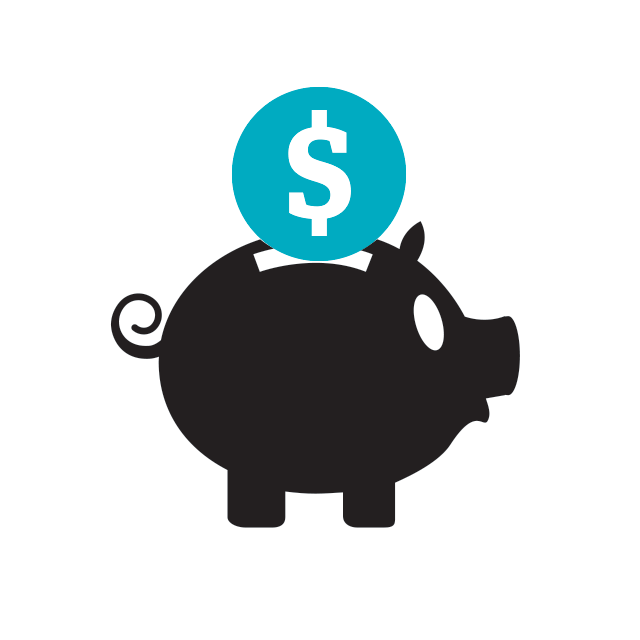 When we hear the word "downsizing," we often think "saving money." But usually, the opposite is true.
---
Many retirees who choose to leave their longtime homes—where the mortgage was often low or may have been paid off—and move to a condo or retirement community face a significant increase in costs.
Many seniors have responsibly stockpiled their savings in traditional routes—like cash, stocks, bonds, and maybe even real estate—to finance this extra expense when the time comes. However, "distortions in the market are greater today than during any other financial period, due to lower interest rates and a rotation to riskier investments, which has resulted in market volatility," says Gregory Gann of Gann Partnership, a financial adviser with many clients at or near retirement.
"The bull market since 2009 is exhausted," says Gann. "Now, we're seeing a period of investment that requires a completely different approach and strategy." For those close to retirement, it's a good idea to think about diversifying their approach, he says, and looking beyond stocks and bonds. "I have a client moving to Broadmead," says Gann. "Before she decided, she took her money out of the market into cash because she didn't want to see a correction."
One potential area for investment is the market-linked bond, says Gann. These types of investments appeal to those risk-averse people looking to increase their income and protect their portfolios from the market's volatility.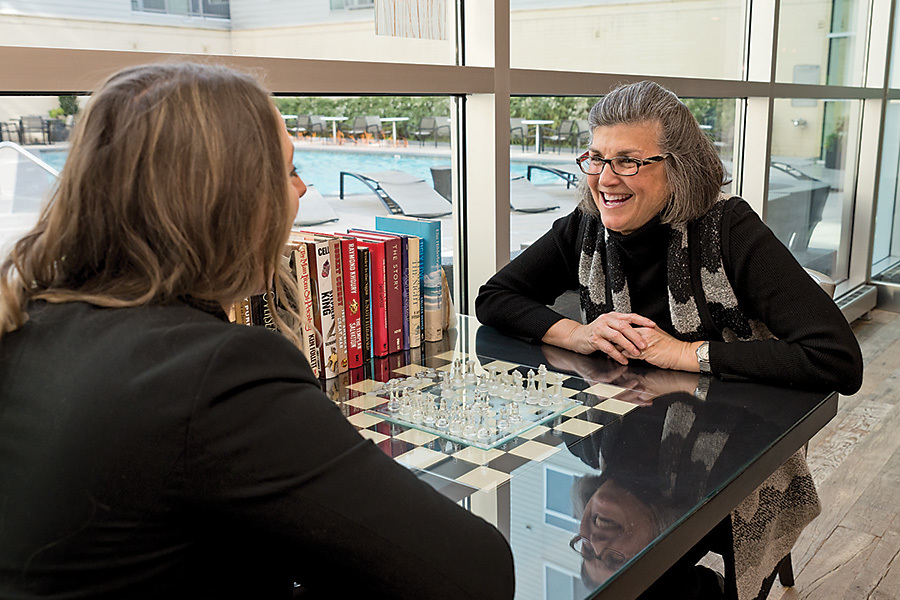 Returning to a New Baltimore
In 2010, retired brokerage executive Jackie Noller started thinking about leaving her rural home on Maryland's Eastern Shore and returning to Baltimore—she had lived in its suburbs many years prior. "Where I was, there was no culture, and even though I could certainly get to New York City or D.C. by bus or train, it was a major event to do that," she explains.
During her frequent trips to the city, Noller noticed a new complex, The Fitzgerald, a high-end development being constructed in Mt. Vernon near Penn Station, just off the Jones Falls Expressway. "In my years of living in Baltimore, this part of town wasn't known for residential, cutting-edge architecture, so that attracted me first," she says. "But mostly it was access to culture." The Fitzgerald's centralized location near cultural opportunities like concerts at the Joseph Meyerhoff Symphony Hall and the Lyric Opera House, independent films at the Charles Theatre, and lectures at the Maryland Institute College of Art and The Johns Hopkins University—not to mention light-rail access to the stadiums and the airport—persuaded Noller to rent a two-bedroom unit in 2012.
The Fitzgerald's studio, one-, and two-bedroom apartments for rent attract a diverse community of residents, like graduate students, med school residents, and professionals who commute to D.C., says Noller. "I'm on the older end of the age range, but there are more people my age coming in now," she says. Noller enjoys reading a book on the patio of the outdoor pool, or renting one of the well-equipped conference rooms for her charity activities. At the end of the day, though, what really makes a difference is the staff. "Their whole attitude is, 'How can we make your day better?'"
---
Her current apartment is radically smaller than her prior homes, but Noller was happy to downsize.

---
Her current apartment is radically smaller than her prior homes, but Noller was happy to downsize. "I wanted to have a more simple life. I wanted to get rid of stuff and not have the maintenance issues that caused headaches and were really costly." Since her apartment doesn't have much room for storage, she forced herself to pare down even more. "I said, 'If I don't use it, I don't need it'—and it's true." Her top-floor unit overlooks Penn Station, "which lights up at night like a Grecian temple," she says. A newly constructed University of Baltimore law school building to the east casts a warm late afternoon glow across her open living room and kitchen from its reflective windows. And a just-the-right-size balcony gives Noller enough room to comfortably sit and read a book, providing that indoor-outdoor space often missing from an urban dwelling.
Although she doesn't have the investment equity that homeownership provides, the 67-year-old sees several benefits to renting, like flexibility. "There's a certain time and place where not owning makes sense. I'm not ready for a retirement community where I have the nursing home based inside of it, but I was ready to give up on the pleasures of the cookout in my own backyard in return for getting rid of the other burdens of maintaining a house."
Solution: The Fitzgerald at UB Midtown
Cost: One-bedroom rentals start at $1,625/month.
Fees: Residents pay their own water, sewer, and electric. Parking is available for an additional $125/month.
The Pluses: 2,000-square-foot fitness center and yoga studio; three distinct, stylish lounges complete with a fireplace, billiard table and bar; outdoor swimming pool and water wall courtyard; business center equipped with Mac and PC computers; meditative courtyard with water and fire elements; conference facilities; movie theater with projector and comfortable seating; full-service concierge; pet-friendly community; parking garage with direct access to all floors and two EV car charging stations; fenced-in dog park.

Among the amenities at The Fitzgerald are stylish lounges complete with a fireplace, billiard table, and bar, as well as a business center and conference facilities.


Noller tries to put one in the corner
pocket in The Fitzgerald's game room. The Fitzgerald's studio, one-, and two-bedroom apartments attract a diverse community of residents,
like graduate students, med school residents, and professionals who commute to D.C.

Living in Luxury
For J.R. and Martha Kirkland, the decision to move from their home in Potomac to the Ritz-Carlton Residences in Baltimore's Inner Harbor was a calculated one. Retired and in their 70s, the couple was ready to let go of the burdens of their home, and to start a new chapter in their lives. "We had a large house and large lawn," says J.R. Kirkland "The kids were gone and it took a lot of effort and energy to maintain the place as it should have been, so we decided to downsize. And we thought, if we're downsizing, we're going to move." So the Kirklands made a list of what they were looking for in a new environment, like world-class health care, access to local and international transportation, walkability, a rich cultural heritage, and a classy place to live. Downtown Baltimore met all the criteria.
---
"It's like moving from the Forest Lawn Cemetery to Disney World—there's something going on all the time."

---
"We could not be more pleased," says Kirkland. "It's a vibrant place. We moved from staid old Potomac, with big lots and big houses, to the Inner Harbor. I told one friend of mine that it's like moving from the Forest Lawn Cemetery to Disney World—there's something going on all the time." From their balcony overlooking the American Visionary Art Museum, the Kirklands are in the middle of a multitude of events throughout the year, from parades and races to fireworks and concerts.
Although their two-bedroom, 2,200-square-foot condo is less than half the size of their prior home, living has felt "much less restrictive than I thought," Kirkland says. "The space in our old home where we spent 80 percent of our time was about the size of our two-bedroom condo here," he explains. And in addition to their unit, the Kirklands enjoy the Ritz-Carlton's top-notch amenities at no additional cost, including a 24-hour concierge, a well-equipped fitness center, an indoor pool, a lounge, and a billiards room. Even extra rooms at the Residences can be reserved for visiting guests.
The couple worried that moving to an apartment would be impersonal, but they found just the opposite. "This is a very dog-friendly environment—there must be 75 dogs that live here. So all of us go out and walk our dogs and we immediately make friends," he laughs. They were also happy with the community's professional and ethnic diversity, adding that it has been easy to find common interests.
"There's an affinity for going out to restaurants, going to the symphony, and so forth. So we have groups of people that get together and go out just because of the interactive nature of the community," says Kirkland.
And the Ritz-Carlton service has lived up to its reputation. "It's almost like an assisted-living environment but with no walkers and no aging people who have to eat dinner at 4 o'clock," Kirkland says with a chuckle. "Almost every one of our desires, wants, and whims are taken care of."
Solution: The Ritz-Carlton Residences, Inner Harbor, Baltimore
Cost: One-bedroom units start at nearly $500,000.
Fees: Association dues include all amenities plus gas, and are $0.85/square foot.
The Pluses: Indoor pool and spa; game and billiards room; film-screening room; meditation garden; workout facility and yoga room; more than 3 acres of green space and courtyards; valet parking; 24-hour concierge service.
Opting For A CCRC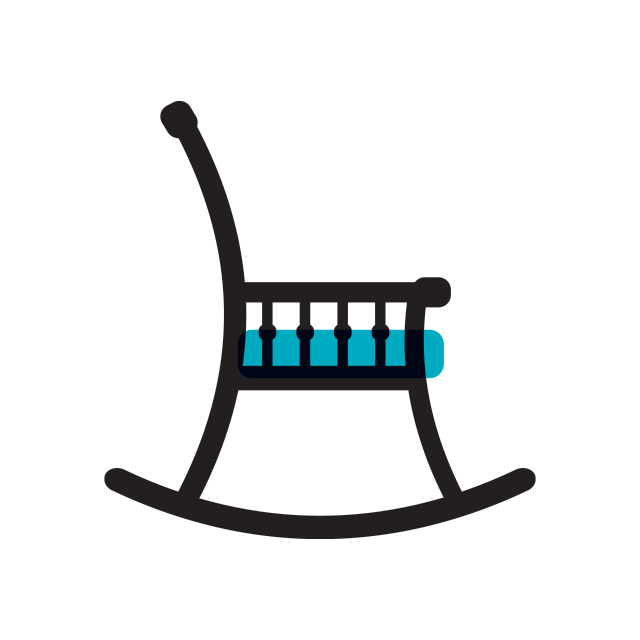 Nancy-Bets Hay is a 74-year-old, second-generation resident of Broadmead, a continuing-care retirement community (CCRC) in the rolling hills of Cockeysville. "My parents had moved here when it first opened in 1979, so I watched them live the rest of their lives here with access to different levels of care and get what they needed, be well-cared-for, and be very happy."
---
It was that firsthand experience that inspired Hay—a former oncology social worker—and her husband, Erroll, to make the move to independent living sooner rather than later. "I might be a little more aware that I'm mortal than a lot of people," she says with a smile.
Although they moved to Broadmead for peace of mind, what really surprised the couple was how they would embrace the community. "We're both very involved with a lot of activities here," says Hay.
Moving to a CCRC before you need the additional health care services is a good idea for many reasons. For one, younger, healthy retirees have the energy to tackle the daunting task of downsizing more easily.
For seniors who can afford them, CCRCs are attractive because they offer different scales of care, from independent living to assisted living and nursing home levels. Joining a CCRC involves paying a one-time entrance fee and then monthly fees depending on the size of the unit and type of health care contract. There are traditionally three, sometimes four, types of contracts available when joining a CCRC, but not all CCRCs offer every type of contract.
Type A contracts, often called extensive or life contracts, offer all-inclusive care including assisted living and health services at little or no extra fee.
Type B contracts, often called modified contracts, are similar to Type A in that many services are included in the monthly fee, but excluded services are paid for at current market price on an as-needed basis. Type C "fee-for-service" contracts offer a lower initial enrollment fee, but residents must pay current market rate for any needed health care services.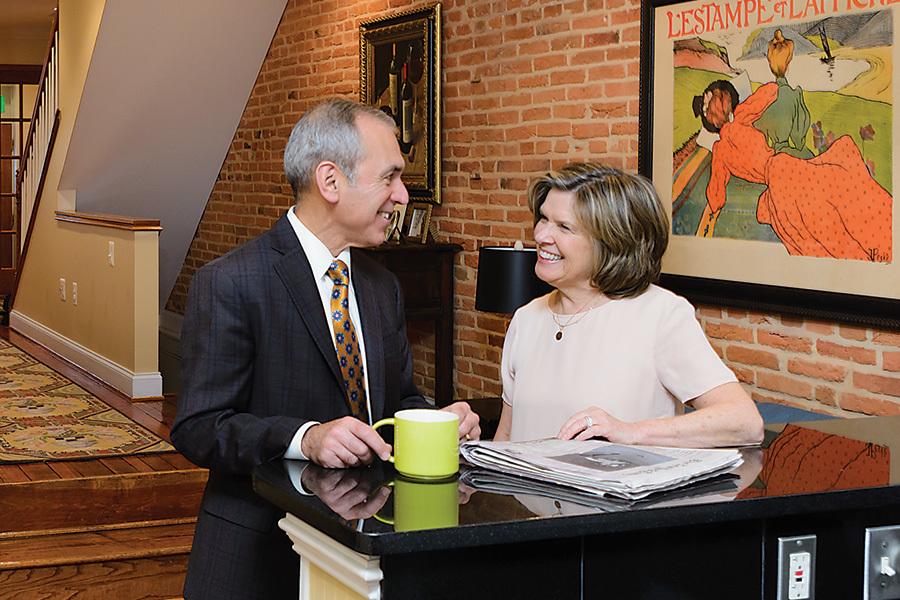 Empty Nester to Neighborhood Activist
From her bright and spacious three-bedroom rowhouse on Hanover Street in Federal Hill, Amy Mutch remembers how eager she and her husband, Patrick, were to move to the city. As soon as their youngest looked about ready to move out, Mutch says, the couple was on the starting blocks to leave suburban Ruxton for a neighborhood that allowed a more urban lifestyle.
"Our son was a sophomore in college when we moved—that's how excited we were about living downtown," Mutch remembers with a chuckle. "We're still very much employed—retirement isn't really in Patrick's vocabulary," says Mutch, who works part-time as a nurse practitioner and whose husband works full-time in health care management. "For us, it was more the downtown lifestyle, giving up maintaining a yard, and things like that, because we didn't have the kids to consider."
In their previous home, even small errands or short trips required driving. "You couldn't really walk anywhere or ride your bike anywhere, it's not set up that way," she says. "So walkability, for me, was the biggest improvement with the move. I love not having to get in my car for every single errand." Now, Mutch can walk or ride her bike to most places she needs to go—from the bank and the dry cleaner to Orioles and Ravens games and local restaurants.
Since the Mutches moved in 2004, they've enjoyed no longer having to maintain a large yard or shovel snow. By purchasing a rowhouse on a long lot, they have the convenience of a two-car garage, plus a roomy patio and roof decks mean they haven't given up outdoor space. The rowhouse's narrow layout did present some decorating challenges, though. When it came time to move, most of the family's current furniture didn't work in the confines of their new home. "That was very surprising to me—I did have to get a lot of new furniture," she remembers.

The rowhouse's narrow layout did present challenges, though. When it came time to move, most of the Mutches' furniture didn't fit.

Another change for the couple was the close proximity to neighbors. "The biggest adjustment in rowhouse living is you need to know your neighbors and work with them," she says. "When you have a big house in the county, you don't think too much about it." But Mutch did more than just adjust: Before long, she found herself attending zoning board meetings and becoming active in the neighborhood association. "It was a surprise, but these zoning board issues very much affected how I was going to enjoy my home and how I would live," she says. Mutch discovered a passion for community work, eventually becoming president of the Federal Hill Neighborhood Association. (She also served as South Baltimore Neighborhood Association president.)
Twelve years in to rowhouse living, the Mutches have no plans to move. "We're fortunate that Federal Hill made so much sense for us. It's been great," she says. "Plus, once you've lived here for a while, it becomes your favorite neighborhood. I love it."


KEY:
IU = Independent-Living Units
AU = Assisted-Living Units
HCU = Health-Care Units
---
Asbury Methodist Village (CCRC), 201 Russell Ave., Gaithersburg, 301-216-4001. IU: 755. Villas: 74. AU: 133. HCU: 257. Entry/monthly fees: Available on request, entry fee refundable up to 100 percent. Surrounded by rolling hills, gardens, and spring-fed ponds, Asbury's 130-acre campus includes 74 villas and more than 700 house and apartment options. Multiple garden spots, two ponds, shuffleboard, exercise equipment, woodworking, art studio, computer room, crocquet. Putting green, swim clubs, theaters, other amenities within short distance from campus.
Atrium Village, 4730 Atrium Ct., Owings Mills, 410-504-6442, seniorlifestyle.com. IU: 186. AU/HCU: 79 including units for dementia patients. Entry fee: One month's rent. Monthly fee: $2,400-3,995 for independent living. Assisted fees are $3,400-7,200. Private pay. Weekly housekeeping, two to three meals a day, transportation, several community areas from beauty salon to billiard room.
Augsburg Village (CCRC), 6825 Campfield Rd., 410-486-4573, augsburg.org. IU: 135. AU: 58. HCU: 131. Entry fee: $52,500-257,000. Monthly fee: $1,549-2,691. Option for 80 percent refundable entrance fee. 52-acre site includes studio units, one- and two-bedroom units with patio/balcony, chapel, library, computer room, dining room, health center, near Sinai and Northwest hospitals.
Bay Creek Resort and Club, 3335 Stone Rd., Cape Charles, VA, 757-331-8742, baycreek.net. A new residential golf and marina community developed on the southern tip of the Delmarva Peninsula, Bay Creek appeals to both primary and secondary homeowners, and features a 7,204-yard Arnold Palmer golf course, plus a Jack Nicklaus course, and a 225-slip deep-water-access marina, all located on a 1,729-acre waterfront tract. Lots are priced from $100,000 inland to $600,000 on the water, and homes are priced from $200,000 for condos and $1 million and up for single-family units.
BayWoods of Annapolis (CCRC), 7101 Bay Front Dr., Annapolis, 410-263-7297, baywoodsofannapolis.com. IU: 147. AU: 30. Purchase price: $215,000-425,000. Monthly fee: $2,987-8,600. Medicare accepted. Equity position through ownership. Health center, fitness center.
Blakehurst (CCRC), 1055 W. Joppa Rd., Towson, 410-296-2900. IU: 277. AU: 24. HCU: 44. Entry fee: Starts at $274,000. Monthly fee: $3,135-5,000. Medicare accepted. Balcony options, croquet course, putting green, daily meal, transportation, laundry/housekeeping service, planned activities, emergency call system, guest facilities, on-site health care. www.blakehurstlcs.com
Brandywine Senior Living at Fenwick Island, 21111 Arrington Dr., Selbyville, DE, 302-436-0808, and Brandywine Assisted Living at Seaside Pointe, 36101 Seaside Blvd., Rehoboth Beach, DE 19971, 302-226-8750, brandycare.com. Well-appointed suites on large landscaped grounds, nursing care and therapy, clubs, educational programs, and other amenities.
The Brethren Home Community—Cross Keys Village (CCRC), 2990 Carlisle Pike, New Oxford, PA, 717-624-2161, crosskeysvillage.org. IU: 455. AU: 91. HCU: 270. Subacute beds: 30. Secure dementia units: 36. Entry fee: $56,000-300,000. Monthly fee: $600-1,500. Christian CCRC is Medicare and Medicaid certified. Housekeeping, transportation, restaurant-style dining, 10-plus miles of walkways, bank, gardens, putting green, woodworking, cable TV, library services.
Brighton Gardens and Sunrise centers in Pikesville and Columbia, 410-602-0033; 410-531-1444. The local Brighton centers, among the 289 AU and IU facilities operated in the U.S., Canada, and U.K. by Sunrise Senior Living, offer assisted-living units and special-care centers for patients with Alzheimer's and other memory-related disorders. Entry fee: $1,500 and up. Monthly fee: varies depending on size of unit and care options. Brighton Gardens centers typically feature 70-80 assisted-living units and a 20- to 25-bed special-care center. Specially trained staff on secured premises, daily personal-care assistance, all meals/snacks, activity center, transportation, beauty/barber shops.
Brightview Mays Chapel Ridge, 12261 Roundwood Rd., Timonium, 410-628-2100, brightviewseniorliving.com. One of 11 such communities in Maryland operated by Brightview Senior Living of Baltimore. Offering full-service independent living and assisted-living residences, as well as Alzheimer's care. Brightview communities are also in Baltimore, Bel Air, Catonsville, Edgewater, Nottingham, Rockville, Severna Park, Towson, and Westminster. Entry Fee: $4,000. Monthly fee varies by apartment and assistance option. Hospitality services, relationship-based personal assistance, and social activities that include a movie theater, pub, spa, beauty/barber shop, and computer center.
Brightwood, 100 Brightwood Club Dr., Lutherville, 410-339-3200, brightwoodliving.org. Monthly fee: $3,450-5,400 for first resident. Located on 50 acres near Greenspring Station and the Johns Hopkins Healthcare and Surgery Center, Brightwood is a gated condominium community consisting of 80 one-, two-, and three-bedroom residences. Monthly fee covers dining and special dietary services, emergency response system, full-time RN, maintenance, housekeeping, transportation and coordination of health services, library, fitness center with indoor pool, grille/lounge, salon/barber shop, woodworking, putting greens, flower/vegetable gardens, working fireplaces.
Powerback Rehabilitation, Brightwood Campus, 515 Brightfield Rd., Lutherville, 410-296-1990. A rehab center offering short and long-term care, including rehabilitation therapy. Call for rates.
Broadmead (CCRC), 13801 York Rd., Cockeysville, 410-527-1900, broadmead.org <http://broadmead.org/> . IU: 249. AU: 28. HCU: 70. Entry fee: $106,379-419,132. Monthly fee: $3,238-6,801. Medicare accepted. Caring Quaker tradition on 94-acre country campus with indoor pool, on-site health care, three meals daily, laundry/housekeeping, pet friendly. Type A extensive contract.
Buckingham's Choice (CCRC), 3200 Baker Cir., Adamstown, 301-874-5630, buckinghamschoice.org. IU: 216. AU: 45. HCU: 42. Entry fee: Starts at $138,000. Monthly fee: Starts at $2,510. Not-for-profit community offers Type C contract (fee for service) with a 50-month declining refund, in addition to 90 percent and 100 percent refundable entrance fee plans. Views of Sugarloaf and Catoctin Mountains, eight miles south of Frederick. Cottages, apartments, indoor pool, game room, library, fitness center, computer center, bar and grill, pets welcome.
Carroll Lutheran Village (CCRC), 300 St. Luke Cir., Westminster, 410-848-0090, clvillage.org. IU: 398. AU: 50. HCU: 103, including dementia unit. Entry fees: Starts at $53,560. Refundable in some cases. Monthly fees: Starts at $1,000. Accredited, wellness center with indoor pool and spa and fitness room, library, salon, gift shops, chapel, full-time chaplain, full-time geriatrician, rehab therapy, 90 acres of grounds, activities/clubs, trips. Units range from apartments to houses.
Charlestown (CCRC), 715 Maiden Choice Ln., Catonsville, 410-504-6870, ericksonliving.com. IU: 1,765; AU: 106; HCU: 192. Entry fee: $84,000-598,000. Monthly fee: $1,676-2,743. Medicare accepted. Daily meal, fully refundable deposit, cable TV, on-site restaurants, historic chapel, walking trails, computer lab, fitness center.
College Manor, 300 W. Seminary Ave. Lutherville, 410-252-0440, collegemanor.com. This 64-year-old family-owned campus offers 80 assisted living units in a homey, family-like atmosphere, and is housed in a historic former girls' college in old Lutherville. Set on 11 acres, it offers three meals, dietary guidance, nursing capabilities, activities, trips, and physical training.
Courtland Gardens Nursing & Rehabilitation Center, 7920 Scotts Level Rd., Baltimore, 410-521-3600, lifebridgehealth.org. A LifeBridge Health Center and agency of the Associated, this 151-bed kosher-optional nursing home provides medical care and rehabilitation services. Call for rates.
Edenwald (CCRC) and The Terraces at Edenwald, 800 Southerly Rd., Towson, 410-823-1341, edenwald.org. IU: 281. AU: 88. HCU: 79 including memory care. Entry fee, 100 percent refundable: $76,000-367,500. Monthly fee: $2,680-5,040. 18-story high-rise next to Goucher College. Gourmet dining, transportation, laundry, housekeeping, multi-specialty health center.

Evergreens at Columbia Town Center, 10101 Governor Warfield Pkwy, Columbia, 844-396-4145, evergreenscolumbia.com. This elevator building offers apartments for the active, over-55 set, with units ranging from $1,440-3,665 per month. Twenty-four floor plans up to two-bedroom, two-bath with family room. Club room with billiards, library, fitness rooms, heated pool and whirlpool, putting green, garage parking, walking trail, across the street from Columbia Mall.
Fairhaven (CCRC), 7200 Third Ave., Sykesville, 410-795-8801. IU: 312. AU: 35. HCU: 79. Entry fee: $130,000-800,000. Monthly fee: $1,775-6,800. Medicare accepted. Type A and C contracts. 90 percent refundable fee, or 50-month declining refund plan. Walking trails, pool, putting green, library, woodworking shop, darkroom. Pets welcome. fairhavenccrc.org.
Falcons Landing Military Retirement Community, 20522 Falcons Landing Cir., Sterling, VA 20165, 703-404-5100, falconslanding.org . Falcons Landing is a gated community at the heart of which is the Founders Hall community center, where activities and services are hosted. Amenities include a junior Olympic-size swimming pool, fitness center, tennis court, secure walking/jogging paths, and several public and private golf courses nearby, as well as a computer room, a woodworking shop, and activity area.
The Forest at Duke, 2701 Pickett Rd., Durham, NC 27705, 919-490-8000, forestduke.org. Internationally accredited by CARF/CCAC, Fitch-rated, and neighbor to the Duke University campus and medical center, The Forest at Duke is a not-for-profit 501(c)3 continuing care retirement community (CCRC). Its proximity to Duke University, as well as the University of North Carolina at nearby Chapel Hill, has made it a popular choice for retired academics, as well as engineers, authors, CEOs, artists, and community volunteers, and its 400 residents—served by 275 staff—have hailed from 38 states.
Ginger Cove (CCRC), 4000 River Crescent Dr., Annapolis, 410-266-7300, gingercove.com. IU: 236. AU: 51. HCU: 55. Entry Fee: Begins at $259,673. Monthly Fee: Begins at $3,520. Medicare accepted. 90 percent refundable fee. Ginger Cove is located on 30 wooded acres overlooking Gingerville Creek, six miles south of Annapolis. One- and two-bedroom units, amenities include formal dining room, library, coffee shop, card and billiard room, arts and crafts studio, bar, beauty/barber shop, convenience store, woodworking shop, indoor aquatic center with four-lane lap pool, aerobics, and sauna. At the waterfront, there is a pier for fishing and crabbing.
Glen Meadows Retirement Community (CCRC), 11630 Glen Arm Rd., Glen Arm, 410-319-5000. IU: 180. AU: 32. HCU: 31. Entry fees: $30,000-380,000. Monthly fee: $1,529-3,200. Medicare and Medicaid certified. A 483-acre campus with pond and nature trails, bank, beauty/barber shop, fitness center, library, woodworking shop, craft room, on-site dining, transportation, sedan service. Presbyterianseniorliving.org
Heartlands Senior Living Village at Ellicott City, 3004 North Ridge Rd., Ellicott City, 410-461-9494, Fivestarseniorliving.com. IU: 159. AU: 70. Entry fee: $6,000. Monthly fees: $2,926-4,622. Indoor pool, rehab center, fitness area, gardening, pets allowed, salon/barber, wellness center, chapel, craft rooms, transportation, respite care, on 48-acre campus with walking trails and two ponds.
Heartlands Senior Living Village at Severna Park, 715 Benfield Rd., Severna Park, 410-729-1600, Fivestarseniorliving.com. AU: 68. Alzheimer's/dementia units: 11. Entry fee: varies. Daily fees: $154-220. No Medicaid. Nurse on duty 24 hours, modern facility, full-time activities director, transportation, three meals/snack, crafts, exercise.
Heron Harbor, 505 Concord St., Havre de Grace, 21078, 443-502-2366, heron-harbor.com. Waterfront condominium living near historic Havre de Grace at Concord Point, which overlooks the town's lighthouse and the bay. Restored marina and pool. Each unit has a balcony and direct water views of the Susquehanna River meeting the Chesapeake Bay. Walking distance to Havre de Grace's many shops, restaurants, and open spaces. Priced from the high $500s.
Heron Point of Chestertown, 501 E. Campus Ave., Chestertown, 410-778-7300, actsretirement.org. IU: 192. AU: 45. HCU 38. Entry fee: $131,900. Monthly fee: Starts at $2,156. Medicare accepted. Located 90 minutes from Baltimore, Heron Point sits on 66 acres on the Chester River, and features a waterfront dining room, deli, aquatics program, fitness facilities, beauty/barber shop, bank, woodworking shop, library, computer club, and education programs at nearby Washington College.
Homestead Village, P.O. Box 3227, 1800 Marietta Ave., Lancaster, PA 17604; 717-397-4831, homesteadvillage.org, (CCRC). Homestead Village is a non-profit Continuing Care Retirement Community offering several housing options on its sprawling landscaped grounds, including independent living in apartments in different sizes, cottages, duplex and triplex "Villa Court" residences, and larger single-family units. Community amenities include guest cottages, stores, fitness facilities, cultural and entertainment activities, and transportation.
Keswick Multi-Care Center, 700 W. 40th St.,
Baltimore, 410-235-8860, choosekeswick.org. Keswick Multi-Care Center provides skilled nursing care and adult day care services in a comfortable, safe environment. Special care units offer an assisted living program for people with dementia. Keswick Multi-Care Center provides 159 long-term care beds including an 83-bed Sub-acute Rehab Unit. All rooms are private.
Levindale Hebrew Geriatric Center and Hospital, 2434 W. Belvedere Ave., 410-601-2400. Rates: For nursing home, typically $464 per day. Geriatric center consists of 126 long-term beds; 35 subacute beds. Hospital offers gero-psychiatric, rehabilitation and chronic medical services, adult day care, and outpatient hospitalization program. The first registered "Eden Alternative" facility in Maryland. Eden Alternative approach to care incorporates plants, children, and pets into daily life and fosters strong family relationships.
Lorien Columbia Skilled Nursing Community, 6334 Cedar Lane, Columbia, 410-531-5300. Comprehensive nursing and rehab facility with 209-bed long-term facility, plus sub-acute units. Dialysis, short-term rehab, ventilator care.
The Maples of Towson, 7925 York Rd., Towson, 410-296-8900, the maples-towson.com. AU: 60. Monthly fees: $4,400-6,000. Housed in large Victorian home with bed and breakfast atmosphere located near Towson University, on-site nursing, expanded activity calendar, transportation, personalized service plans, all meals served restaurant style in dining room.
Maryland Masonic Homes (CCRC), 300 International Cir., Cockeysville, 410-527-1111, mdmasonichomes.org. IU: 35. AU: 76. HCU: 88. Entry fee for IU only: $47,000-147,000. Monthly fee: $1,350-6,600. (2009 data). Medicare not accepted for long-term care. On-site health care, wellness center, chapel, barber. Financial assistance available for eligible Master Masons.
Mercy Ridge Retirement Community (CCRC), 2525 Pot Spring Rd., Timonium, 410-561-0200, mercyridge.com. IU: 408. AU: 47. HCU: 345 (through Stella Maris). Entry fee: $215,000-426,000. Monthly fee: $2,312-4,154. Refundable fee. Arts and crafts studio, library, performing arts center, and patio areas, fitness center, indoor pool.
Morningside House at Satyr Hill, 8800 Old Harford Rd., Parkville, 800-706-0766, morningsidehouse.com. AU: 69. Dementia units: 33. Community fee: $4,000, refundable first 90 days pro-rated. Monthly fee based on level of service: $3,800-7,500. Library, dining room, private dining, crafts/activity rooms, sun rooms, outside courtyards, physical therapy, hair salon, five acres of grounds. Other Morningside House facilities are in Ellicott City, Hanover, Laurel, and Waldorf, as well as in Leesburg and Fredericksburg, VA.
North Oaks Retirement Community (CCRC), 725 Mt. Wilson Ln., Pikesville, 410-415-9053, northoakslcs.org. IU: 179. AU: 12. HCU: 50 beds. Entry fee: $149,900-420,500, up to 90 percent refundable. Monthly fee: $3,205-5,966. Formal dining room, library, fitness center, convenience store, hair salon, billiards, gardening, 20-acre campus.
Oak Crest Village (CCRC), 8820 Walther Blvd., Parkville, 410-343-7153, ericksonliving.com. IU: 1,520. AU: 133. HCU: 200. Entry fee: $86,000-550,000. Monthly fee: $1,638-3,198. Medicare accepted. Indoor swimming pool, on-site shopping, health care, shuttle bus service, spacious crafts rooms, interdenominational chapel, college classes, lake and pond, putting green, shuffle board, fitness center, computer lab, restaurants.
The Peninsula on The Indian River Bay, 26937 Bay Farm Rd., Millsboro, DE, 302-947-4717, peninsula-delaware.com. The Peninsula on Indian River Bay is a residential golf resort community located on the Delmarva Peninsula, which includes the borders of Delaware, Maryland and Virginia. It includes custom homes in seven distinct neighborhood developments.
Heritage Shores, 23 White Pelican Ct., Bridgeville, Delaware, 1-866-684-3348, HeritageShores.com. This active-adult community by Brookfield Residential and Ryan Homes is located on Delaware's Eastern Shore near the Delaware beaches. 28,000-square-foot clubhouse with a restaurant and tavern, new Sugar Beet Market, fitness and aquatic center, and Arthur Hills 18-hole golf course.
Pickersgill Retirement Community (CCRC), 615 Chestnut Ave., Towson, 410-825-7423, pickersgillretirement.org. IU: 87. AU: 138. HCU: 35. Monthly fee: Varies. Medicare not accepted for most units. No entrance fee. 16 acres of grounds, health care activities, auditorium, meditation room, beauty/barber shop, walking paths, coffee shop, meeting rooms, transportation, convenient to Towson, GBMC.
The Presbyterian Home of Maryland, 400 Georgia Ct., Towson, 410-823-4622, presbyterianhomeofmd.org. AU: 78. HCU: 22. Entry fee: none. Monthly fee: $5,100-9,000 all-inclusive. Four-to-one ratio of residents to staff in health-care center, exercise room and physical therapy, convenient walking distance to center of Towson, full range of activities, park-like setting with walking paths. (2015 data)
Roland Park Place (CCRC), 830 W. 40th St., 410-243-5700, rolandparkplace.org. IU: 160. AU: 40. HCU: 60. Entry fee: $179,000-212,200, 90 percent refundable. Monthly fee: $3,367-8,934. Medicare accepted. Traditional contracts. Accredited programs. Convenient to Meyerhoff, BMA, Lyric. Park-like setting with laundry, meals, valet, transportation, 24-hour security. On-site health care. (2015 data)
Springwell (formerly The Wesley Home), 2211 W. Rogers Ave., 410-664-4006, springwellseniorliving.com. IU 45. 106: 65. HCU: 26. Community fee: $4,000. Monthly fee: Starts at $3,400. Three daily meals, emergency call system, health services, activities, beauty/barber shop, transportation, social and religious activities, over 40 common areas. This non-demoninational facility is on 13 acres of wooded campus in quiet and historic Mt. Washington, and offers a library, art classes, chapel, and gardening spots.
Stella Maris, 2300 Dulaney Valley Rd., Timonium, 410-252-4500, stellamaris.org. Includes St. Elizabeth's Hall, a 200-apartment facility, 50 percent of which is Section 8-eligible, and Mercy Ridge, a 408-unit not-for-profit continuing care retirement community, that is a joint venture of Mercy Health Services and the Roman Catholic Archdiocese of Baltimore. Also on the grounds is a 412-unit nursing home providing long-term nursing care, rehabilitation and recovery services, hospice care, senior day center, and home care. Assisted living units are in the 48-bed St. Stephen's Green at Mercy Ridge. Entry fees, Mercy Ridge: $215,000-426,000. Monthly fee, Mercy Ridge: $2,234-7,271. Fees for St. Elizabeth's Hall: One month's security deposit, $945-1,111 monthly fee, and $240 mandatory meal plan. Spacious one- or two- bedroom apartments, physician, dentist, formal and private dining, café, bistro, convenience shop, library/computer areas, theater, chapel, walking trails overlook Loch Raven Reservoir.
Springhouse Assisted Living, 8911 Reisterstown Rd., Pikesville, 410-486-5500, springhouse-al.com. Assisted and independent living with three meals, 24-hour licensed nurse-on-duty in addition to certified nursing aides, emergency call system, weekly housekeeping, social activities, and scheduled transportation. Offering a variety of floor plan options, each apartment features a kitchenette and a full, private bath. Garden courtyard, restaurant-style dining, a library, game room, art studio, and beauty salon. Call for rates.
Symphony Village at Centreville, 117 Symphony Way, Centreville, 410-758-8516, 866-766-0009, symphonyvillage.com. Symphony Village is an active adult community in Queen Anne's County on Maryland's Eastern Shore, with prices ranging from the high $200,000s. Amenities include a fitness center, ballroom, concert hall, billiards, two pools.
Vantage House (CCRC), 5400 Vantage Point Rd., Columbia, 410-964-5454, vantagehouse.org. IU: 207. AU: 26. HCU: 44. Entry fee: $132,256-596,830. Monthly fee: $2,324-6,718. Medicare accepted. Fitness room, dining room, auditorium, computer lab, library, bank, winter garden, meditation room, guest rooms, beauty/barber shop, card-game room, medical suite.
The Village at Orchard Ridge—A National Lutheran Community (CCRC), 400 Clocktower Ridge Dr., Winchester, VA, 540-431-2800, thevillageatorchardridge.org, Located on 132 acres in the hills of the Shenandoah Valley, The Village at Orchard Ridge has independent living cottage homes and apartments with home-based assisted living, memory-care, assisted living, and nursing-care options. Amenities include walking paths, fitness facility, casual and restaurant-style dining, pub, library, chapel, local transportation, and housekeeping, as well as social, recreational, educational, cultural and spiritual activities.
Willow Valley Communities (CCRC), 450 Willow Valley Lakes Dr., Lancaster, PA, 866-834-1798, WillowValleyCommunities.org. Award-winning lifecare community includes long-term care, as needed, at no additional cost. Resort-like lifestyle, 80+ independent living floor plans: apartments, villas and townhomes. 80,000-square-foot cultural center features 500-seat performing arts theater, art gallery, and state-of-the-art aquatic and fitness center. Minutes from downtown Lancaster, PA. CARF-CCAC accredited, independent living, personal care, skilled nursing, and memory support.
---
Other retirement services
Elizabeth Cooney Personnel Agency, 1107 Kenilworth Dr., Ste. 200, Towson, 410-323-1700, elizabethcooneyagency.com. Since 1957, Elizabeth Cooney has offered a range of care options for seniors, in homes as well as assisted living and nursing facilities, including companionship and errand/appointment escorts.
Village At Home, 410-235-3171, villageathome.org. Modeled after a program started in 2002 by residents in Boston's upscale Beacon Hill neighborhood that serves as an alternative to nursing homes or assisted living centers, the nonprofit Village at Home organization in north Baltimore began offering services in November 2011 to support seniors who want to stay in their homes. The 67th such village to be formed nationally (there's a national network funded by corporate and foundation grants), it is run by volunteers who provide dues-paying members free and discounted services that include transportation, help with bill-paying and paperwork, errands, home and garden maintenance using reputable contractors offering member discounts, delivered meals, and social and cultural activities—even help with e-mail and electronics.
WeCare Private Duty Services, 1852 Reisterstown Rd, Ste 209, Pikesville, 410-602-3993, wecarepds.com. WeCare Private Duty Services is a fully licensed and bonded residential service agency specializing in providing home health care and companionship in private homes and retirement communities in the Baltimore metropolitan area.
Find the Best in Baltimore